Today's Takes: Tuesday, September 14
CORRECTION • Vol. I, No. 88 • A Journal of Freedom • CA Recall • Faux Pas • Versace for the Proles • Curiosity Cabinet • Much More!
CORRECTION: The previous newsletter was missing the Nashville section.
Good morning, everyone.
When California Governor Gavin Newsom was a child, I doubt he imagined that one day he would stand between the state of California and the gaping abyss of Republican politics, but here we are. In a time when honor is rarely valued among the more sanguine values of comfort and mediocrity, it's been a blessing to watch Newsom stand athwart the forces of evil with that characteristic grin dripping with sincerity yelling, "Stop!"
Today is the first day of the official recall election in California. It's a simple vote today. Vote "yes" to recall Governor Newsom. Vote "no" to keep him. Larry Elder, the primary challenger and opponent who wants to drag the entirety of the state of California into the abyss with him, has begun to chatter about election fraud as he builds the case for himself.
Elder must be new to this. Doesn't he realize this is all on the level? There's no fraud. Just like all the other American past-times, we've eradicated voter fraud alongside apple pie and equality before the law. Elder needs to get with it and stop insisting on the "abyss" of Republican policies that include school choice, a tough stance on crime, and all those other policies that might actually solve some problems.
"Come on. Don't rock the boat, Larry," the media cries. "We're having a picnic here!"
Headlines
📰 Today's Front Pages
A quick look at this morning's front pages so you know what you're supposed to be mad about.
🏛 From the Hill
Biden's success is tethered to Joe Manchin whether you like it or not (MSNBC) The fate of Bernie Sander's—and by proxy, Joe Biden—$3.5 trillion "end all pain and suffering" stimulus package relies on the consent of Joe Manchin who, so far, aggressively opposes the expenditure.
House Democrats eye corporate tax rate hike, surtax on wealthy in spending package (Reuters) Leaders expect the proposal to raise as much as $2.9 trillion to pay for most of President Biden's "end all pain and suffering" package. Here's the full list of tax proposals. Some notable:

Increase the top corporate tax rate to 26.5%
Increases the top capital gains tax (those making over $400,000/year) from 20% to 25%.
Increases the tax rate on tobacco and nicotine products
Double's the IRA's budget to more aggressively enforce tax policies
🌦 Climate Faux Pas
Oil-rich Norway goes to polls with climate on the agenda (AP) Norway is one of the most environmentally-forward countries on the planet, but derives most of its wealth (5% of its jobs and 40% of its exports) from the oil and gas industry. In the upcoming election, a "green" coalition threatens to handicap it.
Energy Prices in Europe Hit Records After Wind Stops Blowing (WSJ) "Wind accounted for about a quarter of Great Britain's power last year, according to the system operator National Grid. After the wind dropped this month, National Grid asked Électricité de France SA to restart its West Burton A coal power station in Nottinghamshire. That won't be possible in the future: The government has said all coal plants must close by late 2024."
Biden to highlight link between extreme wildfires and climate crisis in trip to California (Guardian)
📈 Inflation Nation
Food Inflation Hits Record High, Prices Up Sharply on Beef, Chicken, Pork, Turkey, Eggs, and Fish (Breitbart) Food prices have increased 12.7% since this time last year, outpacing the overall increase of 8.3 percent in the Producer Price Index.

Beef and Veal: +59.2 percent
Pork: +34.1 percent
Chickens: +32 percent
Fish: +18 percent
Turkey: +41.4 percent
Fresh eggs: +31.7 percent

American Consumers Believe Inflation Is Here to Stay, NY Fed Survey Finds (NR)
🦄 Woke-acracy
Original Essays

📏 Megan Podsiedlik checks in with Noble's Beer Hall & Kitchen to see how they weathered the pandemic and the challenges they face (Read)
In case you missed it
Let Them Wear Versace...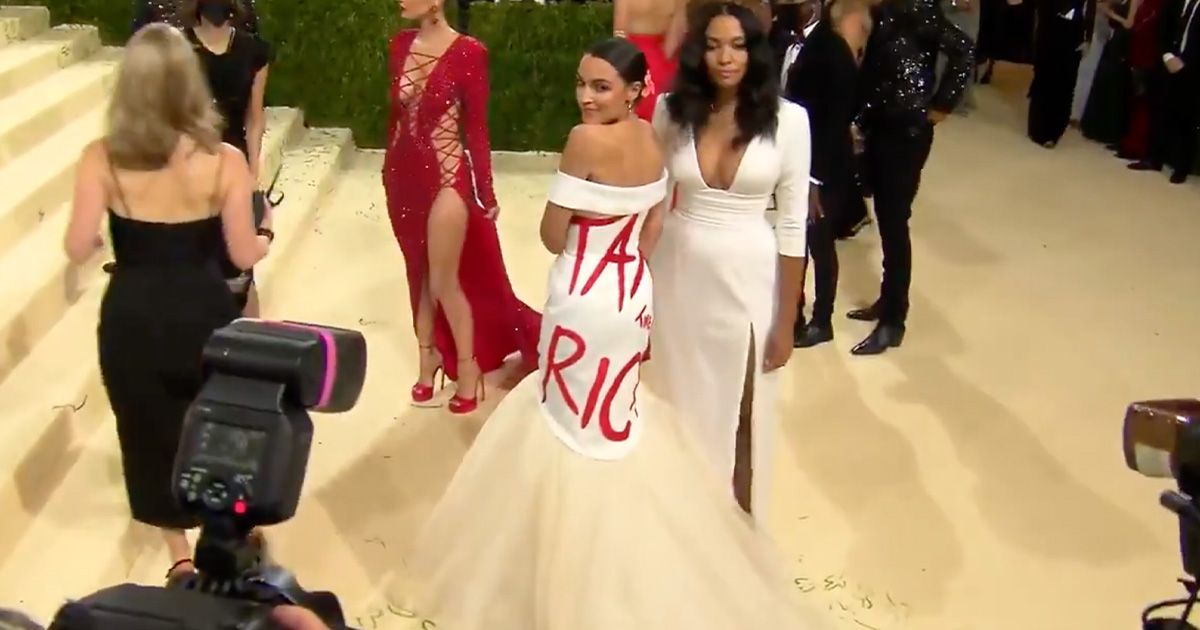 🎫 AOC dons a dress emblazoned with the message "Tax the Rich" at the Met Gala where tickets run for $30,000 a piece.
Nashville Politics
State attorneys review Biden vaccine mandate; business community speaks out (Main Street) In a recent survey by the Tennessee Chamber of Commerce and Industry, 76% of respondents said they opposed the federal government dictating vaccination protocols for businesses.
Middle Tennessee Community Organizers Pivot From Violence Prevention To Vaccine Promotion, Too (WPLN) Whatever pays the bills.
Tennessee Mayors Want Lawmakers To Invest In Flood-Proof Infrastructure (WPLN)
Nashville News
Nashville Development
COVID Gutter

Headlines
Information
Vaccine efficacy against severe #COVID19 so high that booster doses for general population are not appropriate at this stage in the pandemic (Lancet) On the news that boosters may not be necessary sent shares of Moderna and Pfizer plummeting yesterday morning.
So you understand what's happening in Denmark (Berenson) Denmark has a population of about 6 million. Since March 2020, 2,600 Danes have died from COVID-19. Only 26 of those deaths were among people under the age of 50.
Around the Web
🧅 An Oral History of The Onion's 9/11 Issue (Read)
🎈 Boomers: the luckiest generation that ever lived (Read)
Good to Know
🎤 Yesterday was the 25th anniversary of Tupac's death. Relive the man's career (Read)
Curiosity Cabinet
Have a great Tuesday