No. 377: The Plot Thickens
⁂ Nashville's Alt-Daily ⁂ Exit/In · Vote · Counting · Lucky Charms · Beef · Much More!
📰 Here's what we're talking about today:
Intro Davis provides a sneak peek into a story dropping tomorrow.
Nashville Megan catches us up on the latest regarding Davidson County's election woes.
Elsewhere Why does the NIH support nutritional research that ranks Lucky Charms above beef?
Good morning, everyone.
The local press is awash (here, here, and here) in eulogies for the Exit/In as its owner, Chris Cobb, has officially announced the venue will be hosting its last show on November 23rd before ownership gets transferred over to AJ Capital. You might remember us discussing the Exit/In and Cobb's attempts to "save" the venue back in June of this year, drawing attention to some potentially fraudulent activity.
There are three components to this story:
The opaque allocation of donor funds to the "Keep the Exit/In Independent" GoFundMe campaign, which continued long after the property was under contract and purchase was out of the question.
The improper filing of tax documentation for Cobb's 501(c)3, the Music Venue Alliance– and the city's rendering of attempts to track these funds moot.
The local press's indifference to Cobb's obvious indiscretions.
Outlets such as Axios, the Scene, and The Tennessean have been all too happy to issue covering fire for Cobb, drenching him in positive press coverage and deifying him as some localist martyr.
Since our June story ran, we've been flooded with information that contradicts Cobb's status as the Steward of Nashville's Soul.
Tomorrow, we'll release all that we've learned.
Onward.
You can follow us on Twitter (@realpamphleteer), Facebook (@realpamphleteer), or Instagram (@realpamphleteer) for additional content.
Also, be sure to check out our podcast. Available wherever you get your podcasts.
Thanks for reading.

❏ VOTERS MISCAST BALLOTS, BUT IT MIGHT NOT CHANGE ANYTHING
Last Friday, we confirmed that the error in Davidson County's election data—which led to 438 miscast votes during early voting in the midterms—was also present during the May and August elections. More disconcerting, however, was the breadth of the issue: "The universe that could have been impacted was 3,687," Davidson County Election Commission (DCEC) Administrator Jeff Roberts told us.
Though the number of miscast votes may have had little to no impact on races won with high victory margins (e.g., those which occurred this past week), the blunder implies a compound issue, one which may cast doubt over primary victories with smaller margins. Bleak. But once one realizes the candidates who appeared on November's ballot may have been different had people cast votes for their proper districts a few months ago, it gets even bleaker.
WHAT'S NEXT?
According to Roberts, the DCEC is busy certifying November's election and will not begin an investigation into the origin of the ballot mishap until after December 3rd. This, while understandable, leaves Davidson County residents in the dark for another three weeks. Did the mistake affect any crucial elections? Who knows?
It is worth noting that if the blunder did impact certain races this summer, would-be candidate-elects can't do anything about it anyway: state law only allows a five-day window for candidates to contest results after an election's certification. As we've noted before, if the margin of error is 3,687 miscast votes, upwards of ten races could have been altered by incorrect data. Of course, the issue was likely spread out across the entire county, varying from race to race, so it would be more reasonable to assume a much smaller disparity; a trusted source told us the data inconsistencies hit over 50 precincts, making the impact less earth-shattering.
Unfortunately "less earth-shattering" doesn't mean less frustrating: for example, the race for the position of District 21's Republican State Executive Committeeman—won by John Richardson—had a victory margin of 136 votes. And Justin Jones, who ran uncontested this November, only won the Democratic primary for House District 52 by 238 votes. Those margins are certainly a bit close for comfort, but out of all Davidson candidates, Mark Woodward has the most likely cause for concern given he only lost May's Republican primary for school board in the second district to Todd Pembroke by six votes.
CAN ANYTHING BE DONE?
Though the May and August primaries are officially certified, the Metro Charter does allow for certain positions—such as school board seats—to be petitioned. However, this unique set of circumstances leaves things unclear. In the charter, the language only allows for ouster petitions after a position has been occupied for at least 180 days. It also requires the number of signatures to equal fifteen percent of the registered voters in the district affected by the recall (it's ambiguous, though, whether the signatures required must be unique to the district or just registered voters who reside in Davidson County).
Seeing as there's no clear path to recalling these potentially-botched elections, Davidson's election outcomes will probably stay unchanged. That being said, this entire debacle only adds to the ongoing conversations about election integrity and voter disenfranchisement. When we asked Roberts who was to blame for the data issues–DCEC or the state?--he said that at this point, there's no way to tell. The error occurred "street by street, with individual houses; it wasn't a single issue. A subdivision might have been affected, a street, half of a street… we might find that everyone [DCEC and the state] may have contributed a little to the errors," stated Roberts. The Secretary of State's office replied to the same inquiry, stating: "Our office does not play a role in the assignment of voters to their respective districts. That responsibility rests with the county election commissions. Once voters are assigned according to redistricting, that information is added to the voter registration records."
HEADLINES
DEVELOPMENT

𝓧 CHART OF THE DAY: HEALTHY FOODS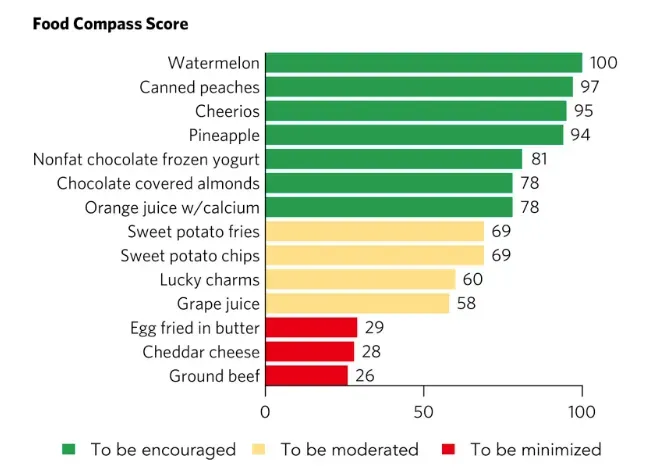 40% of Americans are obese, 71.6% of adults over 20 are overweight, and for the first time in decades, life expectancy is falling due to chronic illness. What is going on? Some insight into the financial incentives at play:
One might reasonably ask, why does Big Food do this? Why spend so much money funding biased nutrition research and sway policy away from whole foods towards Lucky Charms and the like?
The answer is pretty simple: money. A 2016 USDA report showed that 5% of SNAP (a nutrition-assistance program for low-income people) funds — or $3.5b in 2016 — are spent on soft drinks (here's an easy-to-read summary by NYT). Which means it's conceivable that revenue from taxpayer-funded SNAP made up close to 20% Coke's annual US revenue that year.
Yes: in a government program specifically engineered to help lower-income people improve their nutrition, sugary drinks are one of the largest line-items in SNAP, accounting for almost 10% of the "food" purchased by the program. Legally, you can't purchase a hot meal or rotisserie chicken using SNAP benefits because they're not healthy enough. But sprinkle in a bit of lobbying and voila! $7b a year goes to soda.
Source: NIH-Funded "Food Pyramid" Rates Lucky Charms Healthier Than Steak
Pirate Wires, 10 November 2022, Read Online
⚔ MISSIVES ⚔

THINGS TO DO
View our full calendar here.
🍺 The Pamphleteer hosts Bar Hours on the third Thursday of every month (the next meeting is this Thursday, November 17th) at Lucky's 3 Star Bar from 6-8 PM.
👨🏻‍🌾 Check out the Pamphleteer farmer's market guide.
🎧 Listen to the Pamphleteer's Picks on Spotify, the playlist of our favorite music in town each week.
TONIGHT
🎩  History Class @ Bold Patriot Brewing, 5p, Info
🎸 Harry Fontana @ American Legion Post 82, 7p, Free, Info
💀 Grateful Monday @ Acme Feed & Seed, 7p, Free, Info
🎷 Jazzy Mondays @ Solberg Studios, 7p, $15, Info
🎙 Charley Crockett @ Ryman, 7:30p, $25, Info
🕺 Motown Monday @ The 5 Spot, 9p, $5, Info
🎹 Jazz Jam @ The Villager, 11p, Free, Info
ON THE RADAR
🎻 Beethoven's Pastoral Symphony @ Schermerhorn, 11/17-19, $26, Info
🕺 Drugdealer @ Third Man Records, (11/27), $25, Info
🎸 Jason Bonham's Led Zeppelin Experience, (11/30), $37.50, Info
🤣 Louis C.K. @ Ryman, (12/14), $35, Info
🎸 Widespread Panic @ Bridgestone, (12/30-31), Info
🎻 Sierra Farrell's NYE Circus Spectacular @ Brooklyn Bowl, (12/31), $35+, Info
🎸 Tedeschi Trucks Band @ Ryman, 1/23-25, 8p, $49.50, Info
🎻 Billy Strings @ Bridgestone, 1/24-25, 8p, $TBA Info
🎻 Billy Strings @ Ryman, 1/26, 8p, Info
+ Only elligable if you purchased a ticket to one of his previous nights' Bridgestone shows
🎙 Weyes Blood @ Brooklyn Bowl, 2/22, 8p $23+, Info
Around the Web
♨︎ How Miami turned red America's most Latino city is now a GOP stronghold
You May Also Like
Words of Wisdom
All that is gold does not glitter,
Not all those who wander are lost;
The old that is strong does not wither,
Deep roots are not reached by the frost.

From the ashes a fire shall be woken,
A light from the shadows shall spring;
Renewed shall be blade that was broken,
The crownless again shall be king.

J.R.R Tolkien, The Fellowship of the Ring
Today's newsletter is brought to you by Megan Podsiedlik (Nashville), Edward Landstreet (Local Noise), and Davis Hunt (everything else).