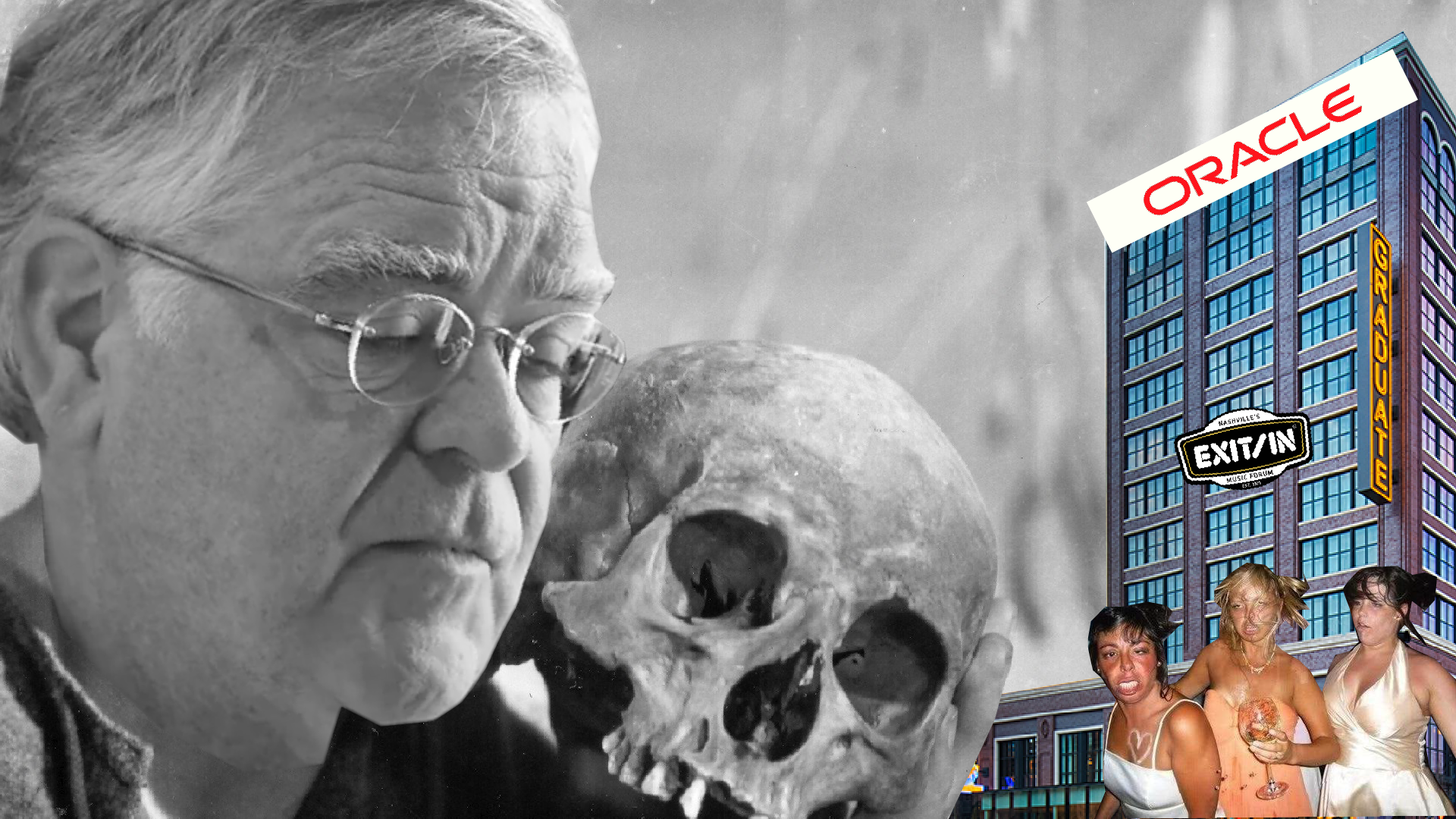 The Dark Night of Nashville's Soul
Oracle, the Exit/In, and John Cooper; Eddie George; Congressional challenger; Trouble at Vandy;
When John Cooper expressed concern over a flurry of legislation deemed "backwater" and worried it could negatively impact the state's economic future, you kind of felt bad for the guy. In his comments, he mentioned vaguely how we'd be "hearing about this more" as talk of the freshly inked Oracle deal spread through town. The subtext here is that one of Oracle's contingencies may be the passage of certain pieces of legislation in much the same manner as the MLB, Delta, and Coca-Cola demanded of Georgia.
Cooper's already raised the property tax, marched in a protest in the middle of a pandemic where, by his mandate, the rest of the city remained closed, and shown an infantile lack of self-control in front of the camera. After all this, it's difficult to watch him prostate himself for the least innovative company in Silicon Valley. One, then, shouldn't be surprised to learn that in response to John Cooper's "concern," Gov. Bill Lee expressed an admirable level of unconcern bordering on courage.
It's an interesting study in contrasts. One man, John Cooper, desperate for approval, groveling at the feet of a glorified patent troll with some engineers on staff, promising to "shore up the Nashville economy"; the other, Bill Lee, standing astride the feigned social justice concern of his Democratic brethren, flaunting a "permitless carry bill" which is sure as shit to scare citizens of a particular persuasion, and shrugging off the prospect of Oracle blanching on its River North development deal.
If John Cooper has his way, hell or high water, you'll support transgender women in high school sports and the right of doctors to start your kid on puberty blockers without your consent because if you don't, Oracle will leave your city in the lurch and go somewhere else like Denver. You'll lament until your dying days that the "Oracle" wordmark didn't grace the glimmering eaves of the River North development complex; the sun's rays never to be displaced by the bright, cherry red opulence we associate with integrated database management systems. "We'll all be the worse off for it, " John Cooper insists. "Yes. In your backyard." [1]
On the other side of the coin, there comes the recent news of the Exit/In's sale. The "soul of Nashville" is at stake, says Chris Cobb, the club's owner [2]. A grassroots campaign mounted to buy the club back from AJ Capital (developer of the Graduate Hotel) who have since promised to preserve and maintain it. John Cooper even issued a statement in support of its preservation. His stance here is, "No. Not in your backyard."
What's funny is that the community's reaction to the cosmically minor incident of "The Fate of the Exit/In" invokes a Shakespearean dark night of the soul, but upending the stable definition of gender at the behest of a new fascist regime does not [3].
News
🤹‍♀️ A new challenger to Jim Cooper, Odessa Kelly, emerged early last week. She has backing from the Justice Democrats who are responsible for bringing you AOC, (Nashville Post)
🎓 A Jewish candidate for class president at Vanderbilt was, ironically, called a "white supremacist" by other students and subject to harrassment during his campaign. If you're going to be racist, at least be accurate, (Medium)
🏈 Former Titans RB Eddie George named Tennessee State Tigers coach, (WKRN)
🎫 Tennessee Senate Committee Approves Amended Bill Making County Health Boards Advisory Only, Prohibiting Vaccine Passports, (Tennessee Star)
🚌 Tennessee Lawmakers Debate Yet Another Measure To Limit Teaching about The LGBTQ Community, (WPLN)
🏠 Greater Nashville home sales up 13% compared to March 2020, (Nashville Biz Journal)
🏥 Nashville council adjusts health benefits for future council members, (Tennessean)
😷 Nashville updates public health order, masks no longer required in outdoor settings, (Channel 5)
🚧 Tennessee General Assembly Passes Bill Effectively Blocking Nashville Metro Council's Construction Regulation Efforts, (Tennessee Star)
🎗 Tennessee State Library and Archives to celebrate ribbon cutting ceremony today, (WKRN)
🎞 The Belcourt to Reopen April 23, (Nashville Scene)
Events
Monday
🎸 The Time Jumpers at 3rd & Lindsley, Tickets, 8p
💀 Grateful Monday ft. Hooteroll? at Acme Feed and Seed, Info, 7p
Tueday
👨‍🌾 East Nashville Farmers' Market, Info, 3:30-6:30p
🎸 Tim Easton at Dee's, Info, 7p
Wednesday
🪕 The Howlin' Brothers at Station Inn, Tickets, 8p
🎸 Songwriter Showdown at Dee's, Info, 7p
Thursday
🎸 Keith Anderson at 3rd & Lindsley, Tickets, 6p
🎸 A Night of the "Music of James Taylor " at 3rd & Lindsley, Tickets, 8p
🎸 The Reverend Peyton's Big Damn Band at CIty Winery, Tickets, 8p
🎙 Nate Bartgatze live podcast recording at Zanies, Tickets, 8:45p
Friday
🌾 Joshua Hedley and the Headliners at Dee's, Tickets, 7p
💀 Dark Star Orchestra at The Caverns, Tickets, 7p
🎸 Paul Thorn at 3rd & Lindsley, Tickets, 8p
🎭 Josh Wolf & Friends at Zanies, Info, 9:15p
Footnotes
[1] Oddly enough, Oracle's most recent host, Austin, Texas–an extremely blue city in a similar sea of red denoted by the plea to "Keep Austin Weird"—deals with its own brand of NIMBY activism. Concerned that they will see the same fate as San Francisco, citizens expressed concern that companies moving to the area would dilute the culture. Few Austinites felt their heartbeats flutter as the iconic Oracle wordmark sailed down the Colorado River to its new headquarters.
[2] If we're being honest, the soul probably left the Exit/In as soon as owners swapped the listening room vibe for a more profitable, big box-style club catering mostly to touring acts flying through town. What I've just said is heresy in some circles, but it does not subtract from my own love for the Exit/In. However, if we are talking about grave matters of the soul, I prefer we be precise. The Exit/In is great, but the soul of Nashville more likely lives, historically, in the Station Inn or down on Broadway at Robert's Western World and, more recently, at the Basement East. Exit/In has been through many iterations through the years, and I'm confident it will be around for a younger generation to complain about its demise twenty years from now.
[3] I am not using fascist as an epithet, but to describe the marriage of corporate and state interests. I am not using it in the debased manner of "anything right of Communism" and, increasingly, "anything right of anything".