Today's Takes: Monday, July 12
Vol. I, No. 44 • A Journal of Freedom • 
Headlines
🧊 Iceland cuts working hours for majority after shorter working week trial (EuroNews)
Iceland experimented with lowering the working week from 40 hours to 35 hours between 2015 and 2019 noting reduced levels of stress and burnout, and either increased or steady levels of productivity. Workers were not paid less for working fewer hours. Spain has begun experimenting with a four-day workweek.
The 9-5 workweek is a relic of the industrial era pioneered by Henry Ford. The world has been completely remade since the 1920s when it was first introduced. Who knows how this would fly in the US, but rethinking our relationship to work seems to be one of the more permanent side effects of the pandemic.
🌲 Biden's nominee to run the Bureau of Land Management has a record of terrorism (WSJ)
Tracy Stone-Manning was heavily involved with Earth First! in the late 80s. Earth First! was an eco-fascist advocacy group that practiced what it called "monkeywrenching"—spectacular arsons, equipment destruction, and most notably the deadly practice of tree spiking—to gum up the works of fossil-fuel production, logging, and mining. She's lied multiple times, on record, about her involvement with the group
📰 TODAY IN: General Headlines
💰 TODAY IN: Financial News
Wall Street is finally waking up to the reality of China (Washington Post)

Trump was the first to question China and his SEC was seeking to force US-listed Chinese companies to comply with our accounting standards. Of course, there's no mention of that here.

Borrowing Is Back as Sign-Ups for Auto Loans, Credit Cards Hit Records (WSJ)

Consumer demand for auto loans and leases, general-purpose credit cards and personal loans was up 39% in April compared with the same period last year.

Global Tax Overhaul Gains Steam as G20 Backs New Levies (NY Times)

A "minimum" tax enforced globally will only diminish competition
🏞 TODAY IN: California Wants You Out
And we're not talking about the people or the government.
Here's what we know about the 6.0 Antelope Valley Earthquake (SF Chronicle)
Gavin Newsome asked Californians to reduce their water usage by 15% as a worsening drought takes hold (CalMatters)

"Not here as a nanny state. And we're not trying to be oppressive," he said.
If Californians are serious about climate change, maybe they shouldn't live in the middle of a desert
🤡 TODAY IN: Clown World News
Nashville Politics
Nashville News
Revenue up, unemployment steady as Tennessee's economic recovery continues (Main Street)
Clarksville embarks on transportation improvements with help from tax increase (Channel 5)
Nashville International Airport sees record passenger numbers (Post)
Nashville Development
One Good Tweet Thread
🇺🇸 An atypical recommendation, but a Twitter thread concisely lays out all the things media and government did to lose citizen's trust last year. Tucker Carlson read the thread on his show on Friday night (Twitter)
Robinhood IPO
📈 Some crazy numbers from Robinhood's upcoming IPO (Nerd Wallet):
18 million users
$80 billion in AUM
47% of users use the app daily
98% of users use it at least once a month
50% of ALL brokerage accounts opened in 2016-2021 were opened on Robinhood
You are what you eat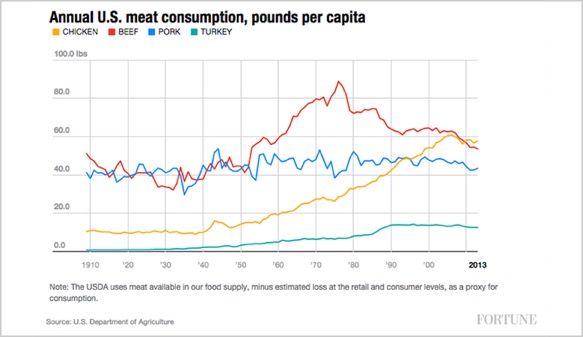 Have a great Monday