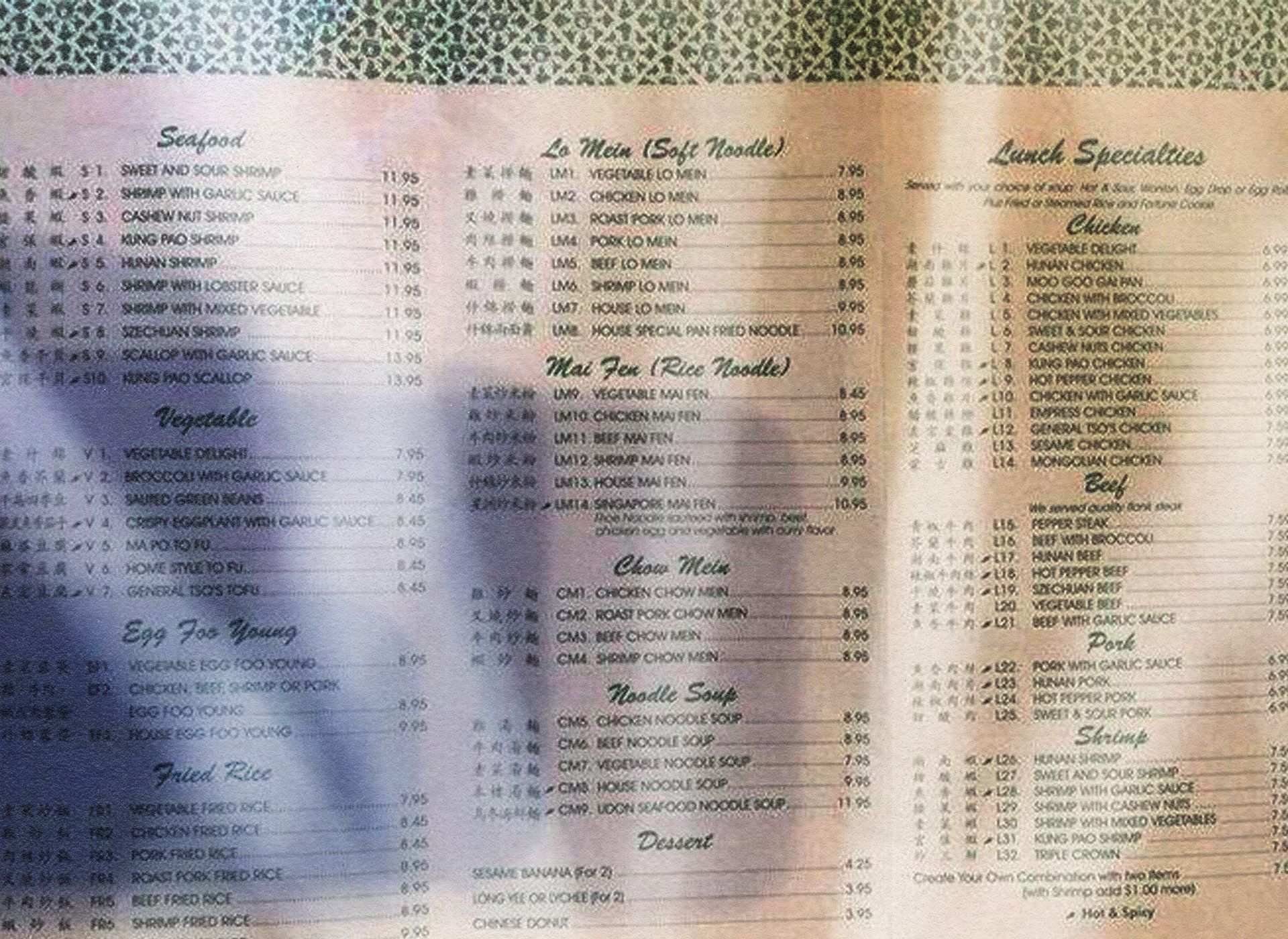 A Cottage to Dine In
Mike Wolf fills us in on his latest culinary adventure
Much has been made about China in the news recently, what with that large surveillance balloon hovering high over the US and a recent report from General Mike Minihan, head of the US Air Mobility Command, who said his "gut" told him we could be at war with China as early as 2025. Despite escalating tensions and whatever your geopolitical opinion is, Chinese takeout is something of an American tradition that has emerged in the past sixty or so years.
One hallmark of good Chinese food in America is ordering it for delivery or takeout has little bearing on the quality. The usual tradition is to order too much, peel off some of those seasoning packets, eat it with chopsticks out of the ubiquitous white containers, store the leftovers, and look forward to eating more of it the next day. Some Chinese food—specifically lo mein—is even better cold the following morning. As someone who worked in Chinese and Vietnamese restaurants in and out of college—some of which were amazing places to hang out in, due to the friendly service and the simple pleasure of eating fried rice on a warm plate instead of a cardboard box—I've always found it strange that dining in at these places wasn't more common. Enter China Cottage, a beloved-to-those-who-know restaurant in the sea-of-madness Rivergate part of Madison located at 1795 Gallatin Pike North.
China Cottage, with its spacious, comfortable booths and friendly, attentive service, is a welcome respite amidst a grouping of intersections that is, quite frankly, completely insane. TGI Fridays couldn't make it out here (it's currently being turned into a Chase bank branch) which should tell you one thing: it's tough out here in Rivergate. Chain restaurants abound and competition is fierce, but China Cottage is the oasis you've been looking for if you end up on that side of town.
Among the many highlights of a recent visit was the Singapore Mai Fen, a curry-inflected and mildly spicy dish with thin rice noodles, shrimp, chicken, and beef, in a large enough portion to save some for lunch the following day—  that is, if you're also throwing back a few of their crunchy, creamy crab-cheese wontons with the fire-engine red sweet and sour dipping sauce you can't live without. Other appetizer highlights include the hearty, well-seasoned beef skewers (beef teriyaki on a stick), garlic green beans (not always available but worth inquiring), and dumplings. If you're into lo mein, China Cottage's iteration is quite tasty and not too greasy, served with your choice of protein. And, as I mentioned earlier, it's amazing when served cold straight from the refrigerator the following day. Or maybe I'm just the weird one.
Beverage options at China Cottage are straightforward: the lineup includes tea, sodas, and China's Budweiser, Tsingtao, the sixth most-drank beer in the world and a great pairing with anything sweet, spicy, or salty. What I love about the menu is that it is extensive, with all the usual suspects we're accustomed to seeing in American Chinese: sesame chicken, General Tso's, plentiful fried rice options, along with a tofu hot pot, steamed sea bass and other lesser-known options like the Ma La Two Delight (beef and scallops sauteed with mushrooms). The dessert menu includes a sesame banana option for two and a Chinese doughnut, which seems like it could inspire world peace. The food and excellent value at China Cottage are worth praising, but it's the service and simple comfort of the dining room that will have me coming back, ready to try another new thing on their voluminous  Chinese-meets-Cheesecake Factory menu.
On my way out the door, I noticed a few employees sitting at a table separating wonton wrappers, which come stacked tightly in sheets that require a very delicate touch to slowly peel away individually before they can become delicious crab rangoons. This was something I used to spend hours doing in between making deliveries throughout my college years working at K's China in Boulder. Once I was sitting with my boss, Chang—who owned K's and always made everything spicier than all of his Mexican and Guatemalan chefs when he cooked. I asked him, "Did you like growing up in China? Do you ever miss it?" He looked at me dead in the eye, leaned forward, and said: "The United States is the greatest country in the world. That's what I say."