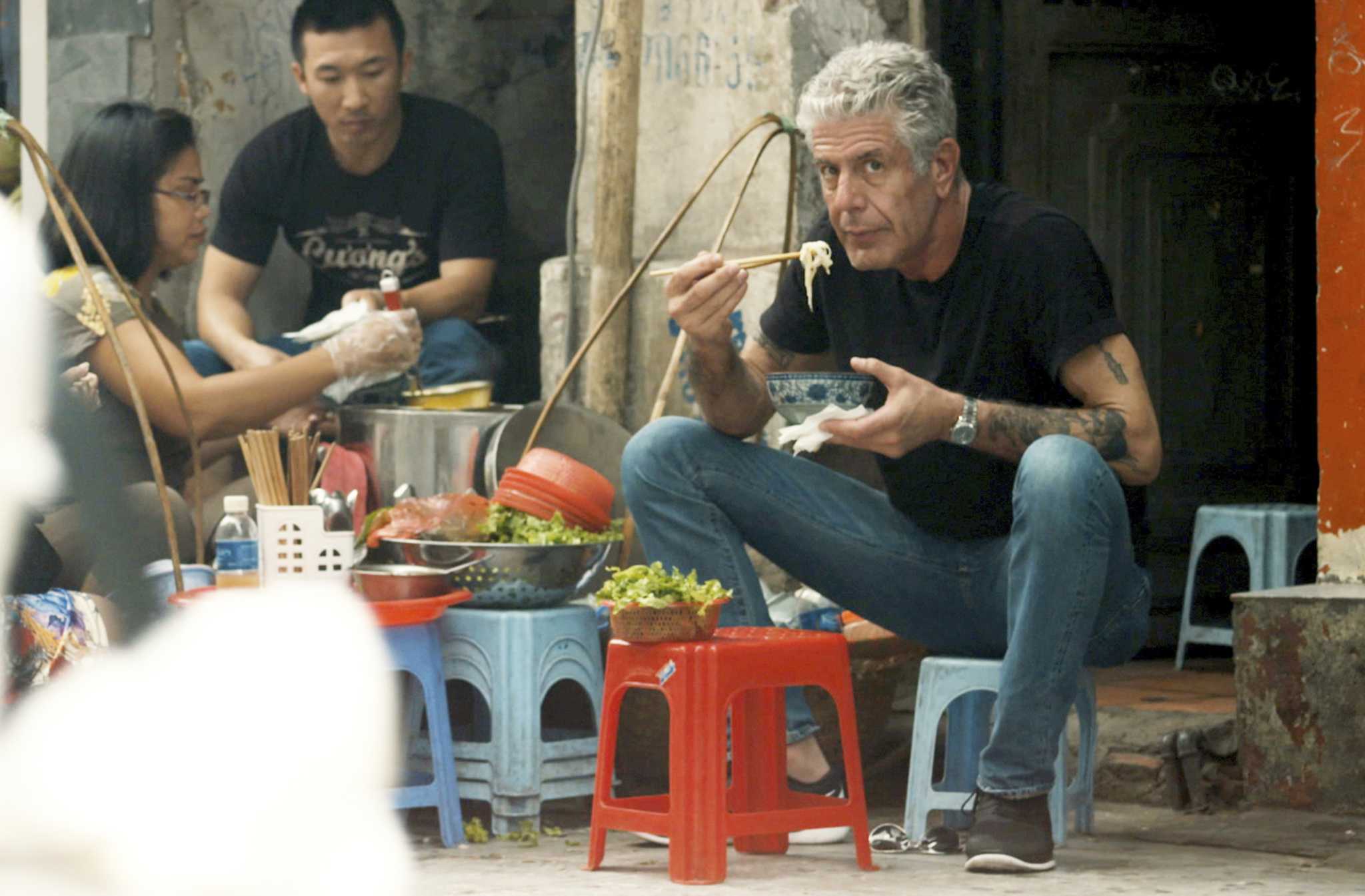 Anthony Bourdain and Documentary Artifice
'Roadrunner: A Film about Anthony Bourdain' stirred controversy for manufacturing voiceover of its late subject. Documentary film has more pressing issues.
At the end of the first episode of his travel series No Reservations, Anthony Bourdain distills his last night of Icelandic revelry as marked by a "make-you-want-to-kill yourself hangover"—a prescient moment in the wake of the culinary personality's suicide in June 2018. As the press came to terms with Bourdain's death, its litany of think pieces coalesced around a central theme. Bourdain was a revolutionary: Of the celebrity chef's persona; of the memoir upon the release of  Kitchen Confidential in 2000; of food generally. Yet, though the Cult of Bourdain memorialized its hero's achievements, these tributes largely overlooked his contributions to documentary filmmaking—a medium to which Bourdain has no equal in the 21st century.
When No Reservations debuted in 2005, its host's punk-rock attitude and empathetic curiosity turned it into a phenomenon. The previous year, agitprop master Michael Moore became the first (and only) documentarian to reach $100 million at the box-office with his anti-Bush fantasia Fahrenheit 9/11 surpassing the impressive success of his off-price imitator Morgan Spurlock's McDonald's expose Super Size Me earlier that spring. On the small screen, reality television shows like Survivor, The Bachelor, Laguna Beach, and Queer Eye for the Straight Guy dominated the pop-culture conversation.
In straddling both non-fiction forms, Bourdain cultivated a singular artistic style that bears more of a resemblance to the reflexive essay films of Ross McElwee and Jay Rosenblatt than either the Moore/Spurlock navel-gazing aesthetic or the manufactured melodrama of his trash-TV competitors. What made Bourdain such a compelling presence was the self-deprecating memoir vibe of his voiceover that combined the whimsy of a well-read journeyman with the ethical considerations of an anthropologist. As war gripped Lebanon during one of Bourdain's jaunts to the Middle East, he reveled in the cognitive dissonance of his crew and other white Westerners lounging by the pool and voyeuristically consuming the bombs dropping all around them—a choice that stripped reality TV to its core with a critical eye on par with George Orwell or Lester Bangs's most fervent accounts of colonial violence—only rivaled by No Reservations' post-disaster portraits of Haiti and New Orleans. Bourdain leaned into his role as the straight, white male out of joint, refracting the fraught politics of his liberal viewers back at them in a way no confessions to privilege could absolve.
Bourdain's influence notwithstanding, the success of Moore's self-indulgent polemics have tainted the documentary genre, devolving its dedication to meditating on universal truths into manufacturing the right type of reality. Structurally, conservative films like Dinesh D'Souza's 2020: Hillary's America and Death of a Nation function under the same methods as Moore's progressive opuses, adopting a documentary mode with the sophistication of a mad lib that is really more about hagiography of their hosts than the subjects at hand. Their lesser imitators from Monsanto screed Food, Inc. and Sea World indictment Blackfish to the accidentally neo-colonial investigation into Indonesian mass murder The Act of Killing operate similarly: position a version of the truth as gospel, villainize the opposition, show it the error of its ways in all of gotcha journalism's glory, and create a call to action as the credits roll (extra points if an inspiring ballad that is a shoo-in for an Original Song Oscar nomination accompanies the credits—especially if Melissa Etheridge sings it).
Given the current state of the medium, the ethical outcry over documentarian Morgan Neville's use of A.I. technology for a few seconds of imitation Bourdain voiceover in Roadrunner: A Film about Anthony Bourdain seems curious. Culled from hours of existing footage of Bourdain's various television series and interviews with his inner circle, the film strives for a personal portrait of the culinary icon that challenges his public persona. It received rapturous reception from critics until Neville flippantly responded to The New Yorker's Helen Rosner when asked about the simulation by saying "We can have a documentary-ethics panel about it later." Though the Twitter outcry was legion, Deadline's Michael Cieply defended the filmmaker by pointing out documentary's long history of manipulating reality using a 2009 American University survey of documentarians as evidence. Cieply's rejoinder attempts to neutralize the outrage, but it also elides discussion of the survey's actual findings. According to Cieply, "The craft tends to see itself as being bound less by the need to be accurate and fair than by a desire for social justice, to level the playing field between those who are perceived to be powerful and those who are not." In an instance when a member of the critical establishment could take the medium to task for its relativist ethics, Cieply deflects, exonerating Neville while reinforcing questionable filmmaking standards.
In her essay, "What's Wrong with the Liberal Documentary?," Jill Godmilow coins the term "the pornography of the real" to describe the genre's pervasive mode, positing that it, "ends up confirming and making comfortable the class status of that middle class audience, by providing an opportunity for compassion, for up-lift, for hope, and finally, for self-satisfaction -- and perhaps complacency." To his credit, Neville remains one of the few filmmakers subverting such tendencies whether in his ambivalent look into the lives of backup singers in the Oscar-winning 20 Feet from Stardom, the even-handed Mr. Rogers mini-blockbuster Won't You Be My Neighbor?, or the inquiry into how the televised Gore Vidal/William F. Buckley, Jr. debates of the 60s and 70s influenced contemporary punditry in The Best of Enemies. Roadrunner refuses to worship Bourdain while circumventing the allure of blaming his suicide on his failing relationship between #metoo activist turned accused sexual predator Asia Argento. Neville is far more focused on artistry and ambiguity, employing cinematic technique to underscore the tensions of Bourdain's life—most notably in the transition that crosscuts from the river of blood resulting from the TV host's slaughtering of a hog to his appearance on a red carpet. That the documentary world and the critics who cover it would spend the summer subjecting Neville to an artistic struggle session both highlights the uniqueness of Bourdain's distinct voice amid such artistic bankruptcy and calls into question the veracity of the whole documentary enterprise. The best films ask more questions than they answer, a tenet of Bourdain's oeuvre. Thankfully, his story rests in the hands of Neville, who remains content searching for elusive truths rather than having the final say.
Documentary Musts
Sherman's March (Ross McElwee, 1987) – What started as a survey of Sherman's Civil War path of destruction becomes an epic personal essay of romance in the contemporary South that dispels stereotypes and anxieties of the Late Cold War.
The Gleaners and I (Agnès Varda, 2000) – A portrait of scavengers that evades the trappings of poverty porn thanks to the comedic touch of one of the French New Wave's iconic auteurs.
My Kid Could Paint That (Amir Bar-Lev, 2007) – A profile of a child prodigy turns into an indictment of the art world and helicopter parenting.
Billy the Kid (Jennifer Venditti, 2007) – A real-life teen drama of a working-class autistic boy that interrogates documentary exploitation.
The Best of Enemies (Morgan Neville, 2015) – Sets a standard for depth to which all political documentaries should aspire.
Hale County This Morning, This Evening (RaMell Ross, 2018) – A tone poem about black lives in the Southern U.S. that serves as a salve to hashtag advocacy.