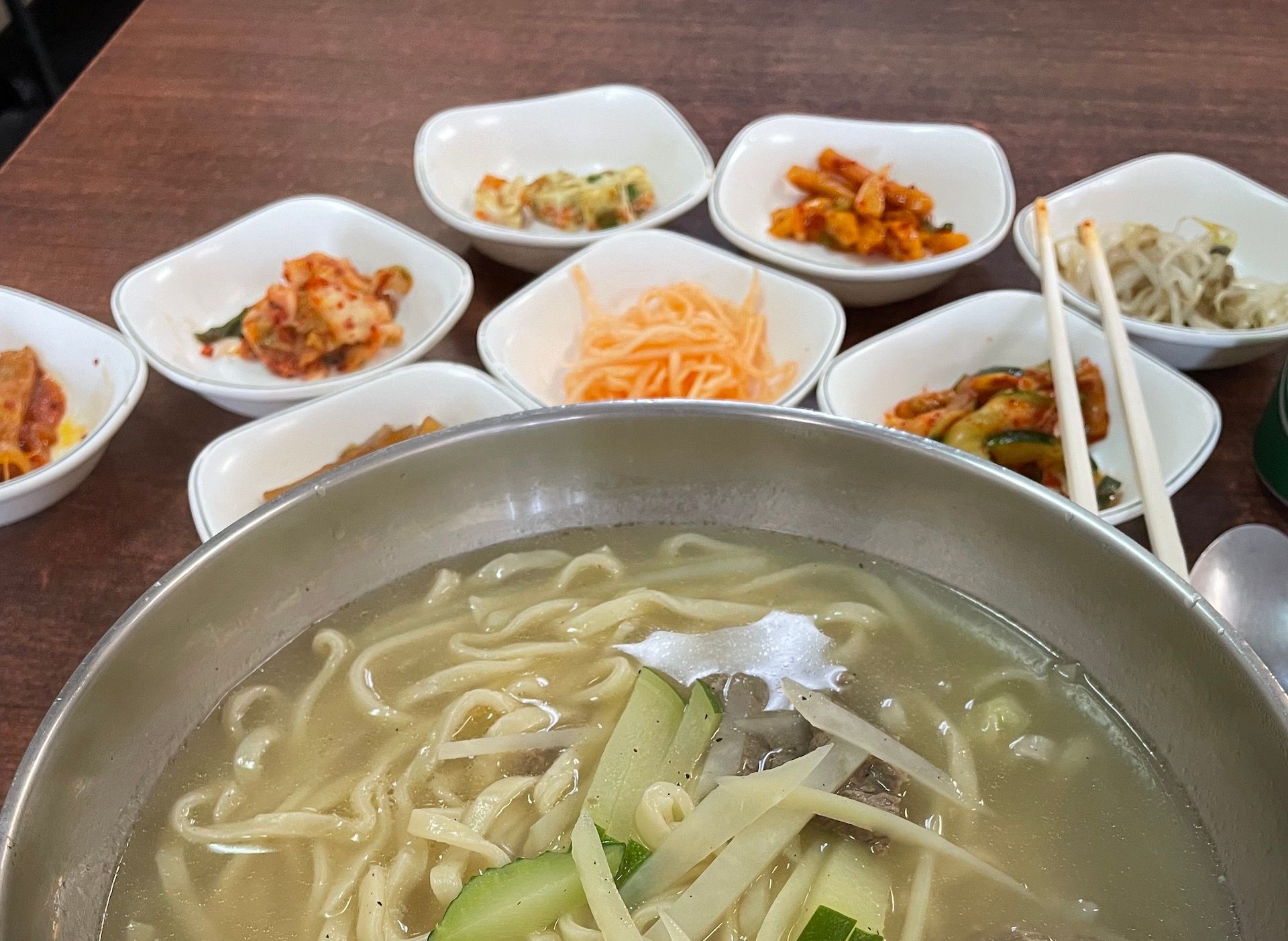 At Home at Korea House
Mike Wolf fills us in on his latest culinary adventure to Korea House
Driving across the great wide expanse of the American highway system, you'll notice a familiar collection of restaurants plastered on the exit signs dotting the roadways. It's rare, but welcome, when you stumble on a local gem, usually something like "Mannie's Kitchen," or "Lou's Diner," with a strange logo giving some local flavor to the ubiquitous blue sign adorned with Krystal, Wendy's, Popeye's (if you're lucky) and Starbucks logos.
Driving west on I-40 to Memphis you'll notice the aptly named "Exit 87 BBQ," in Jackson, which is quite good and probably deserves its own write-up in the future. You may even see a few named "Korea House," as most cities in America have their very own iteration of a hospitable Korean restaurant serving bulgogi, bibimbap, and buckwheat noodles that have been open for decades. In fact, Austin's Korea House is legendary and has been serving that city since 1988. However, our Korea House, located at 6410 Charlotte Pike #108 in west Nashville, is widely considered one of the best restaurants in town.
As unassuming as many of the gems in this city, Korea House is smack dab in the middle of a strip mall next to a place advertising "Korean swordsmanship." So, maybe don't try to start any shit around here. The small box of a dining room is often packed so plan your dining times accordingly. The service is warm and friendly; an afternoon spent here will make you realize why many of the customers who come and go are regulars known by name. I even heard a few people order "just the usual," which always gives me diner envy.
Perusing the beverages, I noticed both local (Proper Sake's excellent Koji Gold Lager) and far-flung options (Korea's Budweiserish Terra Beer), along with some fun Korean sodas, and a handful of different sakes and soju, the Korean national spirit of choice made from rice, barley and wheat. Soju is lighter in alcohol than vodka and with its clean, cool burn makes for a fine pairing alongside the bold flavors of Korean specialties.
Typically, you'd need a glossary to understand the various terms of Korean food, but Korea House's menu is helpfully descriptive. Though dear diner, I have a secret tip to pass along should you find yourself in need of an excellent appetizer to get things rolling: The "kimchi pancake" at Korea House is completely delicious, can fill you up if you're not careful (come to this restaurant very hungry), and is nowhere to be found on the menu. It's a tip that Nashvillians continue to pass along to each other through the years, something we can all agree on in these turbulent times.
If you don't opt for an appetizer, fear not as Korea House brings you an assortment of Banchan, small bowls of Korean appetizers that both prepare you for the meal ahead and serve as either a flavor companion or counterpoint to the spicy entrees. My banchan spread included pickled radish, house kimchi, marinated cucumbers, bean sprouts, and a few delicious items that I couldn't even figure out what they were. All I knew is they were packing a ton of diverse flavors.
As we're right in the middle of spring here in Middle Tennessee and quickly approaching the hotter months, take heart that one of the specialties of the house is a cold buckwheat noodle dish that tastes amazing with a cold beer on a hot day: Mool Naengmyun, comprised of cucumbers, marinated pears, and a soft-boiled egg made even more delicious by the addition of gochujang, Korea's famed chili condiment that's like a hot sauce but richer, applied like a paste. Once you've had it, you'll want to put it on everything you eat.
Since the day was dark and dreary, I went with the Kalgookso, homemade noodles served in a beef broth with vegetables. The steaming broth was light but very flavorful and the noodles were fresh and perfect. Rounding out the flavors by dipping into my various bowls of banchan made for a fun and varied dining experience. Here are some dishes I've tried on other trips to Korea House that I wish I had the stomach for that day:
Jampong, a spicy seafood stew served with noodles.
Dolsot Bimbimbap, a Korean barbecue dish served with beef and tofu atop rice and vegetables with a fried egg, served in a hot stone pot.
Galbi, pan-fried beef short ribs served with onion and rice.
Kimchi Samgyoupsal, stir-fried pork belly served with kimchi, tofu and rice.
It would be incredible to drive to different cities, tasting the various delights of every Korea House in America. It would even make a great book. I'm glad this one is all ours, Nashville, something we can all agree on.