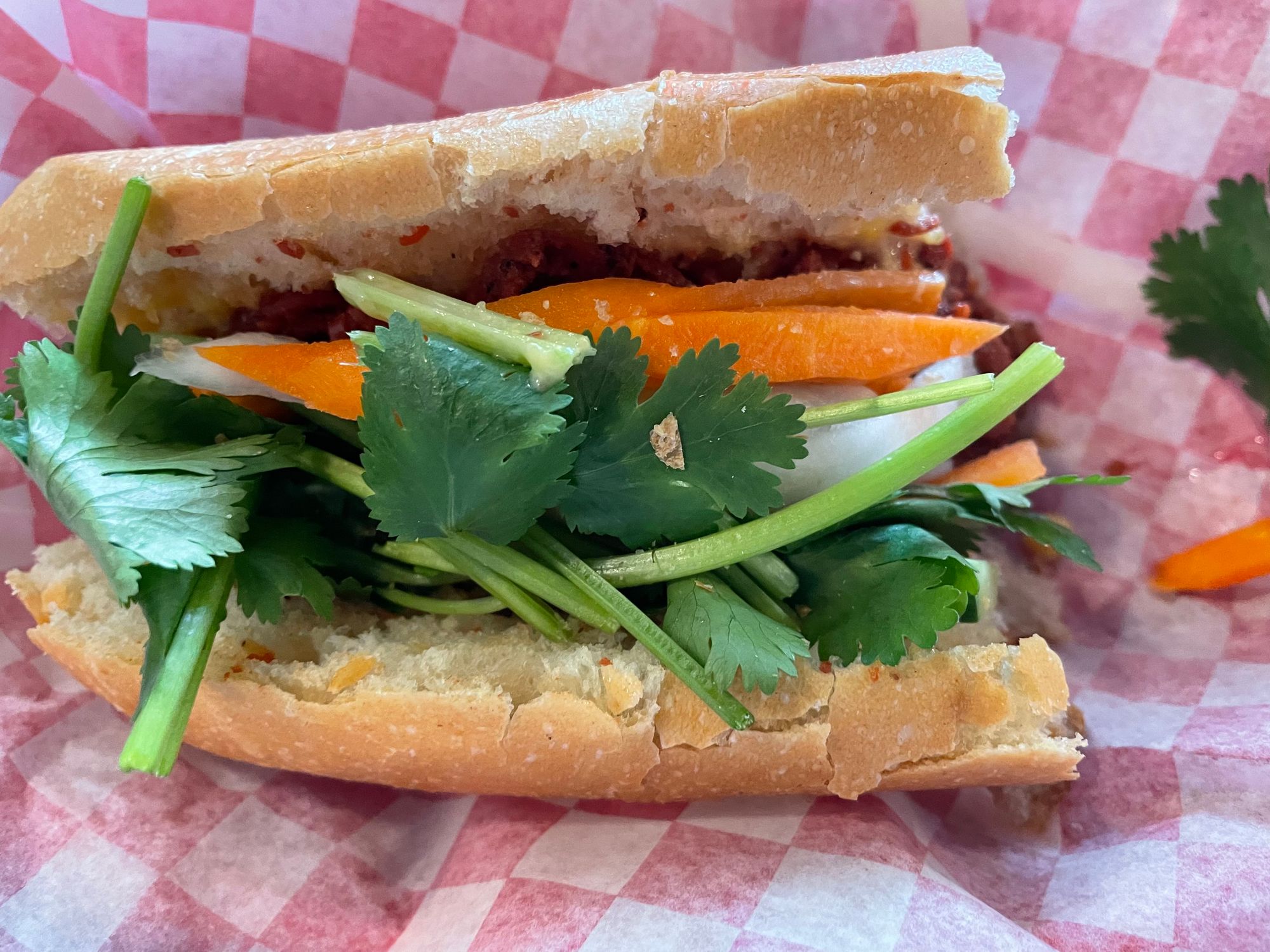 Bánh Mì, Bánh You
A culinary expedition with Mike Wolf
I believe the food tastes a little better when you have to search a little harder to find it. If I had listened to the grating voice of my Google Maps app while on the search to find Kiên Giang, a vaunted Vietnamese restaurant in West Nashville, I would have just plowed into a grove of trees perched next to the 6000 block of Charlotte Avenue. All I could do was roll the window down, follow my nose and do the logical thing: keep driving.
As I pulled into the parking lot of the large strip mall housing Lucky Bamboo and K&S World Market—a great spot for exotic produce, fish, and hard-to-find condiments while you're in the neighborhood—I finally spotted Kiên Giang and its ample parking lot in the far southeast corner. For reference, think of KG as residing behind Best of India and Las Palmas, both of which face Charlotte Avenue.
Now that I found my destination, I was hungry to dive in. Kiên Giang—named after a province in the Mekong Delta region of Vietnam—has been feeding West Nashville for over 15 years, and their extensive menu, which includes everything from Pho, spring and egg rolls of many varieties, bánh xèo (Vietnamese pancake dishes), rice noodle bowls, and plenty of variations on the Vietnamese classic bánh mì sandwich, will leave your head spinning with options. This is a place you go to with a group of friends, order a ton of food, and pass plates around to sample the many tastes of Vietnam and beyond.
Though they were out of Tiger beer—the perfect pairing for this feast, with its mildly bitter backbone—they had plenty of cold Kirin on hand, and a replay of the previous night's Denver Broncos game on the big screen facing the dining room, making this a sly spot to watch football and fill up on food on a Sunday afternoon. I started with some Bì Cuôn (pork skin spring rolls), wrapped with vermicelli noodles, greens, mint and served with a peanut dipping sauce, and was impressed by the combination of savory and refreshing.
Next up was their version of the timeless Bành Mì sandwich, of which they have seven different options to choose from. I went with the classic barbecue pork version, though next time I'll be eyeing the Bánh Mì Xíu Mai (meatballs with a tomato-based sauce), or the "Pha Lau" sandwich consisting of pig ears and stomach braised in a spicy broth and served on a baguette. My tried-and-true version was delicious, one of the best I've had in town with Eastside Bánh Mì and InterAsian Market near the top of the list as well. There was a light crunch from the vegetables and herbs, umami from the savory pork, and just enough give in the bread to hold the whole glorious mess together. To save room for a healthy portion of lemongrass-accented beef with rice noodles and trimmings, I elected to save the other half of my sandwich for a midnight snack.
My piled-high bowl of vermicelli noodles, bamboo shoots, herbs, and lemongrass beef was the perfect finish to my midday Vietnamese feast. If I felt the urge to kick up the spice or umami, the table was piled with homemade hot sauces and fish sauce, along with a few other mysterious bottles of flavor-boosting concoctions. Dining at Kiên Giang is a true choose-your-own-adventure with an array of entree options, sauces to dot here and there, and cold beer (along with fresh juice-based non-alcoholic offerings and iced coffees) at the ready. There are light and simple offerings of tofu and steamed rice, along with more complex dishes like the Bún Riêu, a combination of minced shrimp, crab, egg paste vermicelli tomato soup served with pigs feet, blood cube and Vietnamese pork rolls.
Apparently good things come to those who search for them and coming upon Kiên Giang in a nondescript strip mall in West Nashville is like finding a nearly hidden gem in a city ostensibly filled with them. This is a place where you can dine dozens of times and never have the same experience. The service was so friendly and attentive, I couldn't even pretend to be mad that they were out of Tiger beer. My server even consulted with me on how best to structure the feast so there wasn't too much food on the table at once for the quiet, hungry American. Next time, I'll be back with 6-8 of my closest, hungriest friends, because that's the only way I'm going to make it through this glorious menu.