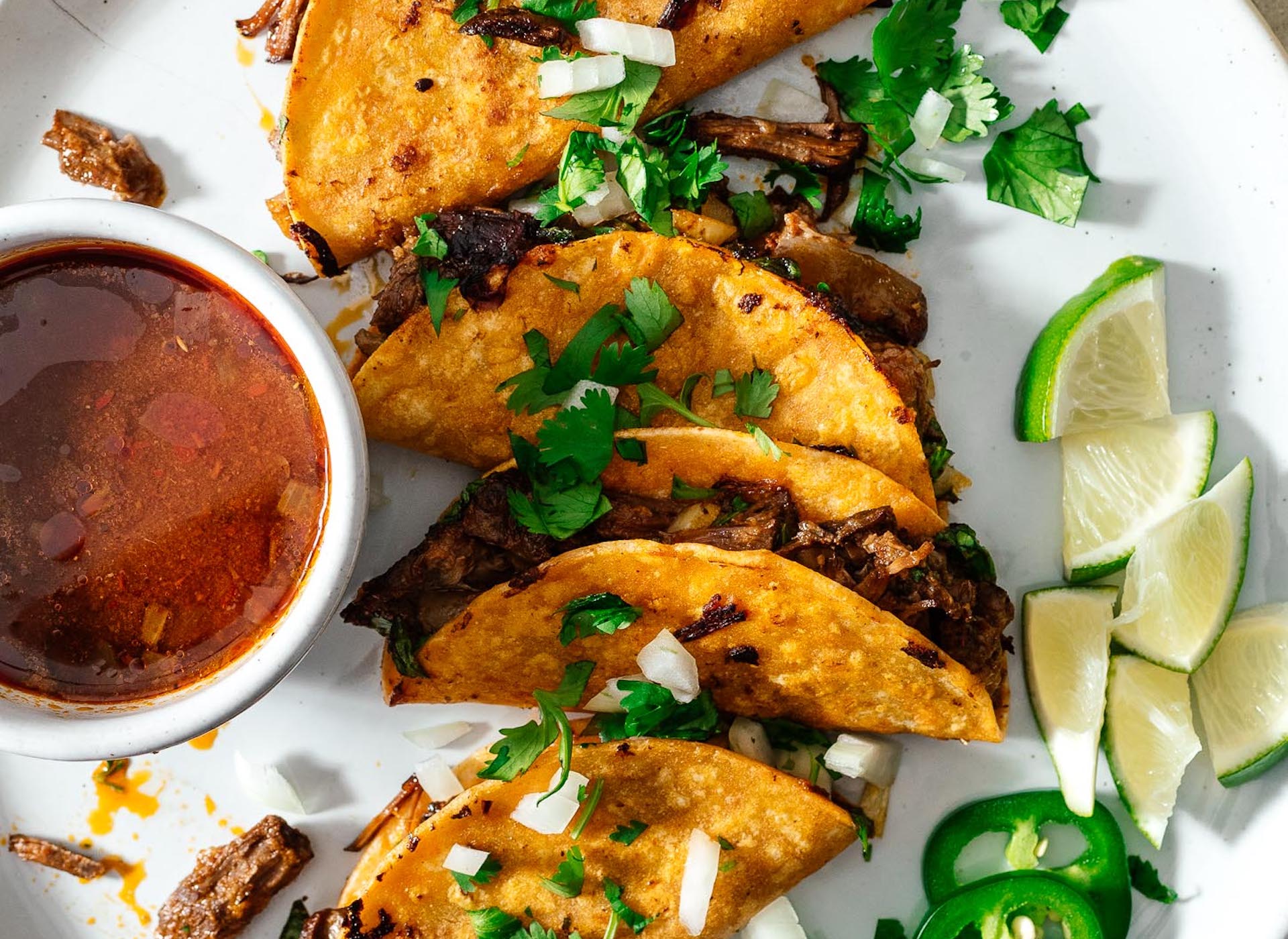 Birria By the Cemetery
A culinary expedition with Mike Wolf
The Spanish Conquistadors of the 15th century may have had a long to-do list when it came to exploring new lands and conquering new territories, but their impatience when it came to cooking goats led to one of the many regional delights of Mexican cuisine: birria. As the story goes, the Conquistadors brought plenty of livestock with them as they journeyed halfway around the world. When left with a plethora of goats as they made their way across Mexico—an animal they didn't particularly enjoy cooking or eating due to its tough consistency—the Spanish gave all the goats to the natives.
Originally a goat stew utilizing many of the centuries-old techniques of Mexican cuisine—slow-cooked meat in a stock bolstered by cumin, chili peppers, garlic, bay leaves, thyme, maguey leaves, and whatever else was growing nearby—birria is more commonly enjoyed these days as a flavor bomb dipping consommé for fried tacos. Luckily for all of us, there's a bright red food truck in Madison, just a mile north from Briley Parkway on Gallatin Road—across from Spring Hill Cemetery, making this an official spooky season stop—that's doing birria exceptionally well.
Strolling up to the Jalisco Taqueria truck—parked next to another under-the-radar gem in Robinson Antiques—one is greeted by a panopoly of smells, visuals of the food you're about to eat plastered across the truck, and a robust 17-item menu of standards for any taqueria doubling as a birrieria.
Jalisco offers a pizza birria, birria nachos, and birria by the pound with sides and garnishes for your very own Birria Fest, which I'm sure you're plotting even now as you salivate over the thought of these slow-cooked meaty delights. There's also the quesabirria, a mashup of a fried quesadilla, and a beef taco that you won't even need a bong to appreciate. During my visit, there were two aguas frescas options: traditional horchata (rice milk with spices), and a mildly spiced, delicious hibiscus. I drank half of the hibiscus agua fresca and stored it in my refrigerator, later mixing it with 1 ounce of lime juice and 2 ounces of tequila for a delicious and simple cocktail. To dip your tacos, Jalisco offers three sizes of their vaunted consommé: mini (six ounces), chico (12 ounces), and grandé (20 ounces). I went with the mini option to dip my tacos in.
My beef birria tacos were crispy, mildly greasy, and completely delicious with the consommé dipping option on the side. They came with ample toppings: chopped red onion, cucumber, cilantro, lime wedges and a uniquely thick, creamy hot sauce that had the consistency and color of a traditional Italian vodka sauce. It's always interesting to see which sauces, garnishes, and flavors can make a taco truck unique and Jalisco has some memorable details that will have me back soon (I only glanced at the pizza birria, but I've got my eye on it).
Another welcome detail from my visit was the fact that the truck itself has a full counter on the ordering side from which to stand and enjoy your food as soon as it's ready. This is a welcome addition for anyone who's wary of dipping tacos from the front seat of their car into a cup of consommé as it's teetering on the center console. Another welcome surprise was the hearty beef waiting at the bottom of my cup of consommé. A perfect finish to my meat-sweat-inducing lunch.
Even if it's as simple an act as standing at a makeshift counter just past the cemetery, as the leaves fall and the chaos of Gallatin Road in south Madison swirl all around you, the food is spicy, complex, delicious, and made me feel alive! Which, come to think of it, was a good way to feel as I gazed across the street at my ultimate destination.