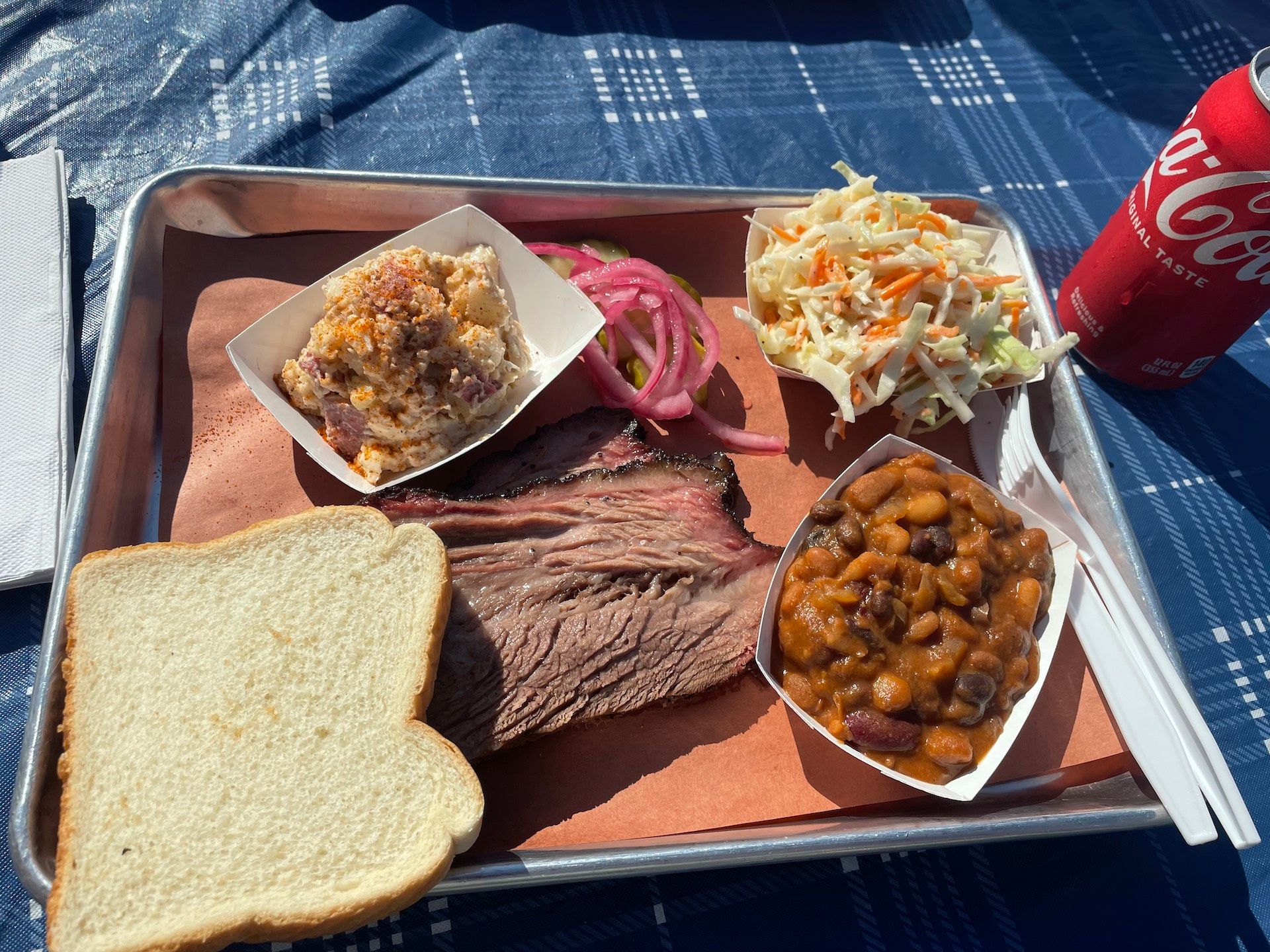 Brisket Bliss at Shotgun Willie's
A culinary expedition with Mike Wolf
Cooking brisket is like climbing a mountain or running a marathon. Once it's over – no matter how it goes – you'll feel like you achieved something worthwhile, even if it's not particularly good. They say brisket is the toughest cut to cook, often requiring twice as much cooking time as other cuts of braising meat, due to the abundance of collagen and its inability to break down into gelatin. That's why you gotta go low, and you gotta go slow. Smoking a brisket in true pitmaster fashion, using embers from a hardwood like hickory – the most prevalent hardwood in Tennessee barbeque – is one of my favorite things to cook and something our family does around Thanksgiving most years.
However, now that I've tried a true master at work, the fine crew at Shotgun Willie's BBQ at 4000B Gallatin Road in Inglewood across from Brown's Automotive, I need to reevaluate my methods and beg for their secrets. This is without a doubt the best brisket I've tried in Nashville. There's a reason they tend to run out of this candy-crusted, smoked delight right after the lunch rush (or before, you've been warned). It's that damn good.
Shotgun Willie's arrived on the barbecue scene in Nashville during the earlier months of the pandemic, as passersby craned their necks at the billowing smoke while cruising down Gallatin, and word soon spread of the "legit Texas-style brisket that runs out by 1:30." In the barbecue world, sometimes that's all the validation needed. But it isn't all brisket. They also serve up "Texas-sized" salt and pepper pork ribs, pulled pork shoulder, smoked chicken, and smoked beef sausage, either on plates or as sandwiches. The sides offered all have a unique twist on traditional barbecue sides with the four-bean baked beans, dill pickle tater salad, and honey-poppyseed slaw all tasting delicious on my visit. Other scratch-made sides include a queso mac and cheese, and "Mr. Tony's Magic Green Beans," which I was able to barter a few bites of with my dining companion. Alas, I couldn't make room for the bourbon-banana pudding or the Texas sheet cake though it's good to know I can pick some up for a last-minute Thanksgiving dessert or potluck. Beverage options include sodas, iced tea, Ranch waters, local beers, and a few imported from Texas like the classic Shiner Bock.
When it comes to the meat, Shotgun Willie's takes pride in its sourcing, focusing on Prime grade brisket from Braveheart Farms, a high-quality Black Angus beef operation in the Midwest, and Allegiance Premium Pork, raised on single-source family farms. The patio outside SW, with plenty of sun and not a lot of coverage, is perfect for a gorgeous fall day. If the weather doesn't cooperate there are a handful of tables inside as well, adorned with house-made sauces, including the hot barbecue sauce with plenty of tang and a little heat that you don't really need to slather on the high-quality meat (though it is nice to know it's there in case you like to spice up your sides.)
As I've stumbled down a few YouTube rabbit holes while learning the dark arts of barbecue brisket mastery, I have come across a few excellent examples of competition-level brisket where you can see the dark crust, or "bark," developed over a long period in the smoker, juxtaposed with the "pull" of extremely tender meat as it's pulled apart. What this refers to is the BBQ competition practice of holding up a slice of brisket lengthwise and lightly pulling it to see how easily it comes apart, a true test of a pitmaster's skill. If we were doing a pull test of Shotgun Willie's brisket it would pass with flying colors and win awards, which it has. The structural integrity of the bark – the aforementioned "candy crust" – was such a lovely contrast to the tender, umami-laden blast of the meat, it's easy to see why there's hardly ever enough to last up until closing time at 3 p.m. On a platter served with dill pickles, pickled red onion, a slice of utility white bread, and two sides, it's a lunch fit for a breakfast skipper.
Though I definitely noticed a few people dining alone, huddling over their hulking plates and giving off "don't bother me I'm in brisket mode" vibes, Shotgun Willie's is best enjoyed with a friend or two, giving you ample opportunity to sample the various meaty delights and unique side items. It has even made me rethink my Thanksgiving once again this year. With the cost of turkeys soaring due to the rising costs of fuel, labor, and supply chain complications, maybe it's time for another "Barbecue's-giving" in 2022. The only question is will I be merely inspired by the fine work at Shotgun Willie's, or should I just turn it over to them and pick up the feast a day ahead? Nah... I got this. But I don't expect to scale the heights of this brisket for a long time. Until my next visit, that is.