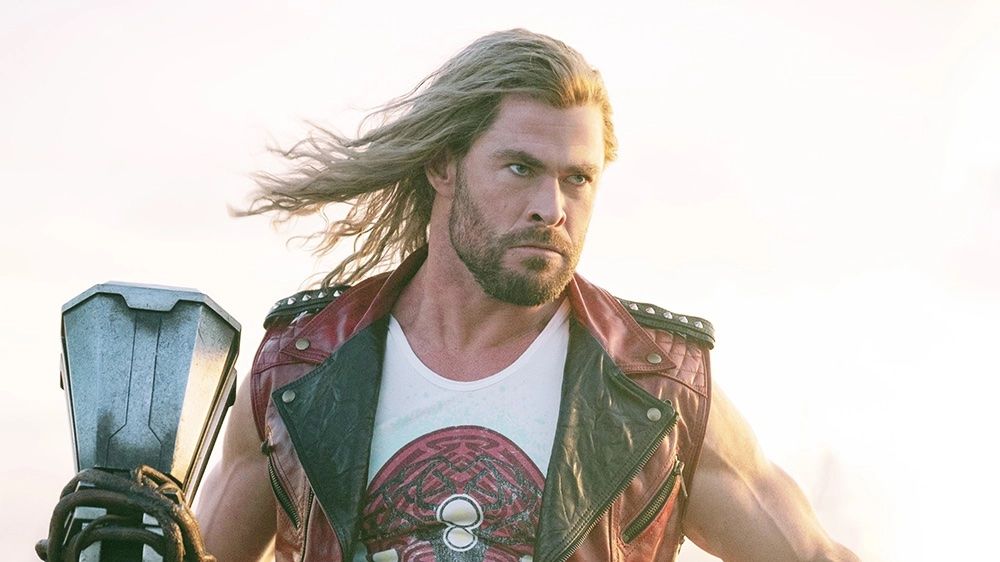 Review: Thor: Love and Thunder
The Norse God's latest romp defies Marvel's recent lapses in quality control despite empty gestures toward representation.
In the aftermath of Avengers: Endgame and Chadwick Boseman's untimely death, the dad-bodied God of Thunder, Thor (Chris Hemsworth), remained the last of the MCU's icons standing. Thanks to director Taika Waititi's knack for balancing absurd comedy with character development,  Marvel's lowest-grossing topshelf Avenger underwent a renaissance with 2017's Thor: Ragnarok, a film that ranks as one of the best Marvel entries. While this year's reunion of Waititi and Hemsworth for Thor: Love and Thunder does not result in anything close to a reversal of fortune for the MCU's stretched-too-thin enterprise, it establishes a unique enough vision and dedication to character development to at least justify another outing.
After the events of Endgame, Thor remains steeped in existential crises as he putters through space with the Guardians of the Galaxy. Heeding the advice of Star Lord (Chris Pratt), he returns to the Scandinavian settlement of New Asgard under the rule of Valkyrie (Tessa Thompson). But Thor's earthly life and God-status merge when he finds out that his magic hammer, Mjölner, has also bestowed the title of God of Thunder on his ex, Jane Foster (Natalie Portman), in an attempt to thwart her Stage Four cancer.  Unfortunately, Jane has become a deity just as Gorr the God Butcher (Christian Bale) began his campaign of genocide against the divine after his blind faith led to the death of his entire race, including his daughter.
While Bale's unhinged take on Gorr provides the MCU with the only villain rivaling Thanos (and takes a page from his The Dark Knight co-star Heath Ledger), Hemsworth more than holds his own with one of Hollywood's most revered thespians as well as the always consistent Portman. What makes Waititi's Thor movies rise above their predecessors is his shrewd alternation of Hemsworth's gift for comedy with moments of intense vulnerability. Likewise, Waititi (Jojo Rabbit [2019], What We Do in the Shadows [2014])  is a gifted enough filmmaker to employ the franchise's mythological roots beyond mere character development. As Thor heals, he's forced to come to terms with his discovery that Zeus (a brilliantly hammy Russell Crowe) and the other upper-tier gods he has modeled himself on are, in truth, nothing more than degenerate elites neglecting their responsibilities. A native New Zealander, Waititi also engages with national allegory positioning Thor and the Asgardians as settler colonials torn between their allegiance to their prestige and perpetual second-class status among their Greek and Roman counterparts. Consequently, even the film's most formulaic moments retain immense depth. Gorr's kidnapping of Asgard's children may border on cliche until one places it in dialogue with the Stolen Generation of indigenous children forcibly removed from their families during the early 20th century in his home country and Australia.
Despite such rich subtext, Love and Thunder still succumbs to Disney's tokenizing diversity strategy (which we took to task earlier this year). In one throwaway moment, Thor's buddy Korg (Waititi) reveals how his race of rock people reproduce (two males hold hands over lava) while Valkyrie mourns her long-dead girlfriend. Apart from a brief flash of Korg's mating ritual at film's end, Waititi takes care of such LGBTQ+ obligations in a three-minute exchange easy enough to excise from sensitive global markets. Such reveals aren't particularly important to the characters' development or narratively bookended in a resonant way. Instead, they seem meticulously placed to check a box while instigating some culture warmongering–a great disservice to the film and, especially, Thompson's multifaceted performance. Thor may realize his life's purpose by film's end after ending Gorr's reign of terror in an act of sacrifice and forgiveness, but Marvel and Disney remain mired in their own identity crises that make the God of Thunder's troubles seem like something a therapist could handle via telemedicine in a couple of afternoon sessions.
Now available for streaming.