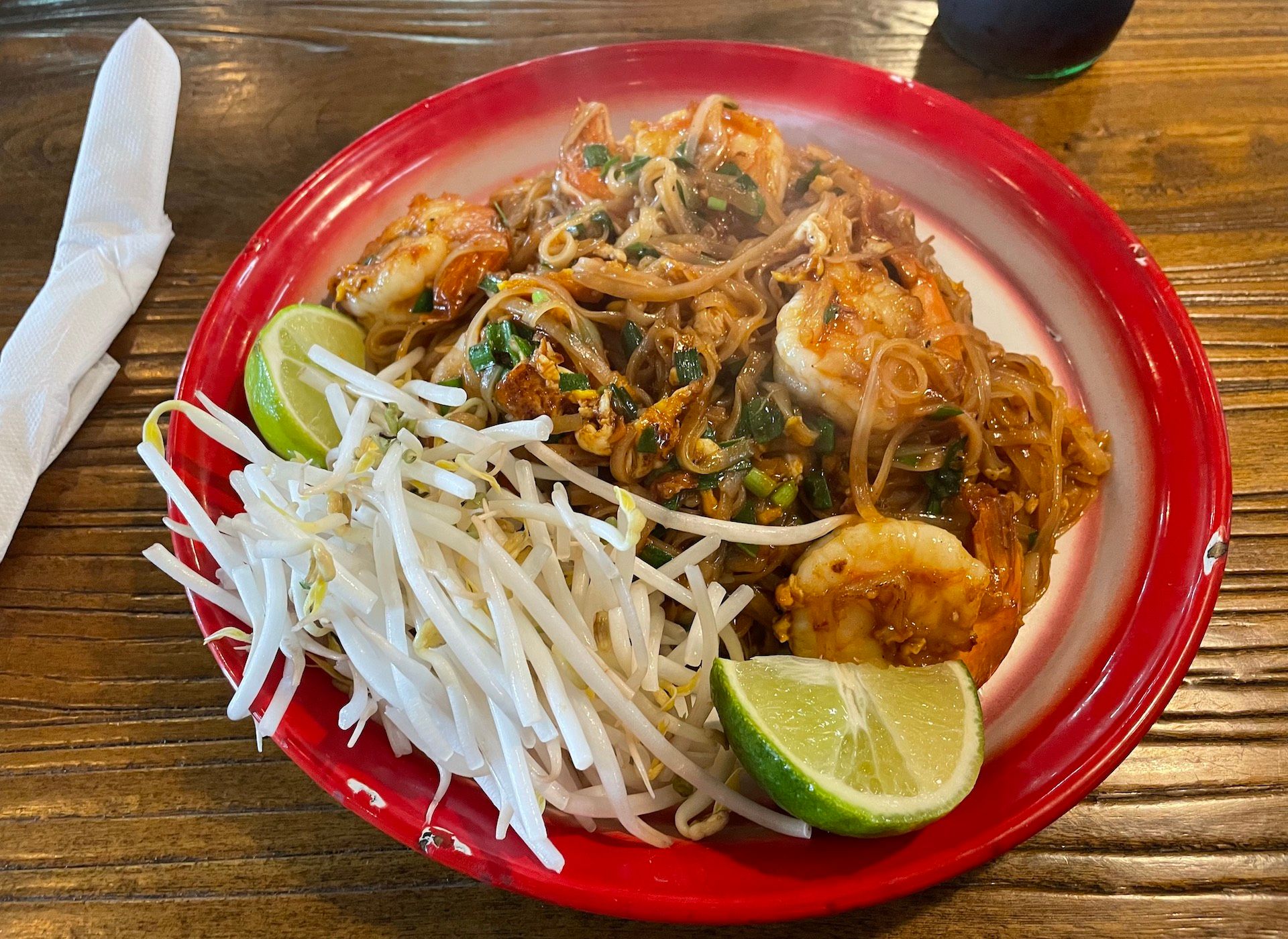 Pad in Full
Mike Wolf fills us in on his latest culinary adventure to Deg Thai
It's one of the better food memes I've seen on social media over the last few years, mostly because it's true. You're presented with a picture of the many ingredients that go into homemade Pad Thai with the caption: "I spent $35 on ingredients to make mediocre Pad Thai when I could have spent $15 for really good Pad Thai." I'm paraphrasing here but you get the gist.
If you decide to trek out to your local market to shop for tamarind paste, palm sugar, fish sauce (don't you already have some?), shallots, garlic, dried shrimp, tofu, chili flakes, eggs, peanuts, rice noodles, bean sprouts, and limes, there's a good chance you're spending way more than a quick trip to Deg Thai, located at 3025 Nolensville Pike, just South of Thompson Lane in a venerable sea of excellent food options. To survive and thrive in the 3000 block of Nolensville Pike means you must be doing something right. And Deg Thai is doing so many things right.
First, the "OG Shrimp Pad Thai" is such a perfectly self-contained home run of a dish as it touches all the bases of taste sensation, arrives at the table steaming hot (pictured), and smells like being airlifted to a crowded Thai street market where anything could happen. The sweet and salty pop of the sauce balanced by the acidity of fresh lime, combined with the umami hit of very large shrimp and the light, vegetal bitterness of the bean sprouts is like a spin class for your palate. Wash it all down with a cane sugar Mexican Coke to accentuate the sweetness or one of the delicious Thai iced teas from Deg Thai (offered in green or black tea varieties) and you're never at a loss for complex flavor affinities.
Though I've waxed about it before, one of my favorite restaurant jobs was at K's China in Boulder where we had an international cadre of staff including the owner Chang, who hailed from China, Hong from Hong Kong (yeah, it was confusing to me too), Paul from Thailand (he had a different name but told everyone his name was Paul) and K, who ran the joint with aplomb and grew up in Vietnam. Though the food was mostly Vietnamese and Chinese, we served a solid Pad Thai that changed depending on who was cooking. While this is generally frowned upon in restaurant kitchens—consistency is the name of the game, a fact confidently displayed by the folks at Deg Thai—it kept things interesting to those of us who worked there and constantly ate the food.
Chang's version of Pad Thai was spicier and more delicious, and he would often make the point that Pad Thai was basically a Chinese dish, claimed by the country formerly known as Siam 90 years ago while undergoing so much upheaval the name of the nation changed to Thailand and local dialects were banned in schools. The original name for the dish, kway teow pad, translates roughly to "Chinese rice noodles, stir-fried," or "Chinese noodles, Thai-style." Paul from Thailand would just shrug his shoulders and say, "I don't know, and I don't really care."
Deg Thai began life as a food truck, winning multiple awards throughout the early 2010s, before opening a brick-and-mortar location off Nolensville. The space has an airy vibe, with high ceilings, warm wood-paneled walls, and a wild mural that must be seen to be appreciated. The service is very friendly and lightning fast, with a shoulder-to-shoulder crew in the kitchen kicking out wok classics at warp speed. If you like heat, ask for your dish to be kicked up a notch to "Assfire," the highest level of heat and a welcome dose of humor on a cloudy day. Take note, however, that what many of the legions of noodle lovers who exalt Deg Thai have come to appreciate over the years, is their ability to deliver spice when a customer asks for it. So, be warned. Hot is hot, assfire will. . . Well, you get the idea.
Other delicious options on DT's modest but tight menu include red and green curries, street dumplings, and crispy tofu served with sweet chili sauce and a refreshing cucumber salad. Other noodles dishes include the Tiew Gang Vegan, a creamy, spicy, coconut-and-curry-inflected noodle soup served with cauliflower and tofu. Noodle newbies, be advised, I've heard it said that Pad Thai can be too thick to successfully navigate with chopsticks, as locals in Thailand usually eat the dish with a fork and spoon. But I'll take a note from Paul on this one: "I don't know, and I really don't care."