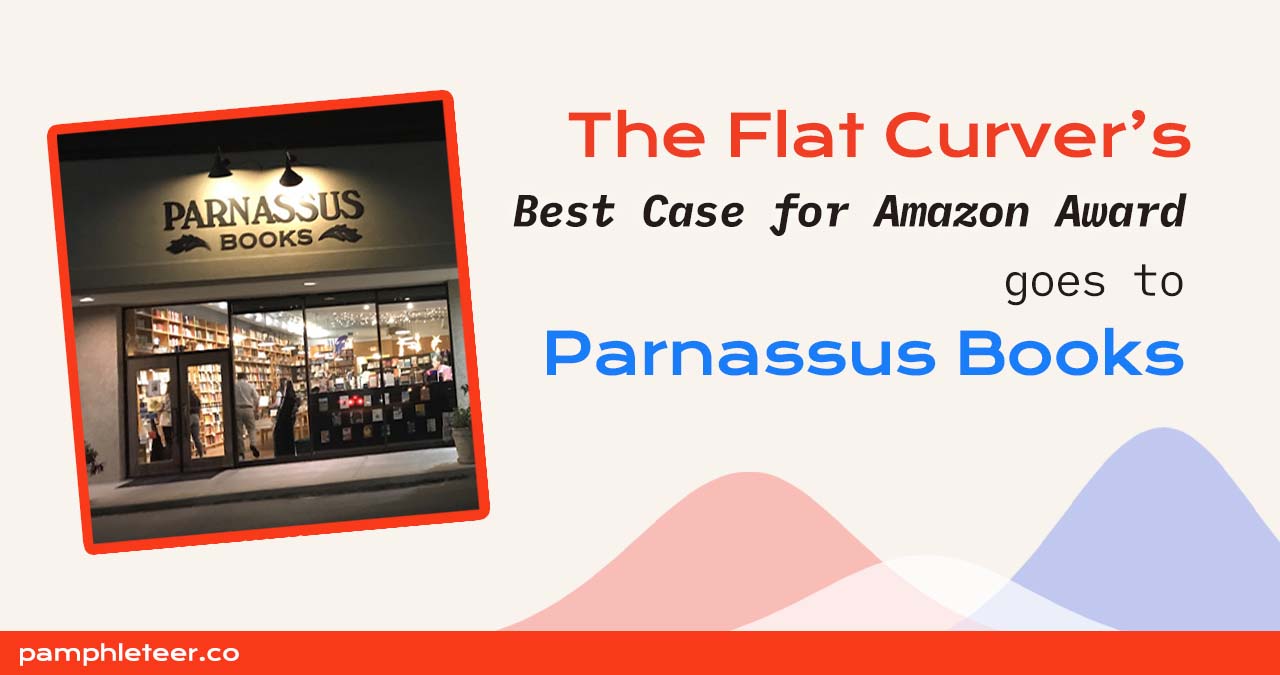 Parnassus Books
The Flat Curver's Best Case for Amazon Award
The most rewarding aspect of pandemic life was ample time to plow through the pile of books collecting dust on our nightstands. But for Nashville's Parnassus Books, lockdowns provided the perfect opportunity to broadcast frantic missives about its perpetual victimhood for profit while marketing itself as a leader in keeping the public safe. What resulted was a local illustration of our all-time favorite entry in the history of Book Twitter: "the painful truth is this: barnes & noble has been preferable to nearly every independent bookshop i've visited and it's entirely to do with the shopkeepers at b&n not having the chip on their shoulders their independent counterparts do & which so often sours the experience."
Parnassus always reeked of smugness, but its author events and signed first editions made it an undeniable asset to Nashville's culture even if, as we discussed last year, it only tolerates a certain type of author and customer. Co-owned by Ann Patchett, Nashville's resident celebrity novelist who relishes both her status as a big fish in small pond and her national cachet that allows her to pal around with Barack Obama, Stephen Colbert, and the current First Lady, Parnassus has colonized the city's literary scene, demonizing its chain competitors and casting itself as the only authentic literary hub in town. As the Queen of Indie Bookdom whose career was bolstered beyond obscure artiste by taking potshots at her provincial hometown in the national press, Patchett exploited the pandemic to rally Nashville's literati around sustaining her store.
Unfortunately, Parnassus also emerged from the pandemic as perhaps the least tolerant establishment with the most contentious Covid protocols in Nashville. Despite building its brand identity on the coziness of its in-store browsing culture, it was the only major book retailer in the Greater Metro Area that did not provide a reasonable accommodation for disabled customers who couldn't mask up, banning them from events with a tepid offer of curbside pickup (Parnassus management could not be reached for comment on this policy). It was also one of the last retailers in the city to eliminate its mask mandate, which finally expired in mid March, though its face-diaper clad booksellers still proudly pose every week for the store's Instagram posts and stories. Never one to to miss the chance to pounce on the latest moment in the culture wars, Patchett's also been busy compiling lists of anti-racist and banned books (jacked up to the highest possible retail price, of course) to call out the bigotry of those rubes from the Volunteer State outside her stripmall palace in Middle Tennessee's haven of Blue.
One silver lining of the store's Covid policy was finally gaining a reprieve from Patchett's condescending smile in her weekly missives. The other is realizing that Books-A-Million and Barnes and Noble now carry signed editions and an Amazon bookstore set up shop across the street from Parnassus in the Mall at Green Hills in late 2019. We know that 90% of Parnassus shoppers never crack the spines of the books they purchase, their preening on BookTok aside. Investment in local communities is a must, but it's far more important to will into existence the community one wants to have–one that appreciates all readers and could be attained for the small sacrifice of a Prime subscription and yet another chain restaurant opening in Parnassus's current space.