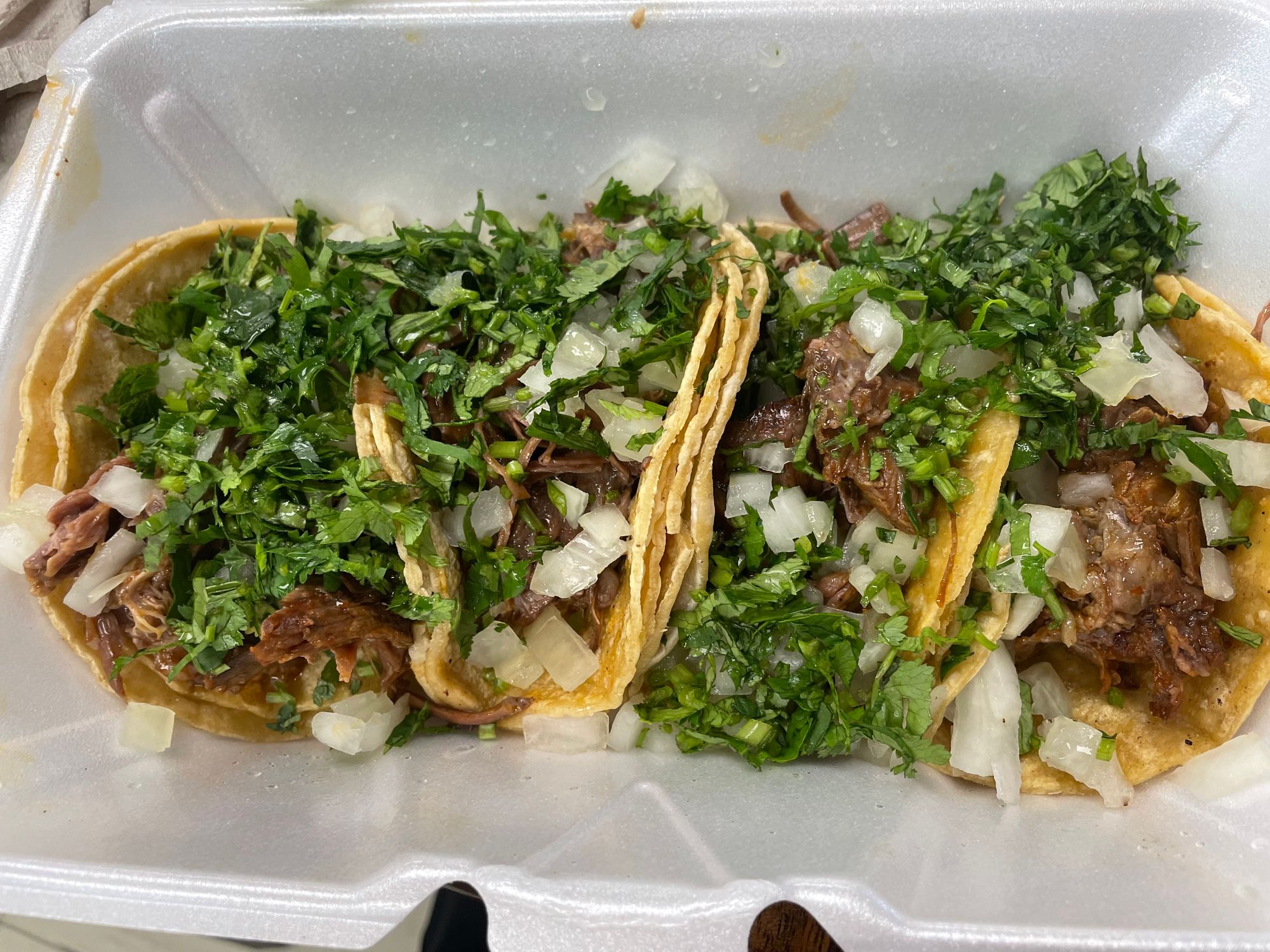 Picnic Paradise: 51st Deli
Mike Wolf dreams of picnic spreads and tacos during his latest culinary excursion
Before the Nations neighborhood was booming, sit-down lunch options were few and far between. Now the competition is fierce: Frothy Monkey, Bringle's Smoking Oasis (stellar), Daddy's Dogs, Red Bicycle (RIP Stone Fox), Nations Bar and Grill, Maru (sushi), and Oscar's Taco Shop, among others, all vie for your lunch dollar.
But with recent highs in the 80s and on the heels of the warmest months of December and January on record, picnic season appears to be upon us a bit early. My recent trip to 51st Deli on the lively corner of 51st Avenue and Centennial had my head spinning with food and drink options, dreaming of an ideal picnic spread for the next idyllic Spring day. Not only does 51st offer an extensive all-day breakfast menu—with tasty egg sandwiches, fresh-squeezed orange juice, and coffee drinks—they also have an array of picnic-style salads made from scratch like bacon-potato salad, chicken salad, egg salad, and even ceviche. But the stars of the show at this bustling bodega are the tacos and sandwiches.
It's rare and worth celebrating any place that can do Mexican street tacos, packing them with nearly double the meat of most taco trucks, and executing such a varied sandwich menu including burgers. Where else can one get a Cuban sandwich, tacos, breakfast sandwiches, burgers, takeaway salads, espresso, cannolis, every CBD beverage you've heard of over the last three years, beer, and wine, and it's all affordable? Don't say Cheesecake Factory either. As apt as they are at executing a gargantuan menu, they can't pull off tacos this well.
With such an extensive menu, it can be difficult to choose your own adventure, so let's get into the details.
The slow-cooked, tender and well-seasoned beef barbacoa tacos were plentiful and lively with onions, cilantro, and the fiery addition of the traditional twin taco truck sauces, red and green, made in-house. As much admiration as I have for the sandwiches, spreads, and all-day breakfast options, it's going to be hard for me to get anything other than tacos on my next visit. These tacos answer the prayer "can I just get a little more meat on my street tacos?"
The sandwich my lunch partner and I dove into on our most recent visit was the wonderfully named "West Nasty," a down-and-dirty heap of breaded chicken breast, capicola ham, jalapeño, bacon, pepper jack cheese and sabi sauce (horseradish with a hint of tomato typically served with crab cakes) on a hoagie roll. Though the sandwich was tasty, with the chicken perfectly cooked and well-seasoned with a kick, the toppings advertised on the menu were few and far between inside the actual sandwich. Bacon and jalapeño were hard to find or make out in the overall flavor profile.
The sandwich apologist on one shoulder tells me "chill out they were probably just running low on bacon and jalapeño or simply forgot to put it on," while the sandwich critic on the other side notes "don't advertise a new holy trinity of bacon, jalapeño, and sabi sauce if you can't deliver!" In the end, it says something about their skill if they forgot a few items of sandwich construction and it was still very good.
Beverage options abound at 51st Deli. On one wall towards the back are coolers full of cold beer and wine options. Another open-air cooler on the adjacent wall has the aforementioned CBD sodas, teas, and kombucha. It's basically a liquid compendium of what people like to drink when they're not drinking booze. The only other delis with this kind of beverage selection reside in fresh markets like Turnip Truck and Whole Foods, and their food isn't nearly this good, or affordable.