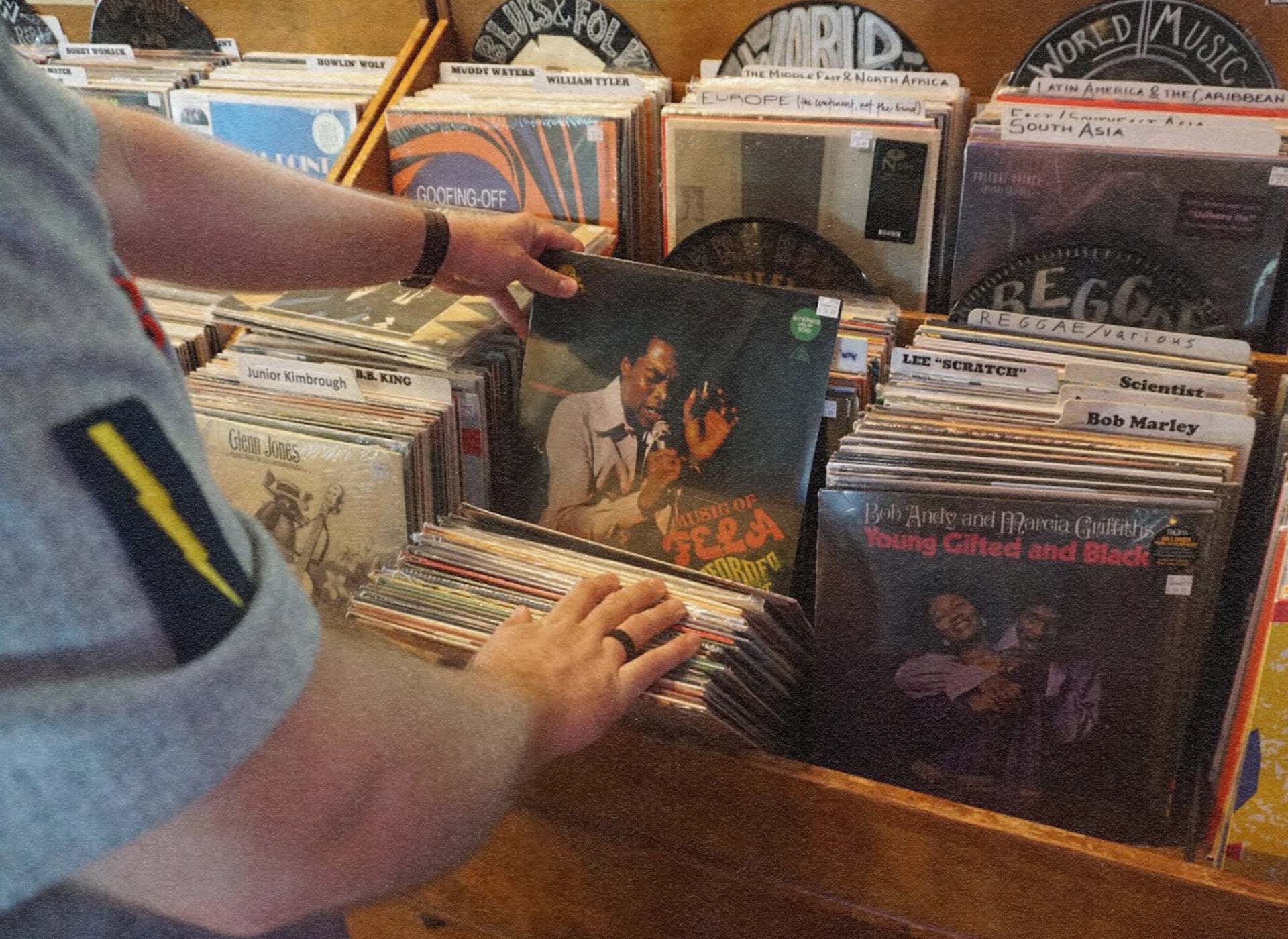 Record Shopping with J.D. and Kirk
Crate digging with two Nashville blues players
What are a couple of blues players and active record collectors buying from the record store? Turns out, nothing but the blues. I went record shopping with J.D. Simo and Kirk Fletcher at Grimey's and this is what we spent our wages on.
Sidenote Grimey's has no discount section, the records are in excellent shape (mostly high-quality reissues) and come at a high price, but I bit my lip and bought two for the story.
J.D. Simo
J.D. plays heady distorted blues and does it well. He's Chicago raised and a Nashville transplant; both a bandleader and wingman. Check JD out on Spotify and Instagram.
Carey Bell's "Blues Harp"
Bell, born in 1936 in Macon MS, sported a huge set of chompers with one front tooth missing and a big smile. J.D.'s poured through enough records to be familiar with Bell, the record label — Delmark Records — and the backing musicians. Delmark was responsible for possibly the biggest blues record of all time: "Hoodoo Man" by Junior Welles.
Hans Olson "Sings the Blues"
J.D.'s mentor when he was a blues fledgling in Phoenix. Olson plays the harp and the guitar and has played with the likes of Tom Waits and Muddy Waters.
Kirk Fletcher
Kirk's a big jolly blues player with a deep voice and laugh. He grew up playing blues on the West coast, toured the world, and landed in Nashville. His style has funk and R&B influences. Check Kirk out on Spotify and Instagram.
Jimmy Rogers - "Chicago Bound"
A cornerstone blues record that set Chicago up for the electric blues. Kirk describes the sound on the record as "amplified delta blues." It features notable songs like Sloppy Drunk, and Money, Marbles, and Chalk. Jimmy Rogers played with Muddy Waters and Little Walter in Chicago in the 40s. The three were instrumental in conjuring up the Chicago Blues style.
Lonnie Johnson - "Mr. Johnson's Blues, 1926 - 1932"
Another cornerstone blues record here and another forefather of "single string" electric blues guitar. Johnson was born in 1899 and made a name playing Blues and Jazz guitar in New Orleans. In 1917 he embarked on a European tour with Marion Cook's Southern Syncopated Orchestra. He returned to find his entire family but one brother had been killed by the Spanish Flu of 1918.
Edward Landstreet
Pamphleteer foot-soldier. Check out his Spotify profile (NSFW).
Fela "Ransome" Kuti with Ginger Baker - "Live!"
Fela Kuti, pioneer of the Afrobeat genre and his band Africa '70, and Ginger Baker, drummer for Cream, team up on this record. "Live!" is the fruit of Baker's African sojourn in a Land Rover to study local African rhythms. Kuti was his guide. Their travels were captured by British director Tony Palmer in the film Ginger Baker in Africa.
Kuti operated with a large band on stage—backup singers, guitarists, horns, and percussionists—bringing them in and out in waves. It's orchestral in that sense, but with a spinal beat holding it together. David Byrne does a similar thing in the Talking Heads. He very well may have taken inspiration from Kuti and the afrobeat genre.
Junior Kimbrough - "All Night Long"
Junio Kimbrough is another mid-century blues legend (though his first record didn't come out till 1992, six years before his death.)
One of the albums on the rack features a legendary photoshoot of Kimbrough that reflects his style well. The story goes that the old man rolled up to the shoot shirtless in his perfect white Cadillac, got out and walked around—cane in one hand, cigarette in the other—with no regard for the cameras. He was in his natural state. When his publicists asked him to sharpen up for the pictures he grumbled, "What? I'm here aren't I?" The pictures are golden.
Kimbrough died in 1998, leaving behind 36 children.