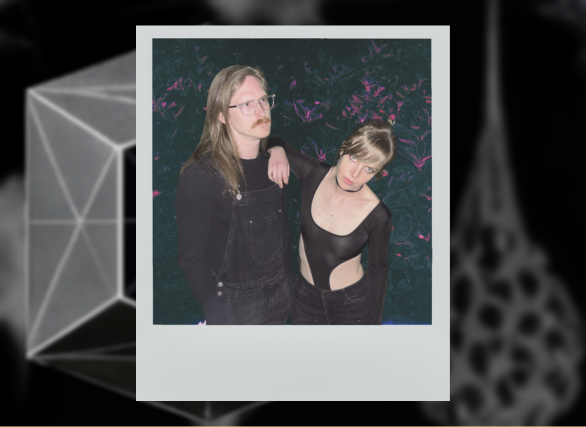 Interview: Slender Dan
We were pleased to talk to Nashville based avant-garde electronic duo Slender Dan, comprised of Heather Dickson and Patrick Ahern. Their latest album GESTALT is out now, a sobering critique of modern Orwellian forces — commenting on such topics as propaganda, censorship, the lack of consensus on truth, and the attempt to remain sane in the midst of insane times.
The Pamphleteer: GESTALT is a real breath of fresh air. How did your experiences during the past few years influence this album?
Slender Dan: Thank you so much! Yeah that was a pretty wild time huh? We moved from Seattle to Nashville in late 2021. We feel like everyone was hit a little differently depending on where you lived, but our trajectory started off like most — with fear/confusion, locking down our house, washing groceries, etc.
After a month or two of the "two weeks to flatten the curve" we slowly started feeling like "health and safety" weren't the only motivators. It started to look like profit and control had entered the scene, as usual. As local businesses dropped like flies around us, the rules started making less sense. It was as if the news and government was gaslighting us, telling us to deny our own eyes and ears. That really upset us and we felt compelled to speak our mind.
We turned to some of the great works of dystopian fiction, and after being blown away by all the parallels we found with today's society we started incorporating these ideas into our music which eventually formed GESTALT.
The Pamphleteer: Who are your main influences?
Slender Dan: Musically we're really into Radiohead, Thom Yorke's solo albums, Miike Snow, Billie Eilish, Sylvan Esso, and Aphex Twin. Lyrically we pulled a lot of inspiration from dystopian fiction such as 1984, Brave New World, Fahrenheit 451, The Handmaid's Tale, and even films like They Live.
The Pamphleteer: How did you start making music together?
Slender Dan: We were in a band called Tiger Rider in Seattle. Patrick has always made electronic music and he asked me (Heather) to help narrow down some songs into an album, during the lockdowns actually. I immediately started hearing vocal melodies and lyrics over some of the tracks and we got right to work recording. One of the early tracks had a working title of Slender Dan, which is where the name of the band came from.
The Pamphleteer: What brought you to Nashville from Seattle?
Slender Dan: First and foremost, we both work in entertainment and have always wanted to try this city out. But we really started looking when the lockdowns looked like they would never let up. We called stores in Texas, Florida, New Hampshire, and Tennessee to get a sense for what it would be like to live in each place. What we heard from those calls and what we were reading online made us think that Nashville would be a good place to relocate.
The Pamphleteer: Does Slender Dan have any upcoming shows planned?
Slender Dan: We don't have any shows planned as of right now. This band was started as more of a recording project. We would like to eventually play some shows but we'd probably want to bring one or two more people onboard to help us out by playing some of the parts or with some of the visual elements we'd like to have.
So if you're reading this and you like the music, reach out.