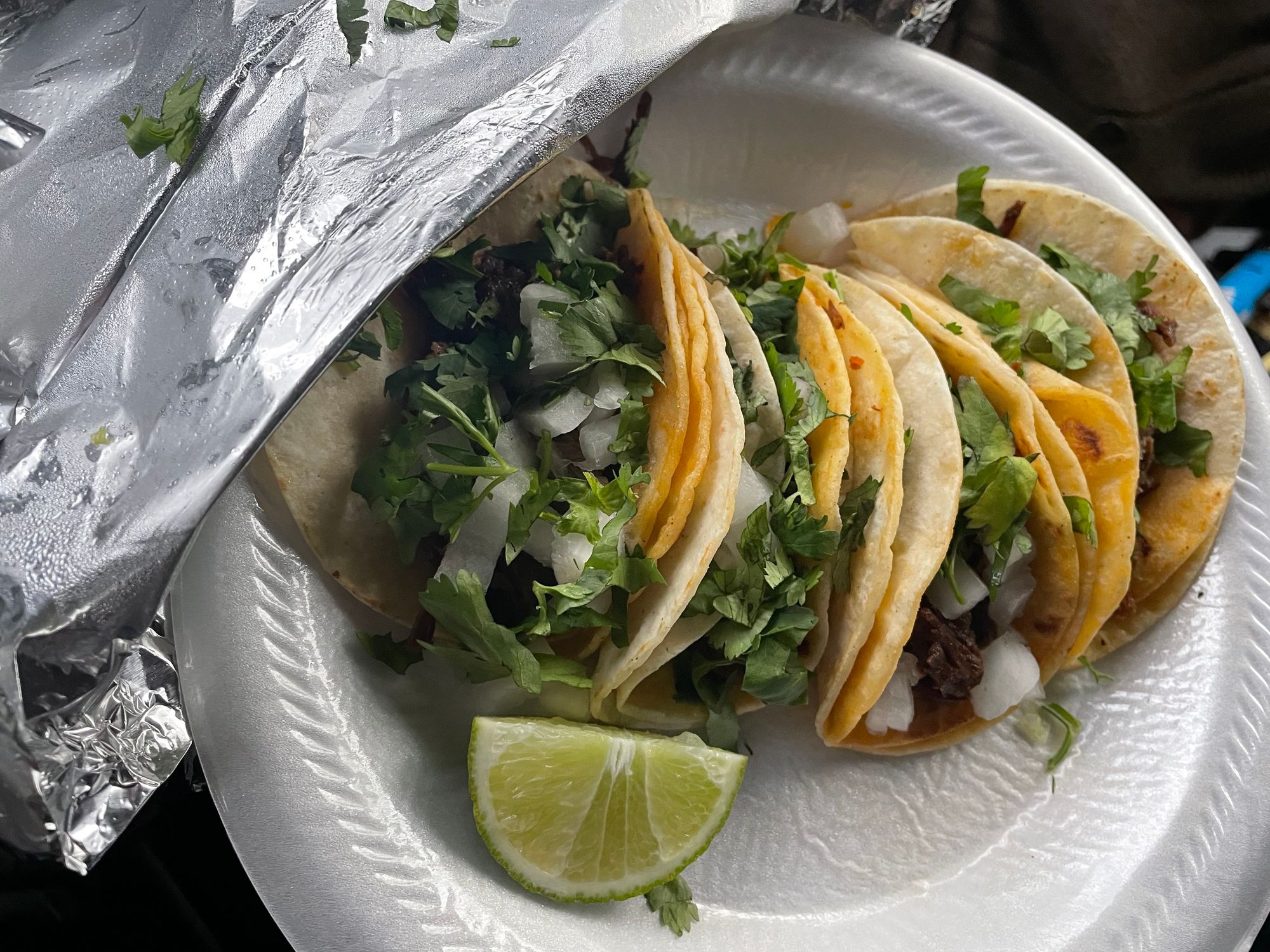 Tacos Ain't Too Little to Love
A culinary expedition with Mike Wolf
When you're on the hunt for a hidden gem in the food world, it usually starts with a tip or a hunch. Maybe you've seen a larger-than-it-needs-to-be smoker outside of a taco joint that's the same size as the smoker. Maybe a friend has tipped you off about the one taco joint that looks like the rest – a gleaming silver truck with a well-worn menu attached to the side – but tastes other-worldly, complete with spicy pickled vegetables on the side that you didn't ask for but thank your friend or whatever god you're praying to these days that it exists.
But the thing about a great taco truck– and this city has plenty– is that most of them are right there on major thoroughfares, waiting for you to roll through. If you're imagining they're hiding in plain sight than you're too focused on the petrol prices and race-car logos of the gas stations where many of the best taco trucks park their tires. Dickerson, Gallatin, Nolensville, Old Hickory. They may be thought of as towns or streets, but to me, they're just easy roads to cruise through (okay, Gallatin is no easy stroll) on the way to great tacos.
Since it's Taco Week, I'd love to share a few of my favorites and what makes their specialties so damn special. Sometimes I have a hard time making decisions about food. But if I can't decide on what to eat, I'll always just go grab some tacos, snatch a cold can of beer wrapped up in a paper bag from the adjacent gas station, and get on with it.
BEASTS OF BARBACOA
You'd be forgiven if you haven't quite given them a chance yet. The hours were initially sporadic, and the food could be both heaven-sent and mediocre in the same week. Rest assured, things have settled at the beloved taco truck nestled at the Northwest corner of the Shell station located at Haysboro Road and Gallatin in the far reaches of Northeast Nashville, near Briley Parkway.
The truck was once called "Taqueria La Bonita" but now they just answer the phone, "Hello?" Word is this truck shares family with the famed Taqueria Andrea on Dickerson Pike. Strong taco credentials, indeed. One question you may want to keep in your back pocket is "have you made guacamole today?" It can be a rare treat, but when they do it is very good and worth the splurge.
As I made my way through the menu over the last several weeks, I finally landed on their specialty and now I never stray: it's Barbacoa all the way. Tender, slow-cooked beef that's juicy, seasoned perfectly, and good for any time of day or night, these tacos have been a delight every time.
SUUVÉ MASTERS OF SUADERO
Though not a truck at all, the Inglewood public house atmosphere of Mexican mainstay El Fuego is more like a perpetually busy train depot that happens to serve a lot of tequila. With plenty of covered outdoor seating, El Fuego helped introduce Nashville to Suadero tacos: a Mexico City creation that refers to a cut from the lower half of the cow. The meat is typically lighter in color with more fat and less muscle grain than the brisket, which makes it perfect for tacos. If you prefer a well-marbled ribeye to a lean and clean filet, this is your taco. If you're looking for a taco truck further south that specializes in suadero, check out Tacos Lopez in the 5000 block of Nolensville Road.
ONE TRUCK TO TOPPLE THEM ALL
"It's that orange one, out by the place off that road that has all the amazing tacos and all that shit. El Something, you know the one."
That's a rough summation of things I've heard said about this taco truck somewhere North of the zoo off Nolensville Pike, perched on the side of a Chevron or some shit like that. Damn... now look at me, I'm doing it! But you'll figure it out. The one that serves the tangy hot sauce along with the perfectly pickled, spicy vegetables like carrots, radish, and chiles, with incredible Lengua tacos. The place where most of the menu is worth ordering at some point in your life. As George W. Bush once said, "Where wings take dream."
LIVE MAS, FUCK THE HATERS, EAT THE TATERS
Call it an honorable mention, call it an unfathomable promotion of something that hardly needs it, but it must be said: the potato taco at Taco Bell is worth exploring. While meat prices soar and fake meat bores, this simple concoction of tater tots tossed into a tortilla with shredded cheese– which may have been conceptualized in a future Taco Bell exec's former dorm room– is one of the cheapest, most delicious bites in fast food today.
Now, it definitely requires one or two of those packets of hot sauce that Taco Bell has become increasingly stingy about, but this is one delicious taco that will absolutely slay the midday munchies.
SPEAKING OF MAS, GUY FIERI CAN'T ALWAYS BE WRONG
Though not a truck anymore, Theresa Mason's beloved Mas Tacos in East Nashville definitely started out as a Winnebago taco force on wheels, setting up shop in the Five Points, football stadiums, and anywhere else that would have her back in 2011. Now her shop in Cleveland Park sees lines that curve around the street nearly every weekend.
Known for her unique and remarkably consistent take on tacos– as well as her incredible Chicken Tortilla Soup– Mas Tacos has also become famous, thanks to Guy Fieri touting it on "Diners, Drive-Ins and Dives", for the Fried Avocado taco, a vegetarian-friendly taco bursting with umami and savory goodness. What may seem like a carnival parlor trick at first glance is quite possibly the most delicious vegetarian taco in Nashville. And don't sleep on the eloté, Cuban black beans, or the thirst-crushing agua frescas.
----
There may be a lot of things to complain about in Nashville this time of year– what with the oncoming holidays, worse traffic and potholes so big even developers are giving them a second look– but thankfully tacos ain't one of them. We're blessed with so many options, we've only scratched the surface.
Until next time...