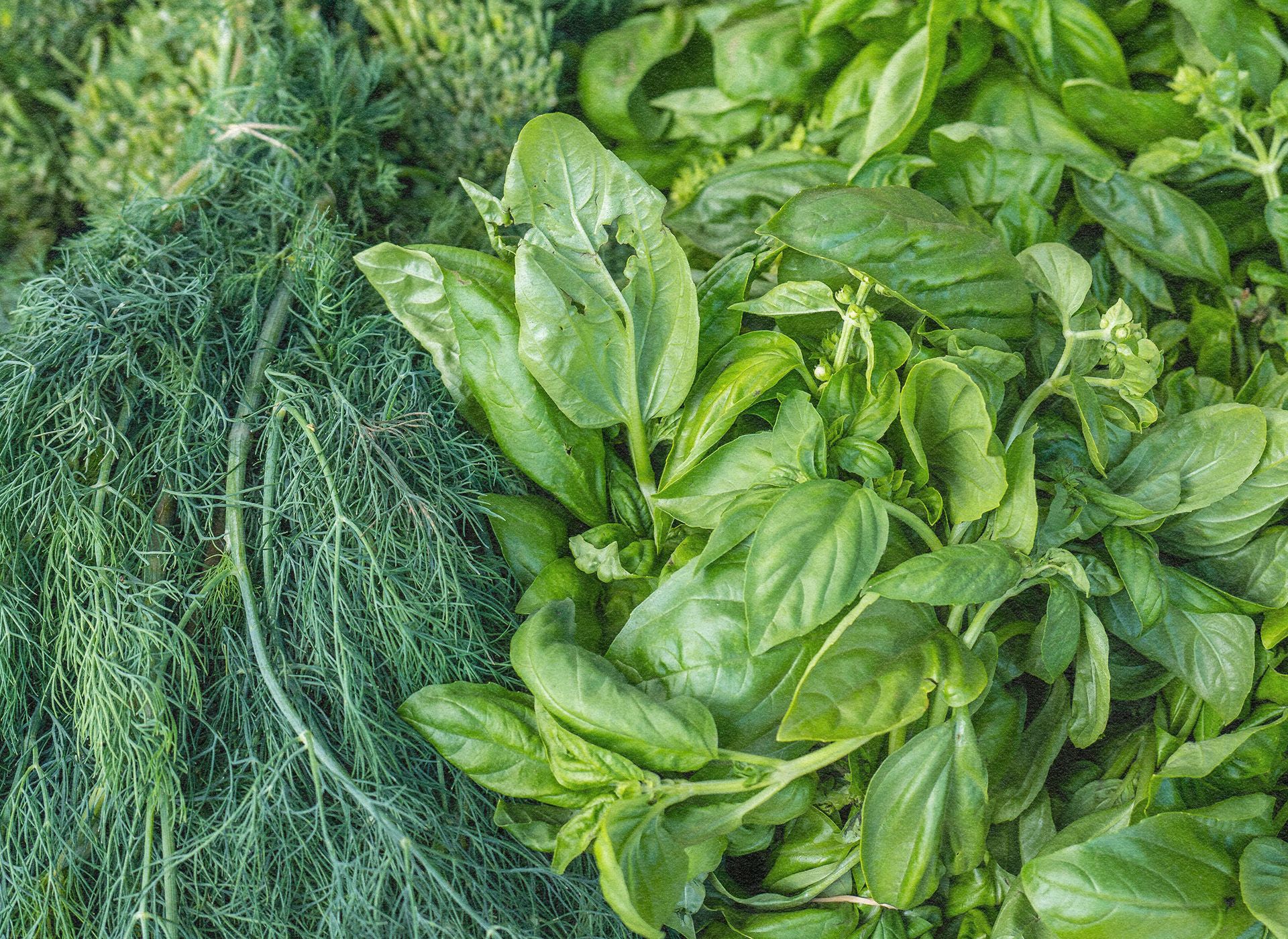 The Ancient Art of Eating Seasonally, Today
Eating Fresh and Locally in Tennessee
Throughout all history, eating fresh and seasonal cuisine has been a necessary practice for health. In India, this has been the standard of the Ayurvedic diet for thousands of years. Ancient Chinese medicine mirrors this practice as well. In Scotland, the legendary Highlanders subsisted largely on seasonal game, raw dairy (made into cheese and butter for preservation during hard winters), oats, and wild berries. Dairy cattle would be slaughtered in the fall, to provide good meat when the wild game was seldom throughout the winter. Today, in the well-known Blue Zones — places on Earth where people are considerably longer-lived — eating seasonal foods is simple, due to temperate weather. Here in Tennessee, we are blessed with similarly temperate weather as well as lots of farmland. However, the prevalence of large grocery stores encourages eating anything craved year-round, regardless of freshness. For those who are interested in eating fresh, seasonal foods, here's a handy guide.
Spring: Love That Rain
A warmer springtime means plenty to eat. As early as March, one can find the following at farm stands, markets, or in your garden:
Peas
Onions
Mushrooms
Root Vegetables (potatoes, beets, carrots, turnips)
Chard
Collards
Cabbage
Kale
Arugula
Spinach
Broccoli
Lettuce
Mustard Greens
Strawberries are the first producing fruit of the season, beginning in mid-April. Give your meals flavor with garlic, oregano, mint, cilantro, rosemary, and thyme. If you're an outdoorsy type, feel free to pick up some food on your regular hike! You'll find a salad bar. As soon as the snow melts, wild onions are growing just about everywhere. Before other plants begin to grow, asparagus is easy to spot. Watercress is an extremely nutritious, peppery green that becomes a bit too bitter in the heat of summer. As the weather warms up, dandelions and sweet violets — both great edible garnishes — begin to bloom. Dandelion flowers and greens are both excellent choices for this time of year. I like to lightly heat my violet petals in butter, adding a light floral taste to vanilla-based baked goods. Just remember to be responsible while foraging; take what you need, and leave some to seed.
With that warmer weather comes calving at Tennessee's many dairy farms, and that means fresh local dairy. If you can, find a farm to take part in a cow-share agreement for nutritious milk, butter, yogurt, and cheeses. Many local farms are willing to deliver dairy within Nashville and Murfreesboro.
Spring is also the beginning of more bountiful hunting and fishing. At this time, fishermen will offer plenty of white bass, rainbow trout, and crappie as schools make their way down our rivers to lay eggs. According to Tennessee hunting regulations, this is also a fine time for spring turkey. In addition to wild game, hens begin laying more frequently as the temperature climbs, making eggs and locally raised chicken a viable option through the warmer seasons.
Try This: White Bass with Spring Vegetables
Ingredients
4 oz white bass filet, patted dry
3 tbsp. butter
2 beets
2 cloves garlic, minced
8 spears asparagus, bases removed
1 sprig thyme
A pinch of dandelion petals
1 green onion or small handful of chives, diced
Preparation
Preheat your oven to 425°F. Line two baking sheets.
Heat a small pan on low, add butter. When it melts, add the garlic. Let it simmer until slightly golden, about a minute or two. Remove from heat.
Cut the tops off of your beets. Roughly chop the beet greens.
Get two squares of aluminum foil, placing the beets on them flat side down. Rub about 1 tbsp of garlic butter into each one, and wrap them tightly in the foil. Salt and pepper them if you like, and place them in the oven on a baking sheet. After about 30 minutes, continue to the next steps.
Lay asparagus spears on the second baking sheet and drizzle with about ½ tbsp of garlic butter. Season with salt and pepper.
Heat a pan on medium-high heat. Add ½ tbsp of garlic butter, thyme, and lay your bass filet on in the pan. Season with salt and pepper. After about 5 minutes, flip it and season again. After around 3-5 more minutes, place bass filet on the baking sheet with the asparagus and put the sheet in the oven.
After about 5-10 minutes, remove your baking sheets from the oven. Carefully open the foil around your beets and let them cool a few minutes before you slice them.
Plate your food! Sprinkle dandelion petals over the asparagus, and green onion over bass.
Summer: This Part is Easy
It would be easier to name foods that are not available in the summertime. Tennessee's warmth in the spring means early planting, and by June local farms can offer just about any produce that isn't tropical — sorry, bananas. Along with the same fruits and vegetables that were ready in spring, local summer offerings include:
Berries
Cherries
Melons
Peaches
Plums
Nectarines
Cucumbers
Eggplant
Grapes
Beans
Okra
Peppers
Squash
Tomatoes
Cauliflower
Radishes
As the season moves into August, corn and apples become ripe. Summer foraging also provides plenty of options, like dill, mint, lemon balm, wild carrots (be careful that you aren't picking hemlock), pecans, hazelnuts, black chestnuts, wild blackberries, and blueberries. It should be noted that while many local weeds aren't native, a bit of research into plant identification is a fantastic way to help clear out invasive species while also filling your pantry.
Throughout the summer, warm weather basics like dairy, eggs, bass, trout, and chicken are widely available. When we come into late summer, catfish flood the Mississippi River, making it a great purchase or catch for seasonal food. Hunting in the summer is fairly legally limited, but as we move into the autumn, it is time for meat.
Try This: Summer Omelette and Fruit Salad
Ingredients
1 small tomato, diced
½ pepper, diced
1.5 ounces spinach, chopped
2 ounces cheese
1 tbsp butter
⅛ cup milk
A small handful of chives, diced
3 eggs
A small handful of mint, chopped
1/2 apple, sliced thin
¼ cup pecans, halved
½ cup strawberries, sliced thin
1 tsp. honey
Preparation
Toss together apple, strawberry, pecans, mint, and honey. Set aside.
Beat eggs with milk and chives. Season with salt and pepper.
Heat a pan on medium-low heat. Add butter, let it melt, and add egg mixture, frequently (gently) jiggling the pan until your eggs set. Use a spatula to lift the cooked edges from the pan.
Add tomatoes, spinach, cheese, and peppers to one half, and fold the other over it.
Plate your meal!
Fall: Winter Prep and Wild Game
Here in Tennessee, we are lucky that early autumn has many of the same offerings as the summertime. As the weather cools we may miss the fruits of the summer, but plenty of food is still available for the seasonal eater. Some crops are much happier in the cool weather, and new hearty vegetables are a great way to go. This is the time to try some:
Pumpkins
Pears
Apples
Corn, and specifically Popcorn
Squash
Green Tomatoes
Seasonal Mushrooms
Beans
Peas
Fall foraging can be very pleasant, and not only due to the break from the summer's blistering sun. Blackberries and hazelnuts can still be found, the watercress is back to being delicious, and the cool rain provides an abundance of wild mushrooms if you're up for the challenge. Now is a good time to stock up on produce that preserves well, even dehydrating or fermenting your favorites for a winter snack. Press some cornmeal into tortillas for an easy, storable food vehicle throughout the cold months.
Of course, autumn brings us meat season. Throughout this time and the first days of winter, hunters will be bagging deer, ducks, quail, black bears, elk, and fall turkeys. Rabbit season begins in early November and continues through the end of February. Bass, trout, and crappie continue to be fished. Most notably, the truly cold weather brings the end of the dairy season. Preserved dairy products like butter and cheese are great options here, but because of the lessened utility of dairy cows, fresh and local beef becomes much more widely available. Pig farmers will also begin their slaughtering season, as the young grow larger. Put some meat on your bones for the impending frost.
Try This: Pork Tacos
Ingredients
½ pound pork tenderloin, cut into small pieces, salted, and peppered
2 tablespoons butter
1 tsp honey
½ small yellow onion, diced
2 cloves garlic, minced
½ tsp oregano
½ pepper
Corn tortillas
A tbsp cilantro, chopped
Preparation
Heat a pan on medium-high, add butter. When butter melts, add onions and peppers, and simmer for about 2 minutes. Add garlic and continue to simmer for under a minute until fragrant.
Add pork to your pan. Season with oregano and honey. Continue to cook, stirring frequently, until pork is cooked through. Set aside
With a pan on high heat, heat corn tortillas for just a minute or less on each side. Top with pork mixture and cilantro.
Winter: Stew, Pickles
It may be assumed that eating seasonally in the winter is impossible, but northern Europeans have been doing it for centuries. Also, lucky for us, winter here is very short. Even in the coldest months, cabbage, celery, kale, and potatoes will grow without much fuss. Carrots, harvested immediately after the first hard frost of the season, will be extra crisp and sweet. While the tops will not grow out anymore, the crunchy vegetables will continue to grow underground. These ingredients together, combined with the very shelf-stable onion, will make a tasty stock for use in a variety of recipes.
Foraging can also continue throughout the winter. The cold season is a great time to harvest the roots of dandelions, which can be dried and prepared as a rich, coffee-like drink. In the early winter, wild persimmons are ready for picking, wrinkling up, and becoming very sweet. Black walnut trees are still producing as well, so watch where you're stepping!
Cold weather fishing is an ancient tradition around the northern hemisphere, and the waters of Tennessee are no exception. Fishermen now will be piling up muskies, saugers, and smallmouth bass as fish try to warm themselves near the shores. Winter hunting game in Tennessee is limited to rabbits by mid-January, but farmers will make up for the space in a meat-lovers heart with the pigs and cattle slaughtered through the winter.
Try This: Beef Stew
Ingredients
1 pound beef chuck, cut in 2-inch chunks, seasoned with salter and pepper, tossed in 1 tbsp flour
2 tbsp butter
1 carrot, chopped into small pieces
½ onion, chopped
1 stalk celery, chopped fine
2 potatoes, cut into 2 inch pieces
2 cloves garlic
1 tsp thyme leaves
1 tsp rosemary leaves
Preparation
Preheat oven to 325°F.
Heat a dutch oven on medium. Melt butter in the pan, then brown beef on all sides (in batches if necessary). Move beef to a plate and set it aside.
Add celery, onions, garlic, and carrots to the pan. Stir occasionally until just browned.
Add potatoes, broth, thyme, and rosemary. Use a wooden spoon to scrape browned bits from the bottom.
Add beef chunks back to the pan and simmer. Cover the dutch oven and place it in the oven.
Cook for about 2 hours, or until the beef is very tender. Season with salt and pepper.
Why Bother?
Aside from the drive to eat and be healthy, eating local, seasonal food is far more cost-effective than doing otherwise. When food isn't in season, it is picked in the faraway places where it grows and shipped to our grocery stores — this drives the prices upward. That's not to mention the packaging, processing, and preserving these foods, further increasing costs. Additionally, many fruits and veggies that are prepared for shipping are also picked before they are ripe, sacrificing taste and nutrition for convenience. That's why your homegrown tomatoes — the Tennessee state fruit — are so much better than those pale, grainy ones from the store. So please; enjoy your local cuisine, support your local economy, get outdoors, and check out our massive number of farmer's markets.