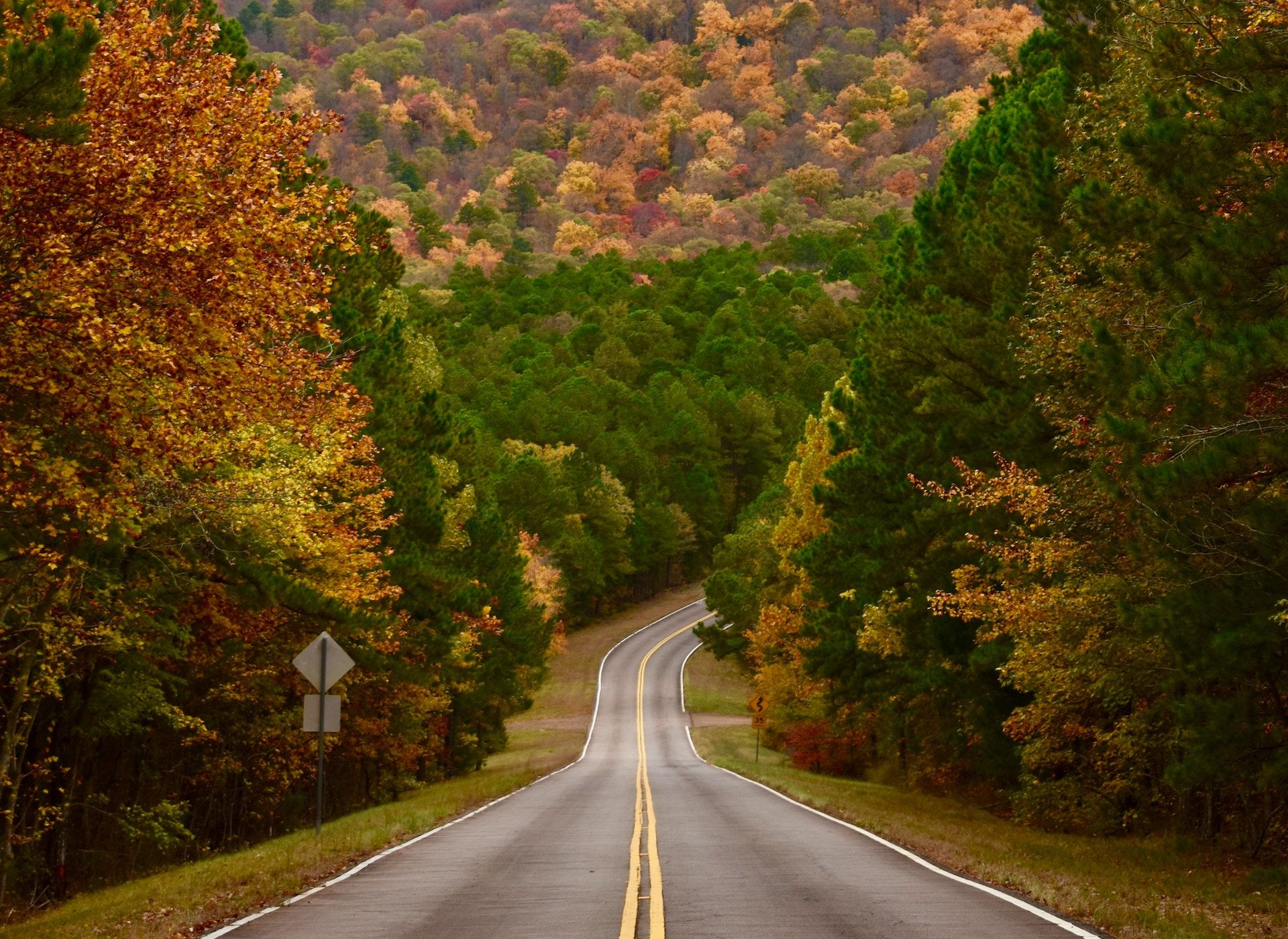 The Best Fall Day Trips
A collection of four day trips you can take around Nashville to get the most out of the Fall
Fall in Middle Tennessee is one of the best times of year for a scenic drive through our state's beautiful countryside. Each of these routes can be done as an easy weekend day trip from Nashville.
BEST OF THE WESTERN RIM
This route highlights the rolling hills and small towns of the Western Highland Rim.
From West Nashville take River Road (Hwy 251) to Hwy 49. This portion winds along the Cumberland River.
Then, take 49 to the town of Charlotte. Check out the historic court square and stop by Country View Market for picnic supplies.
From Charlotte take Hwy 49 to Erin. Erin is known as a little bit of Ireland in TN, but there's no Irish pub just Papa's Old-Fashioned BBQ.
From Erin turn South down Hwy 13. Take 13 through Waverly, and before you reach the interstate, you will pass Loretta Lynn's Ranch, which is worth a detour just to see the historic mill on Hurricane Creek.
Continue on 13 to Linden, and check out the cute Court Square site of the famous Commodore Hotel.
From Linden take Hwy 100 to Centerville, home of Minnie Pearl and the Banana Pudding Festival. If you like catfish, the Fish Camp restaurant is a good dining option.
Continue on Highway 100 through Fairview and back to Nashville.
ROUTE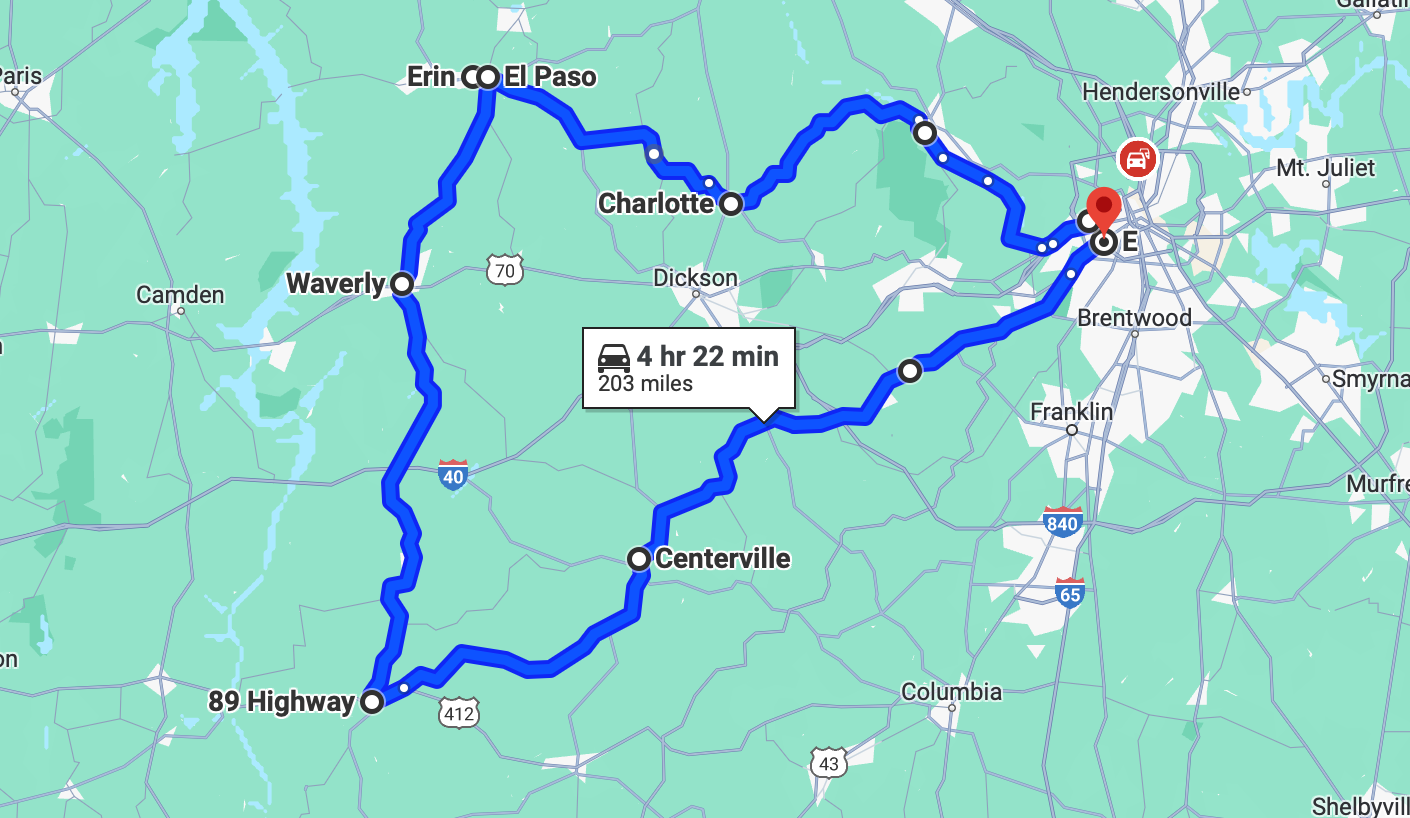 THE NORTH COUNTRY FAIR
This route crosses the Pennyrile Plateau and the rugged Upper Cumberland.
From Nashville take Hwy 431 through the Whites Creek Valley and up onto the Pennyroyal Plateau at Joelton.
Continue on 431 to Springfield. It's worth making a loop down 49 and Central to see more of the older homes and the downtown.
From Springfield, take Hwy 49 to Orlinda. At Orlinda, take Hwy 52 east through Portland, Westmoreland, and Lafayette until you reach Red Boiling Springs.
In the 19th century, people traveled to Red Boiling Springs to take in the vapors. Two of the old resort hotels are still in business and occasionally host nighttime ghost tours. There's also a historic covered bridge downtown.
From the Springs, take Hwy 151 to Hwy 56 into the town of Gainesboro. The Bull & Thistle is an excellent Irish Pub & restaurant serving upscale versions of Irish & British staples. Sure, it's a bit yuppie for Jackson County but it's also really good.
From downtown Gainesboro, take Hwy 53 over the ridge and on to Granville. Despite being turned into a peninsula by the flooding of Cordell Hull Reservoir, Granville is alive and well, with a diner and a couple of small museums.
From Granville take Hwy 53 to Chestnut Mound and turn right on Hwy 70. Take 70 west through Carthage and Lebanon back to Nashville.
ROUTE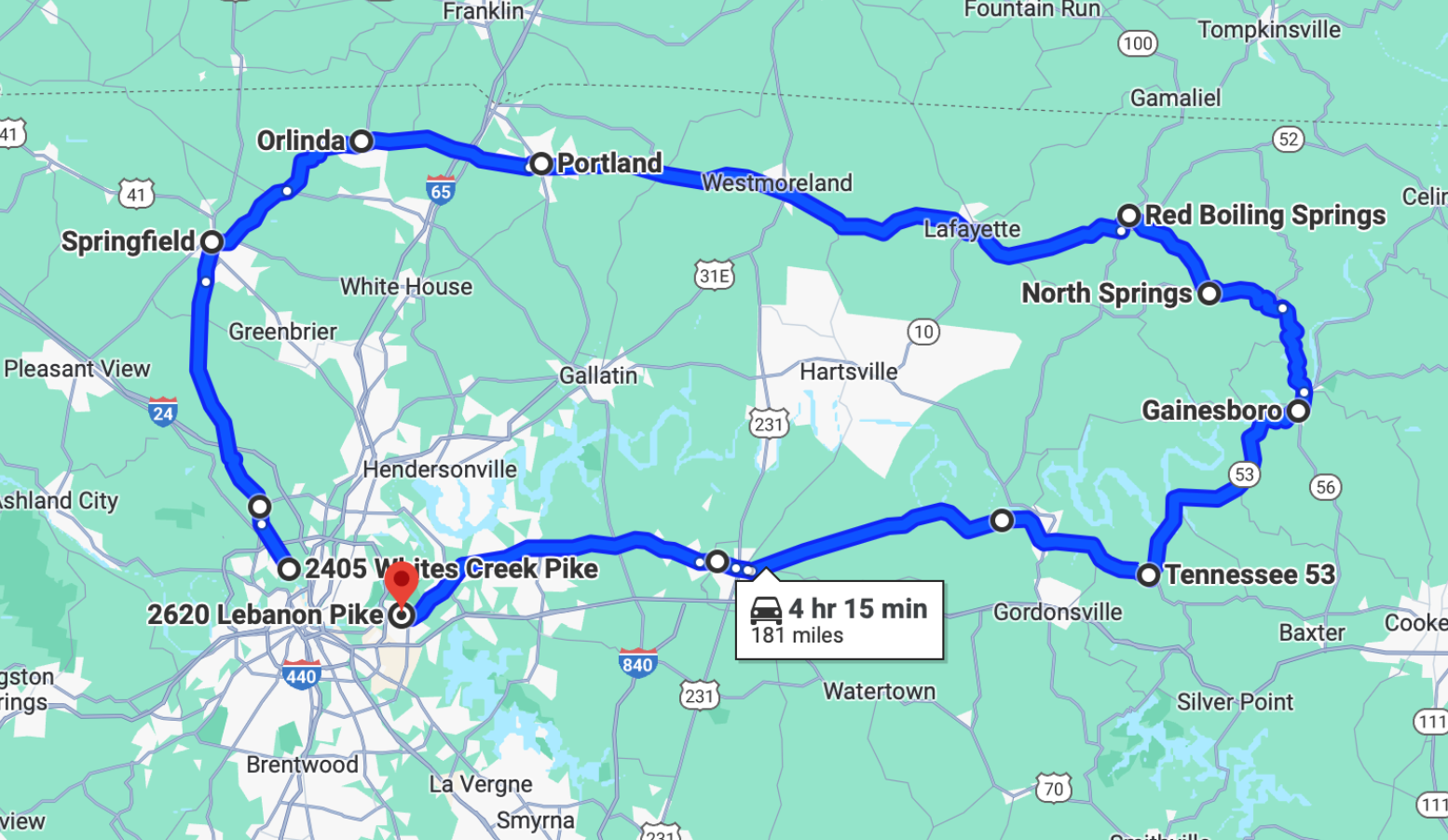 THE HIGH LONESOME
This route climbs from the Nashville Basin up through the Highland Rim and onto the Cumberland Plateau.
From Nashville, take I-24 to Murfreesboro and exit at Hwy 231. Take 231 to S Rutherford Blvd to Hwy 70S. Take Highway 70 to Woodbury. Continuing on Hwy 70 through town, you will crawl up onto the Eastern Highland Rim.
Once you reach McMinnville, take Hwy 56 south. Collins River BBQ is a worthwhile stop if you're craving pulled pork or catfish. Just outside town, you will pass Ben Lomond Mountain to your right.
Continue on 56 as it climbs up through the Savage Gulf and onto the Cumberland Plateau at Beersheba Springs. While in Beersheba, stop by the old Beersheba Springs Hotel (now owned by the United Methodist Church) and enjoy the view looking down on the Highland Rim.
Then, hop over to the Stone Door Ranger Station and take the short ADA-accessible trail to the famous Stone Door where you'll find some incredible views of the Savage Gulf.
Hop back on 56, and drive south through Altamont and Coalmont. At Tracy City, take a right on 41 and drive into the town of Monteagle; the Mountain Goat Market is a good option for lunch or dinner (closed on Sundays).
Continue on 41 until you reach Sewanee University. Take a loop around University Avenue to see the historic campus. Turn right on Tennessee Avenue which dead ends at the Sewanee Cross, another great viewpoint.
Hop back on 41 and drive down off the Plateau to the charming little town of Cowan. Here you can either take Hwy 64 back to the interstate or drive all the way back to Nashville on 41A if you have the time.
ROUTE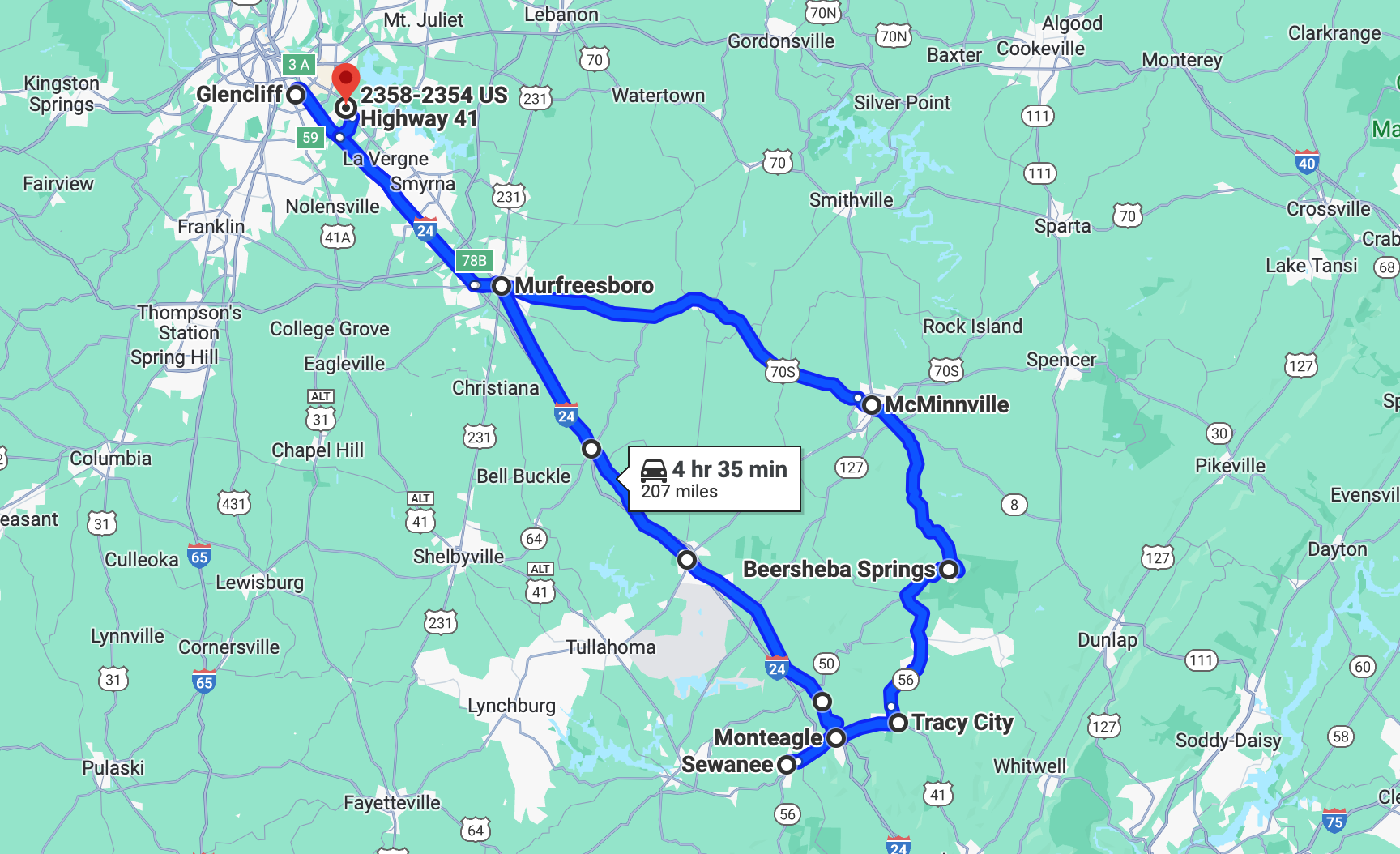 THE TRACE
The Natchez Trace Historical Park is a national park in the form of a scenic highway, and it starts right here in Nashville.
Our final route is the easiest of all. From Nashville, hop on the Natchez Trace National Historic Parkway just adjacent to the Loveless Cafe (a great breakfast option to start the trip).
Follow the Trace as it winds down through the Western Highland Rim. There are plenty of scenic overlooks along the route which are well-marked. I recommend stopping at the Jackson Falls and Fall Hollow Falls overlooks near Columbia. The Meriwether Lewis Memorial is another good stop.
Drive on down into Alabama, cross the Tennessee River, and exit at Cherokee, AL.
Take Highway 72 into Tuscumbia. Park downtown and visit Spring Park and Coldwater Books which has a good selection of works by local authors.
Drive by the famous Muscle Shoals Sound Studio on Jackson Hwy and then take the bridge over to Florence.
In downtown Florence check out Trowbridge's, Alabama's oldest ice cream shop. If you're around for dinner time, then Odette is a good stop for "elevated local fare."
From Florence take Hwy 17 back to Tennessee where it becomes Hwy 13. Follow Hwy 13 up through the scenic Buffalo River Valley to Liden where you can hop on Hwy 100 to return to Nashville.
ROUTE