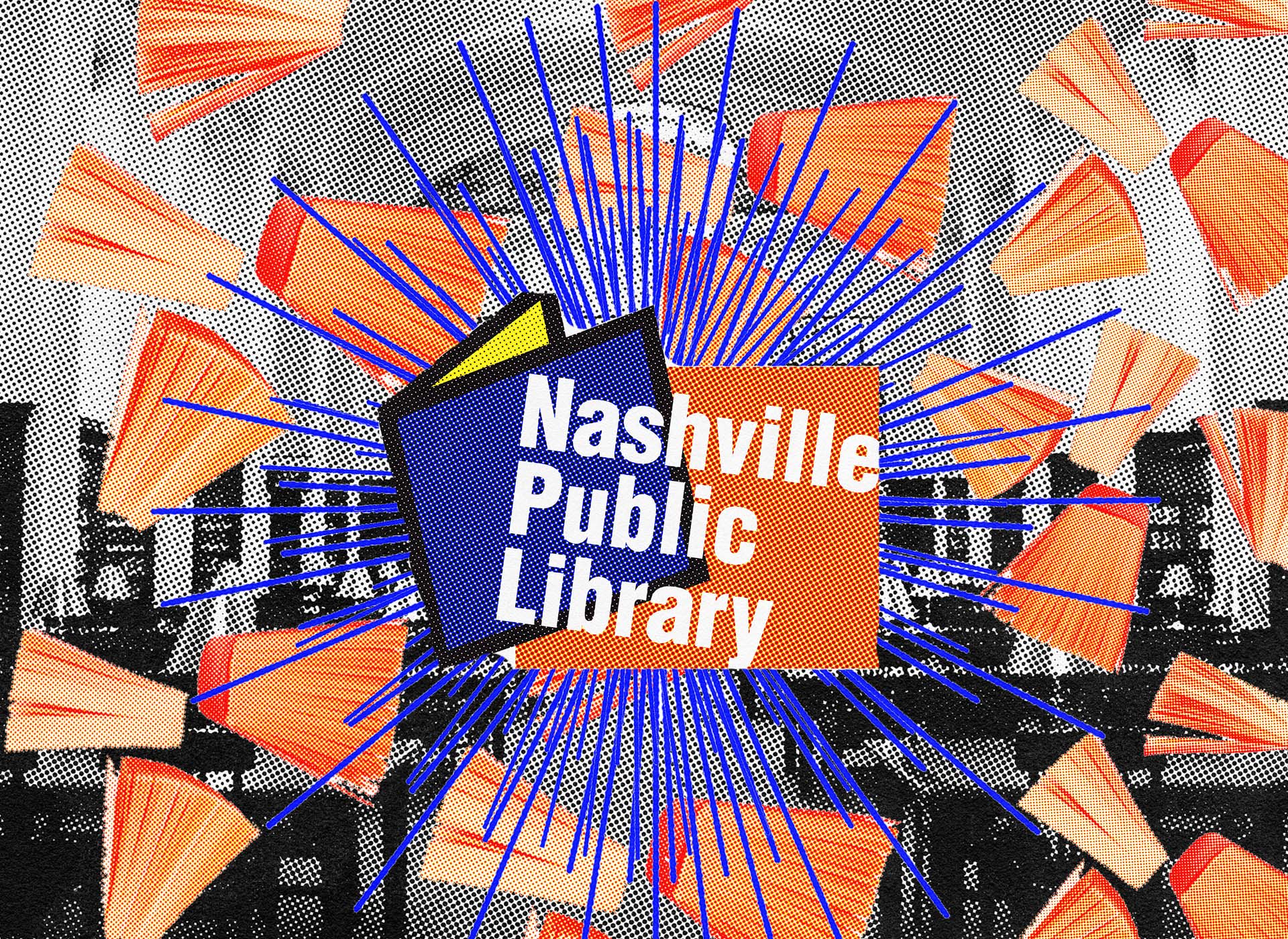 "When in Doubt, Go to the Library"
From an inaugural author ambassador program to the return of live tours and puppet shows, The Nashville Public Library retakes its place at the center of the city's culture calendar
When Lisa Donovan moved to Nashville in 2002, she had no idea how to make pastry. The former Valparaiso, Florida, resident's resume consisted of waiting tables and teaching high school–not exactly the career trajectory one would assume for the chef who bridged church-cookbook baking staples with fine dining for renowned Nashville culinary personalities like Sean Brock and Margot McCormack. With limited income and a young family, Donovan had to maximize the resources available to her on her quest to become a self-taught pastry pioneer. So she went to the Nashville Public Library, taking full advantage of the system's exhaustive cookbook collection as well as the wealth of free puppet shows, children's books, and storytimes that carved out a window amid her parental responsibilities to master her craft. "It was a career builder for me," said Donovan. "It was instrumental in my parenting as a young mother." Two decades later, much has changed in Donovan's life. She walked away from her role as pastry chef for Brock's Husk locations in Nashville and Charleston; she won a James Beard award for her essays in Food & Wine magazine; and Penguin published her memoir, Our Lady of Perpetual Hunger, in 2020, a project that earned rave reviews. But even as her career continues to evolve, her devotion to the library remains unwavering, one of the reasons she's proud to serve as the inaugural Next Chapter Society Author Ambassador for the Nashville Public Library Foundation.
As an Author Ambassador, Donovan's duties include raising awareness about the Next Chapter Society's fundraising initiatives and attracting volunteers for the wide array of programs that the organization helps finance. These include the storytimes and puppet shows so important to Donovan when she was finding her footing in Nashville as well as English Language Support classes and Studio NPL, a space that provides access to technology like 3-D printers, VR systems, and audio recording equipment that may be cost prohibitive for many in the community. "Our group of emerging leaders are all volunteers who are passionate about the library and the resources it offers our community," said Sara Wigal, Belmont Assistant Professor of Publishing and the Community-Facing Cochair of the Next Chapter Society. The NCS serves as the fundraising arm of the Nashville Public Library Foundation aimed at young professionals, but Donovon hopes that her tenure as Author Ambassador will benefit the organization beyond the monetary. "I want to help use whatever platform I have to get the word out about these resources and not just for fundraising purposes, but for people who may not know that these are available to them," said Donovan.
In the years before the pandemic, the Nashville Public Library built a formidable international reputation. Its Salon@615 series of author talks attracted a host of literary luminaries from Margaret Atwood, George Saunders, and Zadie Smith to Today anchor Hoda Kotb and Sex and the City scribe Candace Bushnell through the library's original partnership with Barnes & Noble and later Parnassus Books. Its puppet troupe, Wishing Chair Productions, began in 1938 under the direction of legendary puppeteer Tom Tichenor and remains an enviable offering for both children and adults that, in recent years, attracted just under 100,000 admissions annually. Its exhibits in the Courtyard Gallery drew national press coverage, especially its 2018 display of violins used in concentration camps during the Holocaust. NPL even won Gale/Library Journal's 2017 Library of the Year award for its collaborations with Metro Nashville Public Schools. But in the wake of COVID, the library has had to reimagine its central role in the community without the robust offerings that have long served as affordable and popular public entertainment sources. Further endangering the programs that are primarily funded by donations and grants, the library and its Foundation were unable to host their annual String City Fundraiser in 2020 or 2021, a partnership between Wishing Chair and the Country Music Hall of Fame and Museum that traces the history of country music with puppet versions of figures from Hank Williams, Dolly Parton, and Charley Pride through Taylor Swift. "String City is our largest fundraising opportunity of the year," said Wigal who also made clear how integral it is to providing the wealth of library services that go beyond book checkout.
After nearly two years of navigating online shifts and live programming's stop and starts with the latest rise in COVID cases, the library and the Next Chapter Society finally began a return to normalcy this month. While Salon@615 is still on hiatus barring an occasional streamed event, the library has resumed its tours and exhibits, including the Foundation's Library 101 that offers a history of the main branch's building and an overview of available resources like Studio NPL. Tuesday, March 8th brings a Special Collections tour led by NPL's Director of Community Giving, Amy Renigar, that takes participants through the library's Civil Rights Center and Votes for Women Room. "What is amazing about these spaces is they tell the story of Nashville's unique role in the Civil Rights and Suffrage Movements, but the focus is on how the themes of those movements are still relevant today," said Renigar.
Live puppet shows and storytimes have also come back in full force, including Wishing Chair's classic original production "Anansi The Spider" though virtual performances still remain available on the library's YouTube Channel. For Wishing Chair's creative director Brian Hull, the return to live shows also holds the promise of not only developing new projects put on hold since 2020 but also resuming participation in Sister Cities of Nashville, a program that has allowed him to travel internationally, learning from and collaborating with the best puppeteers in the world. "It lit the fire that became our international puppet festival," said Hull. "Not only did it do that, but it changed our whole world of puppetry." Likewise, Wishing Chair's live revival promises the return of one of the Next Chapter Society's most inventive sponsored programs, two puppet trucks that bring a variety of performances–including adaptations of Mark Twain, Duke Ellington, and Mother Goose–to area schools, hospitals, and senior centers for those who cannot easily access the library's main branch. The puppet truck also spawned the literacy program Bringing Books to Life that provides books to children and builds their storytelling skills.  "We could have five puppet trucks and still not be able to meet the demand," Hull said.
Though the library's soft opening began in February,  the return of String City on Sunday, February 27th should signal that the Next Chapter Society and NPL are ready to build on their regularly scheduled programming in 2022. In addition to its deep dive into country music via puppetry, the event will feature performances from Ketch Secor and Mason Via of Old Crow Medicine Show and Brittany Kennell and offer attendees a 21-and-over brunch. For those wanting to avoid providing a negative COVID test or proof of vaccination, String City will also be available for livetreaming at a reduced price of $75. "It has a hundred puppets. As is true of a number of the shows, it is surprisingly effective," said Hull.  "One thing that worked so well is that Jay Orr, a historian, insisted we use the original recordings. You really get a sense of time travel sonically."
As the Next Chapter Society gets a fuller picture of things to come, Donovan remains ready to give back to the library that provided her so much in her early days as an East Nashvillian. The Society's monthly bookclub will officially discuss Our Lady of Perpetual Hunger as its May selection, the type of event she has routinely attended virtually over the past two years, but never ceases to surprise her. "There were these conversations that were happening between mothers and daughters in real time in front of me, which were really interesting to me because what I thought in terms of political beliefs got flipped on its head," said Donovan. While the library is not at the forefront of her memoir, the institution had a clear effect on both Donovan's perceptions of the city's arts community and her belief that an ever-evolving metro area needs an uncompromised anchor like the library to nurture a cohesive creative class responsible for Nashville's own tourism and cultural renaissance. "I think Nashville is just in a tricky spot and it would be really easy to be unforgiving, but I also like the potential that exists," said Donovan–a potential she hopes to foster as ambassador to such a vital local institution.