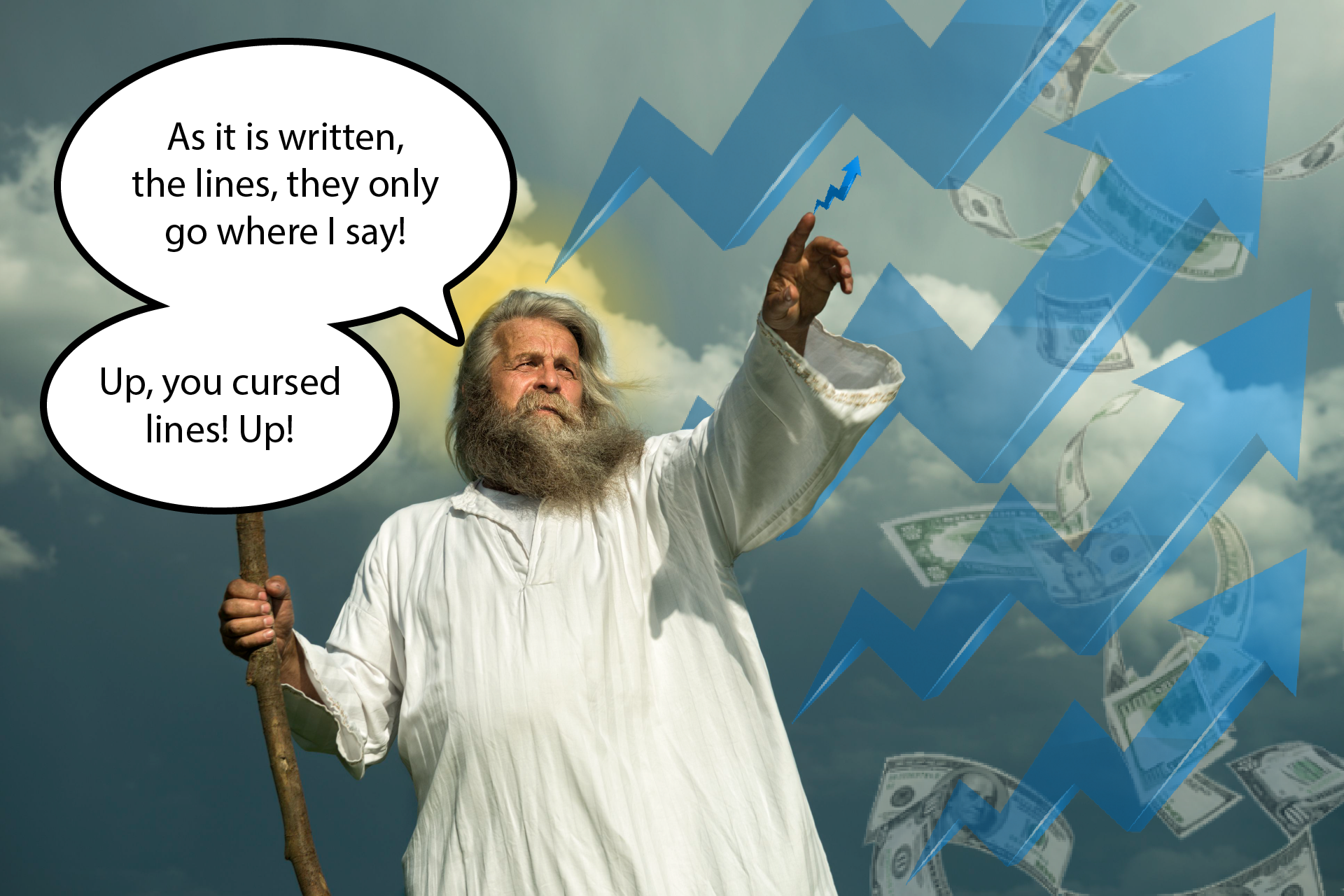 Prophet of the Market
Court astrologer and prophet of the market, Janet Yellen—whose Christian title, Secretary of the Treasury, grants her a preternatural sense of "things" in the vaguest interpretation of that phrase—assures us that a little inflation won't be that bad if Biden gets his $4 billion pork chop. Her comments came after the recent G-7 Summit [1] and stand in stark contrast to her hard-line that inflation is merely transitory back in early May. As we've come to expect from our leaders, her comments likely come from a casual "if it happens, it happens" attitude. To some, she's arrogant. To others, she's deflecting dumb questions. Regardless, here we are, picking at the tea leaves that Yellen has set before us, trying to decide whether she is full of shit or not.
Do Janet Yellen and Jerome Powell know whether inflation is temporary or not? No, they don't. Aside from the Federal Reserve's byzantine levers that aim to curb inflation, neither Yellen nor Powell can predict incidents that cause supply shocks and asset price increases. Supply shortages for goods such as microprocessors, chickens, lumber, and corn were force majeures outside the realm of the sorcerer's influence. The Federal Reserve cannot pull a lever to materialize lumber. As Elon Musk remarked in a rare moment of lucidity, "Goods & services are the real economy, any form of money is simply the accounting thereof." Inflation is just too much cash chasing two few goods. As cash continues to pour in, it's only natural that goods would increase in price.
What's important to note is that the US is exposed. Supply shocks cut more deeply. The bottlenecks are more concentrated and, thus, disruptions sound more loudly. Far from a distributed, robust global network of suppliers and producers, globalism has mostly resulted in the concentration of manufacturing power in a few places making it more vulnerable to accidents and disruptions. If, for example, the microprocessor supply were a casualty of a trade war with China instead of a momentary shortage, the US would be shit out of luck. The shortage of microprocessors would blast through the economy like one of the seven trumpets.
How should we react to Janet Yellen's comments, then? Truthfully, not at all. Live your life. Yellen is just as clueless as you and I are. Granted, she has "data" and an entire bunker of PhDs under the lukewarm leadership of Jerome Powell at her disposal, but don't let that intimidate you. The bureaucracy is like a bee colony. Embarrass the queen, and the worker bees scatter. Yellen is incapable, like all of us, of predicting what will come next.
Footnotes
[1] Wherein all member countries agreed to begin negotiations to impose a flat international corporate tax to make it more difficult for companies to evade taxes (Paul Krugman has a good angle on this).
The First Stage of Grief
Graph #1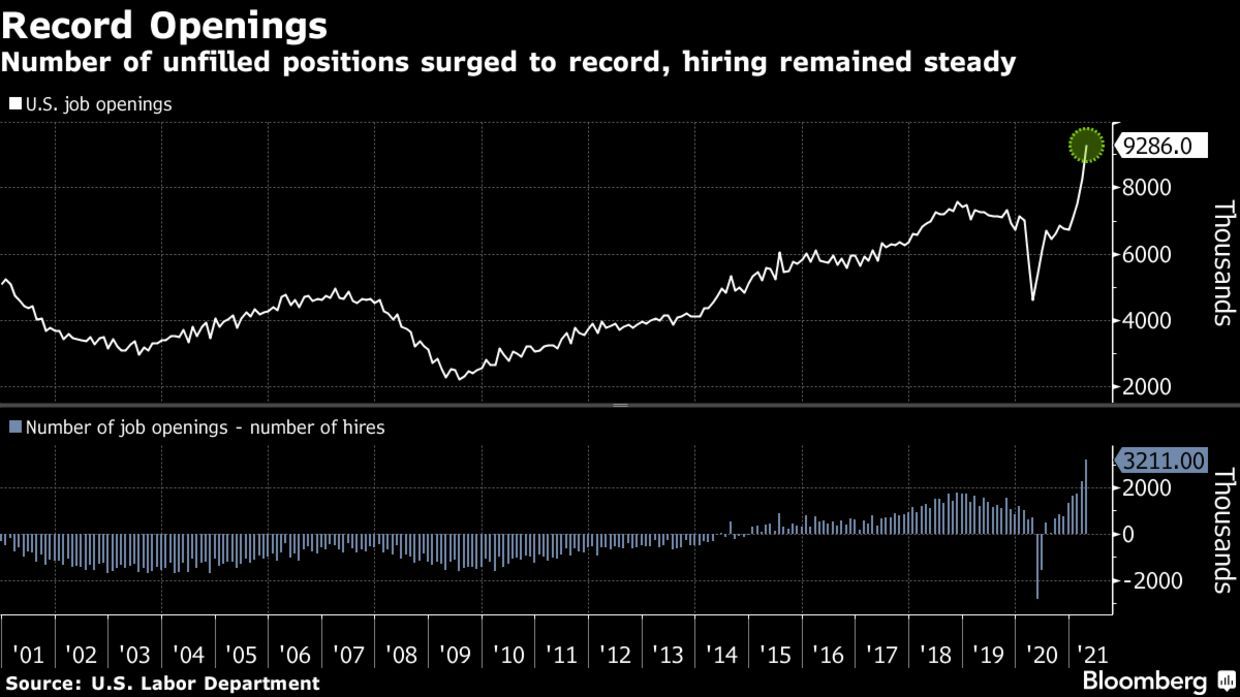 Graph #2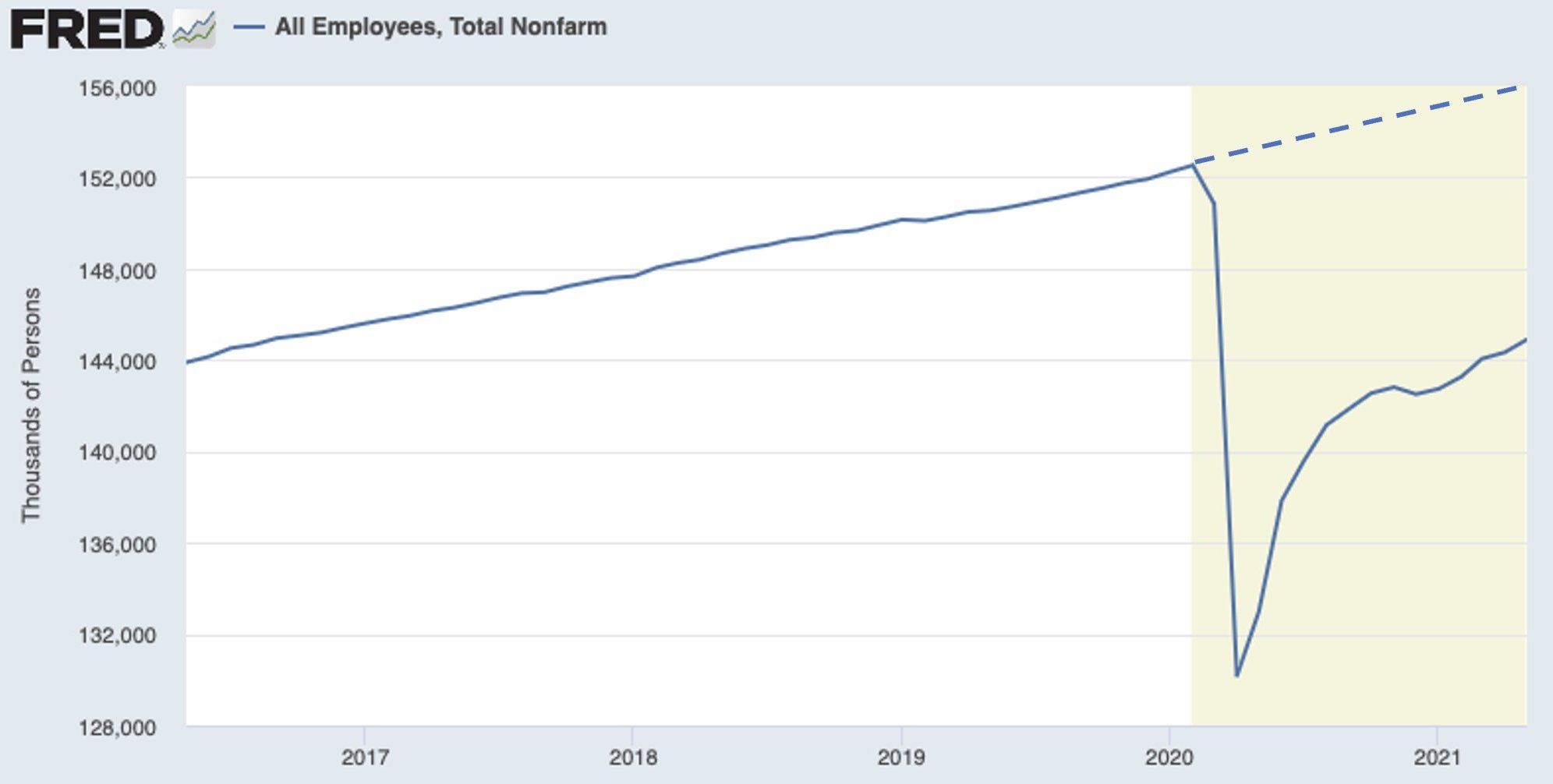 Experts around the country still stuck in the first stage of grief—denial—continue to parrot the belief that UI benefits do not suppress reemployment. A report by the Joint Economic Committee claims local economies stand to lose $13 billion due to early cancellation of benefits. Naturally, it doesn't bother to account for the effect of reemployment on local economies because that'd probably be too much math. Meanwhile, jop openings soared to the highest overall number, 9.3 million, since the Bureau of Labor Statistics started tracking the data in December 2000. What's more workers are quitting hotel and restaurant jobs at the highest rate on record as recently as April. Work is hard, but a people without work is a people adrift.
Headlines
🇨🇳 Bing Bop
China's strong grip on global narratives about the country make it difficult to square fact from fiction. Microsoft's Bing temporarily blocked searches of the Tiananmen Square 'Tank Man' image on the anniversary of the event presumably because they have a "special offering" for China. Conflict of interest? In Italy, after agreeing to sign on the Belt and Road Initiative, China infiltrated Italian media outlets to print articles in major Italian papers. One such article claimed that concern about the CCP's internment of Uyghurs in Xinjiang were a "media manipulation of events" crafted to use "human rights concerns" to further America's foreign policy agenda. Sleepy Joe better get some more adderall.
✈️ Big Joe Goes Flying!
President Biden will begin his first trip abroad since taking office Wednesday, flying to Europe for an eight-day diplomatic push that will end with a meeting with Russia's President Vladimir Putin next week. The press became obsessed by a flurry of cicadas that grounded the flight. Cute little clips of Biden wandering around the tarmac like a drunk toddler warning the press corps to "watch out for those dang things" colored the coverage as if to say, "See, he's harmless!"
🌴 Big Girl Kamala Goes on a Trip
Has Kamala Harris been to the border? Doesn't seem that way. You know, a flight stewardess will sit with you when you're flying alone to see grandma and grandpa, Kamala.
🔬 Research Bill
The Senate approves a $250 billion bill to boost tech research. The bill passed 68-32. One of the few issues that can unite both political parties is competition with Bejing. The bill provides funds to go towards semiconductor manufacturing, artificial intelligence research, robotics, quantum computing and a range of other technologies. The bill also includes a provision to ban the download of TikTok, the Chinese-owned social media giant, on government phones.
💳 Hunter, Hunter, Hunter
Apparently, Hunter Biden has an N-word pass. Maybe that's what an $850/hour lawyer will get you. We're not sure where he got one, but he likely had to commit fraud to get it. Didn't the guarantor know his dad authored the nation's largest Crime Bill? Hunter won't get cancelled because there's not really anything you could cancel him from. I mean, anyone can smoke crack...
New this week
In case you missed it:
Nashville Politics
Nashville News
Nashville Development
It's Just a Game
👾 EA's new game, Battlefield 2042, takes place in a future beset by a climate apocalypse and a refugee crisis, yet the developers maintain that the game is not "social commentary." They'll probably amend this statement at a later date, but until then, they'll just assume everyone is stupid (Read)
Good to Know
☀️ This morning, a partial eclipse happened at sunrise. So called "ring of fire" eclipses happen annually and occur when the sun is too far from the Earth to fully blot out the sun (See)
One Good Read
🖋 Provocateur and potent critic of modernity, Michel Houellebecq, pens an essay about conflict within France (Read)
A Good Long Read
📜 Michael Anton writes for the American Mind about the lessons of Machiavelli and how his promotion of youthful exuberance in politics would serve politics well today (Read)
Have a great Thursday!