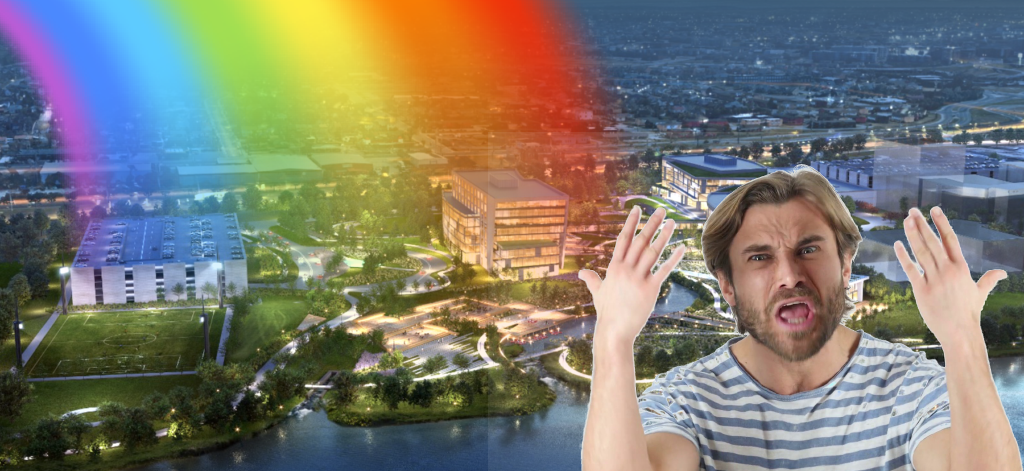 Oracle's Pot of Gold
Oracle, Amazon, GM; Property taxes; ACM Awards; Things to do
As news of Oracle and Amazon's plans for Nashville sweep through town, a chorus of voices have arisen to nanny the excitement. Leaders in local media and across the music, pet food, and hotel industries have anointed spokespersons to announce the "grave threat" to Tennessee's future presented by "anti-LGBTQ+" laws [1] flowing through the state legislature. A vocal group of companies and Democratic politicians claim that Tennessee is not sufficiently open for business. A PR campaign has emerged to reinforce this fact [2]. It is completely at odds with reality.
In addition to Oracle and Amazon's much publicized pledge to build offices in Nashville, GM committed to the construction of a battery plant in Spring Hill that will produce an additional 1,300 jobs on top of the 5,000 promised by Amazon and the 8,500 promised by Oracle. Despite these huge commitments from large, American corporations, leaders claim Tennesseans must worry that their values will scare off future business. Of course, there is no way to confirm or deny this conjecture; that's precisely the point. But, we know empirically that its "truthiness" is tenuous precisely because of the deals just mentioned. Businesses are not turning away from Tennessee.
So, what is actually going on?
Persuasive language and veiled threats like this would not be out of place in an occupied territory like Afghanistan or Iraq where, for decades, politicians pronounced their heart's longing to bring Democracy with a capital-D to the Middle East even if it meant war. It'd be unsurprising to see a banner read "We may kill you, but we still love you" strewn across the front of a tank in rainbow Comic Sans rolling through the Arabian Desert.
Biden, Bush, and Obama gather together each fortnight and participate in ritual communion, weeping for joy as another village is steamrolled by a tank blaring the tenets of American liberalism from a loudspeaker. "This is why we do what we do," they remind one another. "This is what got us into this business." Tears flow. Another wine bottle empty. Obama has his shoes off and he's about to pass out in a La-Z-Boy cuddling a fresh tub of Baskin Robbins. George Bush is stoned. He can't stop laughing at Biden who sits silently in the corner with his sunglasses still on, frozen with a wry smile.
I digress.
To say nothing of election integrity—or fortification, depending on who you ask—it's fairly obvious what is happening and there is a word we all know that describes it [3]. The alignment of state and corporate interests has never been more apparent. We all know about Mark Zuckerberg's $350 million dollar donation to a PAC formerly run out of a shoebox to funnel campaign dollars into key battle ground states during the 2020 election. The MLB's decision to move the All-Star game from Georgia and Zuckerberg's commitment to "voter reform" indicate the further development of corporate and state relationships. The enemy? People that refuse to listen to its message or buy its products. "You will buy our product and like it," they say through gritted teeth.
Despite Tennessee's measly 11 electoral votes, efforts to turn the state blue are well under way. Jim Cooper will face a challenger supported by the Justice Democrats who successfully gained purchase, most notably, for AOC and Ilhan Omar. They will run against Cooper with a campaign that chastises him for not being progressive enough [4]. A sign of things to come.
Politics aside (and I mean that seriously), any societal benefit arising from joint corporate/state action will only happen accidentally and fleetingly. In retrospect, all the warnings of  "grave threats to Democracy"—by the same people making inroads against it—appear silly when contrasted with state policy today.
Don't let the rainbows and kittens distract you.
I'll leave you with this quote by Adam Smith:
People of the same trade seldom meet together, even for merriment and diversion, but the conversation ends in a conspiracy against the public, or in some contrivance to raise prices.

– The Wealth of Nations, Book I, Chapter X.
News
🏢 Oracle Corp. reveals River North tech hub plans with record-breaking 8,500 jobs (Link)
    + Here's how Oracle's incentives would work (Link, $)
    + What does it mean for Nashville's housing market? (Link, $)
💸 Mayor Cooper vows property tax decrease (Link)
    + What he really meant (Link)
    + The special election to repeal the property tax hike lives (Link)
🏆 The ACM Awards last night (Link)
    🎤 Entertainer of the Year: Luke Bryan
    💿 Album of the Year: Chris Stapleton, Starting Over
    👨‍🎤 Male Artist of the Year: Thomas Rhett
    👩‍🎤 Female Artist of the Year: Maren Morris
💰 Amazon.com Inc. signs lease for second downtown office tower (Link, $)
🔋 General Motors to build electric battery plant in Spring Hill (Link)
🚞 Tennessee embraces Amtrak's rail expansion vision (Link, $)
🧾 Tennessee Senate Passes Bill Regulating Election Funding (Link)
🎫 State Senate passes bill to ban use of vaccine passports (Link)
🦠 Nashville Got $121M For COVID-19. Where'd it go? (Link)
🏗 Curving tower eyed for SoBro Roundabout (Link)
🔮 12th & Porter revamped as multisensory event venue (Link, $)
Events
Monday, 4/19
💀 Greateful Monday ft. Stolen Faces @ Acme, Link, 7p
🏒 Blackhawks vs. Predators @ Bridgestone, Link, 8p
Tueday, 4/20
👨‍🌾 East Nashville Farmers' Market, Link, 3:30-6:30p
🪕 Sam Bush Band's Spring Training @ 3rd & Lindsley, Link, 7:30p
Wednesday, 4/21
🎭 Josh Black and Friends @ Zanies, Link, 9:15p
Thursday, 4/22
🎭 Chris Katan & Friends @ Zanies, Link, 7p
🎸 Courney Marie Andrews @ The Basement East, Link, 9p
Friday, 4/23
🎸 St. Paul and The Broken Bones @ The Caverns, Link, 7p
🎸 Chase Rice @ Ryman, Link, 8p
One Good Read
🤑 Paul Graham's essay on "How people get rich now" (Link)
Footnotes
[1] Notably, bills requiring high school athletes to compete under their sex at birth, declaring gender dysphoria in youths a mental illness, and allowing students to opt-out of LGBTQ curricula.
[3] You guessed it, fascism. Determined to restore this word to its proper use.
[4] Granted, Nashville is and—with reasonable certainty—always will be blue. I only mention Cooper's challenger to show how out of state dollars flow into in-state elections. Thanks to a new bill, it will be more obvious to voters, but this is a trend that will likely accelerate.