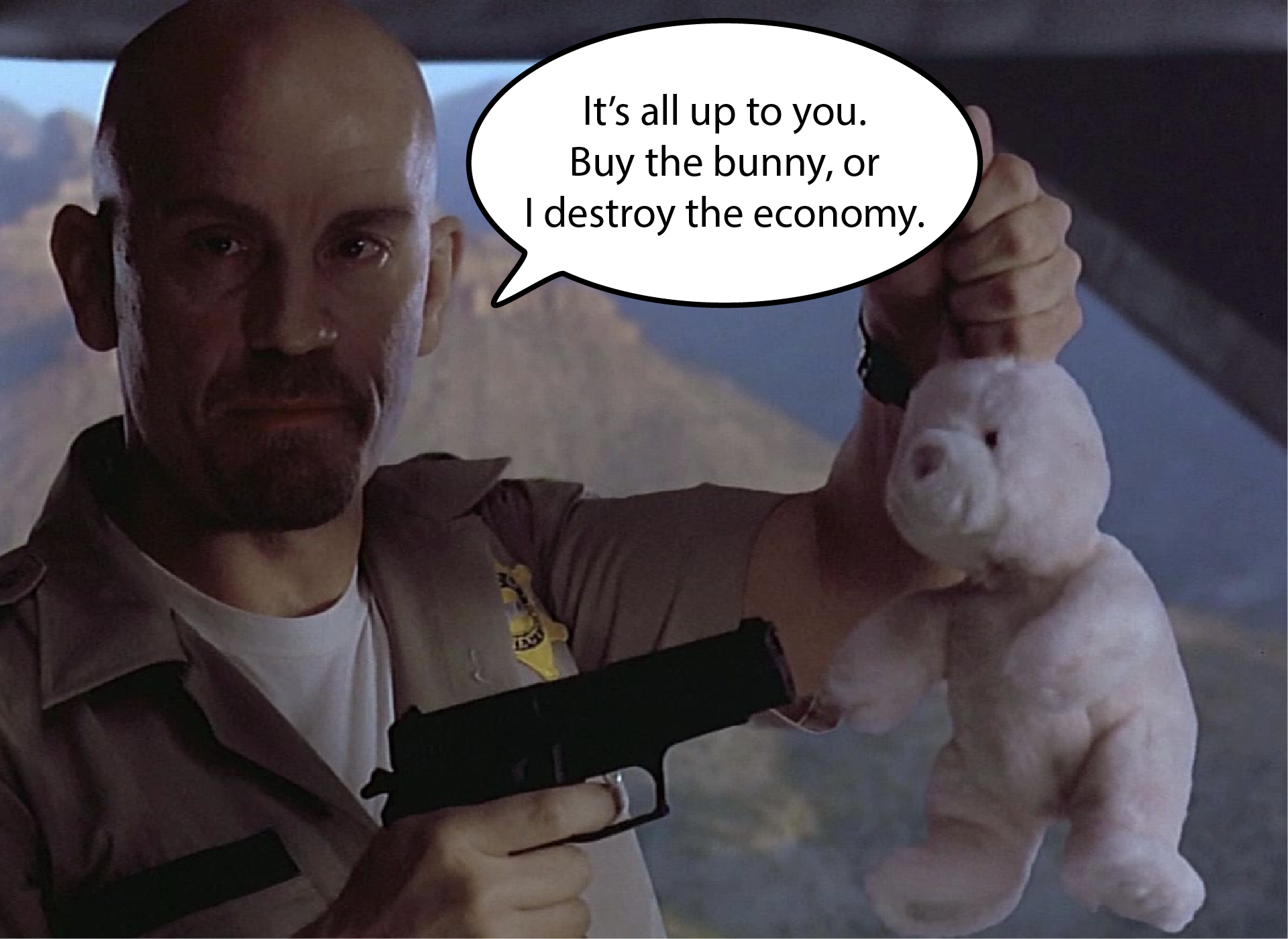 Today's Takes: Wednesday, June 23
Vol. I, No. 32 • Buy or Die • AFT • Vaccines! • Bitcoin's Dead Again • Much More!
The US Government is calling on you to do your patriotic duty and spend enough money to help curb inflation. That's right, noble citizen, as a patriot of this nation, we need you to drain that savings account. I mean, technically, you don't have to spend it. We're going to inflate it away anyway, but be a good citizen. Do your duty. Get out there and buy, buy, buy! Forget fiscal responsibility. That's old hat. Haven't you heard of John Maynard Keynes? He figured out how to spend the pain away, and now you can do the same! So, get going. We have a nation to save and only your indiscretionary spending can save it!
Headlines
💥 "Alcohol, Tobacco, & Firearms should be a convenience store, not a government agency" expresses a certain kind of American ethic that Biden appointee David Chipman probably doesn't appreciate. Chipman, up on the chopping block to serve as Director of the ATF, has a strong anti-gun streak and declared he wants to ban "assault weapons." But, when asked what an assault weapon was, Chipman couldn't offer an answer.
👀 Pro-vaccination propaganda is here and it's as every bit as cringe as you thought it'd be. One of the more historically unique aspects of the American Empire is its insistence on producing propaganda that makes its citizens out to be weak, slavish children that need to be hectored into "doing the right thing." It provides an interesting contrast to the USSR and modern day China who both promote the strength and virtue of their citizens (Prop #1 ) (Prop #2)
🏗 Funding for new infrastructure will not come from an increase in the gas tax, according to the White House. The gas tax has remained at 18.4 cents a gallon since 1993. Upping the corporate tax to 28% is still on the table.
💸 Bitcoin's 115th Death Dream
Bitcoin formed a "death cross" yesterday—meaning its average price over the last 50 days fell below that of its 200-day moving average—marking the 100th time the original cryptocurrency has been declared dead. Hot on the heels of China's effort to crack-down on Bitcoin mining, the largest cryptocurrency is having a rough time. To add insult to injury, Michael J. Burry, the man lionized in the Big Short for predicting the 2008 housing crisis, included Bitcoin in his most recent "doom forecast tweet-storm" shortly before deleting his Twitter. Bitcoin will not have a unique fate if and when another bubble pops. Its value, like all other assets, will suffer in the event of a market crash. But, despite all the emotion swirling around Bitcoin in particular, there is no greater way to express financial resistance to the new Woke regime.
The limp-wristed conservative movement, headed by the GOP, only offers platitudes and cheap gotchas while outlining in excruciating detail exactly how the world is arranged against you and that there is nothing you can do about it. What is the last battle the Republican party definitively won? The steady crawl left has repeatedly been met with a shrug and a sheepish grin by conservative politicians. The movement exists primarily to demoralize, distract, enrage, and pacify you. If it's not controlled opposition, it functions in the same manner. "Abandon all hope ye who enter here" should emblazon every message issued forth from the conservative movement.
Bitcoin, on the other hand, is a material expression of resistance to the regime. Holding Bitcoin is a declaration that you are opting out—at least in part—of the monetary wasteland that is the US dollar. For all the hoot and holler about Bitcoin's utility in laundering money, it does not hold a candle to the US dollar. Bitcoin is self-sovereign and its monetary policy, unlike the USD which is controlled by the Federal Reserve and the US Treasury, is fixed and apolitical. There will only ever be 21,000,000 bitcoins. No more. No less. The USD is inflationary because of its infinite supply. Janet Yellen just has to call up Jerome Powell and they can print $1 trillion out of thin air to satisfy a whim. Bitcoin, on the other hand, is deflationary. Its supply is fixed, and no one can magically produce more bitcoins.
In addition to those characteristics, the ethos of possessing and transacting with Bitcoin dovetails nicely with other, more homely forms of resistance such as health, family, work, and leisure. It feels odd to frame them that way, but such are the times. In the coming years, this will become more obvious. Until then, spend some time learning about it. Bitcoin is not going anywhere. Not investment advice, just an invocation to learn so you can smile knowingly to yourself as journalists at every major media outlet continue to misunderstand it.
Here are two good resources:
The Bitcoin Standard by Saifedean Ammous (Amazon) is a great non-technical read that talks about the appeal of Bitcoin, comparing it favorably to Gold. It doesn't broach the topic of Bitcoin until the final two chapters. The majority of the book is a breezy tour through the history of money.
A compilation of a ton of resources to introduce you to Bitcoin and why it is valuable (Link)
Nashville News
Nashville Development
Sign of the Times
📓 "I asked my daughter if she'd read Dickens. She asked me if I had read Trevor Noah's memoir." (Read)
Stat of the Day
🏃‍♂️ Despite being only 35% of the population, college graduates make up nearly 80% of runners (Read)
Study Says...
🗳 Are voter reform laws racist or just a regime tool to make sure uniparty rule is the new norm? Study shows that a majority of Democrats and non-White voters support voter ID laws which indicates the latter. Important to consider this as Democrats attempt to ram sweeping voter reform through the Senate (Read)
Have a great Wednesday