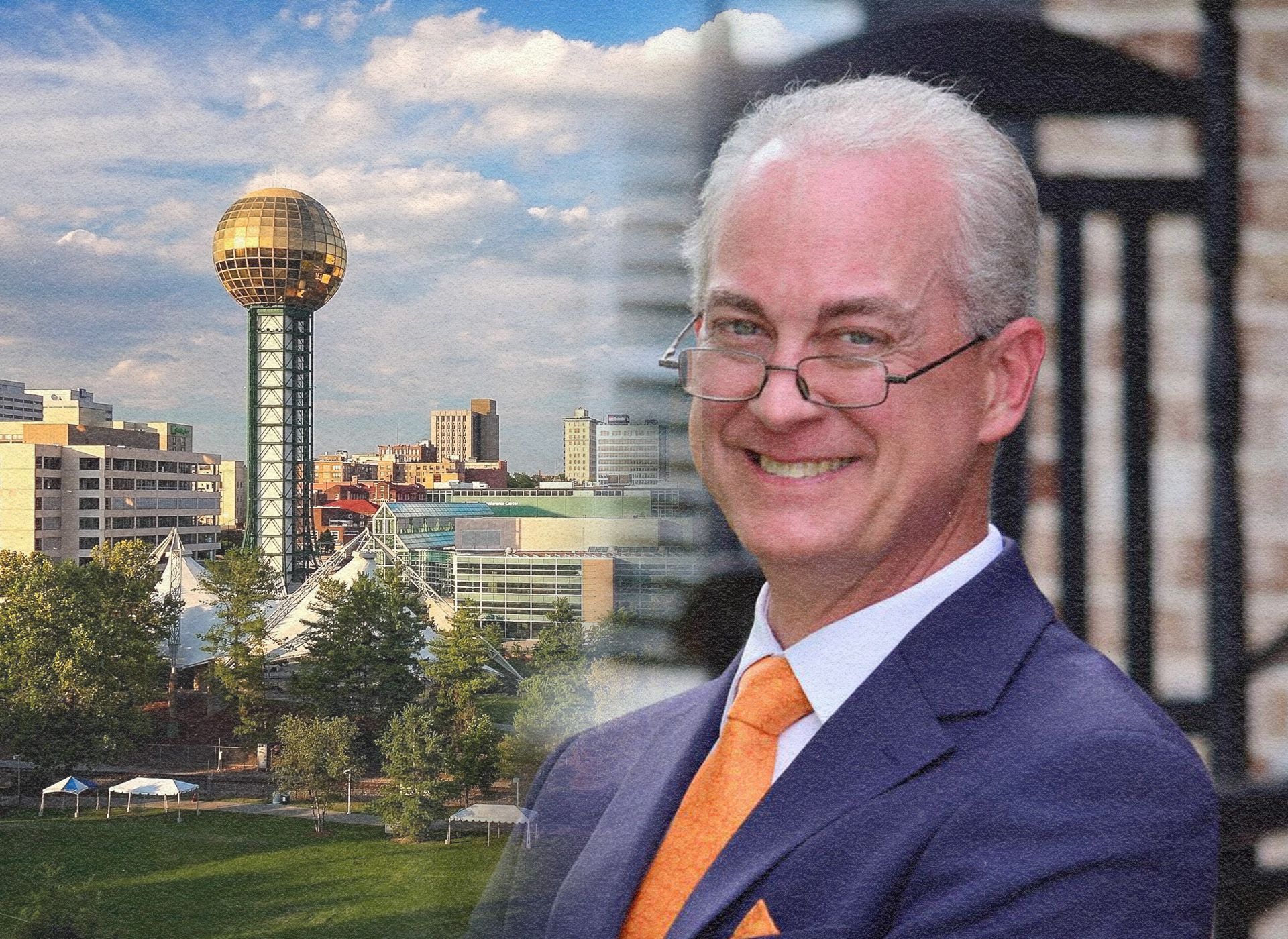 A Patients' Rights Advocate Confronts Sen. Richard Briggs's Bedside Manner
Kent Morrell's decades-long fight with the medical establishment has led to an insurgent State Senate Campaign and a focus on Big Pharma's influence over the General Assembly
Kent Morrell thought fish were his life's calling. In the spring of 1994, he threw on a recently-bought suit and tie, made his way into a Knoxville doctor's office, and asked if he could clean the wall-to-wall aquarium in the waiting room. "I thought that, if you can afford to have an aquarium other people take care of, you're doing pretty well," said Morrell.  Though he lacked experience, Morrell brought a meticulous discipline to the job that–combined with his natural sense of hustle–propelled his venture, Indoor Oceans, into one of the largest aquarium companies in the Southeast. If someone told the late-90s version of Morrell that a freak car accident would draw the one-time caretaker of doctors' outer sanctums into a two-decade fight against the medical establishment, he wouldn't have believed it. But now, three weeks from primary election day, the Republican is on the District 7 ballot in Knoxville, challenging cardiothoracic surgeon and military Colonel Richard Briggs in what may be the culmination of his quest for patients' rights.
After Indoor Oceans became a full-time job, Morrell never thought his small-business success story would turn into an American nightmare. But a confluence of state and federal health care policies created a quagmire that brought him to the brink of bankruptcy and almost destroyed his family as he tried to recover from his injuries. When doctors discovered Morrell's September 2000 car accident had caused permanent nerve damage to his spine, they quickly abandoned all hope for his recovery while still charging him for a barrage of useless tests and follow-ups. As he attended appointments across the country, seeking new treatments with the chutzpah he once reserved for building his business, Morrell heard the same refrain: "It's time to realize this is permanent. Adjust your life accordingly."
For Morrell, such adjustments included scaling back his business, taking his children out of private school, and asking his wife, Jennifer, to become the primary breadwinner by working full time as a teacher for Knox County Schools. Morrell immediately realized that being self-insured became a liability as medical bills piled up and that he was no longer able to negotiate rates with doctors in exchange for his aquarium maintenance services. "Self-insured works great when you're healthy," said Morrell. His wife's insurance as a public employee provided a brief reprieve for the family. "We paid our monthly premium. No copays," said Morrell. "Everything was included with our plan, and then Obamacare came along…"
In spite of President Obama's famous "you can keep it" assurances, Morrell lost both his plan and his doctors. He faced routine process servings for nonpayment of medical bills he could no longer afford, a time that left him close to financial ruin and to thoughts that he may be worth more dead than alive. Doctors' discoveries that his joint laxity and improper absorption of pain medicine compounded his condition didn't help matters, either. Though running for office was far from his mind, this period sparked a political awakening for Morrell. "I don't think Big Government is the answer," said Morrell, referring to health care reform. "If doctors had the ability to negotiate prices, then prices would not be where they are."
Morrell's pain finally became manageable in the early 2010s, thanks to doctors honing in on the precise amount of opioids that would allow him to function. But the political opportunism and PR campaigns centered around combating Tennessee's opioid crisis lacked the nuance to understand conditions such as his. As the decade progressed, politicians gained new talking points they have yet to exhaust. Doctors became ever more wary of prescribing opioids, which forced Morrell and others like him to endure embarrassing, invasive routine drug tests just to manage their pain. Then, in 2015, the Tennessee General Assembly unanimously repealed the Intractable Pain Act, which required doctors to inform chronic pain patients of other physicians who would prescribe opioids if they refused. Politicians saw the repeal as a way to crack down on pill mills, but the result has been a 500% increase in overdoses statewide since Governor Bill Haslam signed the bill into law. "Of course what it ended up doing was costing people like me access to care," said Morrell.
Without proper access to the opioids that allowed him to live as close to a normal life as possible after his accident, Morrell fell into a deep depression. Suicidal thoughts became constant.  He saw no other way out until a friend recommended he try medical cannabis–a treatment that remains illegal in Tennessee. Though he had some misgivings about breaking the law, Morrell was desperate to regain some semblance of normalcy. It would also eventually give him a new will to fight against the pharmaceutical lobby and the medical bureaucracy that made him a perpetual victim for almost twenty years. He became a perennial presence on Legislative Plaza through his work with patients' rights group SafeAccess Tennesssee, which advocates for destigmatizing medical cannabis and other experimental treatments that serve as alternatives to Big Pharma. "I don't think any Tennesseans should have to choose between suicide and illegal treatment," said Morrell.
The more time Morrell spent in Nashville, the more he realized that Senator Briggs was out of touch with his constituents. Briggs began 2020 with a push to ban plastic shopping bags in Tennessee;  when COVID hit, he became the controlled opposition in a media blitz that saw him advocating for compulsory masking and vaccine mandates, unlike his East Tennessee colleagues State Representative Jason Zachary and County Mayor Glenn Jacobs (his behavior also led The Pamphleteer to award him the title of "Most Credentialed Buffoon" during our Flat Curver Awards last spring). Appalled by Briggs's record, Morrell ran a brief campaign for U.S. Senate in 2020 to test the political waters and ready himself to challenge the incumbent in 2022. "Kent is just much more politically aligned with Tennesseans," said David Hairston, Chairman of SafeAccess.
Morrell initially hesitated to enter the fray again after that experience, but he officially declared his candidacy in late April after Briggs's continued insistence that lives matter more than freedoms and sponsorship of a failed bill that would allow schools to treat and vaccinate minors for STDs/STIs without parental consent pushed him over the edge. "They don't know what he's doing down there," said Morrell when asked about how Knoxvillians felt about Briggs's record. "I think Jimmy Carter is a nice guy too, but that doesn't mean I want to trust him with policy."
Though healthcare served as the catalyst that brought Morrell to politics, he has centered his campaign on making the General Assembly accountable to its constituents, especially after what he views as the runaway spending and clampdowns on liberty that have become a hallmark of Briggs's legislative agenda (Morrell's website badbillbriggs.com details the incumbent's history of sponsoring and supporting bills that strip power from average citizens). "My senator should not be voting to give the Titans half a billion dollars," Morrell said. "My senator sponsored a bill to make drinking raw milk illegal."
For Morrell, the legislative approval of $500 million toward a new Titans stadium has become the issue most indicative of the disconnect between state politicians and their voters. Citing the cost as $100 for every Tennessean over the age of 18 and the actual stadium expense at $710 million over ten years, Morrell cannot fathom how a state with a $5 billion surplus of taxpayer money could endorse such superfluous spending in a time of inflation and economic strain. "There were times in my life when $100 dollars made a big difference," Morrell said, a primary reason he wants to return unused funds to taxpayers. "A rainy day fund shouldn't require keeping $5 billion dollars of our taxpayer money in the bank for them to do great things with."  
While local media coverage of his campaign has been nonexistent and polling sparse, Morrell plans to siphon off votes from his opponent, one door knock and podcast appearance at a time. "Kent's far more relatable," Hairston said. "Briggs has an arrogance that shows through and does not listen to the citizens." Thus far, Briggs seems unconcerned about his primary challenge, going on a sailing trip this summer and planning for a $1,000-3,000 a plate fundraiser in Nashville six days after the primary (curiously advertised through the Tennessee Lobbyists Association) as his constituents struggle with high gas prices, inflation, and a looming recession. Yet, regardless of whether or not Morrell wins, he plans to keep fighting. "I think a Senator's job ought to be to protect constituents from government overreach and part of that overreach is spending and legislating things that the state has no business spending money on and legislating," Morrell said. "I think we need to leave people alone and let them live their lives."
Senator Richard Briggs could not be reached for comment.
Information about Morrell and his campaign is available at www.sendkent.com and on his Facebook page.