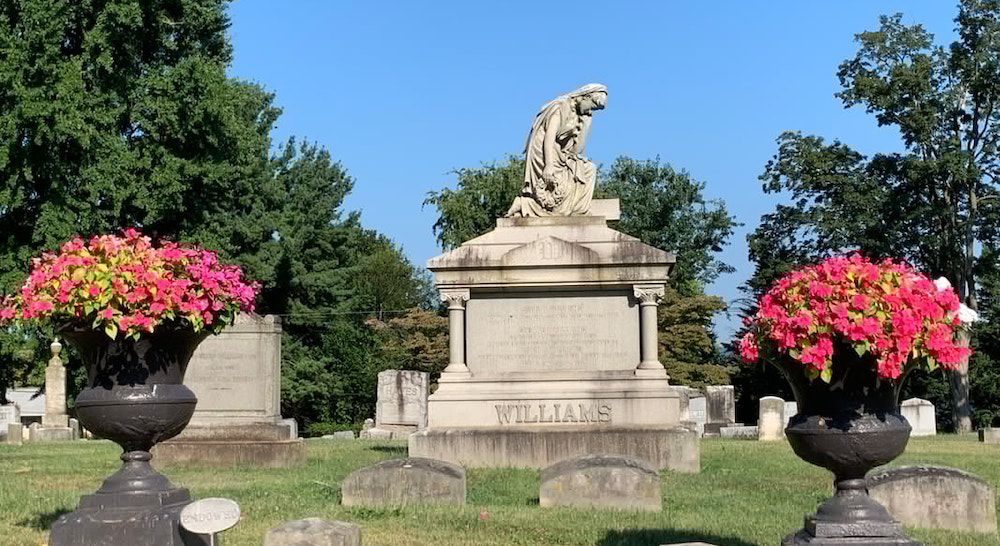 Checking in on Mount Olivet
Exploring the history of one of Nashville's most beloved historic cemeteries
Partially built into a hillside and sprawling across an elevated field covered with magnolia trees sits Mount Olivet Cemetery. Just three miles from First and Broadway, the towering obelisks, adorned mausoleums, and ethereal memorials cover over 200 acres of Nashville hillside. Founded in 1856, Mount Olivet holds some of Tennessee's oldest history and mysteries.
DOWNED GRAVE MARKERS
On April 21st, Betsy Philips, the marketing manager at Vanderbilt University Press, tweeted a distressing picture of a fallen woman in Mount Olivet cemetery. More specifically, it was a chiseled woman with a stoney gaze who fell from her perch atop a grave marker from the 1800s. "If there's someone from the 1800s you love, admire, or are related to in Mt. Olivet, I strongly advise you to get over there and check on their graves as soon as you can," urged Philips. "Things have gone awry.
As a concerned Nashvillian who loves the historic garden cemetery, I headed out to check on the state of Mount Olivet for myself. Indeed, things did look awry. After scouring the vast grounds, I spotted eight downed obelisks and numerous broken headstones. Downed tree limbs also accompanied the wreckage, which helped shed some light on the situation.
After speaking with Rodney Wells, the general manager for Woodlawn Funeral Home Inc. who oversees the grounds, I got my answers. No, there were no cemetery bandits pushing over grave markers in the night or spirits breaking free from their eternal resting places. Instead, destructive weather events over the past year were the culprit. Add this to the fact that resurrecting heavy marble obelisks is no small feat that comes at quite a cost, and you've got a historic cemetery with a fallen angel problem.
THE HISTORY
While there was intrigue about the downed markers, I also had a chance to chat with George Anderjack, Mount Olivet's funeral assistant, who is affectionately referred to as Applejack by his colleagues and regarded as the resident historian. Initially, he stoked my curiosity regarding rumors about remains left behind and buried in the old Sounds stadium before gently pulling me back down to earth: "So, you know, when you hear comments about people being buried at the Sounds baseball field, it could be true. It could be legend. It could be a myth." Though I was resigned to the fact that that mystery will remain a mystery, Anderjack did generously share his knowledge regarding the layout and history of the beautiful, old cemetery.
"If you can imagine this place in 1856 before the Civil War, this was in the middle of nowhere," he explained, before going into the importance of cemetery ventilation back in the 19th century. "Because of the height of the bluff here at Mount Olivet, the ventilation was very important." At the time, many people were looking for an alternative cemetery to bury their loved ones in because the Nashville City Cemetery sat in a low part of land. "[It] was a pretty stinky place."
Of course, cemetery ventilation does not particularly cross the minds of modern Tennesseans, something we can be grateful for, but it was extremely important during the earliest years of the city. "There were plagues of typhus and various diseases, bacterial diseases related to waste getting into drinking water. And so there were epidemics in Nashville. I mean, it went through Nashville like wildfire. And people were buried quickly. And people began to think of the City cemetery as a very diseased place," explained Anderjack.
Mount Olivet also stands as a time capsule of sorts, reflecting the rich cultural and historical influences shaped throughout the eras of its existence. For example, the cemetery is home to the Confederate Circle which is a burial ground that holds 1,500 deceased Civil War veterans. In a heartbreaking metaphor that reminds visitors of the tragic impact of the war, only 10 percent of those laid to rest there have been identified. The rest of the names remain lost to history due to the confusion in the aftermath of war. "We have rebel dead from all the states surrounding Tennessee, including…the Carolinas, Alabama, Mississippi, Louisiana, in addition to Tennessee Volunteers," said Anderjack.
This is just a little piece of the history Mount Olivet Cemetery holds. As an oasis that seems to mystically appear alongside Lebanon Pike, the beautiful garden cemetery envelopes you as you drive up the hill and become separated from the bustle of the world that surrounds it. Respectful visitors are always welcome. This cemetery tour is a 10/10: would recommend.