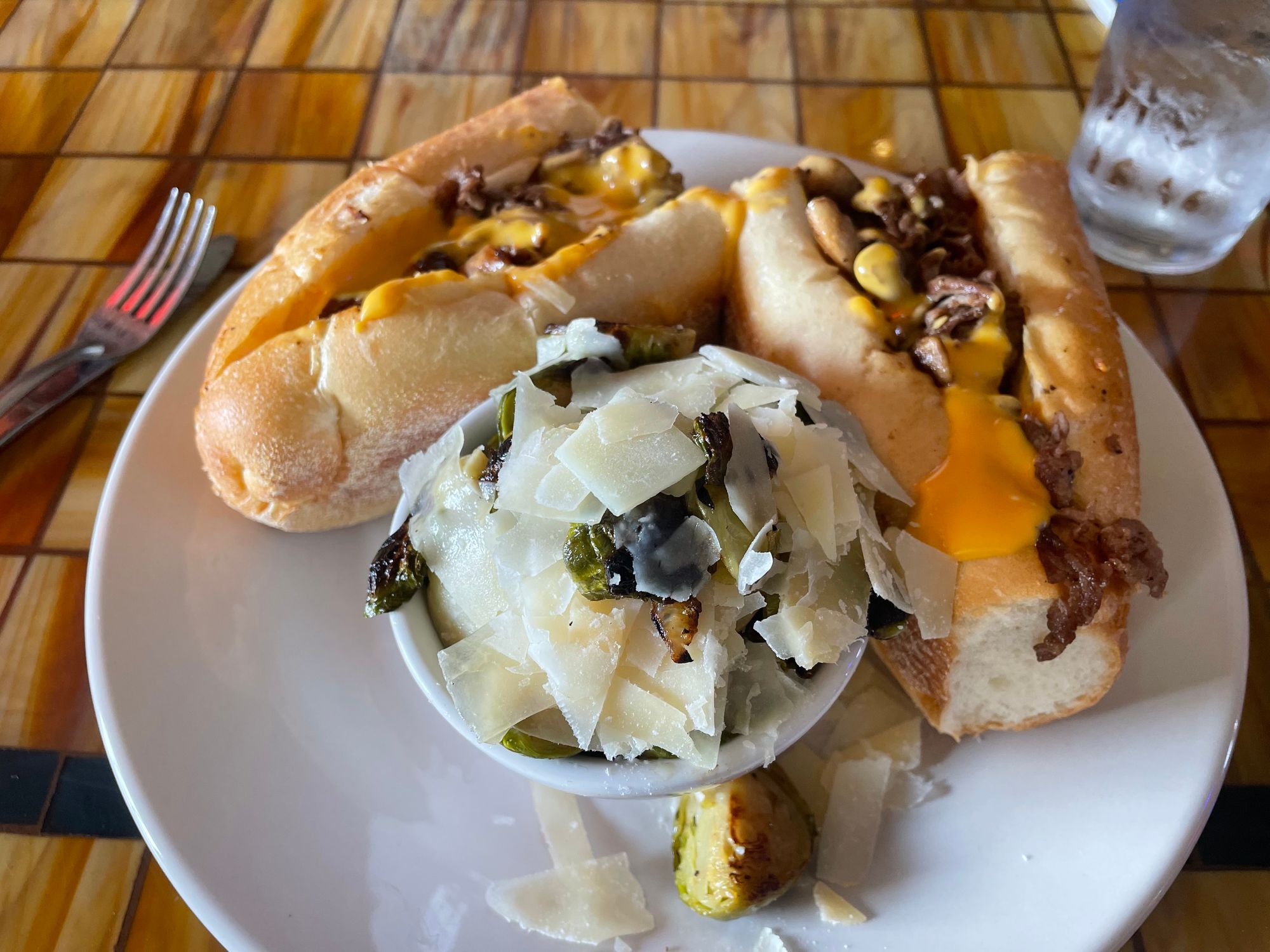 Cheesesteak Deluxe
Discovering a taste of Philly in Nashville with Mike Wolf
Hot on the heels of the Governor's announcement that the lauded-overrated-formerly-regional In-N-Out burgers is coming to Williamson County next year, this seems like a perfect time to investigate another regional specialty comprised of beef, cheese, and bread: the Philly Cheesesteak. I've heard enough Philadelphians argue over which spot in Philly best represents the city specialty—Pat's vs. Geno's serves as the main rivalry and has its own Reddit thread — though informed locals will drop the ultimate insult on those institutions, denoting them as "only for tourists." I've also heard that finding a decent cheesesteak sandwich in Nashville ain't easy, as our deli credentials have often buckled under the weight of the almighty tray at many of the various meat and threes in town (some of which I covered last week in my Arnold's sendoff). But, I'm here to tell you there are some damn good cheesesteaks in Middle Tennessee, and it all starts with the bread.
As the Philadelphians—like the Phoenicians, but instead of building ships, they build sandwiches—have informed me, a great cheesesteak starts with the roll. Amoroso's hearth-baked rolls have been a Philly staple since they first fired up the hearth back in 1904. Used by many of the legendary shops in the northeast, the sturdy yet pillowy rolls provide the perfect bed for the weighty onslaught of meat, cheese and onions. As the modern poets Boyz II Men once said, "Not too hard, not too soft." Luckily, we have a handful of gems in Nashville and beyond who import these same Amoroso rolls and put their foundational prowess to the test.
It'z A Philly Thing, formerly a food truck in Antioch currently residing in a comfortable trailer in a parking lot in Bellevue with ample picnic table seating and string lights, serves hearty cheesesteaks on Amoroso rolls that made my Philadelphian dining companion swoon "these rolls taste like my childhood." Not a bad endorsement, indeed. The gargantuan sandwich had loads of peppery ribeye, chopped "wit" onion (mushrooms and peppers are other available toppings) and the customary cheese whiz so crucial to the original Philly. Other cheese options include American and Provolone. Located at 7609 Hwy 70 S just a short cruise west from west Nashville, IAPT also specializes in buffalo chicken cheesesteaks (he said and ducked), extremely crispy and well-seasoned fries, and even a vegan cheesesteak featuring Nashville's own BE-HIVE vegan Italian crumbles. What else did they have, you ask? Are you sitting down? You better sit down.
The standout menu item that blew me away and still has me dreaming about being younger and having the physical ability to crush an entire plate of them: the almighty Cheesesteak Eggrolls, served with a special sauce as vibrant orange as the Tennessee sunset and packed with so much flavor they're practically indecent. Fried to crispy perfection and coming across like the stoned dream you had where they took the Southwestern Egg Rolls from Chili's (undoubtedly in the appetizer hall of fame which is probably located in Missouri somewhere) and filled them with cheesesteak. The eggrolls are available as a party platter as well, so plan your next soiree accordingly. For this menu addition, I commend the minds at It'z A Philly Thing.
My next stop on the cheesesteak train dropped me at Nadeen's Hermitage Haven, which lives up to its name in more ways than one. If you can avoid calling an audible and checking out the "Butt Hut," an aptly named barbecue truck perched next to the parking lot (you're on my list Butt Hutt), strolling into Nadeen's on an empty stomach is one of the best decisions you'll make in a world gone wrong. Cozy and comfortable with plenty of large booths and a bar that will have you hanging out longer than you had planned, Nadeen's is known for hearty, flavorful breakfasts, friendly service, and the kind of extensively well-executed menu where there are no bad choices.
Owners Nadeen and John Hoffman, old friends from elementary school in Pennsylvania (of course they carry Amoroso rolls) who later re-connected in Nashville, got married, had a kid and later opened this gem of a restaurant in 2017. It feels like it's been there for 30 years and is the rare place—other than Waffle House—that's equally at home serving breakfast or dinner. But this visit was all about the cheesesteak and it wholeheartedly delivered.
The heaping, perfectly constructed cheesesteak on the aforementioned Amoroso roll—this time with mushrooms and the traditional cheese whiz and onions—was well-seasoned with a seamless balance of meat and cheese which made for one of the best sandwiches I've tried in all of Middle Tennessee. Served with a side of crispy bacon brussels sprouts piled high with cheese, this was the kind of meal that could easily turn your lunch into dinner (or just order another beer and turn your ringer off.) Nadeen's also has a full bar and would be a prime spot to watch the Eagles get upset during the NFL playoffs while crushing a cheesesteak and a Yuengling.
A very honorable mention goes to Josephine's on 12th Avenue South in Nashville (full disclosure: I tended bar there for a while years back and did a book event there recently). Chef Andy Little knows a lot about Pennsylvania Dutch Country and is equally at home cooking Cope's Cornbread or upping the ante with a hot scrapple appetizer. He's also thankfully re-introduced his cheesesteak sandwich for the brunch menu on Saturdays and Sundays. If Chef Little can make beef tongue on toast sing from the heavens, you bet he can make a delicious cheesesteak. Utilizing local Bear Creek Farm beef, this is the kind of cheesesteak to savor every bite and realize you may not need to go to Philly at all.
Now if you'll excuse me, I think I better go eat a salad...