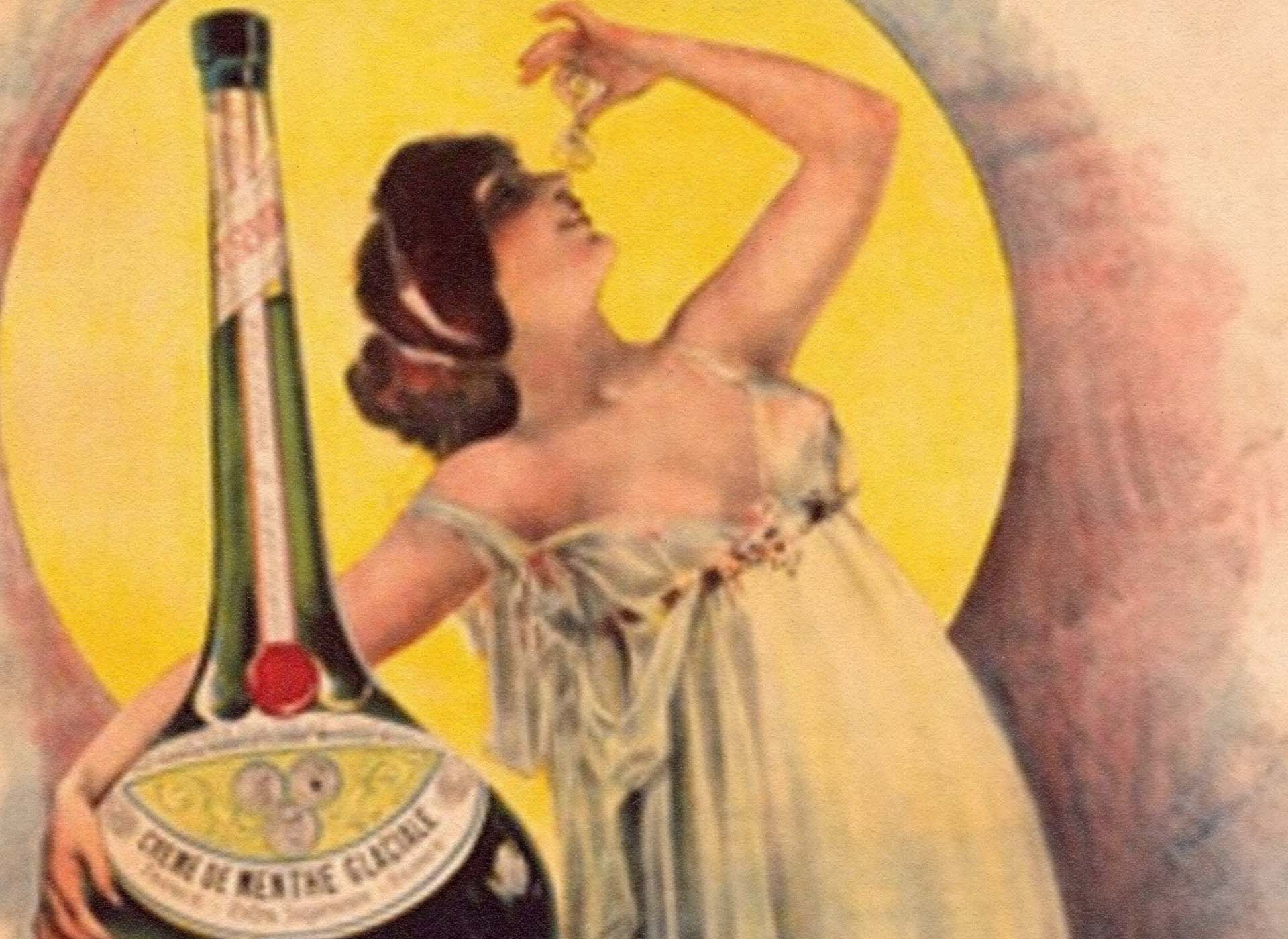 Crème of the Crop
The history of and recipes for the oft-neglected classic American spirit crème de menthe
A dusty bottle in the back of a cabinet, part of the florescent speed rack rainbow, ignorant (and probably promptly regretted) underage contraband, a portion of the forgotten section in a run-down liquor store, or your grandparents' drink… Whatever you've thought about crème de menthe, I promise you, I've heard it.
And you wouldn't be wrong. At one point or another, I've witnessed the bottle in each of these positions. But this minty beverage can be so much more than those things and a far cry from a glowing, nuclear, neon-green substance. Bright green drinks are fine for kids' parties, Shamrock Shakes™, and even theme shindigs, but once you've graduated from child to adult, mint need no longer equal green. And crème de menthe need no longer be rough and tumble.
This sweet, yet firmly refreshing liqueur comes in a clear version but is more commonly seen in its green one, probably due to humanity's fascination with food being colored the same as the flavor (i.e., purple grape or the sham that is blue raspberry). Now, green doesn't always mean artificial ingredients or colors, but it usually does, so my preference is to avoid it. But if seeing an unmistakably green mint drink gives you joy, far be it for me to stand in your way.
Ye Old Mint Syrup
Mint is one of the oldest and earliest botanicals used to flavor stuff and, in the "spirit" of many/most liquors and liqueurs, has a background in medicine. Hieronymus Brunschwig's book on distillation, published in 1512, makes mention of a "water of red mint". Add a couple of centuries, and mint made its way into cocktail culture. (There is mention of a "draft of rum and mint water" at a tavern in Boston as early as 1721.) In the years that followed, this mint dram became sweetened before graduating into a full-on liqueur of its own.
David Wondrich and Robert Simonson write in their book The Oxford Companion to Spirits and Cocktails, "When Jacques-Francois Demachy, a French pharmacist, published a recipe for [what was then crème de menthe] in 1775, he added, 'I believe I am the first person to have imagined this liqueur.' Pippermint Get, a mint liqueur created in Revel, France, in 1796 (it assumed its present name many years later), appears to be an early commercial example of the type. The bottle advertised its ability to rid the body of myriad ailments, including cholera. Another prominent early brand was Menthe-Pastille, created by Emile Giffard, in 1885 in Angers."
This beautiful product naturally fell off a bit when, sometime in the mid-twentieth century, natural iterations of the stuff began to be replaced with artificially flavored and colored brands. Moving it squarely into the territory of "a thing of the past."
Trust the Process
Creating crème de menthe involves infusing peppermint or Corsican mint with water, distilling it, then mixing it with grain alcohol and sweetening it. Or, the mint can also be infused directly into the alcohol. Either way, as I previously mentioned, it comes in both green and white—the latter, in addition to being less off-putting in appearance, was traditionally higher proof. It's a bonus to swigging the clear stuff, though one the lovely folks at Dekuyper don't feel the need to observe. (Both their green and white crème de menthe come in at 30% ABV.)
On instinct, crème de menthe conjures up visions of people mingling about sipping the stuff in the 20s and 30s (cemented further with a scene in the most recent Downton Abby movie where the female film star barks out, "Get me a crème de menthe!" in the general direction of the servants.) And though this is true, the minty liqueur was extremely popular in American bars much earlier than that in the 1890s. In addition to applying excellently as an aperitif drunk neat, it was then, and remains, a critical ingredient in a fair number of classic cocktails, usually (and unsurprisingly) the after-dinner types.
If It Ain't Broke
I remain unconvinced that there is a more perfect representation of crème de menthe than that from Tempus Fugit, makers of fine liqueurs and libations out of California.
The Spirit Journal states the following about their Crème De Menthe Glaciale: "This should be the only crème de menthe that astute bartenders who care about their craft will want. Excellent all the way." Well said, F. Paul Pacult. I wholeheartedly agree. Is there even any competition for another high-quality crème de menthe on the market today? It's doubtful.
Their crème de menthe, clear and gorgeous, is made in their signature style, respecting its history. Manuals in three different languages were cross-referenced to create it, revealing that true crème de menthe is historically a very complex spirit, and not made with mint alone. Multiple test batches were made, consulting a few historic recipes, and the final product, a distillate of macerated botanicals, is reduced with spring water and cane sugar. Any place cranking out spirits with unabashed respect for its history of it will always have my vote and my money. Period.
RECIPES
Like a mint on your pillow, a cocktail with crème de menthe can put a lovely punctuation mark on an evening. Here are three ideas to get you going once you've brought that bottle home.
GRASSHOPPER
Yes, this drink often regarded as dated or written off as nothing more than spiked dessert earned its name from its bright green color, but that doesn't mean it's married to it. When made with high-quality ingredients like Tempus Fugit, it's a revelation.
½ ounce Tempus Fugit crème de menthe
¾ ounce Tempus Fugit crème de cacao a la vanilla
¾ ounce cream
1 ounce brandy
Combine in a shaker. Add ice. Shake and strain into coup, martini, or Nick and Nora
Supposedly invented in the French Quarter of New Orleans in 1918 by Philip Guichet, owner of Tujaque's, the grasshopper enjoyed quite the popularity throughout the 50s and 60s, especially in the American South. This recipe comes from David Wondrich, mentioned above, the cocktail maestro himself in addition to being an incredible spirits author.  It's dubbed a "tawny grasshopper", as it isn't green, and the cacao is a rich, light brown color. It also elevates the mix by throwing in a full ounce of brandy – a fact that I believe will raise the eyebrows of even the most skeptical.
Many recipes simply call for equal parts menthe, cacao, and cream. Personally, (and I know I'm not alone here),  I find that to be too mint heavy, and too sweet. Adding the brandy bulks it up into a proper cocktail, while still honoring its after-dinner roots.
This past winter, Imbibe magazine posted a version with the same amount of cacao (3/4 ounce) and menthe (1/2 ounce) as Wondrich, but upping the cream to 1 ounce and adding ½ ounce Fernet instead of brandy. I finally got around to sampling it for this column (you know, research and stuff) and it is indeed lovely. The menthol notes of Fernet play nicely in here, aside from the fact that I'm a sucker for adding amaro to anything. It's minty, it's fresh, it's reminiscent of walking through a forest in the middle of the winter drinking hot chocolate. If that scene were a flavor, this would be it. (An image that would also do well to cool you off in the summer.)
STINGER
2 ounces brandy
½ ounce white crème de menthe
Stir with cracked ice; strain into chilled cocktail glass. Garnish with mint and serve with a side glass of ice water
A stinger is the drink I usually suggest to someone having just endured a rough breakup—either having been dumped or doing the dumping. It's sharp, yet pleasant, with just the right amount of harshness.
ABSINTHE SUISSESSE
By Virginia Miller and Zakai Arnowitz for Alba Ray's, San Francisco
Besides being fun to say (it's pronounced swee-sess), it's a hoot to drink. Like a thin, frothy milkshake that tastes of herbs and mint. This is the grown-up shamrock shake – with snappy licorice undertones.
½ ounce St. George Absinthe Verte
½ ounce Herbsaint
¼ ounce orgeat
¾ ounce egg white
¾ ounce half and half
Vigorously shake all ingredients and pour over tightly packed crushed ice. Garnish with a sprig of fresh mint.
Feel free to play around with your ingredients a bit. For example, I found a gorgeous bottle of French herbal liquor called Elisir M.P. Roux at Midtown Corkdorks and swapped it out for herbsaint. Absolutely wonderful. Make your own orgeat fresh for this one, rather than buying some. You'll thank yourself for it.