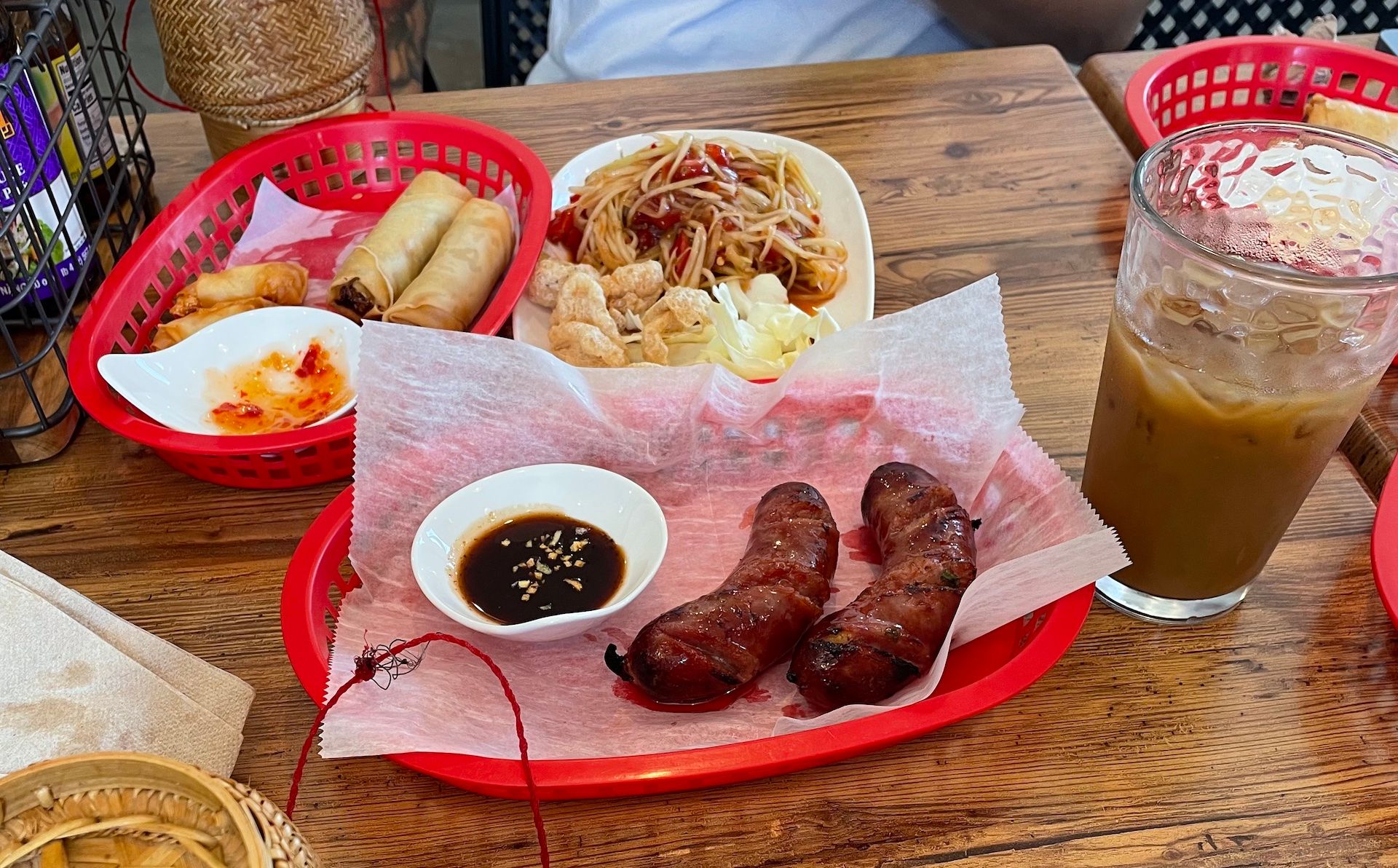 From Laos to Murfreesboro and Back
Mike Wolf fills us in on his latest culinary adventure with Chef Colby Rasavong
If you're wondering whether you've ever been to a Laotian restaurant before, chances are you have. One of the many enlightening things I learned over the course of a long lunch with celebrated chef (formerly of Husk, Audrey and later this summer set to helm the food at Bad Idea Wine Bar with local sommelier Alex Burch) Colby Rasavong -- a Murfreesboro native immensely proud of his Laotian heritage that's imbued in his cooking like stock in a mother sauce -- was that some Chinese/Vietnamese/Thai restaurants around Middle Tennessee and the rest of the Continental United States are opened and operated by Laotians. Today, we visited a place in his hometown that Colby had been dying to try.
Believing that the food of their homeland may either be too esoteric, foreign or just plain hard to translate (because the language doesn't translate easily into English), many Laotian restaurant operators of the late 70s and 80s opened their eateries as Chinese restaurants with the usual suspects like sesame chicken, kung pao and lo mein, while they snuck in a few Laotian staples like papaya salad (more on that later) for the other Laotians in their community.
After the Laotian government was overtaken by communists in the 70s, an influx of Laotians came to America and were arbitrarily sectioned off into a handful of different cities, chief among them: Minneapolis, Oakland, Washington D.C., Jacksonville, New Jersey and you guessed it: Murfreesboro, Tennessee, where one of the largest and most stunning Laotian Buddhist temples in the country resides, Wat Lao Temple.
If I'm planning your next day trip to Murfreesboro, it would include this gorgeous temple and a stop at the relatively new and proudly Laotian restaurant Xinhga Sab Bor Lao, located at 120 Eleanor Way Suite A in Murfreesboro. And you better come hungry, as there are a lot of tasty options and new worlds of flavor to explore.
"I'm excited," said Rasavong, as we pulled up to our table and promptly ordered up some Vietnamese-style iced coffee (sweet and refreshing on a warm, late-spring afternoon) and perused the menu. "It's rare that you find a new restaurant that is putting the Laotian identity out front. One of the hardest things for Americans to understand about Asian food is the big difference between Thai and Laotian food."
Among our starters were the papaya salad, something chef Colby noted is a key barometer of how good and authentic a Laotian restaurant will be. Xinhga Sab Bor Lao's papaya salad was lively, deliciously spicy, and fun to eat! Yes, it does inspire exclamation points. Accompanied by a bamboo basket of sticky rice called lao aep khao (which also serves as the restaurant's logo) I was instructed by my dining companion to use my hands to take out some sticky rice (khao niew) and form it into a divot of sorts, a vessel for grabbing the shredded papaya, dipping it into sauce and throwing it down the hatchet. The rice was the perfect consistency, and the entire dish was a knockout. XSBL passed the papaya salad test with flying colors, and if you want to see colors while you eat it, they'll dial up the heat even more on a sliding scale from 1 to 5.
Other standout starters we enjoyed immensely were the firecracker shrimp (delicately breaded and fried) and the house sausage, sweet and spicy and thankfully not overcooked at all with a pleasant, juicy consistency. It inspired me to ask our server a possibly dumb question in a Laotian restaurant: "Do you have Beer Lao?" And yes, yes they do, and it is very cold. Chef Colby informed me he'd be traveling to Laos later this year to explore his heritage and will be staying in a hostel that offers free Beer Lao. My eyes nearly popped out of my head. Then the entrees came.
One of our favorite dishes of the day – and something I thought about for days after as it seemed mystically familiar and new and exotic at the same time – was the khao-piek, utilizing homemade tapioca udon noodles in a light, flavorful chicken broth with pieces of poached chicken, garlic and served with a side of vegetables. It reminded me of chicken and dumplings from the Appalachian hills but with fresh udon noodles in lieu of drop dumplings. This made for quite the food memory for Chef Colby and I, as I had watched him master chicken and dumplings while working for Sean Brock over the years.
If our stomachs would have allowed it, we would have kept plowing through the impressive menu at Xingha Sab Bor Lao which includes: holy basil stir-fried rice, curries we could smell wafting from the kitchen, and oxtail pho that had me wishing we were back in those four frigid days of winter earlier this year. I have high hopes for this restaurant and know that it's a valuable addition to the community in Murfreesboro, an area I rarely visit, until now.
As for Chef Colby and his journey through the world of cooking, he's fresh off a run of pop-ups in New York City where he was able to flesh out his version of Laotian food at a handful of the city's hottest eateries, something he is continually honing and refining like slowly sharpening a knife on stone. He is set to finally visit Laos for the first time this year and will continue his research on a trip to Bangkok this summer. He hopes to open his own restaurant and express his love for the Laotian traditions and food he grew up on, mostly cooked by his mom and his aunt Sera.
On this Mother's Day weekend, I know she's proud of the vibrant Laotian community in Murfreesboro, and her talented son finding his way carrying on the traditions she set forth, while forging ahead and finding his own path in this mad, mad world.