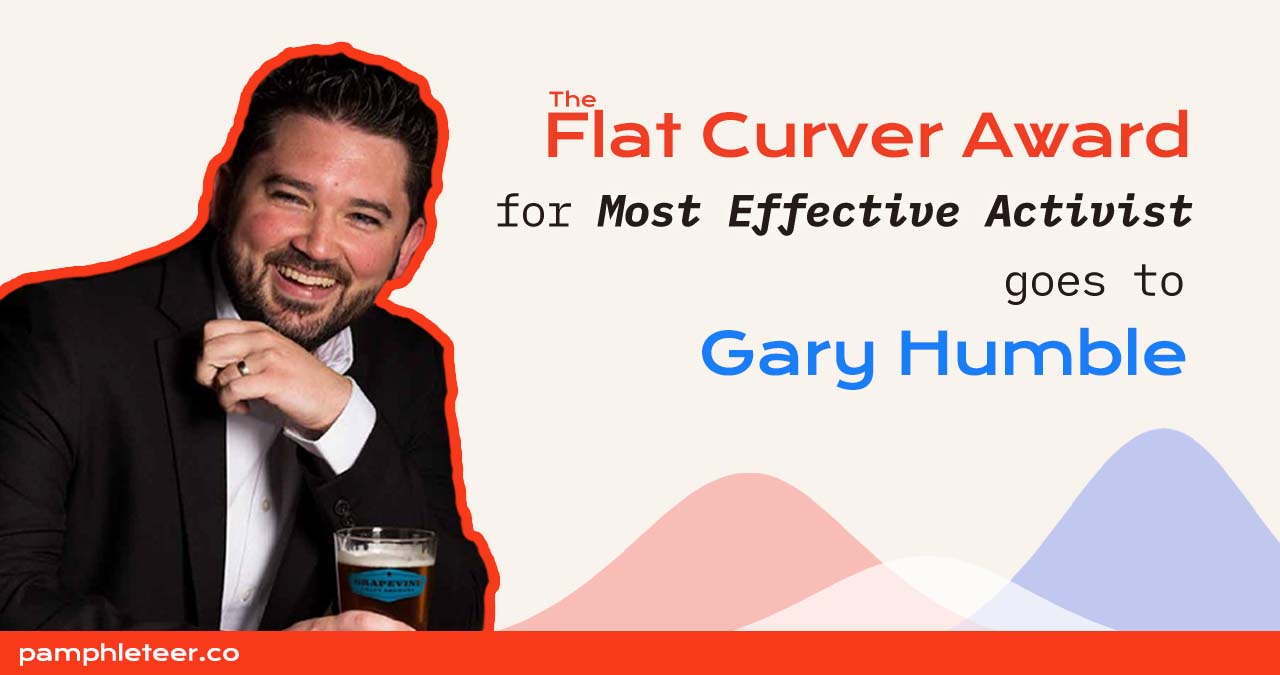 Gary Humble
The Flat Curver Award for Most Effective Activist
Two years ago, Gary Humble was a jack of all trades hailing from Williamson County whose resume included stints as a pastor and CEO of the Family Action Council of Tennessee. Then Covid caused him to think about freedom, sparking the launch of Tennessee Stands. Formed to, as its mission statement says, "awaken and equip all citizens to boldly assert the unalienable rights given to them, not by man, but naturally by God," the grassroots group quickly asserted a presence, writing the language for the 2021 bill that banned vaccination requirements in the state and putting pressure on legislators to call the Covid Omnibus special session. "I'm by no means a seasoned political operative or strategist," said Humble. "But I'm a dad, a husband, and a Tennessean."
In early 2021, Humble gained viral traction with his sharp parodies of the pro-mask PSA's that Governor Lee spent $4 million of taxpayer money producing. That summer amid the Delta wave, he packed lecture halls, country clubs, and even Knoxville's Cotton Eye Joe with hundreds of concerned citizens across the state for his Freedom Matters tour, which featured him alongside prominent conservatives like Robby Starbuck and The National Pulse/Bannon's War Room co-host Natalie Winters. "The problem we have in Tennessee is the belief that we are this Red supermajority Republican state and folks believe that makes us super conservative," said Humble, who cites how influential lobbyists representing industries from broadband companies and wholesale beverage distributors to Big Pharma are on establishment Republicans.
With a fervent following of volunteers Humble refers to as a "scrappy little team" taking notes of every General Assembly meeting and sharing his content, he's struck fear in the hearts of RHINOS everywhere and remained a thorn in the compliance crowd's side. Despite his antipathy toward the General Assembly, Humble admires the work of Senator Janice Bowling (R-Tullahoma) and Representatives Terri Lynn Weaver (R-Lancaster), Bud Hulsey (R-Kingsport), and Bruce Griffey (R-Paris). He also endorses challenges to establishment figures like Rep. Bob Ramsey (R-Maryville) and fully supports the efforts of the incumbent's primary challenger Bryan Richey, a Navy veteran and real-estate agent. "That guy (Ramsey) is more responsible for the deaths of bills that would preserve individual rights than anyone I can think of," said Humble. Not content to merely endorse candidates, Humble recently announced his run as a primary challenger to Senate Majority Leader Jack Johnson (R-Brentwood).
Among his many victories, Humble cites the small groups popping up across the state to discuss constitutional issues and select candidates to primary ineffective Republicans as Tennessee Stands' greatest achievement. "I think we have given people a lot of tools and a lot of boldness to stand against coercion and discrimination," said Humble.  At his rallies, those introducing him lightheartedly say, "Let's get ready to rumble, it's Gary Humble." We can only hope he stays on guard as Covid wanes.