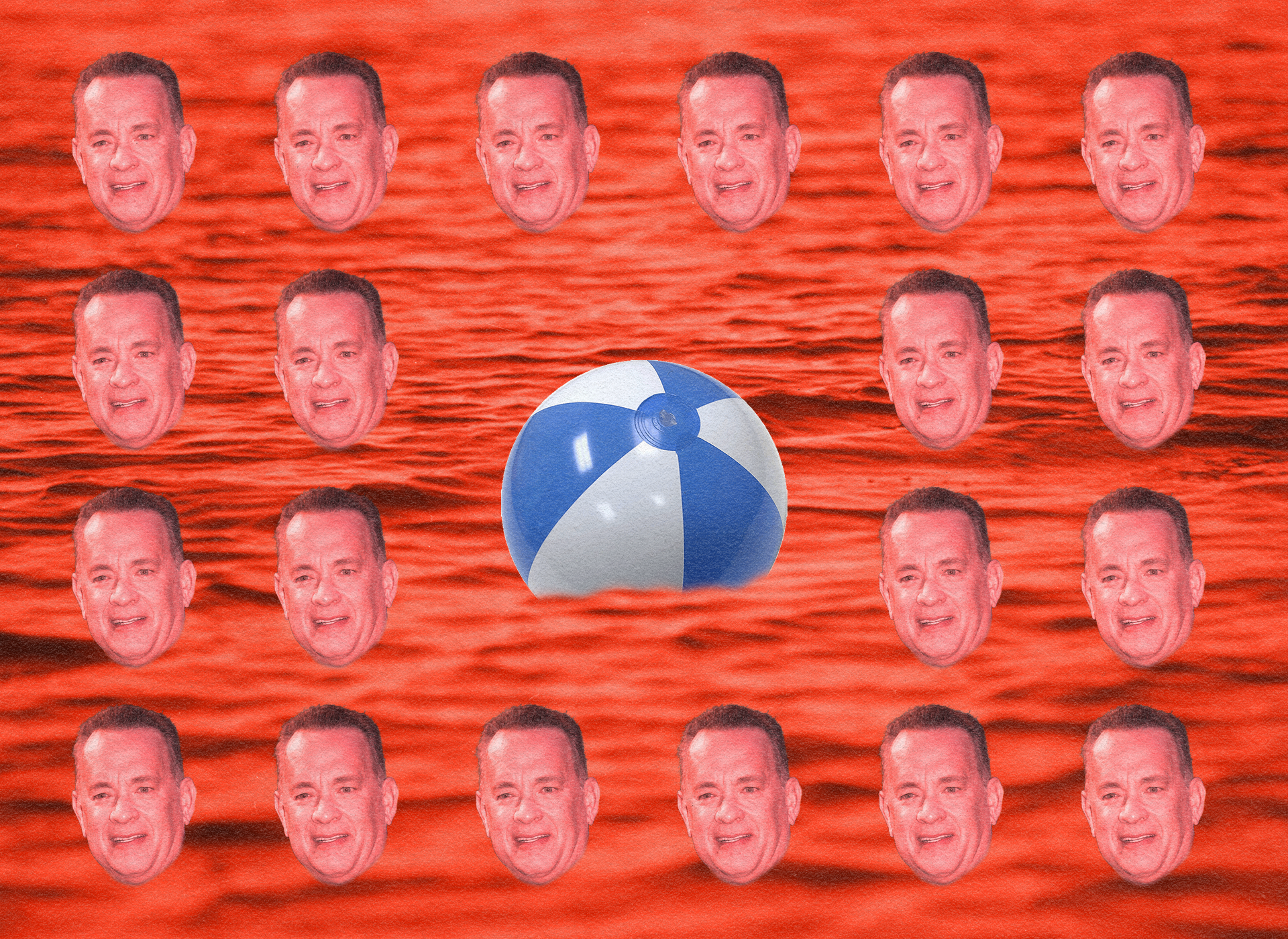 Mr. Hanks in Music City
Hollywood's former everyman turns to the written word and reminds a Blue Oasis of the America they left behind.
"Parking is a shitshow," the woman in the black cocktail dress bellowed into her speakerphone as she made the three-block walk to Montgomery Bell Academy. Her heels dented front yards while she balanced her phone and D&G bag. I had to admit she wasn't wrong. At least two thousand other locals had come to see Tom Hanks in conversation with local literary celebrity Ann Patchett, about his debut novel, The Making of Another Major Motion Picture Masterpiece. The May 11th event had just as quickly outgrown MBA's wellness center as it did Patchett's world famous Parnassus Books when tickets sold out within twenty minutes of its announcement back in March.
I was about to see one of the American cinema's icons live on stage, something that would have been unthinkable when Hanks was in his heyday during my teens. But all I could think about was the other shitshow I left behind when I locked my car. With MBA's parking spaces and the adjacent lots at capacity, I dubiously crammed into an ill-fitting space in front of a $1.2 million house nestled behind the hallowed all-boys school. Though I was already running late despite arriving on campus 40 minutes early, I couldn't ignore the bevy of yard signs I'd nearly hit with my driver's side door: "Shine a light. End antisemitism, racism, and all forms of hate"; "For LOVE JUSTICE COMPASSION HUMANITY ALLYSHIP COMMUNITY"; "Hold America Together"; "Save Lick Creek" (insert change.org petition here).
Next to such a self-righteous milieu, a bird had dutifully splattered the home's iron mailbox in a spot-on Jackson Pollack impression. Little did I know, Tom Hanks of all people was about to figuratively do the same at a gathering whose attendees would likely pass by their own similar sign collection on their way to their front doors later that evening.
In one of my early articles for The Pamphleteer, I wrote about Hanks' decline over the past decade in response to his 2021 New York Times opinion piece on the Tulsa Race Massacre. Before the publication of his editorial, Hanks had gone from a consecutive Oscar winner who should have garnered a few more statues for his work with Steven Spielberg and Sam Mendes to a mouthpiece for liberal causes in the Bush II years. Predictably, his sure-thing status at the box office began to falter shortly after he opined on politics as the public grew tired of his Oscar chasing in Extremely Loud and Incredibly Close, Cloud Atlas, The Circle, and other prestige duds. The Da Vinci Code franchise kept him on the A-List well into the 21st century despite his worst reviews since his Bosom Buddies days until he and fellow Obama coalition deputy Ron Howard shared the biggest disaster of their careers when audiences and critics savaged the series' 2016 sequel, Inferno.
Hanks may have staved off irrelevance when Sully became a blockbuster that same year, but the film was also one of Clint Eastwood's weakest directorial efforts, failing to achieve the critical attention Hanks increasingly sought with a series of second-string Spielberg pieces tinged by Trump Derangement Syndrome. Over the past ten years, the only way that Hanks resonated with audiences like he did in the 90s was when he played unlikely real-life American heroes like Sully Sullenberger or the beleaguered Captain Phillips, who found himself fending off Somali pirates weeks after Obama's inauguration.
In what Bret Easton Ellis has deemed America's Post-Empire days, Hanks no longer embodied regular Americans who rose to extraordinary challenges like the teacher-turned-soldier of Saving Private Ryan or the average Joe who found his grit in Cast Away, but men whose heroism was tarnished from the get-go as they were left defenseless and cannibalized by America's ever-expanding bureaucracy and globalist subservience.
But the ruminations on Tulsa led to a change Hanks likely didn't expect; it made him a target of his own ideology that exposed his well-intentioned attempt at racial unity for the half-baked gesture it really was. Two years later, Hanks seems to have rediscovered his populism. He founded a coffee company to raise money for veterans. He instilled the virtues of hard work and standing up for truth in a Harvard commencement speech last month that didn't shy away from scripture or the failures of the current political climate. He co-starred in Elvis, the drama that drew multiple demographics back to the multiplex. He even scored a minor hit last January when his turn as a curmudgeonly retiree in A Man Called Otto earned $64 million and led Variety critic Owen Gleiberman to hold it up as an example of the much-needed mediocrity that may yet save the movie industry.
This career resurgence as Hollywood's great unifier aside, I couldn't help but wonder who exactly 2023's Tom Hanks makes movies for as I looked around MBA's auditorium. These were neither the people of Golden Corral nor Parnassus' regular clientele–the folks who didn't bother to see A Man Called Otto and would either have been annoyed at the movie's token trans character or Otto's failure to go under the knife in solidarity if they had. Instead, this was an audience of the stock who, at best, idly watched the movie after its Netflix debut and were too embarrassed to tell anyone their true thoughts about such a storyline's naked bid at relevancy for fear of losing social capital.
Surrounded by Nashville's progressive blue bloods and aspiring elite in their Nordstrom best, Tom Hanks knew his audience. "I've been the babysitter for half the people here," he quipped, remarking on the ubiquity of Splash tapes that graced the homes of these model Boomers and Gen Xers in their child-rearing years. "Tonight, we saw Tom Hanks pontificate for about 41 minutes at the highschool of the stars."
Throughout the night in an auditorium that typically serves to educate the children of the Metro Area's wealthiest families, Hanks leaned hard into his working-class roots. He never mentioned that his mother made a career as a hospital aide or that his father was a line cook, but he aimed to debunk the glamor of filmmaking, painting himself as a guy who, through a combination of hard work and persistence, achieved the American Dream in an industry overrun with nepotism. "Everything that happens in this book I either witnessed or caused," Hanks said.
Though a self-proclaimed avid reader, Hanks never veers far from Hollywood territory in Motion Picture Masterpiece, a tale that spans decades as it carefully constructs the arduous process of bringing a superhero movie to the big screen. As one would expect from Hanks, the novel chronicles the changing landscape of America in the aftermath of WWII through the lens of the film industry (his recounting of research about the origins of the Hell's Angels as midcentury vets with no outlet for violence was a particular highlight of the night). Yet, the novel also showcases his impressive chops as a writer, a far cry from the expected quality of a celebrity turned author. As he told Patchett, "The freedom of sitting with a blank piece of paper is one of the greatest artistic jags a person can have."
Yes, Hanks uses a typewriter, but not like the fellow with the Doc Holliday stache at Barista Parlor who freelances for the Scene and wants everyone to know he left Twitter in protest. He's obsessed with them, owning over 150 machines from various historical periods and centering his 2017 short story collection, Uncommon Type, around the writing instrument. Before this much-ballyhooed trip to Middle Tennessee, Hanks made headlines statewide for a 2021 visit to Nashville Typewriter in Goodlettsville. Like Josh Baskin in Big, he comes across as an exuberant, overgrown kid with the means to explore his passions.
Yet, what struck me most about Hanks during his conversation with Patchett were his fleeting moments of doubt. Despite earning a reported $35 million a year, he seemed genuinely uncomfortable with these overtly ceremonious surroundings. "Mr. Turner & Hooch thinks he can write," Hanks said as he nodded to the nosebleeds. When Patchett mentioned that he had asked her to read several drafts of his novel before its publication, he revealed what he thought she would say to him: "The punctuation was in its place."
And that dynamic between Nashville's queen of the literati and a semi-deposed king of Hollywood set the awkward tone of the evening. Tom Hanks is Tom Hanks. He doesn't have to be here. He's proven himself. He's even begun to realize that his political positions are as much of a luxury good as a gated compound or his vintage typewriter collection. But Tom Hanks as of late is a maker of largely middlebrow movies. Ann Patchett is a real-deal writer on Barack Obama's reading list whose much more tone-deaf and South-loathing editorials in The New York Times and other prestige publications are a perennial presence that go uncriticized because she's "done the work."
Hanks would never install himself as a spokesperson for a tragedy like Covenant, but Patchett wasted no time flexing her community cred to increase her national profile. That people would find more comfort in their well-worn copies of Forrest Gump or Toy Story in times like these than milling about with gun control advocates in bookshop aprons doesn't seem to register. Ann Patchett needs public affirmation that she's a somebody who can call up Tom Hanks when she pleases. But in the circles that really matter, he needs her just as much.
And I'm not sure Tom Hanks likes that. Two years ago, I tried to parse out the version of Nashville that Patchett and Parnassus have willed into being, but Hanks did a better job than I ever could. Maybe he realized that the brand of politics Patchett and her store have long brandished almost led to his post-editorial cancellation. Or maybe he realized that a guy with this much money can write books, congratulate random couples during their wedding photos, and do whatever else he damn well pleases. Regardless, Hanks came across as someone who had the epiphany that he was in a regional version of radical chic without the real radicalism and responded accordingly.
Amid his masterful self-deprecation ("At 2 a.m., one of your movies shows up on TV. It's the last thing you want to see. We watch it out of the sad, sad need to tell ourselves we aren't that bad anymore"), Hanks leaned into his status as a high-stakes craftsman in an industry where even the lowliest crew member not doing their job can destroy a multimillion-dollar investment: "No one is just a cog in the machine when you get to know them on set." Hanks also displayed a gentle contempt for intellectual pomposity: "The only thing a teacher of film knows is a movie he likes," a statement he later bookended with, "You can't substitute education for experience."
As Patchett prodded him for the Hollywood tales the audience paid for, he emphasized the sheer banality of the majority of his on-set hours. Demonstrating his day-to-day of makeup touch-ups and sound guys running cords up his costume, Hanks got a little too up in Patchett's personal bubble as he tapped her shoulders in an accurate imitation of rote behind-the-scenes mania. After remarking a few minutes later that he doesn't think he's ever sexually harassed anybody, Patchett made a limp quip about the proceedings the audience just witnessed that got a tenth of the reaction of Hanks shrugging it off and saying, "It ain't all Somali pirates."
When Patchett attempted to recover by asking Hanks about COVID, he brushed aside that he was the celebrity Patient Zero of the pandemic and launched into the annoyance of making movies amid the protocols that kept him from really getting to know the crew and his Elvis co-star Austin Butler. As he happily talked about the rules' demise, he lamented that they had sucked all the fun out of moviemaking. While Hanks likely hadn't seen Patchett's perpetual "mask up" videos on the Parnassus website that lasted long after every other reasonable retailer went back to business as usual, he made it clear he wasn't just talking about Hollywood.
As Hanks began sharing his belief that filmmakers and novelists should feel a responsibility to tap into the life-affirming potential of making popular art, several attendees began filing out, leaving one of the world's biggest movie stars for the next stop on their evening itinerary. They missed Hanks telling Patchett that, "Movies are made for an audience of one. We want our lives to be altered." I guess such altruism didn't matter after nearly an hour of debunking the glamor. They got their selfies from the balcony early on. Talking about the sheer unpredictability of figuring out which movies would become runaway successes, Hanks shared that, after shooting endless scenes of talking to people in downtown Savannah, he asked Forrest Gump director Robert Zemeckis, "Is anyone gonna care about this guy on a park bench?" I'd stopped caring about a decade ago. But an evening with Tom Hanks has made me reconsider.