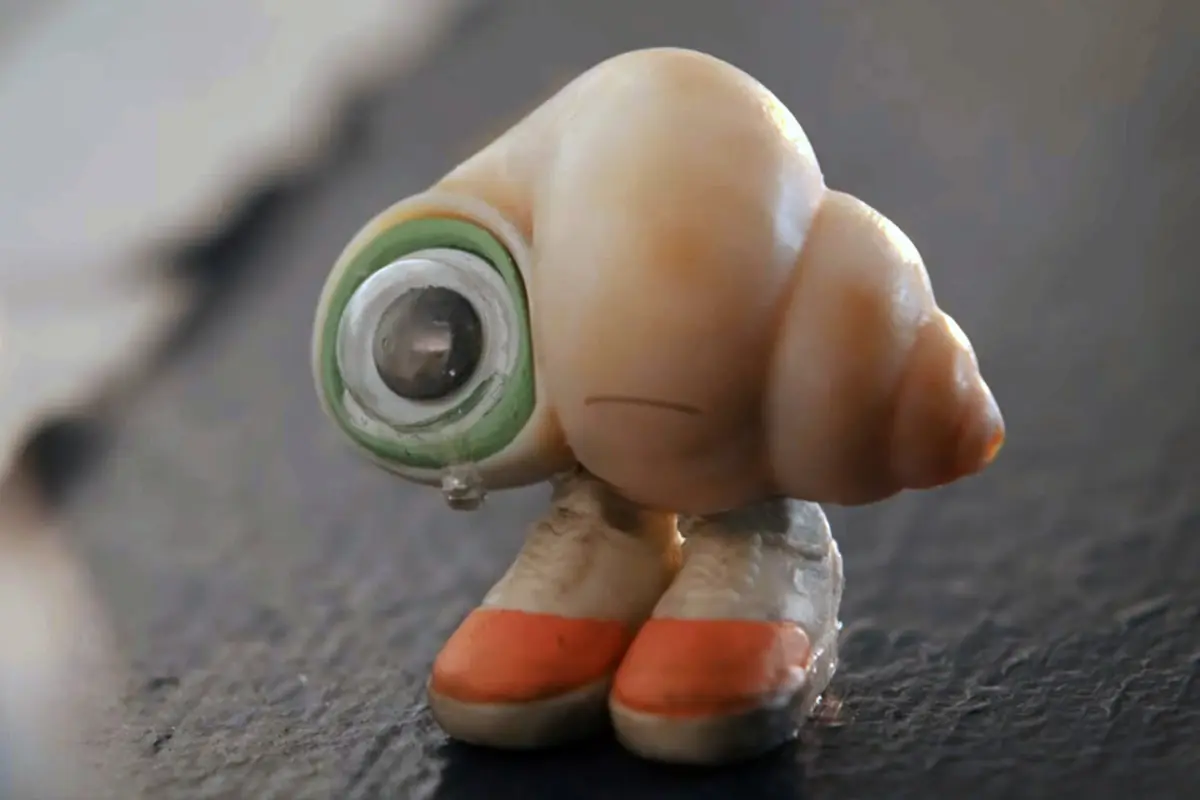 Review: Marcel the Shell With Shoes On
The feature version of the 2010s viral sensation proves the summer's best family movie and a brilliant indictment of the Internet culture that spawned it.
In 2010, America knew Jenny Slate as the SNL cast member who may or may not have fired her for dropping an F-bomb during her first sketch. But when the animated shorts featuring Slate as the voice of "Marcel The Shell With Shoes On" hit YouTube, its 32 million+ views turned her into a perennial presence in everything from the indie Obvious Child (2014) to Marvel blockbuster Venom (2018). After Marcel made the rounds at Sundance and AFI Fest, Slate and director Dean Fleischer-Camp turned the movie into a cottage industry which, over the years,  spawned two more online shorts and a children's book.
It took over a decade, but indie label A24 has finally brought a feature-length version of Marcel the Shell With Shoes On to the big screen as its first family release. Amid a summer of animated misfires (think Pixar's Lightyear) and low-hanging fruit (a fifth Minions), Marcel proves itself a sincere and universal crowd-pleaser with the emotional heft corporate giants like Pixar have all but abandoned in their mad dash toward socially conscious pablum and empty merchandising.
Retaining the short films' mockumentary structure, Fleischer-Camp explores Marcel's miniature world as the titular hero lives an unacknowledged life on the margins of a neglected Airbnb property. After the millennial couple that previously inhabited the home break off their tumultuous relationship, Marcel and his Nana Connie (Isabella Rossellini), find themselves alone when their community of other shells went missing in the fallout. Lonely and fretting over Nana Connie's health, Marcel befriends Fleischer-Camp (playing himself), who temporarily occupies the house while coping with his own divorce.
When Fleischer-Camp's movies about Marcel become an online sensation, the two decide to parlay the shell's newfound fame into a bid to reunite him with his family. As Nana Connie declines, Marcel overcomes his fear of the outside world on a journey that will lead him to inspire the world and meet his hero: 60 Minutes legend Lesley Stahl.
All tweeness aside, what makes Marcel work is its dedication to dimensionalizing its hero beyond the endlessly clever gags about his size: He roves around the house in a tennis ball! He's ashamed of being carsick when the result is smaller than a human sneeze droplet! Fleischer-Camp isn't interested in the logic of Marcel's world (Is he a live animal or just a live shell? How did the Chex pieces and tampon that used to be his neighbors gain sentience?). Instead, he and Slate spend time reconciling Marcel's unwavering wonder and positivity with his repressed feelings of guilt and helplessness over the tragedy that defines his life.
At the same time, Fleischer-Camp's self-deprecating performance chides the omniscient persona of documentarians. That a mockumentary about a googly-eyed shell provides more insights into the ethics of nonfiction filmmaking than any other film in the genre during the past two decades speaks volumes about the doc world's artistic drought.
Not content with crafting a meaningful hero's journey for Marcel that can make parents cry along with their progeny, Slate and Fleischer-Camp also provide a brilliant rejoinder to the slacktivism and self-absorption that the Internet has wrought on the world. As Marcel pleads with his growing fanbase to help him find his family, he realizes the masses camping out on his front lawn and liking his videos aren't actually concerned about him. "This is nice, but this isn't a community. It's an audience," he sadly opines to Fleischer-Camp.
For Marcel, it's not the latest generation of online commentators that will restore his community, but the octogenarian journalistic brass of Stahl, who serves as the film's deftly handled deus ex machina. Debates over Stahl's partisanship notwithstanding, her extended cameo serves as a reminder that shows like 60 Minutes were once a nationwide staple. Marcel's box-office may be no match for the Minions, but the film harkens back to a bygone era when the movies were a communal ritual and its heroes helped its audience dig deep and find the best in themselves.
Now available for streaming