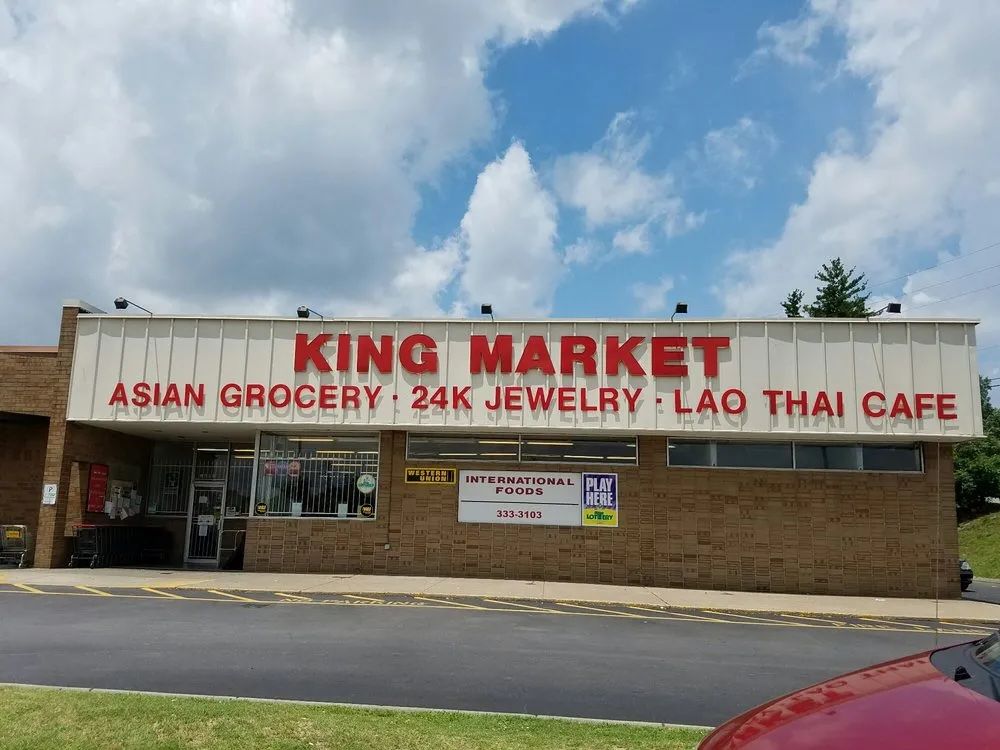 Ridin' With the King
Mike Wolf fills us in on his latest culinary adventure to King Market
Sometimes the food and the experience can be so special, that it's worth the long drive to the ends of Briley Parkway to find it. Briley has proven to be my food superhighway of sorts, whether heading west for Vietnamese, Mexican, and Japanese delights or traipsing around the southeast to venture into the vaunted international food straightaway of Nolensville Pike south of I-440.
In fact, the best advice I could give anyone seeking a new food experience would be to drive towards the Nashville Zoo and stop at a place along the way that looks and smells good. The next-best advice I can give is to go immediately to King Market, located at 1801 Antioch Pike near Haywood Lane and I-24. This Lao-Thai grocery boasts a superb restaurant inside, and if you need tangible details of why this is so, let me tell you who I witnessed dining among the diverse clientele: cops and chefs. Anyone pleasing those two sides of the law at the same time deserves a closer look.
Walking towards the nearly Wes Anderson-esque block lettering of King Market, advertising "Asian Grocery – 24K Jewelry – Lao Thai Café" you get the excitable feeling of entering a wonderland because you are. As you stroll in, past the first cooler aisle stocked with an incredible array of canned and bottled beverages from distant lands – I even spotted the eye-poppingly sweet yet delicious Puerto Rican soda Coco Rico – then turn right and dash across the center aisle, you'll find yourself at the "please wait to be seated" sign for the café.
One can really set the table with appetizers to begin a King Market feast, so my pal Richard and I loaded the deck with crab cheese wontons (the best I've tried in Nashville), battered and fried squid (real calamari!), a plate of the house made spicy sausage (a must try on your first visit and available for purchase at the market) and some fried "mini fish chips," essentially deep fried crispy sardines served with a lovely spicy dipping sauce. If you can't stand heat, don't come near this kitchen, but I in fact was on a mission. That said, if it's heat you're after, they'll crank it up a notch and check on you to make sure you're handling it okay.
For entrees, there are dozens of options to choose from, veering from traditional noodle dishes like pad thai and thick rice noodle options like Pad Se Ew, to Lad Nah (broccoli and gravy stir-fried with thick rice noodles and choice of meat), and drunken noodles. The sukiyaki with vermicelli noodles, house sauce, napa cabbage, celery, eggs, shrimp, and beef looked amazing, though after our first course feast, I opted for the simple and delicious stir fry noodles with tofu.
Other enticing options included the deep-fried short ribs, aromatic curries I could smell as they wafted by our perch and on to some other lucky soul's table, and the "Native acquired soups" such as Gang Kung Nai (beef innards soup), and Gang Gao Lao (beef broth with sliced steak, tendon, meatballs, basil, bean sprouts, and cilantro). This food was meant to be washed down by a cold, light beer and King Market is thankfully one of the only places in town where you'll find the rare Beer Lao, a Laotian staple made from rice that's light enough to work with almost any dish on the menu, and flavorful enough to cleanse the palate. You can also score a six pack of it on the way out.
Perusing the market on the way out is a must, where you'll find a dizzying array of ingredients: quail and duck eggs, fresh and frozen fish, guava, pomelos, and other far-flung fruit, a huge assortment of dried rice noodles, fresh egg noodles, breakfast pastries made in house, and beverages from around the world. What's possibly most valuable to your home-cooking arsenal, however, is the broad range of house made sauces, condiments, and kimchi to jack up and enliven your home fried-rice game.
I'd love to say "don't try this cooking at home, leave it to the masters," but where's the fun in that? You know where the masters are plying their trade day in and day out, so get inspired, buy your own ingredients and see what you come up with. King Market will be there to feed you when you don't want to cook, and just want to eat something to feed your soul.