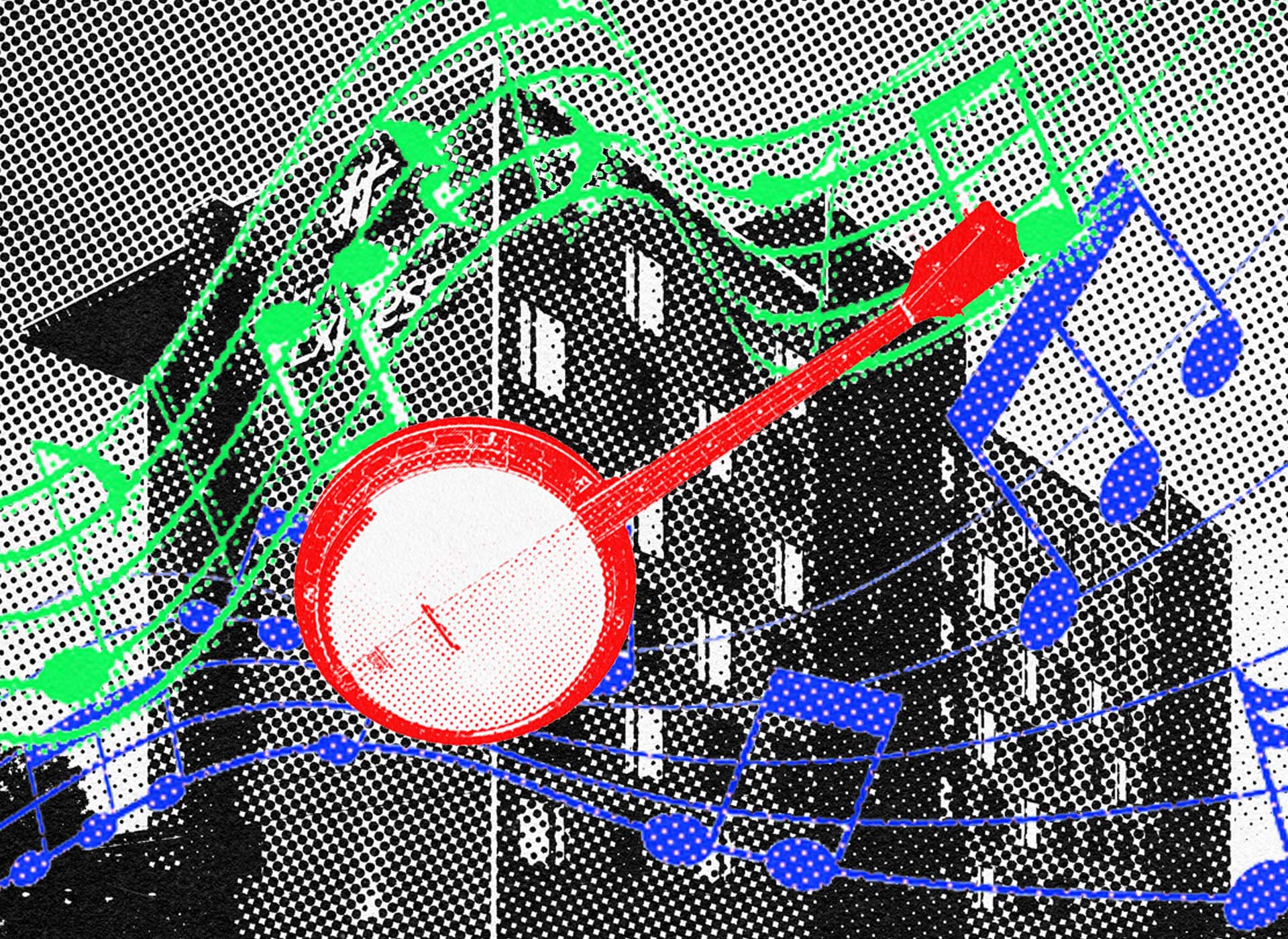 Transmissions from the Ground
The SPBGMA Bluegrass Awards, National Convention, and Band Championship
Well, I didn't catch the convention, the awards ceremony, or the band championship. I sat for a show only once. The rest of the music I saw was flung about the hotel, taking root in dead-end halls, rooms, corners, nooks, and crannies. Musicians gathered in many combinations and laced the halls with music. On several floors, strings rang out and old stories were retold. It was an exultant affair. I levitated out of the automatic front doors with hands stretched out to the side at the end of it.
First stop, the Kevin Prater Band, the only band I saw on a stage. In between songs, Kevin provided excellent on stage banter like they do in the old recordings. It's an important part of the art and it makes for high quality entertainment. Even in the hallway jams, the quips rolled freely. "I can't sing that up there at A," said a young man, who couldn't hit a note. "Well just tighten your britches a little, you'll get there," was the advice from a more experienced picker. At some point another player said to me, "I don't know what's wrong with you, but I bet it's hard to pronounce." Classic. At this particular jam, a small hispanic man stopped and asked me if it was ok to take a video by showing his phone and asking, "No problema?" I indicated with broken Spanish and hand gestures that it was more than ok. We had the American and the Latin American press on the scene.
That first jam ended on a great song with a gypsy bent that I had never heard, I made a note of the title — 'Eat Dirt' — then went a wanderin' through the halls with a Modelo and a shit eatin' grin bird dogging bluegrass. I bounced from gospel to murder ballad and back as is typical of the art form. From Joshua and the walls of Jericho falling down to man killing man on account of an unfaithful woman. I was moved. I found more substantive art in that hotel than just about anything I've seen from Hollywood in the past few years.
Bluegrass has a deep history. Some of the stories originated centuries ago on the misty isles across the sea that gave flesh and thought to our national cause. One of my favorite songs comes in many forms and dates back to Northern England in the early 1600s. It was once titled 'The Lamentable Story of Little Musgraves,' but it has taken many names as it has echoed its way through time, living in the minds of bards. Doc Watson, the great chronicler of bluegrass, recorded it, this time titled 'Matty Groves' in 1966. A British folk-rock band called Fairport Convention recorded an incredible rendition in 1969, and Kevin Prater, who I saw on Thursday, does his own, titled 'Lord Daniels.' Listen to any of these songs or 'Burgundian Carol' by Joan Baez. If those don't move you, I'm afraid you might need to make some adjustments in your life. The point is, these people are tapping into some very old veins here. Tunes that people have deemed worthy of repeating for generations, this particular one for four centuries. No wonder they're so moving. For some of us whose lineage comes from the British Isles, it might literally be ingrained in us to feel a connection with these songs.
The sense of community at this event was incredible. It's exemplary, really. Egos are left at the door. It makes sense that people travel from all over the world, though it's mostly rural Southerners who attend. Of the people I talked to, I was the only one without a country accent. One 19-year-old Alabaman told me this was the biggest city he's ever been to. "It's pretty cool man, I like it," he grinned. The inviting nature of the event speaks volumes about the bluegrass tradition and its stewards in the rural South.
It's offensive to me that this music is brought to the mainstream, stripped of its substance, dolled up with flash and flare, reshaped to sell records, whored out by people like Tyler Childers. That music makes me nauseous. In fact, I was curious what the good men and women of bluegrass thought of Tyler Childers, so I went ahead and asked a jam that I was chatting with. The response was a resounding, "Who's that?" followed by a mandolin player asking if he's the famous golfer who loves whores and ran his car off the road. Nope, wrong Tyler. What a great response, though. They don't care about mainstream pop culture. They aren't buying what you're selling.
I ended the experience by cleaning a wad of dip out of the anti-splash pad in the urinal with my urine stream. Great time.