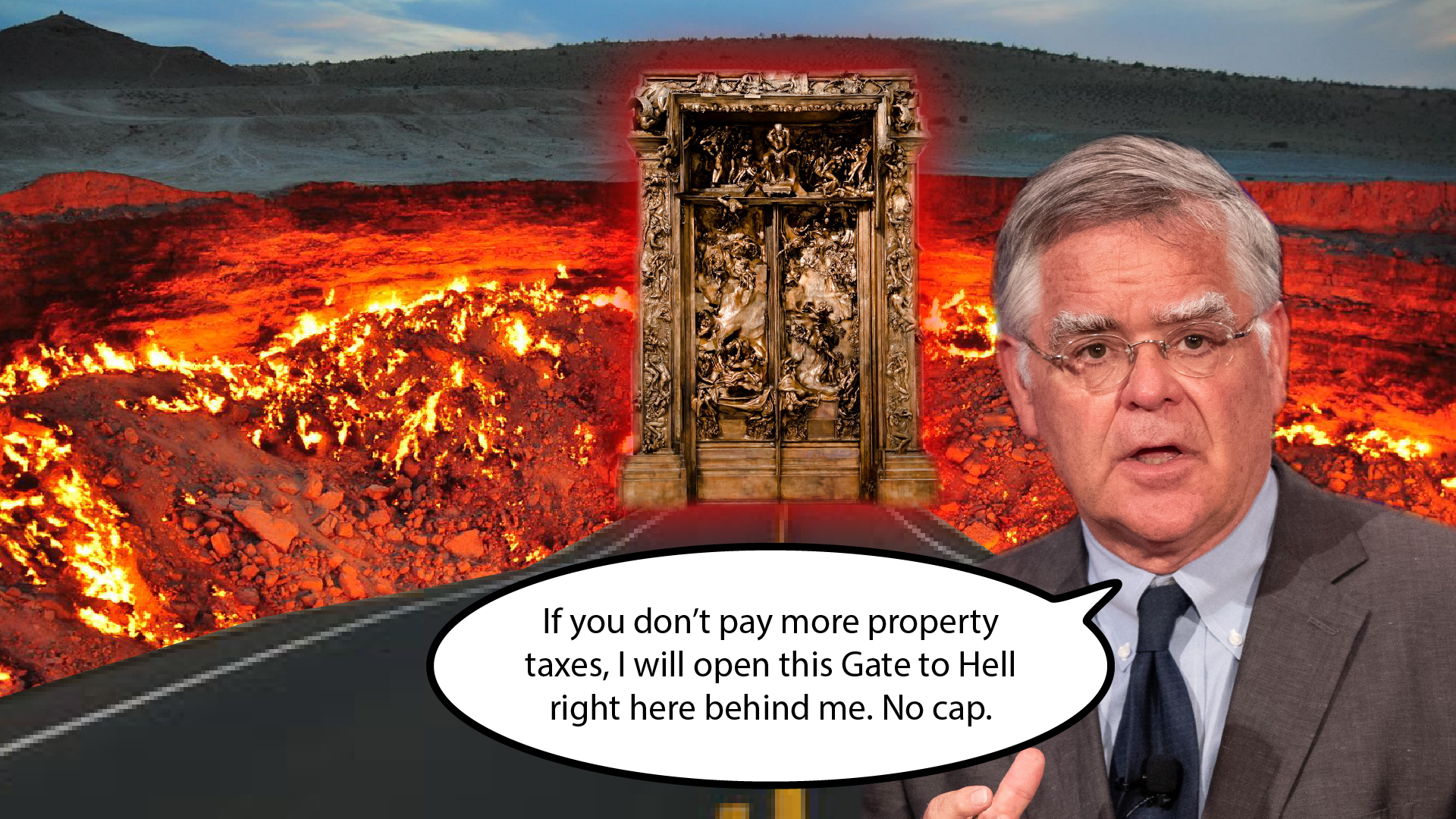 Property Taxes at the Gates of Hell
The coalition against the 4 Good Government property tax referendum has begun to pull out all the stops. Monday, Mayor Cooper took to his micro-pulpit at a local church to bemoan the opposition to his property tax hike which go up for vote on July 27th.
At about the 10 minute mark, Cooper compares the referendum to "California-style politics" that have resulted in citizens fleeing the state in record numbers. Cooper must be referencing Proposition 13, an excellent example of how referendum's can work in favor of the voter. Prop 13 works in similar fashion to the 4GG proposal to limit the amount property taxes can increase without a public vote. California's notoriously heavy tax burden, excessive disbursement of welfare benefits, and soft stance on illegal immigration is the real reason for people fleeing the state. Prop 13, amongst the detritus of the state's swelling bureaucracy and crumbling infrastructure, is one of the few examples of equitable government in the state. His charitable misreading of California's politics is either the result of stupidity or duplicity. Probably both.
If Cooper were serious about avoiding California's fate, he would cut back on Metro's largesse and balance the budget within its means. Metro Nashville employs roughly 35% more workers per 1,000 residents than comparably sized cities like Indianapolis, Louisville, and Jacksonville and promises overly generous benefits to its employees for life. If we know one thing for certain, it's that government will not get smaller by itself.
But, it gets worse. Cooper went on to say that the referendum will punish public servants and discourage qualified people, especially minorities, from seeking office. Here, he references the referendum's motion to cancel health benefits for elected officials. It does not apply to Metro employees, only elected officials who choose to run and hold office. If lack of health insurance is enough to turn a potential candidate away, they should probably find a new hobby. Cooper pulling the race card just shows he got caught with his pants down holding a bunch of lemons.
Additionally, he invoked the specter of Trump while claiming that the referendum will only create anarchy in the city. Back in September, Cooper listed off a bunch of services that would see reductions were the tax hike repealed. It's laughably dramatic and no one took it seriously. Cooper's demands amount to austerity for thee, but not for me.
The intent of Cooper's statements becomes clearer when compared with a recent spate of ads released by the inappropriately named Save Nashville Now who opposes the referendum and passes itself off as "grassroots." The ads invoke the specter of a dystopian nightmare if opponents succeed in repealing the 34% property tax hike. They go so far as to call supporters of the referendum "radical extremists." Remember what we said Monday about Trump's persistence in the media as persona non grata du jour, and how it was a message that his supporters and those on the periphery would be demonized in the same way? Here's the proof in the pudding.
Ultimately, differing opinions on the issue seem to come down to one simple question: do you trust the government? Many citizens across the city—and country—continue to express strong distrust in the wisdom of public officials like Mayor Cooper. Cooper seems oblivious or unwilling to confront that reality. Instead of meeting voters where they are, Cooper has attempted to strong arm and intimidate them which only justifies people's grievances. He doesn't even have the energy or passion to issue a strong defense of the tax hike except to vaguely and lazily threaten the decimation of the city's operating budget and admonish his opponents as uninformed radical extremists who plan to open a Gate to Hell down on Broadway to usher in the reign of a new underworld deity named Direct Democracy. The "radical extremists" disagree. Hell is not other people, it is leaders like John Cooper.
Headlines
🔐 Bitcoin Ransom Law-enforcement officials recover roughly $2.3 million in digital currency paid after cyberattack that led to closure of the Colonial Pipeline. Reports portrayed the seizure as "Bitcoin getting hacked" which dropped the price a few percentage points. The truth is less impressive. The hackers held their Bitcoin on an exchange (potentially Coinbase) which the FBI accessed via warrant. If criminals this incompetent can shutdown an oil pipeline...
🏛 Supreme Court Ruling Unanimous ruling says Temporary Protected Status doesn't convert illegal entry to lawful admission. In other words, immigrants who enter the US illegally are not eligible to receive a green card. In other news, judges agree that water should be wet.
🛣 Biden Bumbles Biden ends discussion with Republican Senators on cutting a bipartisan insfrastrcure plan after he cut $1 trillion to meet their demands.
Nashville Politics
Nashville News
The Dive Motel aims for sunnier days ahead after the coronavirus pandemic rained on its grand opening (Tennessean)
Bearded Iris to Open Second Location (Scene)
Tennessee Scientist Is First to Go on Trial on Charges He Hid Work in China (WSJ)
Nashville Development
Study Shows...
📝 As trust in democracy falls so too does trust in science. Democracies encourage alternative forms of legitimization aside from religion and science, especially among the least educated citizens. Unlike autocratic governments like China who use science to legitimize itself more aggressively, concomitant with the fall in trust US citizens feel towards their government, there is a corresponding drop in their faith in science. This all speaks to how intertwined "Science" and government have become (Read)
Where's Archimedes when you need him?
⚱️ Four hucksters in Utah were sentenced to prison for defrauding 140 victims for up to eight million dollars on the promise that they could turn dirt into gold. The more things change, the more they stay the same (Read)
What's in a name?
📣 The name 'Karen' plummeted in popularity as a baby name in 2020 owing to the name's use to designate an annoying, aggressive, middle-aged white woman who "wants to speak to the manager" (Read)
Something Beautiful
🖼 An interactive exploration of the art by the under appreciated impressionist, Berthe Morisot (See)
Have a great Wednesday!