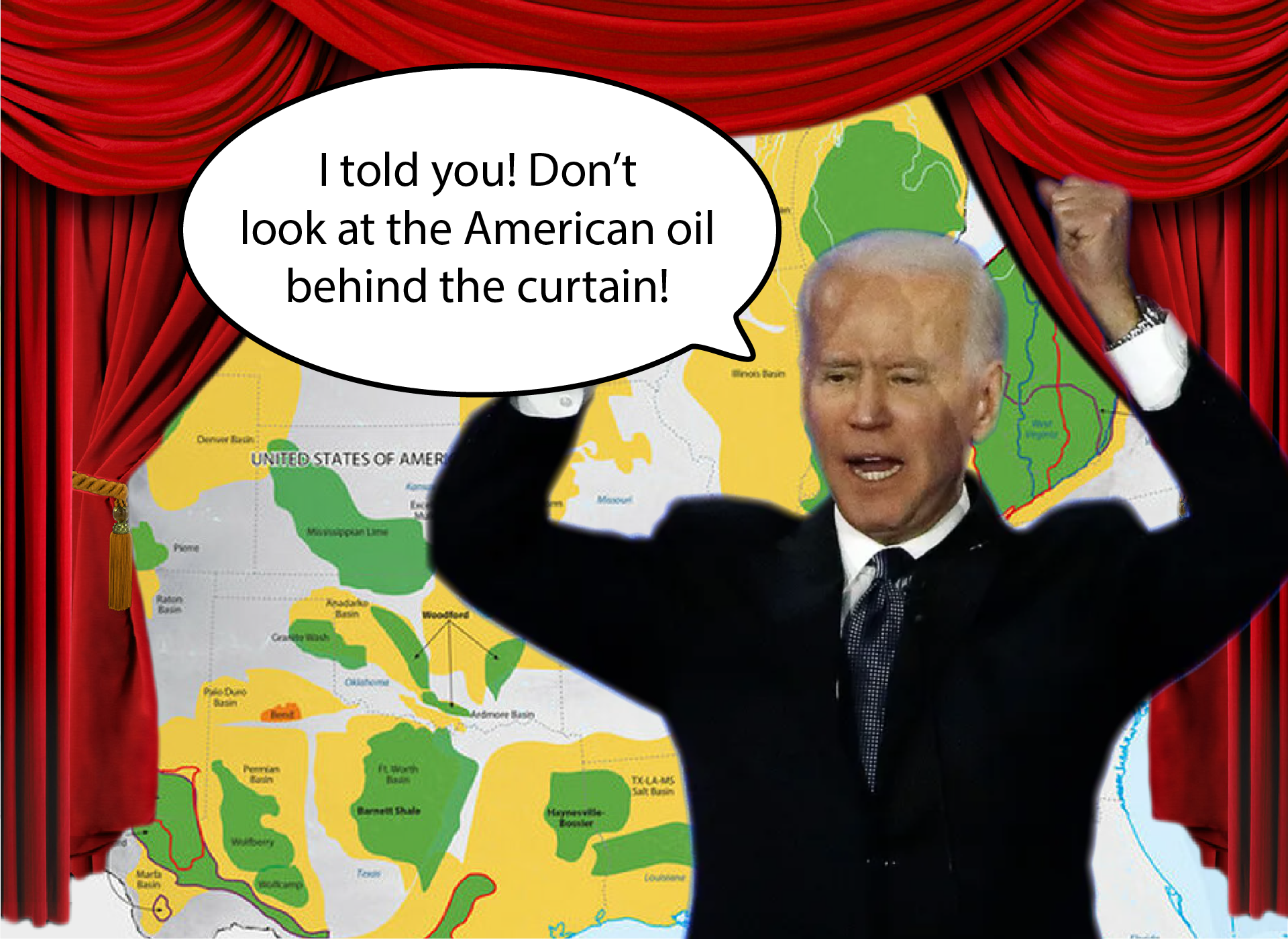 Today's Takes: Friday, August 13
Vol. I, No. 67 • A Journal of Freedom • Field of Dreams • Woke-acracy • Total Recall • End the Case Count • William Tell • Much More!
---
More on Biden's oil idiocy below, but first, some good news:
Walt Whitman said of baseball in 1888, "America's game: has the snap, go, fling, of the American atmosphere—belongs as much to our institutions, fits into them as significantly, as our constitutions, laws: is just as important in the sum total of our historic life. It is the place where memory gathers."
Baseball is "America's Pastime". It is etched into the cultural firmament. Popular parlance accords euphemisms to its rules and intricacies ("out to left field", "three strikes you're out", etc.). It stands as one of, if not the, first wholly American cultural institution. The game lends itself to unique forms of personal expression from Hideo Nomo's zen-like windup to Dontrelle Willis' careening, coordinated lunge towards the plate to Mark McGuire's scythe-like swing and became the country's first cultural export spreading rapidly to Japan and Latin America soon after its inception.
During the early 20th century, a country comprised of many different ethnic and religious groups—with no shared history or aristocracy to look up to—found common ground in the sport. Baseball, with its pastoral stadiums set against the grime of the city, inherited a role in communities from the Roman bathhouses. So much sway did it hold over the public's imagination, that it became a staple of the American seasonal calendar: spring, marked by the onset of Spring Training, and fall by the World Series.
In many ways, the history of baseball has mirrored and presaged the trajectory of the nation. Conceived shortly before the Civil War, the first professional teams emerged shortly after the dust settled. It sputtered along in various forms until the Roaring 20s when it exploded in popularity with Babe Ruth as the Jupiterean lord of the diamond representing the new upwardly mobile American Empire emerging from WWI.
In 1947, nearly 10 years before the courts desegregated schools, Jackie Robinson broke the color barrier and in the 1980s and 1990s, the sport saw a large influx of Hispanic players reflecting the wider demographic shifts of the country.
Around the time of the Dot Com Bubble, the sport witnessed its own form of artificially enhanced dynamism as juicers like Mark McGuire and Barry Bonds shredded records standing for nearly 40 years only to be denoted by an "asterisk" after doping scandals swept through the league.
Today, baseball languishes amidst the myriad diversions offered to Americans. Plagued by its own wholly unique issues, it has suffered from dwindling attendance and a backseat position in the American cultural zeitgeist. The MLB has pondered rule changes to speed the game up and, recently, decided to "deaden" balls to reduce the monotony of the sport's reliance on the long ball that once made it a staple. Swallowed by the Woke Theocracy back in April when Georgia's "draconian" voting laws lead to the All-Star game being pulled out of the state, baseball has suffered much the same fate as other core American institutions: drowned among the demands of a humorless political class bent on sapping life from anything that bleeds American pride.
But last night, the Chicago White Sox and New York Yankees gathered at the hallowed and holy Field of Dreams in Iowa made famous by the Kevin Costner movie of the same name. The game ended in a transcendent manner reminiscent of Robert Redford's famous light-shattering home run at the end of The Natural. White Sox shortstop Tim Anderson walked up to the plate with a runner on, one out, down by a run, and stroked the ball clear over the right-field fence. The scene was surreal. Fireworks immediately erupted as Anderson rounded the bases. A wide shot of the island of green in the midst of an inky black Iowa night, emblazoned with American symbolism, inspired pride. What would normally have been a fairly standard regular season baseball game, hidden deep in the woke catacombs that ESPN has become, poked its head through like the first corn shoot of the season. A flash of brilliance and beauty against our increasingly flat and mundane cultural landscape. The moment was a brief reminder of how a core American institution by and for the people can inspire pride in one's own country.
Headlines
📰 General News
🛢 Big Bad Oil
🦄 Woke-acracy
💬 [REDACTED]
🐀 Sex Pests
🔥 It's the End of the World As We Know It
🏖 And I Feel Fine
Original Essays

🗺  Total Recall: California's September election offers a path forward from identity politics by Jerod Hollyfield (Read)
In case you missed it
Nashville Politics
Nashville News
Nashville Development
Nashville Life
🎡 The Tennessee State Fair started in Lebanon yesterday (Info)
Tonight
🎸 Bully @ Mercy Lounge, 8p, $25 (Info)
🎸 Kings of Leon @ Ascend Amphitheater, 7:30p (Info)
🍅 Tomato Art Festival in East Nashville, 5–10p, FREE (Info)
Tomorrow
🍅 Tomato Art Festival in East Nashville, 9a–7p, FREE (Info)
🎸 Drivin N Cryin @ The Basement East, 8p, $18 (Info)
Sunday
🍴Friends of the Pamphleteer including Tom Landstreet (The Cameroons) and Joe Andrews (formerly of Old Crow Medicine Show) @ Brown's Diner, 3p, FREE
🌾 Wilco + Sleater-Kinney @ Ascend Amphitheater, 7p (Info)
⚡️Jonathan Tyler & the Northern Lights @ 3rd & Lindsley, 8p, $15 (Info)
New Spots
COVID Gutter

End the Case Count
A pro-mask mandate piece by Popular Information cites a North Carolina study that allegedly proves masks prevent spread. One small problem: the study cited does not compare data to unmasked schools. This essentially sums up the appeals to mask mandates for children. Because there is no data supporting them, data must be falsely represented. For all the wailing about not "politicizing health," it would appear that the pro-mask-mandates-for-children crowd is the guiltiest. What's more, later in the piece, stats are cited about how Florida and Texas both have the most hospitalizations in the country. As has been well trotted out, COVID cases tend to spike during hot weather because people spend more time indoors and away from the heat. The article tries to represent the spike as resulting from slackening COVID restrictions when, in reality, people seeking the cool indoors where viral spread of any kind always thrives is more likely to explain the case spikes.
The primary argument against mask mandates hinges on the lack of data justifying them, the well-known fact that children are not at risk, and a more humane approach to health policy laid out well in a National Review essay: "There's a real danger in masking children, and everyone around them, during their formative years, because it deprives them of the primary means of nonverbal communication — the face." Depriving children of engaging with nonverbal communication cues is not something we can quantify, and thus, in the Temple of Data, it counts for naught. Human, non-quantifiable concerns are either ignorant (no supporting data) or selfish (what about these numbers).
Masking children is not warranted nor will it aid them in their education or keep them safe. With test scores across the nation sagging due to remote learning, one would think that the number one priority would be ensuring children can be in an environment with as few distractions as possible to catch them back up. But, in the "safety first" nanny state, overweight and overpaid bureaucrats seem more concerned for their own health and political standing.
Masks. Do They Work?
🤿 Here is a longer, more in-depth look at whether or not masks work. SPOILER: they don't (City Journal)
Headlines
Information
Opinion
Window to the Past
🍸 A New York Times opinion column from 1984 which offers a spirited defense of drunk driving (Read)
One Good Read
🏹 🍎 There's a reason the legend of William Tell has lived in our imaginations for 700 years: Every generation lives this story to one degree or another. (Read)
The War on Data
🔢 Excerpt from 'The Assault on Empiricism' in Tablet Magazine (Read):
"A well-run and large-N study from the Skeptic Research Center in February 2021 found that 54% of Americans who "identify as very liberal" believe that the average number of unarmed Black men killed annually by U.S. police is somewhere between "about 1,000" and "more than 10,000." A major empirical survey conducted by the political scientist Eric Kaufman in April 2021 found that 80% of African Americans and 60% of educated white liberals believe that more young Black men die annually at the hands of police than in car wrecks. The actual number of unarmed Black men killed by police last year was 17."
Palette Cleanser
Have a great weekend!