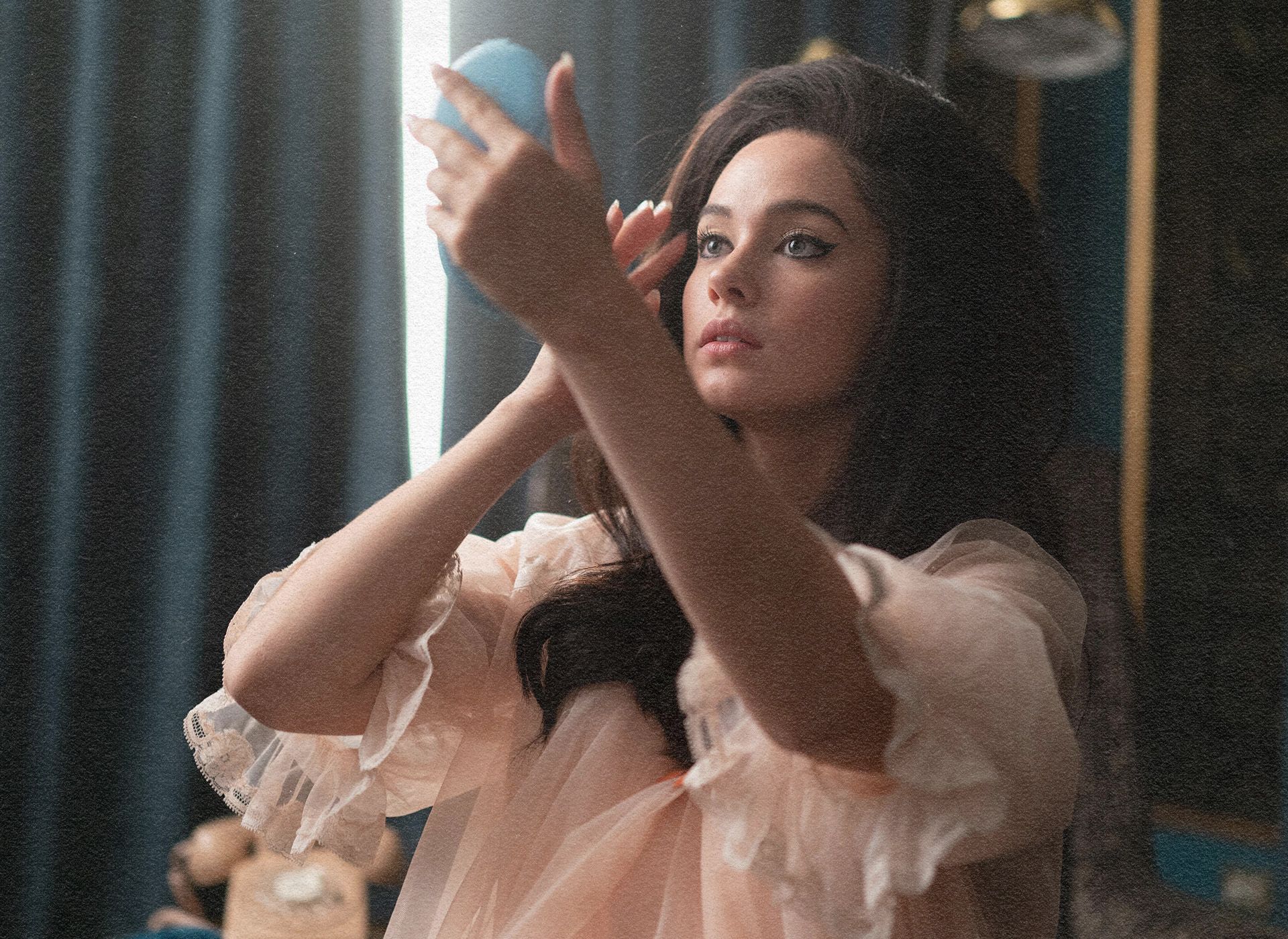 A Little Less Conversation
Sofia Coppola's Priscilla sidesteps the melodrama to depict the Presleys' interior worlds.
At the end of their first date, Elvis Presley (Jacob Elordi) hands Priscilla Beaulieu (Cailee Spaeny) an amphetamine pill. "They give them to us in the army to stay awake. It'll help you study," the budding legend says to the 14-year-old whom his friend invited to a party at the rocker's off-base house in Germany. It's a scene that lesser directors could have played for the obvious–Elvis as a predator drugging up a teenager who's never even heard of consent. But the Elvis of Sofia Coppola's Priscilla seems just as oblivious to such red flags as his future bride.
Fueled by drugs whether performing for the Colonel, his fans, or his country, he's a commodity still reeling from the recent death of his mother. He's latching onto this girl because she reminds him of a better time. Sure, rockstar excess will soon turn him into a monster, but right now two lonely kids from the U.S. severed from their world in a military outpost somewhere in Germany are finding a connection. It may be doomed from the start, but it's a side of the Elvis show worth telling. And there's no one better to do it than Sofia Coppola.
Now a quarter century into her career, Coppola long ago stepped out of the shadow of her The Godfather-directing dad to become American film's preeminent chronicler of privileged worlds' innate confinement. Blending an anthropological lens with her knack for building meditative atmospheres, she's one of contemporary film's most distinct directors, her work as endlessly identifiable and inimitable as Wes Anderson's. Contrary to her detractors, she doesn't make movies about poor little rich girls; she makes movies about a culture that hollows out its icons, ranging from the gaggle of long-D listed celebrities that The Bling Ring robs to the teen queen of Marie Antoinette.
Though she's fashioned her own brand of iconography, Coppola's adaptation of Priscilla Presley's 1985 memoir Elvis and Me marks the first time in her career that she has directly engaged with a contemporary pop-culture phenomenon. Resulting from its focus on Priscilla, clickbait-minded critics have positioned the film as a rejoinder to Baz Luhrmann's hypermasculine megahit Elvis, its female perspective and rewriting of the "male gaze" a stark contrast to Austin Butler and Tom Hanks' scenery-chewing.
But Priscilla is not a corrective. It's another take on the pop-culture impact of a figure who ultimately met his demise because those around him kept putting him in a box. Luhrmann offered a singular take on Presley's impact, a Hollywood movie of the kind the artistically minded King longed to star in. Coppola reminds us that demigods, too, have their private moments. And the weight of their fame burdens everyone around them.
Priscilla takes great pains to avoid the world of Elvis's legacy. It opts out of his music with a handful of exceptions such as a scene in which Priscilla watches her husband's 1968 comeback special on a cabinet TV in Graceland's living room. The entire point seems to be that Priscilla experienced Elvis's career milestones through tabloid stories and screens like everyone else. She may be looking at the world through the back of a limo or the bars of Graceland's gate, but that doesn't make her any less cut off from her husband. In fact, it makes her utterly isolated.
Like Marie Antoinette, Priscilla is a film about youth forced into cold worlds of rituals and expected to undertake outsized responsibilities. Coppola's M.O. is not to topple an idol with allegations of abuse and neglect, but to examine the damage such a position has on the normalcy of everyday life. As the film posits, Elvis was an introspective son of the South who'd rather be playing with the boys on the shooting range or at Sunday dinner than churning out product that was a far cry from the art he wanted to make. The more Elvis conformed to his mold, the more resentment spilled over into his relationship. Neither Elvis nor Priscilla could do normal things like grieve for a parent or sit outside in the yard with a dog. They were always operating under military logic regardless of who their handlers were.
As Priscilla, Spaeny turns in the most achingly real performance of the year. She's the perfect catalyst for Coppola's obsession with lingering in private space, each sigh and shifted gaze speaking volumes. Elordi never had to become Elvis in the same methody way Butler did for Luhrmann's musical spectacle. However, he buries himself so deeply in the role that most of the film seems as guttingly realistic as watching scenes from the Presley home movies on which the Colonel would immediately put the kibosh.
Coppola shows that she's intimately familiar with this postbellum Memphis world. But, in contrast to her contemporaries, she also proves that she understands the South even if she isn't from here. More importantly, she's the only nonnative who seems willing to put in the effort. In a world awash in accusations of privilege, Coppola remains preoccupied with human concerns. It's what has led her into the pantheon of our greatest living filmmakers.
Priscilla is now playing in theaters.