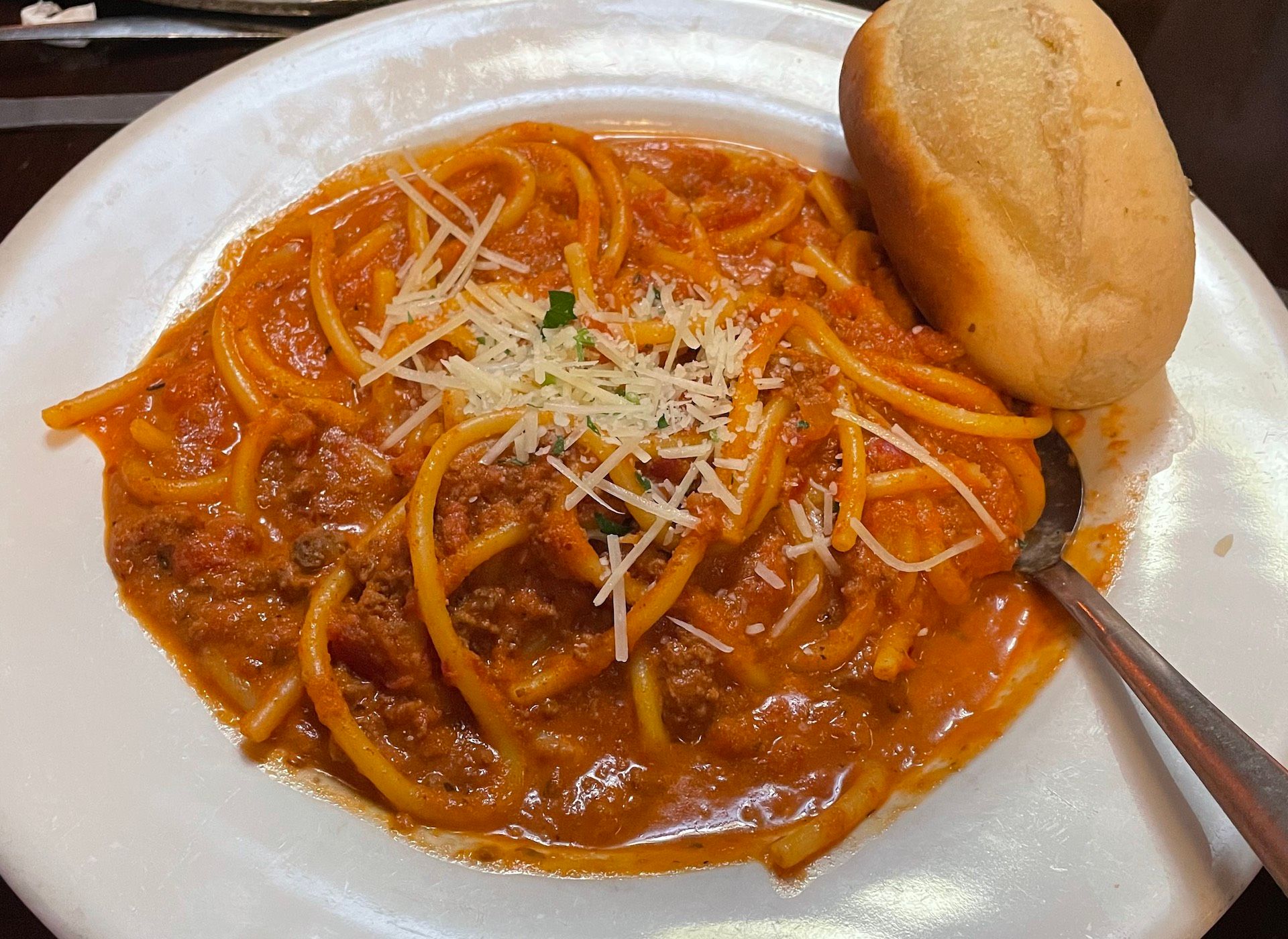 A Local Italian Staple
Mike Wolf fills us in on his latest culinary adventure to Coco's Italian Market
Peering over my left shoulder as I enjoyed a cold glass of sun-gold Italian white table wine in the middle of the afternoon, I gazed at sweeping views of the Amalfi coast, a birds-eye flyover of an ascending town set on a mountain with pastel-colored buildings dotting the verdant landscape. And yet, I was sitting in the dining room of Coco's Italian Market off 51st street in West Nashville, where the lone television set plays a loop of gorgeous Italian scenery from towns large and small, infamous and lesser-known, equal parts vibe-setter and smart self-promotion. If you love the footage enough to plan your trip right there and then, Coco's offers travel guidance and planned trips to Italy, using their contacts in the old country to make your excursion as authentic as eating in the straight-outta-Scorsese, dark wood-paneled, magic-hour lighting and old picture frames dining room.
This is a place to linger over an espresso and a cannoli long after the last plate of pasta has been cleared. You can even stroll out onto the clean, green Astroturf'd bocci ball court for some after-dinner leisure, requisite old-man Italian sweater and cap not required. You can also spend dozens of dollars on the kind of real-deal extra virgin olive oil that will elevate your weekday pasta dishes as you stroll through the market on your way out. Did I stumble onto some alternate Italian food multi-verse, so close to I-40 I considered it a possible culinary wormhole to a better future?
These were the kinds of thoughts coming to mind as I tasted the appetizer version of the standout dish of the day: Manast, a bad name for a 60s folk-rock band but also a rustic, Tuscan dish comprised of cannelloni beans, pancetta, spinach, garlic and onions in a hearty broth with big, bold flavors. Everyone at the table agreed it was a knockout. Sopping it up with the equally rustic Italian bread baked in-house was soul-soothing and made me forget I still had an entrée coming.
The reason I didn't go for the larger size of the Manast dish (also known as Manaste or Manasta depending on the region), was the simple fact that I saw the words "12-hour sauce" and "house made Bucatini" – a fair $2 upcharge from dried Bucatini – thrown into the same dish, the house Bolognese, which called for a switch to red wine and a napkin around the neck. It was time to get down to some serious eating. While I found the house made Bucatini not as airy and fresh as I'd hoped, the sauce was completely delicious, with a complexity that only comes from cooking all day, low and slow, stirring it with a wooden spoon now and then. Light hints of heat, spice, garlic and wine shone through in the sauce, elevating a simple dish to a special one.
Luckily, I ate with my extended family – this is definitely a special place to take "ma" – and we took a sightseer's expedition through the menu as we gazed longingly at the tours taken on the television above. While some scoff at a television set in a nice dining room, the widescreen, aerial travel-porn of Italy brought an infallible, what-can-go-wrong air to the proceedings. The pizzas, a white sauce and a red, were simple and scrumptious with a tasty thin crust that didn't fill us up too much. The Caesar salad was flavorful and quite fish-forward, bringing a debate to the table: If you don't love anchovies should you even order a Caesar salad? Should a good Caesar hide the anchovy umami behind curtains of parmesan cheese, lemon, good Dijon and a light dash of Worcester? If you love anchovies, this is your Caesar. If you don't, find another salad.
Coco's meatball sub was solid, with the spices slightly overtaking the taste of the meat, and the Americano panini we tried with turkey, pancetta, provolone, tomatoes and spinach was well-constructed and delicious, with the garlic mayo adding an appetizing touch. The drinks selection at Coco's offers a simple but diverse selection of beer, wine and cocktails, along with plenty of spritz options and a version of the "gin and it" cocktail composed of gin and Italian sweet vermouth. The baking team at Coco's stays busy as well, offering plenty of desserts such as Italian lemon berry cream cake, limoncello mascarpone cake, tiramisu, and a few different cannoli options. The cannoli's were a fitting end to the meal, the filling very sweet while the fried dough was crackly-crunchy, a welcome contrast.
The market at Coco's is a must-stop for anyone doing a lot of cooking at home, or anyone interested in Italian food in general. You'll find wild cherries in syrup, plenty of high-end brands of extra virgin olive oil, obscure dried pastas, herbs dried in the Italian countryside, wines, breads, cheeses, spices, heirloom Italian seeds for your garden and anything else you can think of that would take a simple bowl of pasta into the stratosphere. I'm glad this place exists. While I can't currently make a trip to Italy work, it's good to know I can watch what I'm missing as I settle in for some authentic Tuscan Manast, a dish I'll be thinking about for a while.