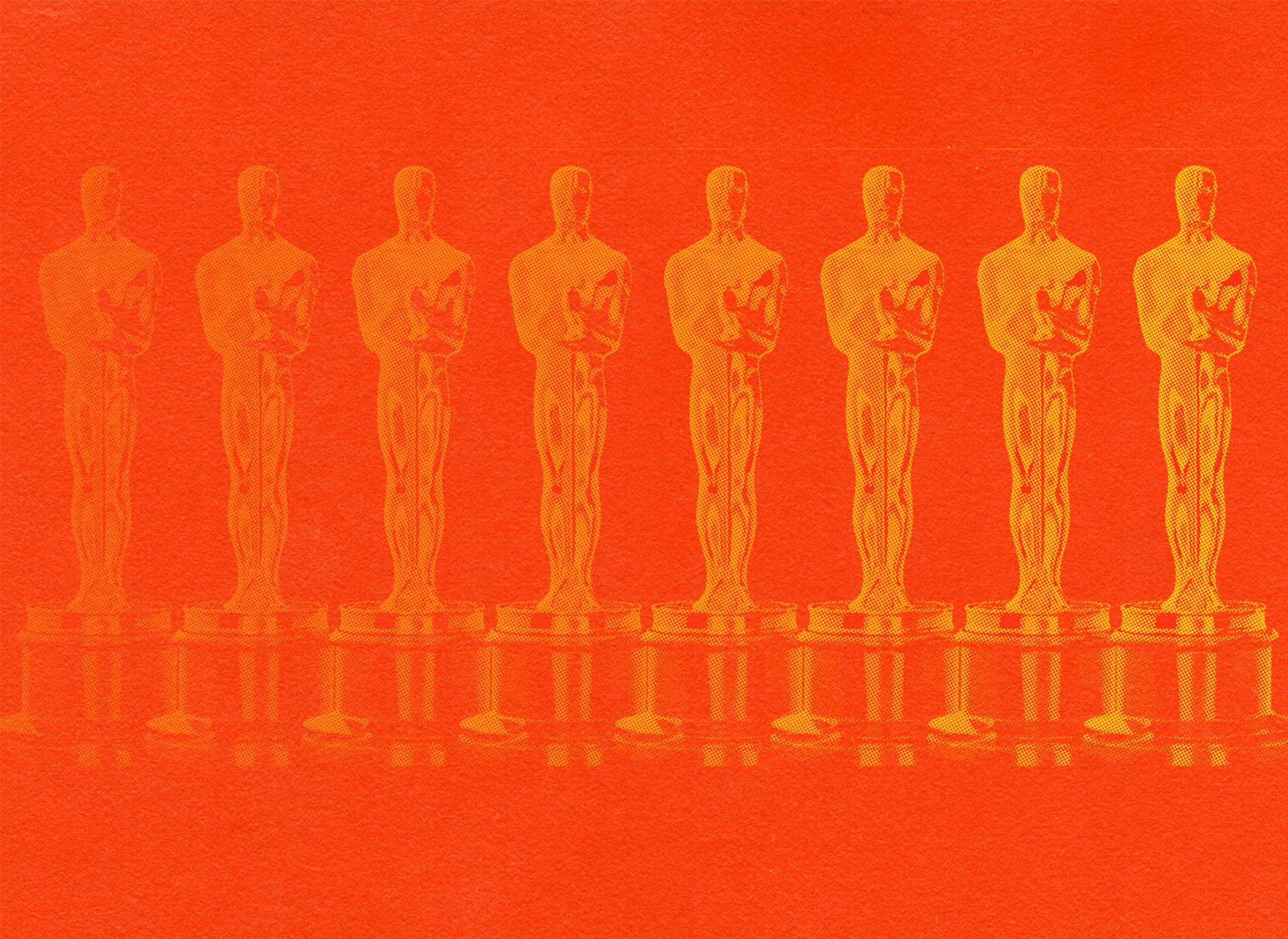 An Oscars Guide for the Ambivalent
The Academy Awards don't warrant our full attention, so we gave out our own awards
My parents were casual moviegoers, the type that took me to the dollar theater once a month and doubled up at Blockbuster on weekends even if dad would make long jaunts to the kitchen in the middle of every other film. Yet for some reason, the Oscars felt like a holiday. Maybe it was that it coincided with the onset of spring or that watching the broadcast gave my primary-school self access to what I thought was a cosmopolitan adult world. Regardless, the ceremony gripped me with that gutpunch of adrenaline only reserved for Christmas morning.
Then, I grew up. The Oscars began to lose their sheen. I hadn't become jaded about awards shows. I hadn't even taken much umbridge with the snubs. I just realized that I loved movies too much to stomach how the last two decades of Academy Awards shows treated the medium with the paint-by-numbers blend of faux self-criticism and elevation of the polemic that is the enemy of true art.
As much of a shell of its former self as the Oscars has become, America needs it more than ever in our current cultural moment — just not like this. Billy Crystal once aptly remarked  "Nothing can take the sting off the world's economic problems like watching millionaires present each other golden statues," during one of his legendary hosting stints, but that barb contains truth among its not-so-gentle ribbing. The Oscars used to mean something. It was a triumph over adversity, not a forum to feature clips of middlebrow cinema that wallowed in it. It was a night to remember that the popular could still be artistic, connecting with audiences in ways no previous form ever could. Now, it's a moment to remember a movie as disingenuous and self-serving as Don't Look Up (our review here) got a couple of nods because its star-studded cast would rather ridicule people who don't believe in the serious things it does than use its talents for emotional resonance to highlight commonalities.
The Oscars may have degenerated into self-righteous screeds, but the movies still matter. The aforementioned Leo and J-Law vehicle about an allegorical comet's impact aside, the Academy picked some formidable films that overlap nicely with our own 2021 top-ten list. Even the late-breaking frontrunner CODA, a remake of a French film about a hearing daughter in a family of deaf professional fishermen who is vying for a place at a prestigious music college, evades easy victimhood and formula to elicit genuine feeling (and a quite compelling case for government bureaucracy's debilitating effects on the people it claims to protect). The movie more than earned its place at the table even if the press is already reducing it to naked identity politics.
A rundown of the nominees is below. As always, some will still remain in the pantheon of major films for decades to come. Some will be buried by streaming algorithms by year's end. When the Oscars blew it, we've offered our alternative. But in the end and unlike the ceremony, they are all worth a watch.
BEST PICTURE
Belfast
CODA
Don't Look Up
Drive My Car
Dune
King Richard
Licorice Pizza
Nightmare Alley
The Power of the Dog
West Side Story
What Should Win Pig - The not-nominated  Nicholas Cage drama about a reclusive chef searching for his titular truffle-hunting pet offers a devastating critique of urban hipster decay while meditating on grief with an unparalleled profundity. Still, we'd be happy with a win for Licorice Pizza, The Power of the Dog, or West Side Story (our review here).  
ACTRESS IN A SUPPORTING ROLE
Jessie Buckley, The Lost Daughter
Ariana DeBose, West Side Story
Judi Dench, Belfast
Kirsten Dunst, The Power of the Dog
Aunjanue Ellis, King Richard
Who Should Win There isn't a bad option in the bunch, but the best performance of the year (female, male, supporting, or otherwise) is Riley Keough's turn as the stripper turned prostitute Stefani in Zola. Embodying a character adapted from a viral tweet thread without ever succumbing to stereotype or victimhood, she blends cultural appropriation with the crass to channel the cycle of poverty and exploitation that damns the working class.
ACTOR IN A SUPPORTING ROLE
Ciarán Hinds, Belfast
Troy Kotsur, CODA
Jesse Plemons, The Power of the Dog
J.K. Simmons, Being the Ricardos
Kodi Smit-McPhee, The Power of the Dog
Who Should Win Each actor is a seasoned performer in top form, but none of them comes close to capturing the misanthropy and manic glee of Bradley Cooper in Licorice Pizza as a waterbed-buying movie producer dating Barbara Streisand who is based on incorrigible ladies' man Jon Peters.  Cooper's car smashing binge in the film's postcredits scene should have been enough to win the award.
ADAPTED SCREENPLAY
CODA
Drive My Car
Dune
The Lost Daughter
The Power of the Dog
What Should Win Jane Campion's script for The Power of the Dog is an exercise in restraint that balances the verbal and visual to revise the western genre and its constructions of masculinity and settlement that are also so vital to her native countries of Australia and New Zealand. It's a distinct vision destined for classicdom even if western staple Sam Elliott's hot take has also been the best moment of the Oscar season.
ORIGINAL SCREENPLAY
Belfast
Don't Look Up
King Richard
Licorice Pizza
The Worst Person in the World
What Should Win Implying Don't Look Up has a functioning screenplay is more fraudulent than the global warming industry (so of course it won the Writers Guild of America Award). As we discussed earlier this year, Paul Thomas Anderson's Licorice Pizza is a messy yet lyrical ode to the failures innate to growing up and an indictment of nostalgia's toxic role in contemporary pop-culture. Even if it loses, it'll remain a masterwork.
INTERNATIONAL FEATURE FILM
Drive My Car
Flee
The Hand of God
Lunana: A Yak in the Classroom
The Worst Person in the World
What Should Win The Academy's love for Japan's three-hour, leisurely paced Haruki Murakari adaptation Drive My Car surprised pundits (it's also up for the Best Director and Picture categories). Drive more than deserves its acclaim, but no movie has explored millennial malaise and artistic bankruptcy from an empathetic perspective like Norway's The Worst Person in the World. No movie has come this close to recapturing the great effect of The Graduate either.
DOCUMENTARY FEATURE
Ascension
Attica
Flee
Summer of Soul
Writing with Fire
What Should Win All are serviceable, but on the list more for their subject matter than aesthetic achievement (combine an LGBTQ+ Afghan refugee protagonist with animation like Flee and get kudos in the International and Animated Film slots as well). The award should go to Morgan Neville's Roadrunner: A Film about Anthony Bourdain both because it mined an icon's suicide and cultural impact with nuance and because its director called bullsquat on the doc world last year as we discussed in a previous issue.
ANIMATED FEATURE FILM
Encanto
Flee
Luca
The Mitchells vs. The Machine
Raya and the Last Dragon
What Should Win Encanto's draw is so strong it appeases the woke and the breadwinners working four months to afford a family trip to Disneyland alike. It's genuine classic storytelling and a reminder that Disney could again become what it once was.
ORIGINAL SONG
"Be Alive" from King Richard; Music and Lyric by DIXSON and Beyoncé Knowles-Carter
"Dos Oruguitas" from Encanto; Music and Lyric by Lin-Manuel Miranda
"Down To Joy" from Belfast; Music and Lyric by Van Morrison
"No Time To Die" from No Time to Die; Music and Lyric by Billie Eilish and Finneas O'Connell
"Somehow You Do" from Four Good Days; Music and Lyric by Diane Warren
What Should Win Van Morrison deserves any award he's offered, but is anyone really going to pretend that Encanto's "We Don't Talk about Bruno" hasn't been in their head since Thanksgiving except the brass at Disney who didn't submit it for consideration in the year's worst oversight?
ORIGINAL SCORE
Don't Look Up
Dune
Encanto
Parallel Mothers
The Power of the Dog
What Should Win Radiohead's Jonny Greenwood bends the western's musical tropes in ways that convey and critique Benedict Cumberbatch's menace in The Power of the Dog. No other score touches its depth.
ACTOR IN A LEADING ROLE
Javier Bardem, Being the Ricardos
Benedict Cumberbatch, The Power of the Dog
Andrew Garfield, Tick, Tick... Boom!
Will Smith, King Richard
Denzel Washington, The Tragedy of Macbeth
Who Should Win Every actor earned their nod and Will Smith has never been better or more layered, but none of them are Nicholas Cage in Pig.
ACTRESS IN A LEADING ROLE
Jessica Chastain, The Eyes of Tammy Faye
Olivia Colman, The Lost Daughter
Penelope Cruz, Parallel Mothers
Nicole Kidman, Being the Ricardos
Kristen Stewart, Spencer
Who Should Win No one here is in K-Stew's league with her haunting performance as Princess Diana. She's the actor of her generation, and folks are realizing their tired Twilight dings are about as witty as referring to Whole Foods as Whole Paycheck. Every other nominee is acting. Stewart seamlessly merged into Diana's persona while offering a rebuttal to the Royal martyr's tragically shallow iconography. There's no way she wins.
DIRECTOR
Kenneth Branagh, Belfast
Ryusuke Hamaguchi, Drive My Car
Paul Thomas Anderson, Licorice Pizza
Jane Campion, The Power of the Dog
Steven Spielberg, West Side Story
Who Should Win The category features four masters at the top of their craft and Branagh proving he's more than Shakespeare, Thor, and the odd collab with his former partner Emma Thompson. The Power of the Dog is a masterclass in formalism, but it takes a true talent to direct a film as loose and sprawling as Licorice Pizza without ever losing sight of its meditations on failure and deceptively platonic love. Paul Thomas Anderson FTW.
PRODUCTION DESIGN
Dune
Nightmare Alley
The Power of the Dog
The Tragedy of Macbeth
West Side Story
What Should Win Guillermo del Toro's Nightmare Alley navigates America's heartland, neo-noir urban rot, and circus grime with equal gusto. No film put a more varied, well-researched, and detailed world on screen this year.
CINEMATOGRAPHY
Dune
Nightmare Alley
The Power of the Dog
The Tragedy of Macbeth
West Side Story
What Should Win In a CGI-obsessed industry, it takes true craft to capture the tumultuous cityscape setting of a musical and do justice to the precise movement of its performers. As impressive as Dune is, Janusz Kamiński brought the right touch of spectacle and warmth to West Side Story.
COSTUME DESIGN
Cruella
Cyrano
Dune
Nightmare Alley
West Side Story
What Should Win Cruella's punk pastiche hands down. Give it Don't Look Up's Best Picture slot while we're at it.
ACHIEVEMENT IN SOUND
Belfast
Dune
No Time to Die
The Power of the Dog
West Side Story
What Should Win West Side Story developed a sound palette that foregrounded its music without sacrificing the full sonic range of New York's bustle.
VISUAL EFFECTS
Dune
Free Guy
No Time to Die
Shang-Chi and the Legend of the Ten Rings
Spider-Man: No Way Home
What Should Win Dune looked better than anything this year even when accessed with your parents' HBO Max login on a cruddy laptop.
FILM EDITING
Don't Look Up
Dune
King Richard
The Power of the Dog
Tick, Tick... Boom!
What Should Win It takes talent not to let the four central performances of The Power of the Dog overtake each other or the film's plot twists seem unearned. Peter Sciberras clearly has it.
MAKEUP AND HAIRSTYLING
Coming 2 America
Cruella
Dune
The Eyes of Tammy Faye
House of Gucci
What Should Win Jessica Chastain protested the Oscars's decision not to televise some technical awards by threatening to skip the show. As consummate a performance as she gave in The Eyes of Tammy Faye, she would likely not be in the running without the makeup crew that added a much-needed physical dimension to her impressive work.
Read our coverage of last year's Oscars here.