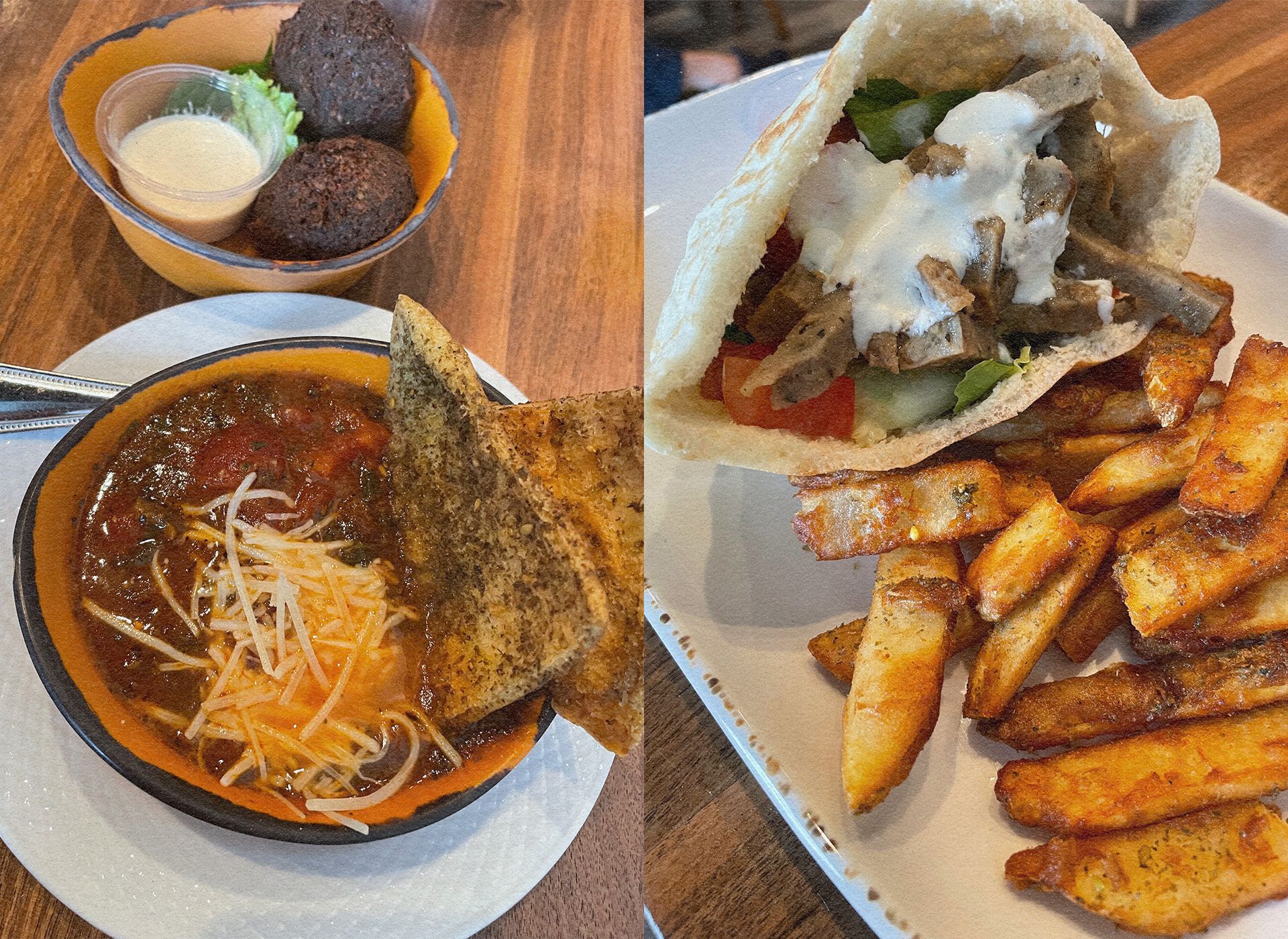 At Home In a Strip Mall at Kalamatas
Mike Wolf fills us in on his latest culinary adventure to Kalamatas
Online shopping may rule the day even though the retail thrill of finding something special and holding it in your hands before dashing out the door with it remains palpable. And I'm not advocating for shoplifting here. It just feels like a rare victory when I have a fulfilling in-person shopping experience. Of the many stores I visited recently searching for a gift—one of those shelves/tables that sits across a bathtub and holds many important things like a glass of wine, a book, or an iPad streaming Ted Lasso—none had what I was looking for.
One nice lady at the Container Store scratched her head and had the audacity to say, "Have you looked on Amazon?" Another suited-up salesman at Restoration Hardware with an expensive haircut smiled at me pityingly and said, "Oh, wow. Yeah, we don't have anything like that. Maybe check Amazon." It was like visiting restaurants and having them all tell me, "You can cook at home, or even order food and have it delivered, You're aware of this, right?"
My day of retailing around Green Hills in the pre-summer heat of a sweltering, humid afternoon with bumper-car traffic and clouds that hung in the air like bad omens, ended in triumph with a hearty lunch at Kalamatas, located at 3764 Hillsboro Pike in the same strip mall as Ballard Designs, a stone's throw away from Hillsboro High. The hospitality there is top-notch: attentive and friendly, they'll even help you find a table and let you sample the desserts.
Kalamatas has been around for over a decade, while owner Maher Fawaz and family have been serving Nashvillians fresh, vibrant Mediterranean cuisine at locations in Belmont (now shuttered) and the more upscale Epice restaurant located in the nearby 12 South neighborhood. Kalamatas is one of those rare restaurants that feels like being in someone's home even though you're smack dab in a strip mall adrift from a sea of retail and traffic.
The menu offers familiar Greek and Mediterranean standbys like hummus, falafel, grape leaves, and gyros, along with a fantastic Greek salad, tasty soups, and kabob options. We tried the tomato-basil Florentine soup, served with house-made spiced pita and a side of falafel. The soup was herbaceous, lively and delicious, like a small culinary preview of the summer ahead. The falafel with tahini was perfect, with just enough spice and a freshness to the tahini that made me forget it was a fried appetizer. The hummus was notably bright, with a lemon note that helped cleanse the palate before the entrees.
Opting for the traditional gyro with lamb, in lieu of the Kafta burger (served with onion and parsley), I was impressed by the portion of lamb in my sandwich and the cool, clean flavors of the tzatziki sauce. Kalamatas' fries also did not disappoint, as they seem adept at both fresh flavors and fried items that come across like pleasant juxtapositions. One can eat very healthy here, with grilled chicken gyros, salads with a tangy lemon-sumac dressing that I loved, or you can opt for a unique, herbed take on burgers and fries. If fries aren't your bag, try Kalamatas' incredible herb-roasted potatoes. They're so good I may have to start cooking my own potatoes that way. There's also plenty here for the vegetarian, with falafel salads and baba ghanouj.
For dessert, there's a gluten-free chocolate mousse, tiramisu, white chocolate cheesecake, and one of the house specialties: pistachio baklava, well worth the trip in and of itself. Fans of Kalamatas can try Fawaz's sleek, stylish, beautifully-designed restaurant Epice for a more refined take on Lebanese and Mediterranean delights. Or just come straight to the source in Green Hills, an oasis from the chaos that is Hillsboro Road, where brick and mortar retail still thrives, the people-watching (a pastime from pre-internet times) can be fascinating, and the food hit or miss. Consistently great and well-executed, fresh food that's as reliable as the traffic is exactly what the neighborhood needed. Now we just need to invent flying cars so we can get there faster. I'll see if I can find one online...