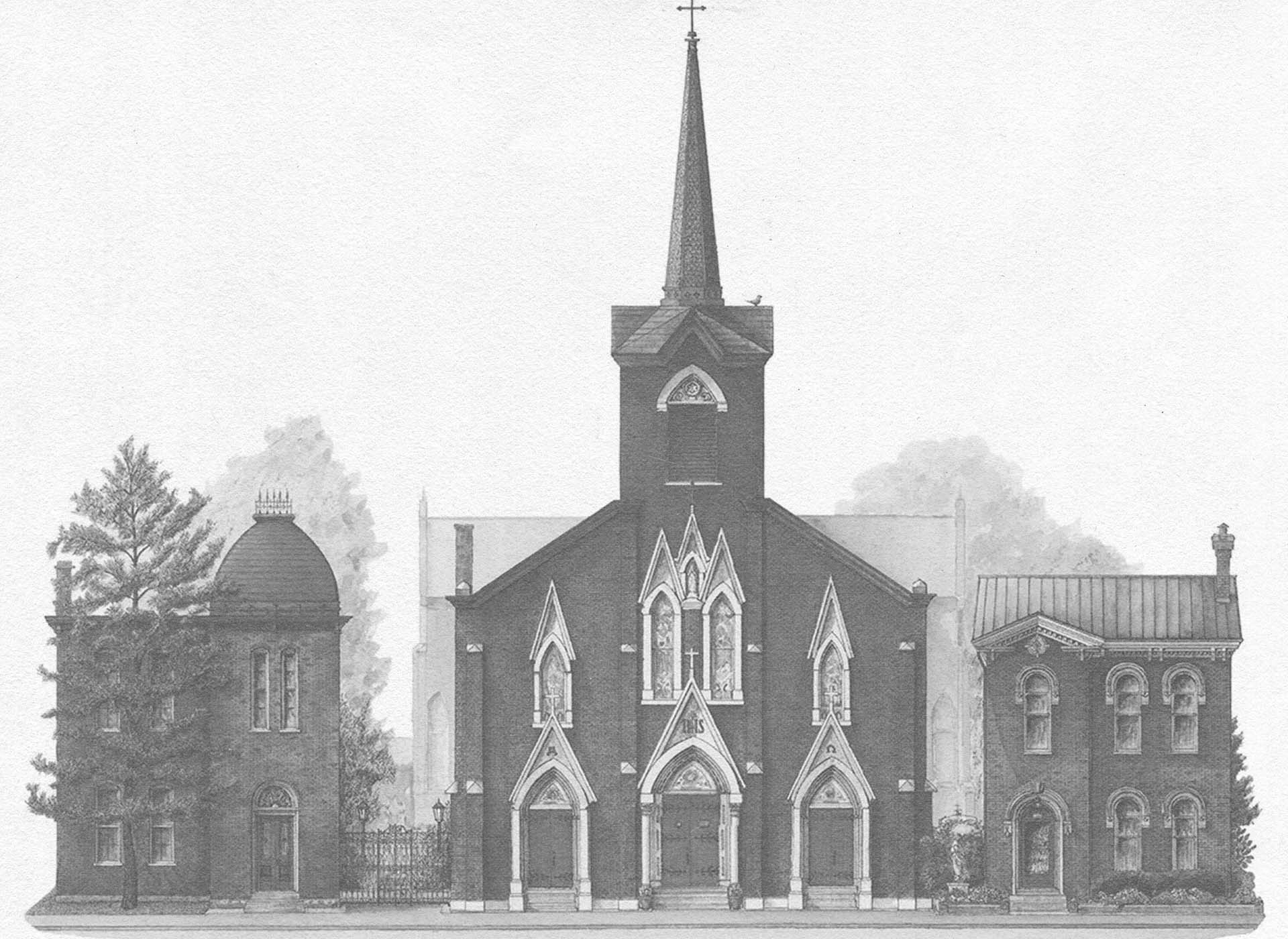 Beating of the Bounds
Germantown's historic cathedral revives a medieval tradition
Amid the changing and gentrifying mass of Nashville, one of the city's historic Catholic Cathedrals is staking its history claim tomorrow with—of all things—a fitness event, to reestablish its historical boundaries as a church.  
For all its bull and bluster about property rights, Tennessee has a notable lack of visible boundaries in many ways. When my girlfriend visited town last year, one thing she noticed when driving through the rural areas of the state is that fences are not that common outside the city limits of Nashville. Certainly, some farms in Mount Juliet and Gallatin retain ancient stone fences to mark boundary lines, but the majority of smaller properties don't.
And one can guess that the reason for this is that these are areas with high social trust. The neighbors know one another. People simply know where the boundaries are because the boundaries between homes and farms have been set for generations.
Nashville knows no such benefit. Entire areas of the city are rental properties and hotels—not places well suited to defining ownership and space so much as places to sleep between shifts at Starbucks. If you know your neighbor, you should consider yourself lucky.
This is an issue that is curiously being addressed by one of the cities leading religious species— the Catholic Church of the Assumption in Germantown. The rector recently announced that he's going to bring back a medieval tradition called the "Beating of the Bounds" as a means of restoring a bit of localism to his parish in this rapidly changing city.
I was asked by the lovely people at The Tennessee Register to speak with Fr. S.B. Price for a writeup on the "Beating of the Bounds," being a curious and somewhat forgotten ritual as it is. Fr. Price himself is a notable and rare Nashville native. He grew up here and spent the majority of the past four decades away studying at Oxford and serving the Catholic Church in St. Louis, but returned in 2018 and became the priest at Assumption the next year. He's watched the city rapidly change, and he wants to use this event to help his parish commune with their roots.
Fr. Price's rendition of the "Beating of the Bounds" will have very little to do with the medieval origin of the ceremony, which involved clergymen beating children with rods until they learned which parish they were obliged to pay taxes to—later evolving into a ceremony with clergy walking the edge of the parish boundary and beating markers with said rod. He told me that his version of the ceremony will be more "civilized."
He instead envisions his "Beating of the Bounds" as a communitarian fitness event, gathering his congregation to walk the eight-mile boundaries of the territory around Germantown that the Catholic Diocese of Nashville has appointed to his parish.
It is no surprise that Assumption, of all places, would bring back such a tradition. Assumption stands along St. Mary of the Seven Sorrows, as having something of a reputation—that being the home of Nashville's small, but aggressive population of traditional Latin Mass Catholics, and being about one of only a dozen churches in the state that even offers older renditions of Catholic liturgy.
Even among the more stridently Catholic, such a ceremony has proven necessary. Assumption has a notable curiosity in that, of the one hundred and fifty families that attend, almost none of them actually live in Germantown, and as a result, aren't intimately familiar with the neighborhood. It probably isn't surprising to know that there aren't one hundred and fifty native Latin-Only Catholics in Germantown–among the gentrified apartments and hipster cafés—but it is curious to imagine that, even among our most strictly traditional religious institutions, localism is hard to find.
Nashville is a city that is parched for localism. We have so much character, history, and culture to our name, but the high prices of the city have made it a somewhat rootless, transactional, and unaffordable as a place to live. It is easy for Middle Tennessee residents to view the city from an adversarial lens, treating it as a lamentable necessity for life in the state, a giant bloated mess of tourism and political corruption—an island of tyranny in a sea of freedom.
And yet, malcontents and locals shouldn't treat Nashville that way. It is our city too. Even as a non-Catholic myself, the "Beating of the Bounds" sounds like a necessary step in the right direction, a recognition that Nashville is a deep place where people live, and have lengthy histories and connections to their roots, forgotten as they often are. Our Catholic friends are right for reestablishing their borders and staking their claim in the city against the hordes of tourists and colonizers.
It is often said that good fences make for good neighbors, and it is not hard to see why. Boundaries are an important part of what sets people apart and protects their individuality and space. Never will you find a more bitter neighbor than the one who is resentful that the neighbor's lawn mower continues to cross into his yard.
One could even claim that the lack of boundaries is the cause of modern social ills, as the Latin root of the word "define" means to "mark the limit of," a concept our elite has all forgotten how to do. We have no definitions nor boundaries, and look how that is going.
The "Beating of the Bounds" will take place on May 20th at 8 AM and will meet under the gazebo at Assumption Church. The public is welcome to walk with the procession for the eight miles surrounding the parish boundaries and to join them for a picnic afterwards.