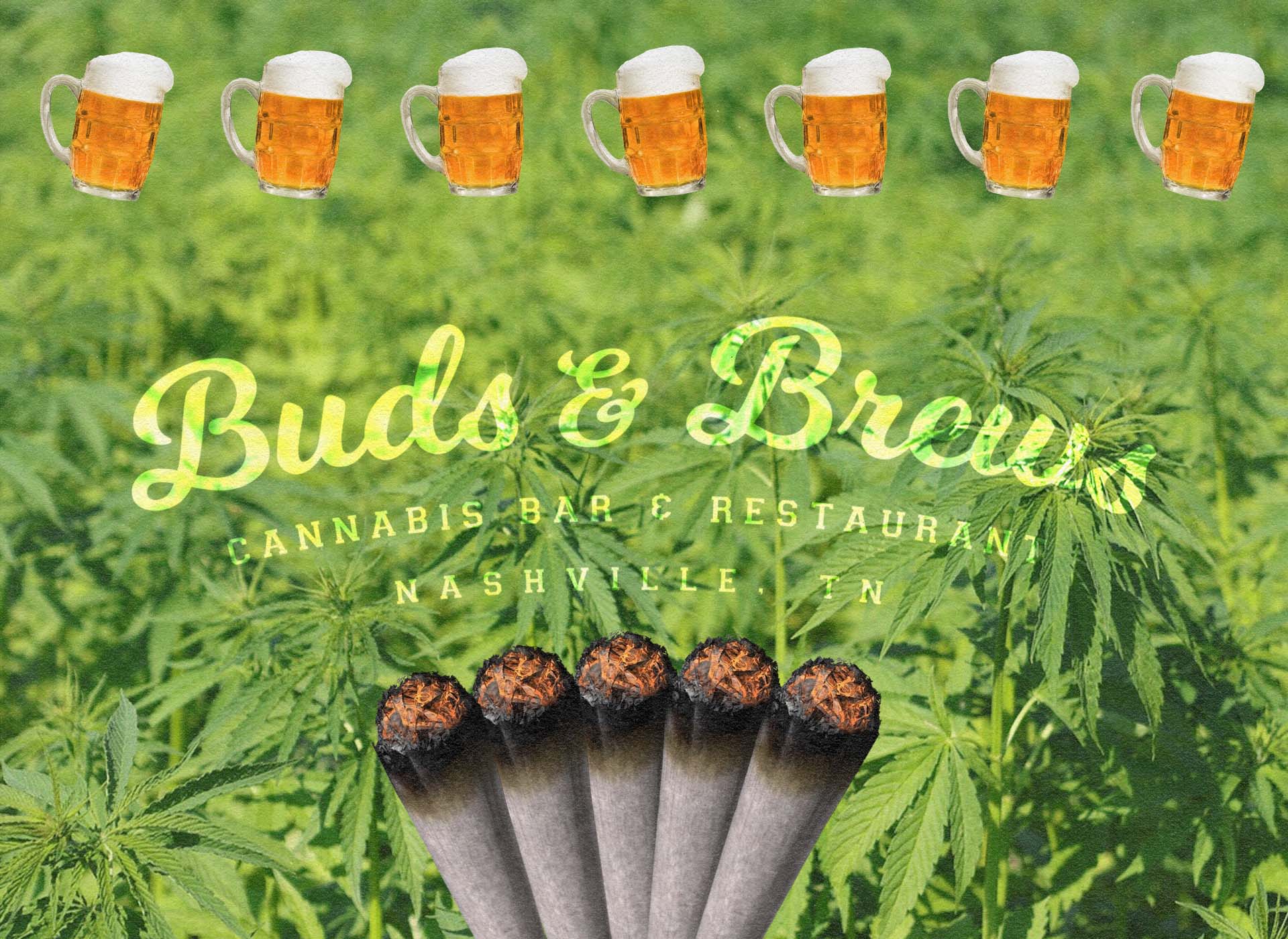 Buds & Brews Sets a New Tone in Nashville
Mike Solomon -- Nashville's Willie Wonka -- Elevates Cannabis into Mainstream Culture
It's the near future, and a band of Oompa Loompa have made Nashville home, drawn to town by the satisfying work they have found at Craft Cannabis' indoor grow facility in Antioch. It's harvest day, and time to mechanically press yet another crop of organic hemp. The plants – tall and green and leafy – have grown from seeds in their highly efficient coconut coir substrate under high-end, LED lighting. State-of-the-art sensors have monitored the hemp every step of the way, controlling for variables like heat, humidity and osmotic pressure in the root zone. The Oompa Loompa, their white gloves in stark contrast to their orange skin and green hair, gently remove the plants' trichomes, the hairlike appendages full of cannabinoid goodness, then place the buds in the 55 ton, food-grade press. Because everything is grown indoors and the environment strictly controlled, all is super clean; there is no need for any solvents or CO2 or ethanol or huge distillation process. As the all-but-magic rosin -- as viscous as honey and as golden as Willy Wonka's ticket -- oozes from the fresh-squeezed, residual-free hemp and into the food-grade parchment paper, the Oompa Loompa sing their little song.
Oompa loompa, loompa dee-dee,
Full-spectrum cannabis with THC!
Federally legal below point three,
Oompa loompa, loompa dee-dee!
This highly unlikely, yet here-we-all-are Nashville future began in 2018 with the passage of the Farm Bill, a federal law that made growing hemp legal in every state, a budding opportunity if ever there was. Michael Solomon, a Nashville native, returned to Music City from California that same year to take advantage of it. Mike's been a busy man. In just four years, he is now the founder and co-owner of Craft Cannabis, The Holistic Connection and, most recently, Buds & Brews, an American sports bar meets Amsterdam cafe concept. A double major in business and political science, Mike had gone to California to learn the art and science of growing high-end cannabis. "I've always been passionate about the cannabis plant," he says. "I knew how much it could help people. I learned how to grow indoors, very high end, very clean cannabis."
Mike's timing was perfect.  With hemp newly legal, universities launched into studies of the plant's medicinal benefits and needed a reliable source for squeaky clean, organic cannabis. Mike had them covered. "We helped universities do millions of dollars worth of research," he says. However, of course, Mike was also helping himself and his team, using the universities' research to come up with his own, patent-pending, university-backed CBD products and formulations. "It was kind of like an accident," Mike chuckles. "Through the natural trial and error of making products for university research, we accidentally figured out how to make legal, recreational, hemp-derived THC products."
From there, the way forward was a short boat ride down the chocolate river. "Since we make these really awesome, high-end products that pass all this university research and are legal," Mike reasons, "let's have all these really cool, direct-to-consumer concepts." Bam! Game on!      
The Holistic Connection, a brick and mortar store modeled along the lines of an Amsterdam cafe, came first with store number one opening in Brentwood in 2019. Now, just three years later, there are 12 operating Holistic Connections with 17 more soon set to open. (Impressive growth under any circumstances; phenomenal given the economic headwinds created by the pandemic.) Along with an assortment of handcrafted CBD products, a Holistic Connection offers experiences such as dab bars and mocktails, deeply tasty "cannabis coolers" that contain 160mg of premium, full-spectrum hemp extract with 10mg of Delta-9 THC. Think mind-body-spirit elixirs meet juice pouches, complete with the little plastic sippy straws to poke into the bags.
After two years of generating success with Holistic Connection, racking up experiences and developing products, Mike and his team discovered that their two biggest sellers were mocktails and edibles. And, armed with that insight, they realized that they could meld the chill vibe of an Amsterdam cafe with the vibrancy of the great American sports bar. The result is Buds & Brews, the first of its kind in the country, maybe even the world, opening its doors to the 21 and over public in August of 2022 in the Germantown neighborhood of Nashville, Tennessee. Along with its full bar and elevated bar food -- Mike brought aboard established Nashville Executive Chef Sam McGee to create its flavorful menu -- Buds & Brews also offers legal, hemp-derived THC products via dabs and mocktails and sauces. The result has proved a serious recipe for success with lines typically stretching out the door, and the mocktails outselling the alcohol by a ratio of more than 7 to 1 – at a sports bar!  "They're made to be enjoyed," Mike says, referring to his mocktails. "We don't want you to come in here and drink one drink and fall out your chair and be plastered. Have a few sauces. Have a few mocktails. And leave feeling good, but obviously coherent and in control of yourself."
And coming in folks are. In droves. To meet the huge demand, Mike is quickly ramping up the supply, recently bringing online a second indoor hemp-growing facility near Cookeville. Just like the first one in Antioch, the second indoor grow facility will use no pesticides or GMOs, remaining true to Mike's core belief that healthy hemp grown naturally produces the most beneficial compounds.
But, of course, a second grow facility just covers Mike's wholesale supply needs. To distribute that supply, Mike needs more retail outlets and, for that, he needs more Buds & Brews to exist. Not surprisingly, Mike has a plan for that as well. "I told my step-dad a couple of years ago 'I'm going to Ray Kroc this thing," he says, using the name of the man who took McDonalds global as a transitive verb. "Now that we have university-backed, legal products that pass the test, now that we can stand behind these products -- I'm growing them from seed-to-shelf, there is no break in my chain of custody -- we can come up with these great, direct to consumer concepts.  We can franchise it out. I really do it just how Ray Kroc did it. I have these seminars and we put the deck and all the financials behind me and that's how we sell the franchises." So far, there have been four Buds & Brews seminars, all in Nashville and all well attended.
If the past is prologue, look for a Buds & Brews coming to a neighborhood near you in the very near future, compliments of the world of pure imagination of Mike Soloman and his cannabis crew.