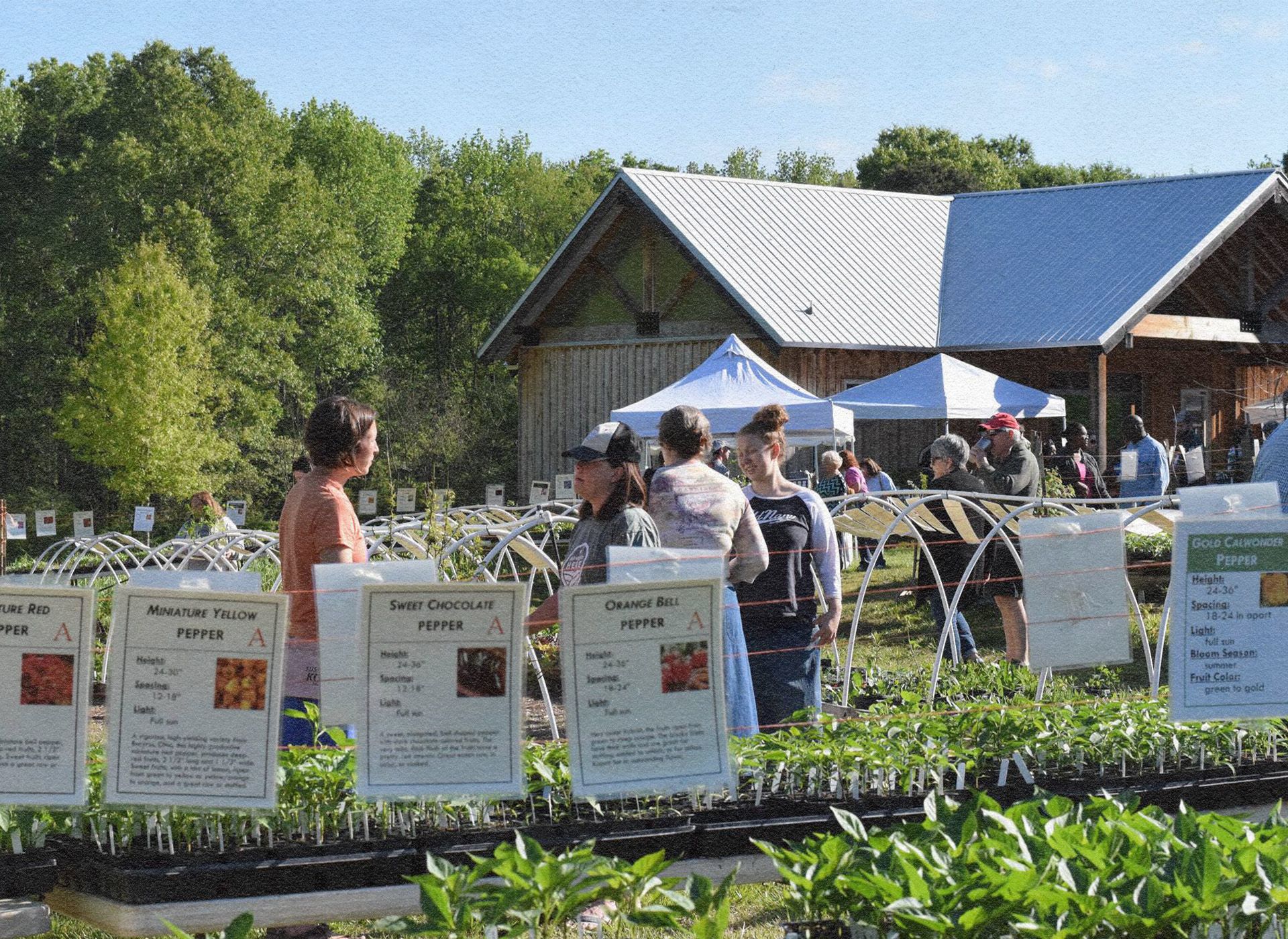 Crabtree's Quest for Community
A Protected Plot of Farm in the City is What the World Ordered
Only ten minutes from downtown Chattanooga, twenty two acres of agricultural land has been set aside since the early 1800s. Gifted to the city by the Crabtree family with the single rule that it must remain farmland, the plot sat unused for a very long time. With rich, dark soil and a creek running along one side of the property, it gives the impression that one is suddenly deep in the country. Just beyond its border, however, is a neighborhood complete with restaurants, shops, and the buzz of vehicles.
Crabtree Farms, the non-profit organization, was founded here in 1998. Will Bailey, now the Chairman of the Board, and his partner made use of the land for the sake of organic farming, originally cultivating seven acres to grow fruits, vegetables, and herbs alongside Padgett and Nathan Arnold (now of Sequatchie Cove Creamery). Now, in its twenty-fifth year, Crabtree has become much more than a place to grow food. With workshops, outreach programs, and a massive drive to bring healthy food to people in the city, the organization is cultivating an oasis of community.
DEVELOPING OVER TIME
Today, only four of the initial seven acres are used for planting. Courtney Parker, the Administrative and Events Coordinator at Crabtree, sees this as being for the better. "It's a good thing because as time went on, we've had more of an opportunity for education," she explains. For the last ten years, the organization's focus has largely shifted from growing food on its own to teaching others how—and more. This started with reaching out to local schools to arrange field trips, where children can come learn about how a farm operates, to care for the land, and even occasionally do some planting of their own. Field One—the oldest and smallest plot on the farm—has the best soil, but Crabtree farmers don't keep it for themselves. One section of this field is utilized in collaboration with another nonprofit, which brings the disabled to enjoy gardening. The other section is for local school children. Rather than busying themselves with textbooks and diagrams of soil, they get the opportunity to work with it hands on, enjoying "what soil looks like and smells like and feels like," smiles Parker. She remembers a favorite group from Clifton Elementary, who opted for walking to the farm rather than taking a bus.
Education opportunities don't end after childhood. Crabtree has poured resources into adult workshops on gardening, fermenting, breadmaking, basket weaving, and more. Around 2015, they erected a building on the property just to host increasingly popular classes more comfortably: The Evelyn Center. With a large projector screen, tables, chairs, and a twenty-square-foot demonstration kitchen, workshops can effectively run year-round. "Knowing how to grow food is just one part of food access and food sovereignty," states Parker. The center also allows the farm to continue operating as a nonprofit organization, as they will occasionally rent it out for various events. The space is gorgeous, and Parker modestly notes that "it's something a bit warmer than a boardroom." Income from renting out that space gives Crabtree greater opportunities to bring in more field trips and after school groups. Even homeschool groups will come to enjoy the farm, adapting curriculum together and harvesting and cooking with a local chef.
Crabtree Farms is also responsible for setting up the Main Street Farmers Market, a year-round market with over thirty vendors. Situated just across from Finley Stadium every Wednesday from 4 p.m. to 6 p.m. in the warm months and to 5:30 p.m. in the winter, the market offers a wide variety of foods, both whole and specialty. Find raw milk, grass-fed and pastured beef and pork, produce, coffee, baked goods, and even clothing. I stopped by on my way back from the farm itself and saw dozens of people, their children, and their dogs catching up and enjoying company even in the cold, windy afternoon. Speaking with a woman there who raises her own sheep for wool, I purchased a lovely handmade ear warmer for only $10. The market gives a hint, in that parking lot, of the kind of community that Crabtree is fostering, one project at a time.
REPAIRING THE CRACKS
The good people at Crabtree are intelligent, intuitive, self-critical, and always looking for more that they can do. Identifying the issue of land access for would-be farmers who lack high credit scores and tens of thousands of dollars, the farm has begun a project of shared land farming models alongside Southeast Tennessee Young Farmers. The first action to put this into practice was the involvement of Jamar Sanders, or The Street Farmacist, who used a section of the land all of last year at no cost. Parker says only one request was made: "Let us know what you grew, and let us know what you gave away." Sanders' involvement was a great success for everyone, as he grew food and brought in more of the local community.
More recently, the focus has been on the immediate neighbors of the farm, just beyond its gate. Many of these are native Spanish speakers, and organizers at the farm not only collectively took a Spanish class but began the "Food Is Life" series: workshops offered entirely in Spanish where locals are invited to bring their families to both learn about preparing local, healthy, affordable foods—and enjoy them together. Crabtree has even put together childcare for each event, allowing both adults and children to be involved, entertained, and together.
Another operation exclusively for the neighbors, free of charge, is the community gardens. Crabtree had considered helping people to raise beds in their own yards but decided this was a better option, due to potential soil contamination outside of the farm. Instead of risking lead-infused tomatoes, organizers raised thirty beds on the farm itself. Twenty of these are free to use for people within their zip code, along with seed starters and workshops. These workshops cover a broad range of garden related topics from soil health to pest management. The other ten beds (along with seed starters and associated workshops) are rented out. On one side of this plot is a small shed, smartly crafted out of reused pallets, which hold event bulletins, seasonal seed packets, tools, and laminated information sheets for each plant. These information sheets give gardeners immediate access to notes and diagrams on what seasons to plant, how deep to plant, and how far to space the seeds.
It soon became clear that expansion of the community garden was necessary due to the limitation of beds being only four by eight feet—not enough to grow bigger crops like pumpkins, corn, and watermelon. In response to this, the farm opened up a second collective farming space last year. In this larger field, neighbors work together to choose and plant foods that won't fit in a box. This coming year the farm will continue to work with the group, planting more perennials and working together to agree upon crops that are both culturally and ecologically relevant. Parker is excited about this coming development, hoping "that this will extend food access throughout the year."
Efforts to build community don't stop there. The farm hosts a monthly potluck for the neighborhood, where families can bring food they cooked with what they grew or "Little Caesar's for the kids," if they were too busy. People gather and share their ideas gardening tips, teaching each other over time. "It's not just meeting a need, but building a community aspect," marvels Parker. "If you just give people space the interest fades over time, but if it's a social event people look forward to it."
FARMING FOR ALL
Crabtree Farms does grow food, but its focus is far more centered on people than plants. The fact that these two things are absolutely linked gives the nonprofit simple pathways to benefit everyone—so long as they show a bit of will. One very popular example of this is the Crabtree U-Pick events, where people from all over come to pick blueberries, strawberries, and blackberries. In the summertime, U-Pick expands to include tomatoes, peppers, and an array of flowers for bouquets. Parker believes that visitors enjoy "finding that connection to food and where it comes from," stating that more often than not, more people want to take part in U-Pick than the farm actually has staff available for.
The farm also is home to large greenhouses, which contain four hundred varieties of plants. It's a massive undertaking. The greenhouses are cared for by one director and a team of volunteers, who turn the soil of each season into a type of Heaven. "When everything is fresh and beautiful, it's like a tropical paradise," smiles Parker. The farm will have plant sales from here, inviting small vendors to set up booths outside.
The whole organization operates with only three on staff farmers. The rest of the farming is done with the aforementioned volunteers, who sign up for a workshare program. Each volunteer with commit to three hour days over the course of a number of weeks, and in return receive weekly boxes of produce and opportunities for workshops. Parker sees this as cutting out the middleman of money and keeping things simple: you provide labor and literally reap the fruits of that labor.
Each year, one enormous fundraiser is held to keep all of this running. The Hundred Dinner is an event where chefs prepare a full course meal in the Evelyn Center for guests, who can also enjoy live music and dancing on the land outside. Parker always looks forward to the afterparty: after a very long day of work, the Crabtree staff enjoy packaged leftovers from the event, drinking and laughing together in the emptied building.
With everything they do for the smaller and larger communities of Chattanooga, you would think that Parker would be wholly satisfied. The human condition, however, constantly drives the question, "Are we doing enough?" through her mind. Crabtree is constantly striving to do more for land, food, and the people who need it, changing with the needs of the times and the beating hearts of the people who operate it. "What makes this place so special," explains Parker, "is that one person doesn't own it. We just have this dream that's shifted and melded over twenty-five years."