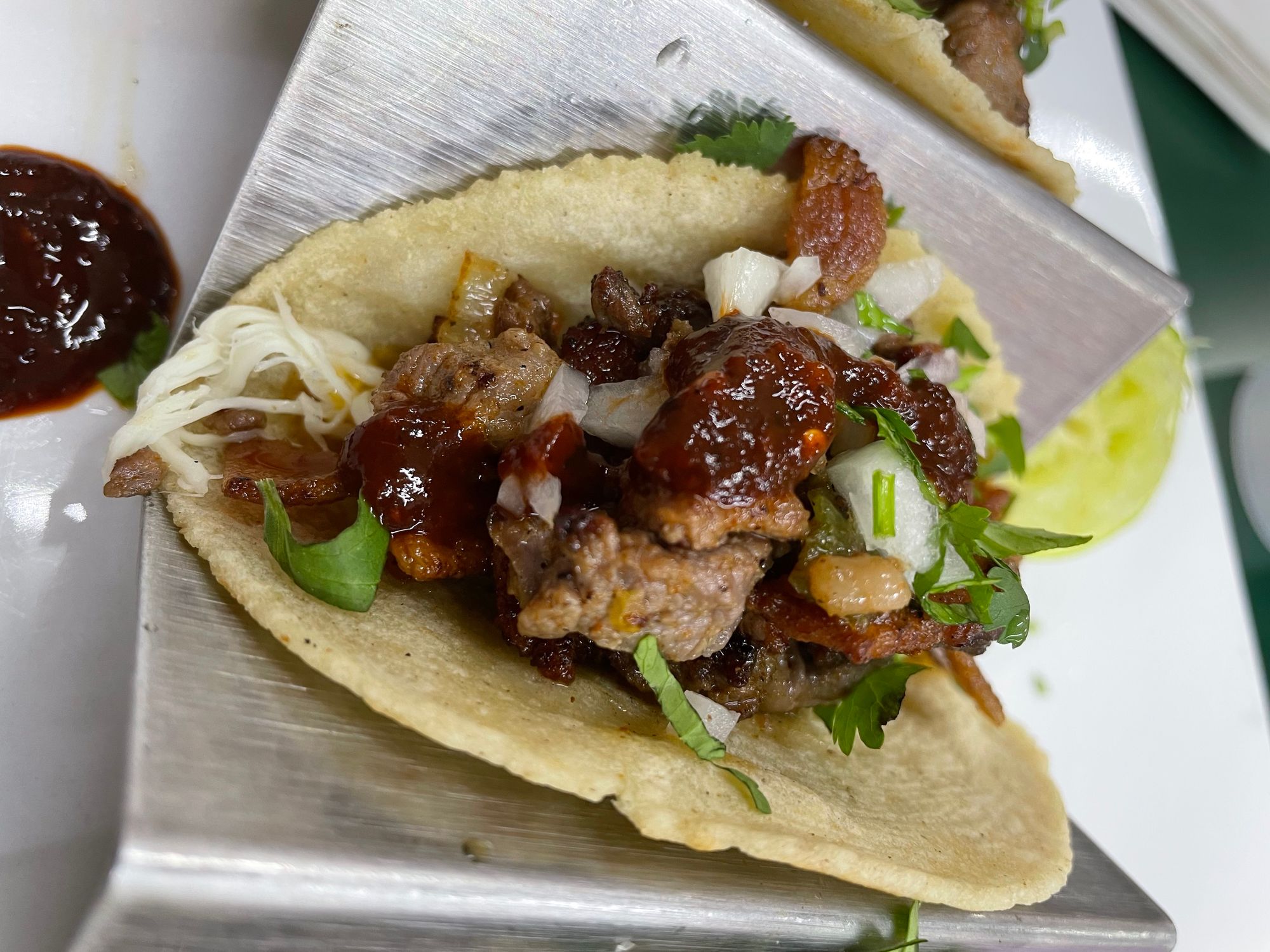 Escape to Frida's Oaxacan
A culinary expedition with Mike Wolf
They're coming in lock, stock, and barrel and you can't escape the stress. They're expecting the traditions, nothing too old-timey, something new and exciting and comforting all the while. You've got your prep list crossed with your shopping list, and your plans for complete domination of your station as you navigate a three-day cook for a feast while making it seem like nothing, complete with batched cocktails in the fridge and freezer for when the nail-biters are getting antsy. Oh yes, it's all coming together according to plan, a plan which comfortably allows for stipulations of last-minute, jazz-like improvisations for the greater good. But you've got to steal away, even if for just a little while. Anything in the dinner hour would be completely insane: where are you headed? A last-minute trip to the store with all that planning and list-making you've been poring over the last few days? A quick dinner on your own as you gather your thoughts and prepare to scale Mt. Potato Gratin? No, that bird is not gonna fly. You need a lunch getaway situated in the middle of the day. A trip to another land where everything is made from scratch and the cheese is fresh. Where the hot sauce bottles are filled with mole-kissed intensity and the tortillas are a revelation. Thankfully, it's cold enough that you can let some groceries marinate in the car for a while as you venture to Frida's Oaxacan Cuisine at 2424 Nolensville Pike just South of 440 on the east side of the road at Nolensville and Elberta Street.
Fear not if you only notice the sign for the Bee Ice Cream Shop, as Frida's is housed in the back of the same building. Once you step inside, the aromas overwhelm the senses and that appetite you've been lugging around all morning will immediately cause you to salivate as you pore over the numerous options for breakfast, lunch, and dinner. Follow the path of the dark green banquettes to the ordering window, where you might catch a glimpse of the magic happening behind the scenes. Fresh masa mingling with banana leaves, Christmas-colored salsas being prepared and meat slowly stewing in the corner. Paintings of Frida Kahlo stare back at you as if to say, "Aren't you going to sit down? What's your hurry anyway?" Many classics of Oaxacan cuisine are represented here. There are Enchiladas Rojas with their gorgeous red tortillas and queso fresco, Chilaquiles and Enmoladas (corn tortillas stuffed with shredded chicken and topped with mole sauce and queso fresco) for breakfast, and of course the one menu item that will have you playing a short game of truth or dare with yourself: the Grasshopper. And I'm not referring to the lime green, crème de menthe, and ice cream cocktail of New Orleans drinking lore, I'm talking about real grasshoppers, Chapulines – a Oaxacan staple often paired with Mezcal – fried up and placed into one of Frida's lauded homemade tortillas. It's essentially like biting into a crispy, buttered potato chip taco. Suddenly, I felt like I was stoned at the movies, but I digress. It must be Thanksgiving week.
The Tacos Dorados de Barbacoa (made with slow-cooked beef) I had on my most recent visit stood out for two reasons: the fresh tortillas mingling with the queso fresco were a delight, and the mole sauce offered on the side took the meal to another level of complexity and heat. Also of note were the traditional tamales. The Tamal de Puerco En Salsa Verde, shredded pork with roasted tomatillo salsa served with a side of rice was hearty, filling, and the perfect comfort food for a cold day in the city. There's also the banana leaf-wrapped chicken and mole tamale that would be a perfect entry point for anyone experiencing Frida's for the first time. Beverage options brim and include the indulgent Oaxacan classic, Champurrado, a hearty blend of hot chocolate, cane sugar, and cinnamon, thickened with corn flour and milk. Other beverages include the ubiquitous Mexican sodas (Jarritos Grapefruit can help cure seasonal affective disorder in my experience), Jumex, and freshly brewed iced tea. I didn't notice any beer or Mezcals but I was too entranced by the aromas and the gaze of Frida Kahlo staring back at me to care at that point.
If you're able to escape away from the holiday madness to experience the bold, vibrant freshness of one of the most celebrated regional cuisines of Mexico, remember that food this special can both fortify you to cook your own family feast or save your ass when the prep list becomes too daunting. That relative who doesn't really want to help in the kitchen but is always looking for an errand to run? Send them to Frida's, give them a list of Oaxacan classics to order, tell them to grab a six-pack, and get their ass back home. We're all just trying to survive the holidays, and food is the fulcrum of so many family memories. Most of us experience a mashup of old-school traditionalism while trying out new spins on cranberries or green beans. Cooking food for others, as Frida's cooked for me that day, can open up new worlds of inspiration and make a hungry soul feel brand new. As Frida Kahlo said, "At the end of the day, we can endure much more than we think we can."