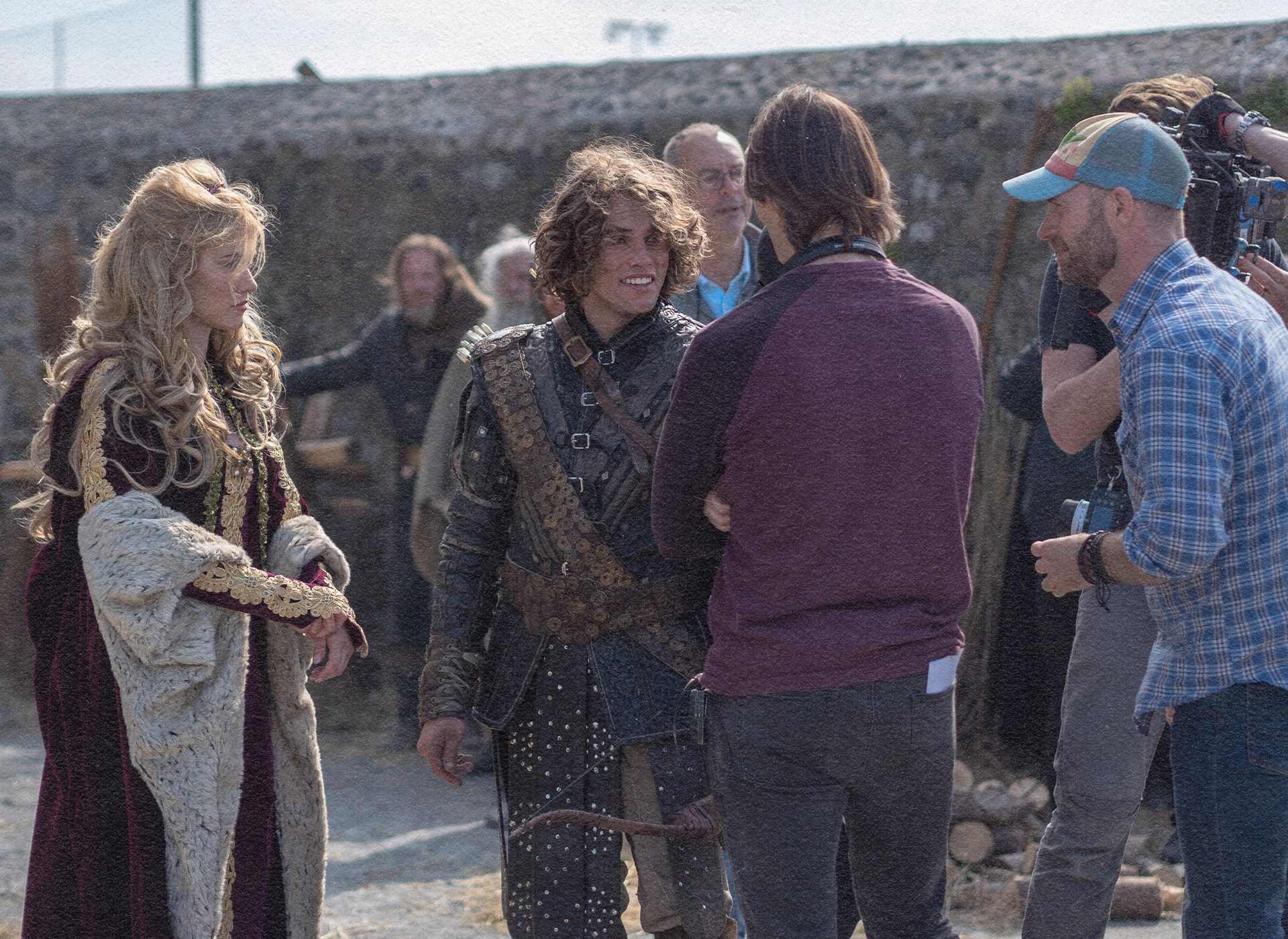 Franklin Goes to Hollywood
Local filmmakers and politicians have spent decades fantasizing about a thriving Nashville movie industry. Franklin proves it's already here.
When film distributor Roadside Attractions released the romantic comedy Finding You on May 14, 2021, the moviegoing landscape could not have been bleaker. But Finding You's producers knew it had an audience and didn't shy away from a theatrical premiere for the story of Finley (Rose Reid), a violinist journeying to Ireland in the wake of her aid worker brother's death and her failed audition for Julliard. The film follows her rough-and-tumble relationship with bratty movie star Beckett Rush (Jedidiah Goodacre) who is shooting a dragon-heavy fantasy blockbuster in the bucolic countryside. With a modest marketing budget and scant media attention, the film managed to debut at number five nationally for the weekend, exceeding the domestic box-office of the Oscar-winning Anthony Hopkins showpiece The Father and within striking distance of Best Picture winner Nomadland.
As Hollywood spent the remainder of the year fumbling its pandemic response, Finding You found its own footing as a semi-indie title able to best much-ballyhooed arthouse films and the few other similarly budgeted movies that studios gave a wide release. In most cases, the entertainment trades would be touting it as a sleeper success. But as a film conceived and produced largely in Middle Tennessee, it found itself in a contradictory space: not tentpole blockbuster enough for the establishment and too Hollywood for Nashville's indie scene.
Those who spend even a little bit of time in the various corners of Music City's moviemaking culture from the Nashville Filmmakers Meetup and the Nashville Filmmakers Guild to panels at the Nashville Film Festival's Creators Conference hear the refrain that the reason the region has yet to wrest the title of Hollywood South away from its cousin Atlanta is that Tennessee does not offer tax incentives competitive enough to draw the likes of Marvel and Netflix on a regular basis. Such conceptions create a myth of the state as a barren wasteland of production with a starving filmmaking community of talented people at the top of their craft ready to work–if only the stingy politicians would throw some tax money their way to make their indie dreams come true. Yet, as the success of Finding You and other films produced in the Franklin area prove, such framing of incentives as a silver bullet does not accurately depict the reality of the state's production economy.
"I'm not in the camp that says,'Our success as a film community hinges on the tax incentive,'" Finding You producer Ken Carpenter said, despite his belief that Tennessee should create as alluring a program as reasonably possible to compete with neighboring states. "I love living in Nashville as a filmmaker because of the quality of life and because of the creative community, but I also don't mind going out of state or out of country to shoot. The great news is we are surrounded by other states and countries that have strong tax incentives. It would be a plus if I were able to stay home more, but it's a big world."
Carpenter, who moved to Franklin from Los Angeles over two decades ago, has spent much of his career in the film industry directing corporate and music videos as he worked his way through every facet of production. That experience led him to found Nook Lane Entertainment, which released its debut film, Run the Race, in 2018. A tale of two football players who use the sport to cope with their broken home, director Chris Dowling's movie drew the attention of executive producer and gridiron great Tim Tebow and received theatrical distribution through Roadside Attractions.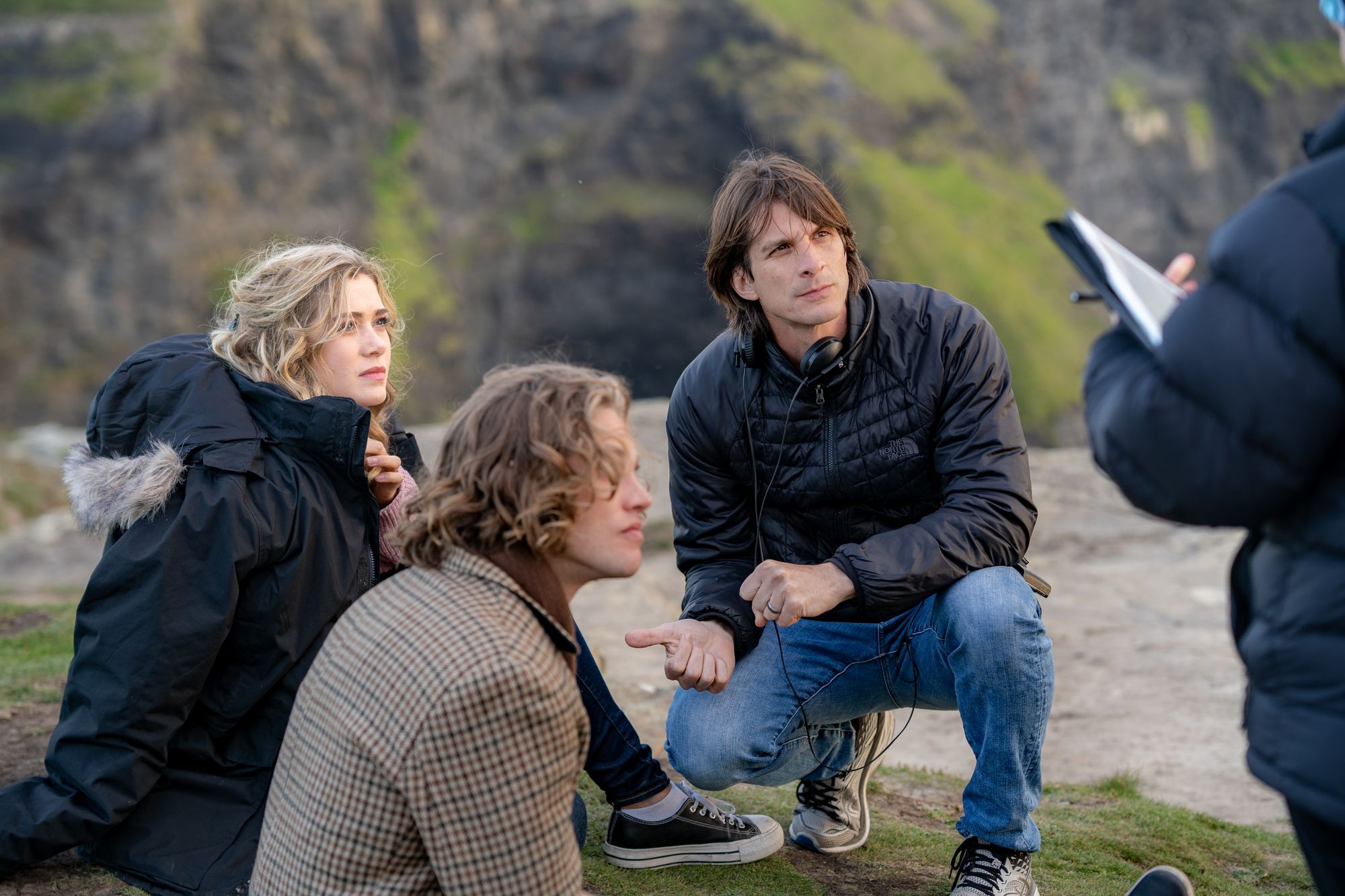 Carpenter then began production on The World We Make, a collaboration with both Finding You writer/director Brian Baugh and star, Rose Reid, about a young equestrian (Reid) whose relationship with her boyfriend (Caleb Castille) faces scrutiny due to racial biases in the community. Shot locally in Franklin, the film premiered on Netflix shortly after its release through Universal Home Entertainment.
In between projects intended for theaters, Carpenter has also produced two Lifetime movies: A Welcome Home Christmas (2020) starring Jana Kramer and Don't Sweat the Small Stuff (2021) headlined by Heather Locklear. "I've always wanted to build bridges to Hollywood," Carpenter said. "I'm not here to recreate it in any way shape or form. We here in Nashville have the great privilege of getting to live in the best city in the county but also being able to work with the industry in L.A."
While local media covered Carpenter and Baugh's work on The World We Make substantially when it premiered at the Franklin Theatre in 2019, Finding You did not seem to garner the same level of local media attention. Such a response is all the more curious since, in addition to also hosting its debut screening at The Franklin Theatre the week before its national release, it again features Franklin native Reid in the lead role (acting with Oscar/Tony/Emmy-winning legend Vanessa Redgrave no less).
Much of this neglect may stem from preconceived notions of how to define a local film community. Though Finding You boasted a local producer, director, lead actress, and postproduction staff, it largely relied on a UK crew as well as actors curated by casting directors working out of Hollywood and Ireland. Still, the film is a Nashville effort through and through. "The true influence is where the projects are birthed and where they are funded," Baugh said, while noting that the vast majority of films shooting in Atlanta are completely developed in Los Angeles. "I think Nashville has the chance to have a really wonderful combination of artists and investor/business people more so than other towns because of the deep history of entertainment here."
A Los Angeles transplant like Carpenter, Baugh opted to move his family to Nashville after his wife—an Atlanta native—decided her hometown had a similar metropolitan feel as Southern California's biggest city. Baugh shot his 2010 debut feature, To Save a Life, in the Golden State before producing its follow-up, I'm Not Ashamed (2016), on location in Nashville. Based on the journals of Columbine massacre victim Rachel Scott, the film found its audience at theaters nationwide. Its success led Baugh to return to Middle Tennessee for the production of The World We Make. "Coming from L.A. and having spent so much time in L.A, where there is such an environment of film culture and it's infiltrated everywhere, I've been really impressed with the entrepreneurial community in Nashville," he said.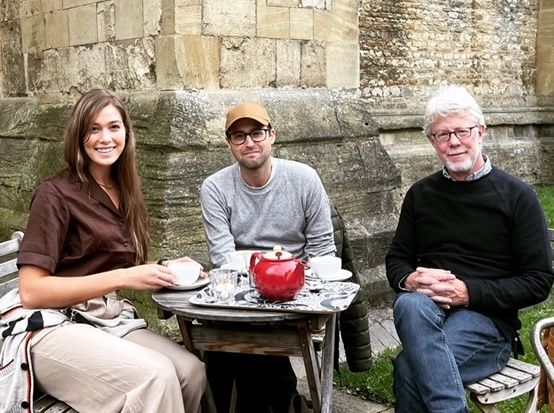 Few Nashvillians embody the entrepreneurial spirit Baugh mentions more than his contemporary Ryan Whitaker. In the wake of debuting his first effort, After, at the 2012 Nashville Film Festival, Whitaker took a self-described "short ten-year break" from directing feature films before completing the Carpenter-produced Surprised by Oxford last year. In that time, he developed several feature screenplays, made short films, wrote two devotionals inspired by the Psalms—Sheltering Mercy (2022) and Endless Grace (2023)—and served as a producer on The Jesus Music (2021), a documentary about Christian pop that features his father, Michael W. Smith. "I'm one of those unicorns that was born and raised in Nashville," Whitaker said when asked about the growth of the greater Metro area's film industry. "It's incredible how much this town has changed in the past several years."
Based on New College Franklin professor Dr. Carolyn Weber's 2011 memoir, Surprised by Oxford features Finding You star Reid as a plucky graduate student finding her wounded faith and inability to trust challenged by an idiosyncratic classmate (Ruairi O'Connor) as she completes her first semester at the University of Oxford. Shot on location and featuring a who's who of British acting royalty including Simon Callow (Four Weddings and a Funeral; A Room with a View) and Mark Williams (Father Brown; Harry Potter's Arthur Weasley), the film premiered at the 2022 Academy Award-qualifying Heartland International Film Festival in Indianapolis last October alongside screenings of current Oscar nominees The Whale and Women Talking on the way to its release later this year. Classifying the project as "faith adjacent," Whitaker took inspiration from classic Hollywood directors like Billy Wilder and films such as I Know Where I'm Going! and Black Narcissus by legendary British cinema team Michael Powell and Emeric Pressburger. "The film deals with faith, but it's not the 'noble Christian character versus the evil atheist,'" Whitaker said. "Carolyn's book explores faith in an intelligent way and I wanted the film to accurately portray that."
As Whitaker implies, one of the reasons the wider Nashville film culture has thus far been less than accepting of Franklin's organic wave of film production despite its wide appeal and national profile is how easy it is to stigmatize such projects as faith-based film. "I try not to put a label on what we are doing. I try to purposefully avoid that," Carpenter said. "It's not fashionable in our business to attach ideology to filmmaking. I'd rather just be aligned with writer/directors who are telling high-quality stories. Naturally a worldview is inescapable."
Given that many in the media pigeonholed his first two features in the category, the label is especially loaded for Baugh as it has the potential to alienate top talent and name actors. "I get so frustrated that that gets put first and that you're not a filmmaker first. I guess I've always been frustrated at the moniker of that genre," Baugh said. "The desire to put the message above the story makes it feel more propagandistic in nature."
The irony of some critics and regional filmmakers using the faith-based wedge to create a hierarchy of local artistry is that Finding You and Surprised by Oxford are not just prime examples of Tennessee filmmakers at the top of their craft, but two of the best movies released in the past half-decade. The Pamphleteer included Finding You on our list of 2021's top ten films because, in addition to the witty banter, masterfully executed plotting, and sterling sense of place, it's one of the few examples of its genre to truthfully negotiate how two people in love can balance their careers with their commitment to each other. Similarly, Surprised by Oxford takes faith seriously, sharing more DNA with European arthouse masters like Robert Bresson and Ingmar Bergman than the late-night movie on Trinity Broadcasting Network. Like Adam Driver's Hitler Studies professor in Noah Baumbach's recent Netflix adaptation of Don DeLillo's novel White Noise, Caro deploys intellect as both a diversion from the familial betrayals she has endured and as a veneer to hide her paralyzing fear of lacking control. Neither Finding You nor Surprised by Oxford is interested in easy answers or audience baiting. Both revel in the messiness of youth and humanity without ever succumbing to the navel-gazing so prevalent in the indie film world.
As well-directed as both movies are, they would not hit quite the same way if Baugh and Whitaker had cast anyone else in their leading roles but Franklin's own Reid. "The amazing thing about Rose is that she hasn't been doing this for long and she just holds her own," said Whitaker. "I'd be terrified to go opposite a Redgrave or a Callow, but she's not. She really does have a gift." Reid's performances in both films are largely free of the affect and posturing one notices in many actors of her generation in which a current role is merely a stepping stone to the next influencer brand partnership or HBO show. She fully commits to her craft, bringing the desolation of her characters into her comedic beats while never letting go of a glint of wonder even in her darkest onscreen moments. In a handful of roles, Reid has somehow given audiences a mix of Jean Arthur's cool and Claudette Colbert's easy versatility. She's the closest to a classic Hollywood movie star we've got.
While Carpenter's work with Reid, Baugh, and Whitaker has proven the feasibility of homegrown productions to rise above the unfair pejorative of faith-based, even locally made movies that willfully embrace the label have striven for a sharp increase in quality that taps into mass appeal. Nashville has long been home to an office for Affirm Films—the Sony studio that defined the Christian movie with hits like The War Room and Heaven is for Real. However, the launch of Kingdom Story Company in 2018 ushered in a new era of directly challenging stereotypes of faith-based entertainment as shoddy niche product featuring no-name actors or names on the decline. "All of our content is infused with faith-values," said Kingdom President Brandon Gregory, "but we want our films to be accessible and enjoyable no matter what you believe."
From its Franklin-based studio, the company develops projects and completes all postproduction work in house with its staff of more than 20 locally based professionals. Thanks to its ongoing distribution deal with Lionsgate (the studio behind the John Wick and Saw franchises) its films typically receive a wide national release with promotional support. Kingdom broke into the mainstream when 2018's I Can Only Imagine—the true story behind MercyMe's classic Christian song starring Dennis Quaid—grossed $83.5 million at the U.S. box office and outperformed a host of pedigree Hollywood films like Steven Spielberg's The Post and the latest installments of Tomb Raider and Predator.
While Kingdom had the misfortune of releasing its 2020 cancer drama, I Still Believe, three days before theaters closed for the pandemic, the film earned back most of its $12 million budget in that timeframe. During the post-lockdown period, it returned to theaters for a months-long run before garnering a following on streaming. After the Whitaker-co-produced The Jesus Music found an audience in the fall of 2021, Kingdom scored another hit with its football drama, American Underdog, starring Oscar-winner Anna Paquin and Shazam star Zachary Levi. Although released in the shadow of Omicron and Spider-Man: No Way Home, the film grossed $25.6 million.
A Nashville native, Gregory has committed himself to bridging the region's distinct culture with his own brand of faith films: authentic enough to connect with wider audiences and high enough in quality to lure the talents of actors such as those currently in the DC Comics and CW teen soap rotations. While he would also like to see Tennessee offer more competitive tax incentives, he greatly values the state's ongoing efforts to support its film culture. "Bob Raines and his team at the TN Entertainment Commission are so intentional about fostering a relationship with every production that comes to the state — listening to their specific needs and working hard to meet them," Gregory said. "Many visitors and transplants often talk about the sense of community our city has, and Bob and the team represent that culture well."
In the last year, Tennessee has made strides to improve its film incentives by offering qualifying projects a 40 percent rebate on payroll taxes as well as tax exemptions on other in-state expenditures. However, neither its efforts nor Metro Nashville's smaller scale imitations will generate a natural filmmaking ecosystem in the region. For all of their appeal to Hollywood studios, such tax rebates force citizens to bear the cost of industry growth. Our sales tax-based revenue model may not make each Tennessean responsible for $220 of incentive money each year like our neighbors in Georgia, but even modest incentive programs come with a cost.
The bigger question is how to overcome the factions within Nashville's film community. These cliques have arguably been the primary reason that our internationally recognized formerly resident auteurs, such as Harmony Korine (Gummo, Spring Breakers) and Kogonada (Columbus, After Yang), have moved on from Nashville, unable to cultivate a similar artistic environment as the community that has welcomed Jack White, Sheryl Crow, Kid Rock, and other Music City migrants regardless of their stylistic and political differences. Attendees at our local film meccas like The Belcourt and the Nashville Film Festival don't find films of Finding You or Surprised by Oxford's bent on the programming calendar in spite of their wide appeal and community draw. In the end, it's a myopic tale of two film cultures in which one side willfully refuses to integrate.
Yet, Franklin's working filmmakers continue to do their thing. Carpenter and Whitaker are bringing an adaptation of G.K. Chesterton's The Ball and the Cross to screen in what Whitaker refers to as Monty Python meets-The Princess Bride style. Carpenter's also busy reteaming with Reid on the sci-fi epic The Shift in Birmingham, AL, through a partnership with Angel Studios–the company that drove the theatrical version of the TV series The Chosen to surprise box office success last fall. Directed by Brock Heasley, The Shift is, according to Carpenter, "A character-driven sci-fi film about a man's harrowing journey through the multiverse, as he battles a formidable adversary at every turn, while trying to get back to the woman he loves."
Finding You's international success has also led Baugh to a string of new projects. His next film as a director is a Southern period piece entitled Appointments with Heaven. He also recently finished the screenplay for and signed on to direct Iron Lilly, a true story about a maverick woman who started a Harley-Davidson dealership in the 1910s that remains in business. As a producer, he has also boarded Molly and Drew, a romantic comedy featuring two leads with Down Syndrome, a project he is also co-writing.
After the February release of the The Jesus Revolution, in which a buttoned-up preacher played by Kelsey Grammer brings flocks of hippies into the fold of his dwindling congregation, Kingdom Story Company will embark on its most ambitious project yet: Wildcat, a biopic of Flannery O'Connor directed by stalwart indie icon (and occasional Belcourt guest) Ethan Hawke and starring his daughter and Stranger Things breakout Maya in the lead role with Laura Linney and Vincent D'Onofrio rounding out the supporting players.
Given this avalanche of output, the future of Middle Tennessee's film scene seems to be in the hands of these locals and recent transplants too focused on their work to let factions and debates about Old and New Nashville distract from their vision. "There's something about calling Nashville home," Carpenter said. "There's a lot of cliches bantered about living here, but I find a lot of them have a measure of truth, which is that it's a kinder, gentler place to live and work. In that sense, I think it dignifies what we do and sets the table for a healthy creative place to incubate ideas and build relationships."