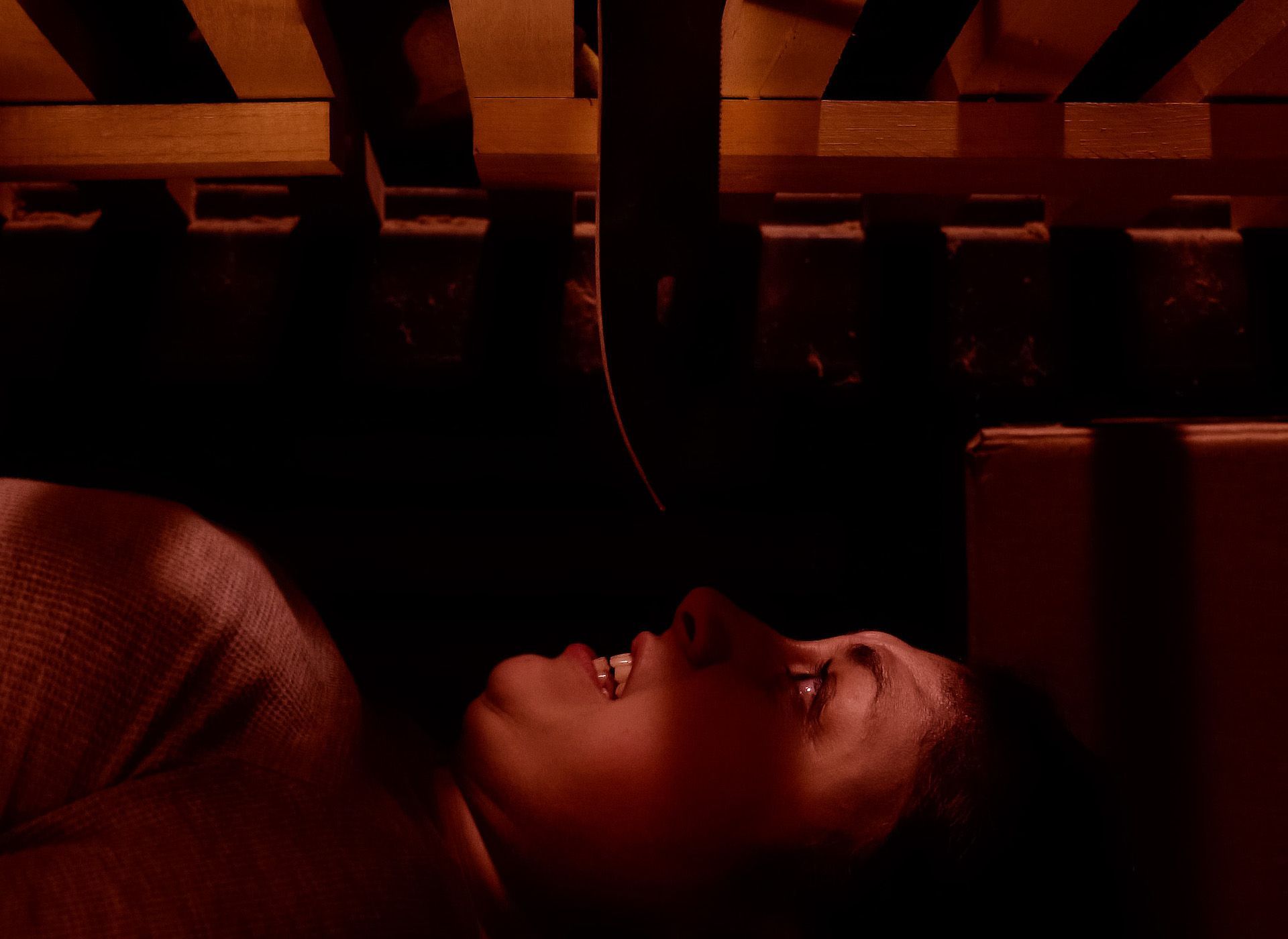 Horror in the Foothills
How two childhood friends in East Tennessee turned their locally shot feature film into a nationwide release.
At some point, East Tennesseans come across the bit of trivia that director Sam Raimi shot the 1981 classic Evil Dead in a cabin outside of Morristown. Some meet the realization with mild interest that the municipality nestled at the bottom of the Smoky Mountains played a pivotal role in the rise of the filmmaker who first brought Spider-Man to the big screen and spent his career alternating between horror and blockbusters, including last summer's Doctor Strange sequel. Others are fans of the movie fervent enough to make a weekend pilgrimage to the location. But for Greg Swinson and Ryan Thiessen, a day trip just wasn't enough; they not only wanted a piece of local cinematic history but also intended to build on Raimi's regional horror legacy in their own work.
Those lucky enough to see their latest film, Hunt Her, Kill Her in theaters during its release in March may recall the prominent role of a certain brick in the storyline, a prop that allegedly came from the foundation of the cabin Raimi made famous. "We went to the original Evil Dead site when we were in college," Thiessen said. "Greg and his brother brought up some souvenirs. One of them may or may not have been that brick. We admit nothing."
Though Thiessen and Swinson jokingly refer to the brick as the project's good luck talisman, Hunt Her, Kill Her (available for digital purchase today) has had more than a semi-charmed life. The film follows Karen (Natalie Terrazzino), a recently divorced single mom on her first night working the late shift as a janitor at a local furniture factory who is terrorized by a gang of psychos hellbent on doing exactly what the title says. Shot locally in Morristown and self-financed by Thiessen and Swinson, the film has taken up the mantle of Evil Dead, receiving national distribution in 150 theaters as the first project acquired by Welcome Villain Films and garnering significant attention from horror fans and outlets like Variety since its premiere last year at the Chattanooga Film Festival.
More impressively, it was shot with a full-time crew of three people. Thiessen and Swinson both directed and divvied up duties like production design and cinematography while local makeup artist Caitlin Cyan focused on visual effects. "Greg and I don't really have an ego with each other so to speak," said Thiessen. "I don't really care who wins the discussion," added Swinson. "We are just trying to get the best product at the end of the day."
In a film landscape where many Hollywood movies go straight to streaming and the average crowdfunded short boasts a crew of at least a dozen, the successful release of Hunt Her, Kill Her from New York to Hawaii serves as a testament to the power of a contained story with an authentic sense of place. "It was very unexpected because when we were making this movie, we never imagined it would get any kind of theatrical release," Thiessen said. "It really exceeded our expectations."
While Hunt Her, Kill Her seemingly hit theaters out of nowhere, it's the product of a decades-long journey for the filmmaking duo. From his preteens, Swinson knew he wanted to be a filmmaker, but the trick was finding someone else to share his vision. "I just kind of started making movies in our backyard," Swison said about his life after seeing the original Rambo trilogy solidified his trajectory at age ten. "Dad was the cameraman. As friends would come over and be like, 'Yeah! yeah!' they'd do two or three and get tired of it. So I met Ryan, and he came over and was one of the first ones after two or three projects who said, 'Let's keep doing more.' I was like, 'Hold on. I've got a guy here who loves doing this as much as I do.'"
Swinson and Thiessen continued making movies through their teens but went all in after they graduated from college. That drive led to their 2005 feature debut, Five Across the Eyes, a road movie in the vein of Spielberg's Duel and the 90s horror staple I Know What You Did Last Summer about a group of teen girls pursued by a vengeful driver through a valley that the film's locals call "The Eyes" after they flee a minor hit and run. "We wanted to make something to show we could make a movie," Thiessen said. Exceeding such a modest goal, the film went on to earn worldwide distribution as well as a DVD release. It has even survived the shift to streaming and is currently available for digital rental on all major platforms.
While Five Across the Eyes brought Thiessen and Swinson international attention, it didn't ignite their careers in the way one would expect due to a combination of the Great Recession largely drying up film financing and the torture porn cycle dominating horror in the wake of the second Gulf War with ultraviolent entries in the genre like Saw and Hostel. "We spent the next 15 years or so trying to get projects off the ground," Thiessen said. "Failure after failure after failure. And then we decided to do it ourselves and failed again."
However, Thiessen and Swinson remained undeterred. Taking stock of the assets they had available to them, the duo began developing Hunt Her, Kill Her around a Morristown furniture factory that Swinson had access to through relatives. Though they had permission to use the location, it was conditional on the production not interrupting daily activity. As a solution, the filmmaking team opted for a nontraditional schedule, shooting the movie on nights and weekends over a period of seven months instead of the customary three-to-four weeks of intense twelve-hour days. Originally called Night Shift, the film began production in 2020 as Thiessen and Swinson navigated the demands of making a major motion picture while holding down their day jobs as directors of communications, media, and events at Walters State Community College. "We'd come in as the day shift was leaving and get to work," said Thiessen.
That Thiessen and Swinson made a feature film on a shoestring in their hometown and received a national theatrical release is impressive. Yet, Hunt Her, Kill Her is not just a remarkable achievement because of its "local boys make good" narrative but because it is a singular movie that distinguishes itself at a time when directors like Jordan Peele (Get Out, Nope) and Ari Aster (Hereditary, Midsommar) and the blockbuster performances of titles like It and A Quiet Place have led to the rise of "elevated horror." Defying the genre's lowbrow reputation, such films have met with rave reviews and awards attention as a result of their dissection of family traumas to such an extent that they even revived the decades-dormant Scream franchise in all its metacommentary glory.
The most effective choice that Thiessen and Swinson make is embracing the film's budgetary limitations and modest scope, a decision that leads to Hunt Her, Kill Her toeing the line between the indie-chic horror of the moment and the rawer feel of genre classics such as Evil Dead and The Texas Chainsaw Massacre. It's a tense film that would please gore aficionados but remains rooted in character thanks to Terrazzino's ability to convey the desperation of a single mom just trying to survive the night so she can keep surviving in her day-to-day life.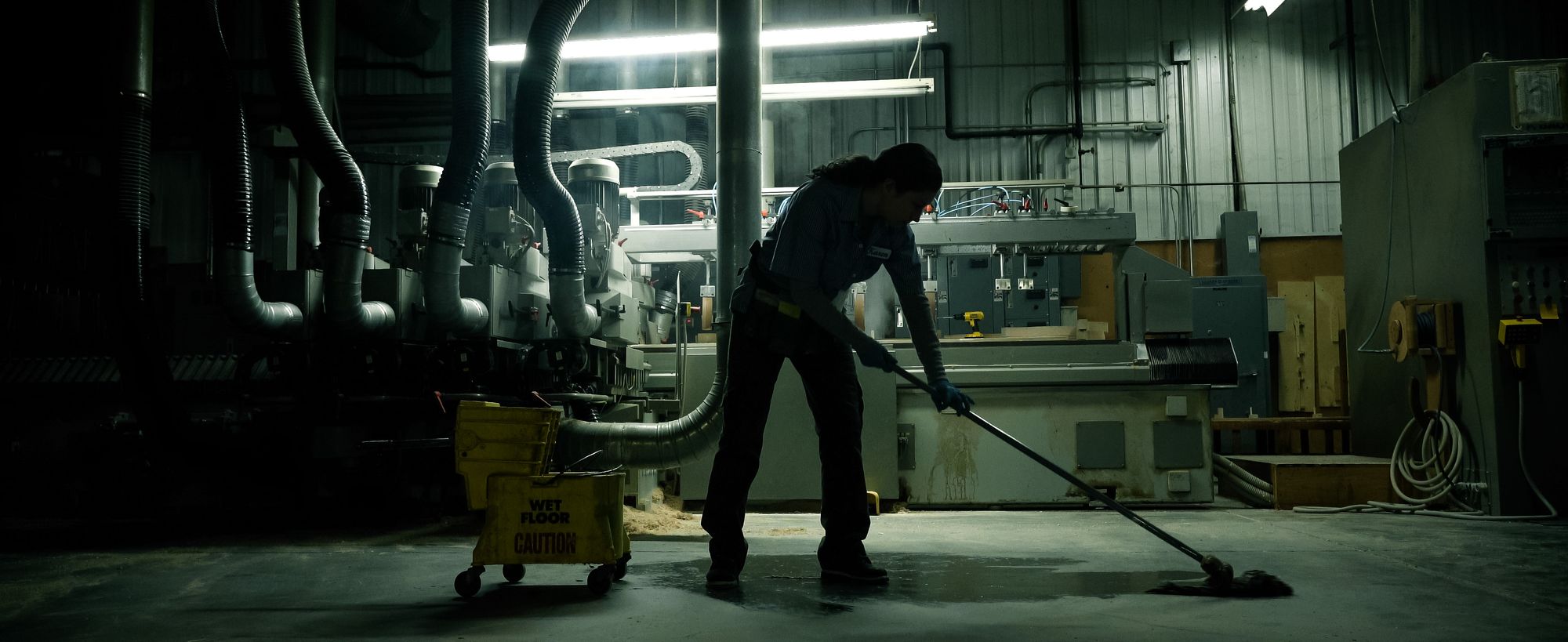 Placing Terrazzino within a cinematic world where local color abounds from the realistic (and real) accents of supporting players to the nonchalant way the film works within the local landscape endows Hunt Her, Kill Her with a distinct style that has earned reviews much more positive than microbudget genre movies typically garner. This includes horror blogger Anton Bitel's effulgent assessment of the film as, "an allegory of (a) woman's travails in an unequal men's world, where every day (and night) is a struggle for survival, and for a better future for the next generation of women."
Although Bitel's comments are certainly not off base, Hunt Her, Kill Her never falls into empty feminist platitudes. At the same time, it also avoids one of the most noxious contemporary horror trends: male directors paying lip service to strong female leads so they have license to diminish their wardrobes and ratchet up excessive violence directed toward them. Such is the cinematic equivalent of the dudebro ally who invites a girl to coffee to talk about the Dobbs decision and then throws a tantrum because she rebuffs his advances even though he's a nice guy.
It's also an epidemic in recent indie horror releases, most egregiously on display in the Terrifier franchise but also innate to more mainstream horror movies like last summer's sleeper hit Barbarian. "We like these strong female characters, and there's a lot you can do with them." Swinson said. But, as Thiessen added, Swinson's script also displays a talent for avoiding making the focus on Karen a statement and, "Not treating her like a person."
For Thiessen and Swinson, much of the film's appeal stems from their intentional mashup of genres. "This movie is built a lot more like an action movie than a horror movie," Thiessen says. "A lot of horror movies focus on the villain and, as for the victims we follow, there's not much emotional investment in those people. It's more about how great this villain is." Swinson cites Die Hard as one the film's biggest influences, but, unlike that film's legion of imitators, Hunt Her, Kill Her is one of the few movies that understands its predecessor maintained tension and audience investment through clearly establishing the whereabouts of the remaining terrorists Bruce Willis had to plow through to get back to his wife. "That's part of our way of storytelling," Swinson said. "I want you to know what you're dealing with up front. I want to have as much info as she does. To focus on her mini goals."
Swinson's ability to keep his writing economical while maximizing emotion also illustrates what the duo saw as the film's primary mantra throughout production. As Thiessen put it when comparing Hunt Her, Kill Her to the movies that inspired it, including The Thing and Aliens, "With the resources we have, how do we get that sort of impact?" The answer to that question lies in the filmmaking team's collaboration with Cyan. "We didn't want it to be campy or crazy or over the top, but slightly more exaggerated than realistic," Thiessen said. "Full credit to Caitlin. She made the magic happen."
Hailing from nearby Hartford, TN, Cyan saw the movie as a chance to flex the skills she learned studying effects makeup in Los Angeles as well as to find a change of pace from her often seasonal work with local theater companies, colleges, and special events. She built the film's SFX from scratch except in the rare instance a time crunch necessitated she place a rush order–a chance for her to create Hollywood effects on a razor-thin budget. The result is a host of practically achieved, Grand Guignol show ponies like Karen's gaping stomach wound that Cyan built by attaching a garden pump sprayer under prosthetics to make it ooze blood in sync to the character's heartbeat. Likewise, Cyan finally had the chance to use the blood mixture that she and a friend from school developed while training. "Even today, only the two of us know the recipe," Cyan said.
Tennessee's strategy to become a production hub competitive with Georgia has led to an unfortunate situation in which the label of locally made film can seem a stigma. Many of the state's more prominent film festivals aim to bring industry professionals to Tennessee and showcase a lineup of Sundance alums and discovery titles that highlight the programmers' taste. At the same time, festivals must cater to local film communities. One consequence is that most Tennessee films are confined to their own category, a no-win situation that both allows festivals to accept projects far below their standards in other categories simply because of where the filmmakers reside and limits the interest of festivals outside the state in more impressive local films.
As Thiessen and Swinson can attest, the other issue is that locally made films in certain genres like horror, rom-com, and faith-based film often don't get the regional attention they deserve despite succeeding on a national level. "I think people making films and people running film festivals are just on two separate paths," Thiessen said. "The filmmakers want to get their films out to audiences and potential distributors and the film festival programmers want to put together the best line-up they can for their audience. Sometimes, those paths cross, where a Tennessee film aligns with what a Tennessee film festival is looking for." In the case of Hunt Her, Kill Her, the Chattanooga Film Festival's acceptance was crucial to the film's eventual nationwide distribution. "They were absolutely fantastic and didn't pick it because it was a Tennessee film evidently," Thiessen said. "They didn't even mention it was a Tennessee film until after it was shown."
With Hunt Her, Kill Her debuting on VOD this weekend, Thiessen and Swinson have finally begun to think about their follow up. "We'd certainly like to shoot here if we can," said Thiessen while noting that many of their ideas are written with the region in mind. Whether or not producing locally is feasible in the foreseeable future, the duo hopes to replicate the same level of community as well as the indie outlook that helped make the long development of their sophomore film worth it. "We finished up one morning and there was a massive red blood stain on the floor," said Thiessen. "It looked like someone had literally been murdered here, and people were coming in at 8 a.m. So, we just had to kick some sawdust over it. It's faded a little bit now, but it still looks like, 'Yeah a dude was killed right there.'" Wherever he is and whatever he's working on, Sam Raimi would surely approve.