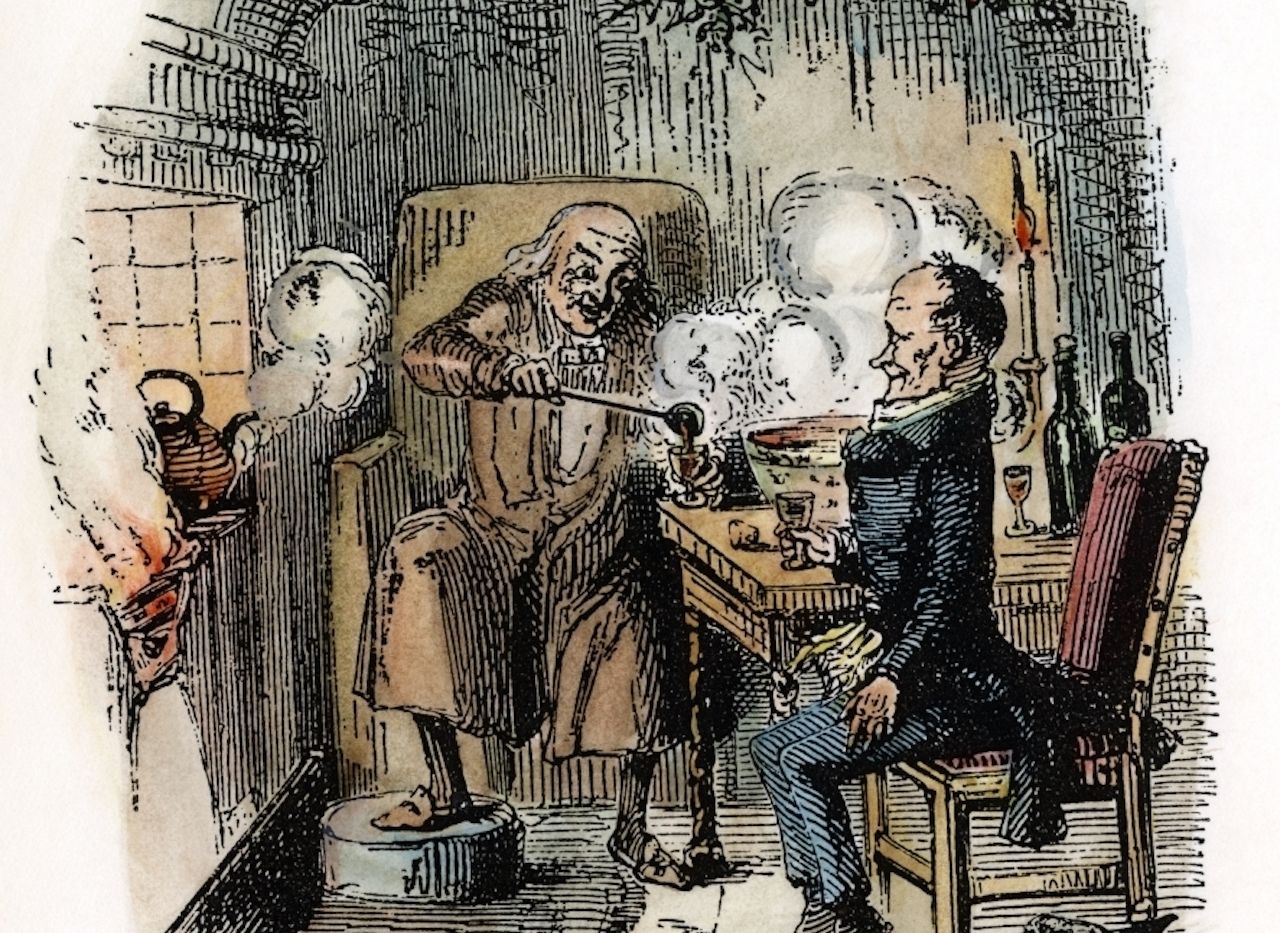 On Hot Drinks
The Dickensian Era and Beyond
The best thing about the departure of sunsets past 4:30 and the arrival of windchill forecasts is the opportunity to sip hot cocktails well into the night, a time-honored practice happily partaken in for literal centuries.
Evidence of this is dotted throughout the literature (and all cocktail history), perhaps most notably within the works of Charles Dickens, who is widely considered one of the foremost figures of the Victorian Era. His love for hot cocktails, punches, and especially his ritual of mixing up a near-nightly evening glass of gin punch is legendary, inspiring entire cocktail books about the "Dickensian Era." Any chap down with this sort of imbibing is worthy of being called "the greatest," in my humble opinion.
So, what's so exciting about hot drinks, besides being cozy when it's cold out? Hopefully, this little breakdown of sorts will shed some light on that. Mix some up at home or head out to any of the multitudes of holiday pop-up bars around town and partake in their offerings. Here's to 2023!
GIN PUNCH AND THE LIKE
Truly, few things are more sublime than a well-crafted hot gin punch. (Hendrick's, one of the largest gin producers, understands this so thoroughly that they hold an annual tournament, with bartenders crafting all kinds of renditions in locations all over the world.)
But first, punch. Punch is, perhaps, the earliest cocktail; the "mother" of cocktails, if you will. It is said that George Washington enjoyed a delicious one called Fish House Punch (so named for Philadelphia's Schuylkill Fishing Club, who served it at the start of every meeting, as far back as 1732), on the regular. The name punch possibly came from the Hindi word for 'five', referring to the five ingredients of which it tends to be comprised – sour (lemon or lime), sugar, spirit, spice, and dilution (water). But, as cocktail historian and expert David Wondrich points out, punches can have four ingredients, and they can have six…. It's more likely that the name came from the barrel used to store the stuff, called a Puncheon today.
However, punch came to be or got its name – it's effing delicious. In Dickens's novel David Copperfield, Wilkins Micawber is uplifted by a gin punch, sparking a recipe for Mr. Micawber's Hot Gin Punch. There are multiple iterations of this online, but I prefer this one from New York Times Cooking:
Add juice of ½ a lemon, 1 teaspoon dark brown sugar and 1 teaspoon honey to a heated glass and stir. Add 1 clove, a pinch of cinnamon, and 4-6 ounces boiling water. Stir again. Pour in 1 ½ ounces London dry gin and 1 ½ ounces Madeira. Stir with a cinnamon stick and top with grated nutmeg.
The recipe is for a single drink, but I find multiplying it and holding it warm in a Crock Pot just delightful for a crowd. Float some lemon and orange slices or peels in there for a nice presentation.
For Charles, punch, especially the ones created in his mobile punch bowl (see section 2), was likely a symbol of celebration and friendship. All the more reason to whip some up this time of year.
TODDYS, MULLED WINE, AND THE LIKE
Toward the end of the punch's appearance in tap houses, Dickens wrote "A Bowl of Punch," famously mourning its dwindling popularity. But not to be deterred, he brought his own punch bowl to parties, narrating for the crowd his steps and ingredients. One such recipe is referenced at the end of A Christmas Carol - the Smoking Bishop.
The drink Scrooge partakes in during his Christmas reconciliation is a Victorian variant on mulled wine. The type of mulled wine I'm most familiar with, however, is Glühwein, the traditional drink of Christmas Markets in Germany and Austria. (A similar one in Sweden is called glögg.) Thanks to my German heritage, my family partakes in the annual ritual of dumping bottles of dry red wine into a large stock pot along with orange peels and slices, water, sugar, cloves, cinnamon sticks, and star anise and letting it simmer awhile. That mixture, along with a shot of rum, brandy, amaretto, or (what the heck) Jägermeister, and you're bound to be very merry indeed.
And then there's the famous hot toddy. Around since the mid-1700s and arguably the most familiar winter hot beverage, this simple combo of spirit, sugar, and hot water can vary greatly depending on where it's made. For most, whiskey is the spirit of choice, adding it to sugar (demerara is best) and hot water and finishing it off with a lemon peel. Personally, and faux pas or not, I find brewing a black tea with the hot water, swapping the sugar for honey, and studding a lemon with cloves a delicious alternative to the classic.
An apple toddy, or simply "hot cider," as it's often referred to, provides a kind of bridge between mulled wine and toddys, with its simmering of a fruit-based liquid (apples instead of grapes in wine) with a hefty portion of mulling spices and whiskey. I once did a version that involved steeping habaneros in the apple cider before heating and adding scotch and lemon juice. It was hot and hot (as in spicy) and a little too good.
(Quick shout out to Bay 6 for recently serving apple toddys with a shot of amaro in them. Bravo. Extra gifts for you this year.)
For good measure, here's how you make Dickens' Smoking Bishop:
Stud 5 oranges and 1 lemon with about 30 cloves and roast in the oven at 350F for 30 minutes, or until fruit turns pale brown. Combine 1 bottle dry red wine and ½ cup sugar in a stockpot and bring to a boil. Then add the roasted fruit, 5 cinnamon sticks, and ¼ teaspoon each allspice, mace, and ginger. Remove from the heat, let cool, cover and let steep overnight. Remove the fruit, cut them in half, and juice them back into the pot. Add one bottle port wine and heat again, this time being sure not to let it boil.
Yup. I'm in.
EGGNOG-GY THINGS AND CREAMY DRINKS
Admittedly, I'm not a big fan of eggnog. This is probably due to the majority of my exposure to it being the cartons you find in the grocery store full of sad, thin, slightly off-smelling liquid. A real, fresh, eggnog, however, is pure bliss.
Enter the Tom & Jerry. To me, this combination of brandy, rum, and an egg batter with hot water or milk from somewhere in the early 1800s is perfect and preferable to the standard nog. Though formerly a staple in American bars, you'll be hard pressed to find one today (probably due to it being slightly labor-intensive up front and not terribly shelf-stable), so making it at home is necessary. It's too good not to include a recipe for it here, so here's our old pal David Wondrich's 2015 recipe for a traditional one:
Separate yolks and whites of 12 eggs. Beat whites to stiff froth and beat yolks until well blended. Mix yolks and whites together and add 4 ½ cups sugar, 1 ounce rich Jamaican rum, 1 ½ teaspoon cinnamon, ½ teaspoon ground allspice, ½ teaspoon grated nutmeg, and ¼ teaspoon ground cloves. Stir well. Refrigerate immediately until needed but use within 4-6 hours. For each drink, pre-heat mug, add 1 ounce batter and 1 ounce cognac, then 3 ounces hot milk or water. Garnish with fresh nutmeg.
While researching Dickens and his love for the hot drink, I came across this little tidbit: Dickens wrote more than one Christmas story. In addition to A Christmas Carol, there was an 1899 novel called The Holly Tree, in which holiday travelers meet at an inn and tell stories while drinking Athol Brose. The heck is Athol Brose, you ask? I did, too. Apparently, it's a festive Scottish drink made with an early version of oat milk, or brose.
After you create the brose by steeping ½ cup oats in 1 ½ cups water overnight, strain the oats out and the liquid into a pot. Add 3 teaspoons honey and bring it to a boil. Remove it from the heat, stir in 5 ounces heavy cream, let cool, and refrigerated until chilled. When you're ready to drink it, pour an ounce of scotch into a glass and top with the brose mixture and a pinch of nutmeg.
I've created many versions of "nogs," using oat milk or even Chobani's spiced oat nog out of the carton, and it's always gone well.
Finally, I'd be amiss on a piece about hot drinks for the holidays and beyond if I didn't throw in something about the hot buttered rum. This one tends to be a "love it or hate it" situation, since the butter can be surprising and overly slick on your palate, but if you take a page out of the Tom & Jerry book and make a batter out of it first, it tends to tame that a good amount.
Like many great things in the cocktail-verse, the hot buttered rum comes from the colonial era and was once medicinal, if you can believe it. It's chock full of calories so be ready to commit.
TWO MORE RECIPES
Recipe from Kenneth Roberts, 1937 Combine ½ pound melted butter, ½ pound brown sugar, ½ pound sugar, 1 ½ teaspoons cinnamon, ½ teaspoon ground clove, and ½ teaspoon ground nutmeg. Add ½ quart softened vanilla ice cream and stir again. Cover and store in freezer. To serve, add 1 tablespoon butter batter to mug with 2 ounces golden rum and boiling water. Stir.
Recipe from cocktail writer Wayne Curtis Blend 1 cup softened, salted butter with 2 cups brown sugar, 1 teaspoon cinnamon, and ½ teaspoon nutmeg. Store in fridge until needed. Mix in mug 1 teaspoon batter and 2 ounces dark rum. Fill with hot water. Stir.