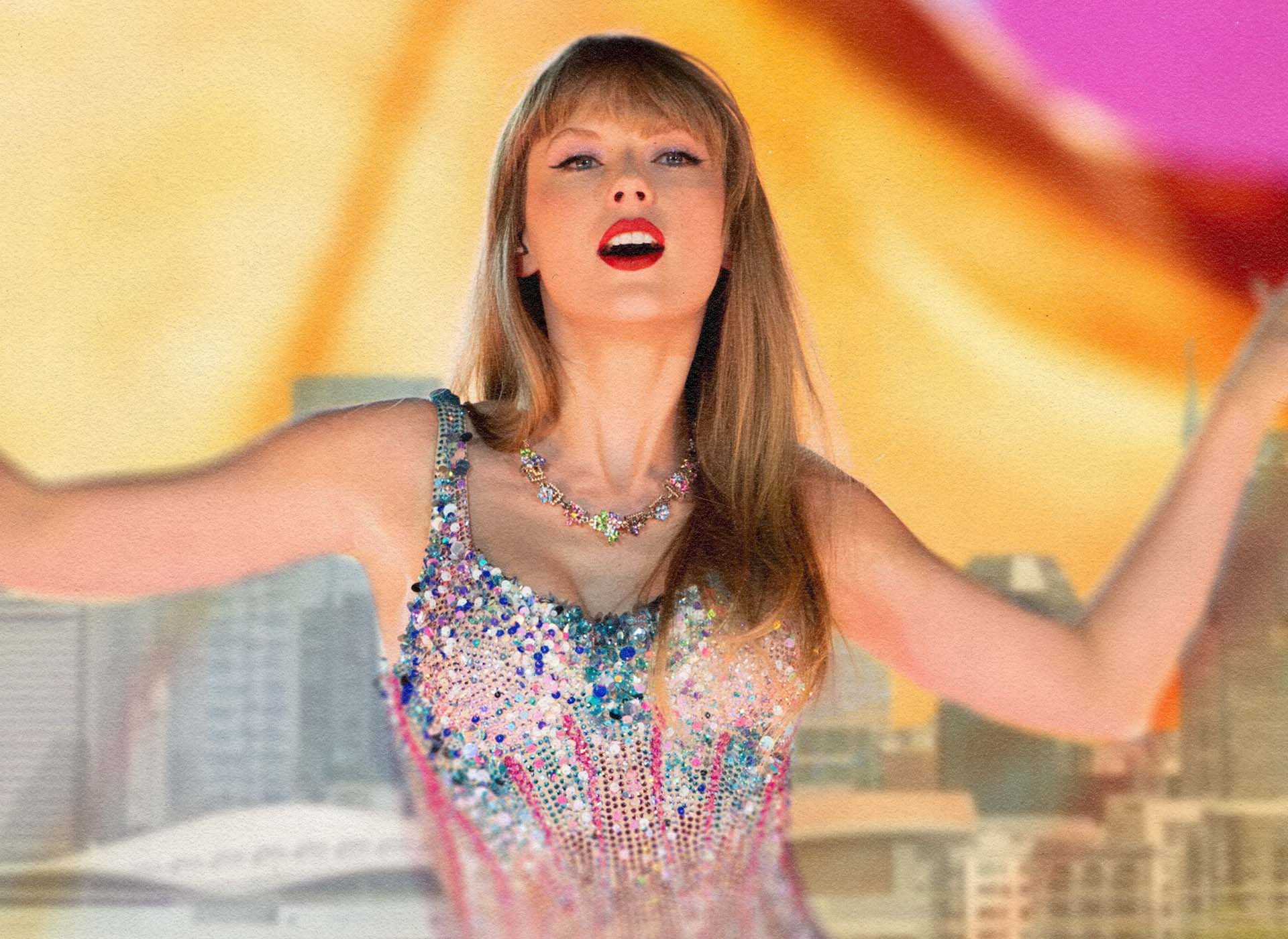 Nashville's Taylor Era
Rediscovering the suburban roots of the world's biggest popstar may be the city's only way to stave off its decline.
Long after Taylor Swift finished the final chords of the extended version of her breakup song "All Too Well" in her new concert film, The Eras Tour, I couldn't stop thinking about Jake Gyllenhaal. As even the most fair-weather of Swifties knows, the song is about her fleeting romance with the movie star a decade her senior that culminated with a stop at Hillsboro Village's Fido during Thanksgiving 2010.
But over the past four years as Swift cranked out three critically beloved megahit albums, embarked on a tour that boosted the U.S. GDP more than any action the Biden administration could imagine, and rewrote the rules of movie theater exhibition, Gyllenhaal seems locked in career purgatory, known mainly to Gen-Z as the orb-headed guy in the second Tom Holland Spider-Man movie.
Back in 2010, Gyllenhaal could have had his pick of anthem-generating girlfriends: Katy Perry, Adele, Nashville's own Kimberly Perry or Kesha. But nearly a decade and a half on, as the aforementioned pop-culture staples have fallen by the wayside, Swift has consistently supercharged her star power in ways unparalleled in any entertainment field. Though her rise was concurrent with Nashville's own transformation into a cosmopolitan destination, no one seems interested in examining how inexorably the city's reputation is intertwined with hers or the true catalyst for the unfathomable success of both: the cultural and political milieu of the Middle Tennessee suburbs.
Swift was never what many today would call a "real Nashvillian" if she were less successful. She was just a more famous version of the Hendersonville teen who drove into the city on weekends. More to the point, she was always a transplant, the girl growing up on a Pennsylvania Christmas tree farm with an openly conservative father who moved the family to bright Red Tennessee to support his daughter's career before such migrations were national news.
Despite such questions of authenticity, Swift's artistry should never have been in doubt. I'm not a baffled guy like The Federalist's Mark Hemingway penning an essay on why Swift's popularity indicates our cultural decline. Even the best-written think pieces about Swift tend to operate through extremes, either decrying her wholesale while being well above a deep dive into her catalog or outright refusing to hide their writers' sheer discipleship.
What I am is a baffled guy who bought a copy of Fearless upon its release that I listened to on repeat while I was knee-deep in grad school. I didn't talk about Swift at all with my peers, assuming they were snobby wannabes who never read the Foucault they carried around everywhere. But at a Victorian tea our Dickens professor hosted during finals week, the subject came up. Everyone loved Swift—no irony or guilty pleasure disclaimers attached. "She writes a song about being fifteen that makes me feel exactly like I did when I was fifteen," said one of the more accomplished students in the cohort. It turns out I was more a mean girl than a Junior Jewel. There was a common ground between unabashed country and hipster sensibilities years before Swift collaborated with Bon Iver and Lana Del Rey.
To deny Swift's obvious talent is a sign of willful contrarianism or negligent close-reading skills. She's a songwriter who could hold her own against any track on Bob Dylan's exalted 1975 divorce album Blood on the Tracks (something tells me Swift's most dedicated critics would refer to that record as deeply personal or introspective instead of "narcissistic"). As Taylor Swift: The Eras Tour makes clear, few artists beyond Dylan and The Beatles have fully realized the pop-rock potential of the album form.
Like the 1960s titans to which she's the only heir apparent, Swift doesn't really produce singles; her fans turn nearly every song she releases into one. She's also found a way to harness cross-generational appeal—largely through writing songs that are so specific they approach universality. Her work is not what Hemingway calls "Me Music." It's a shared catharsis that makes Taylor's personal ups and downs a reflection of her fan's own inner lives.
While I finished up my degree in Louisiana to the sounds of Speak Now, Nashville had become an ideal city for my peers to start our careers—no matter our field. At least a third of those I knew from school tried their hand here in the intervening years. Taylor's Fido stop with Gyllenhaal cemented it as the place to be, a precursor to that famous one-two punch of GQ and The New York Times designating Nashville as "It City" right around the release of Swift's 2012 album, Red—the record that began her drift away from country.
If one wanted to find fault with Swift, it's the irreconcilable gap between the ethos that primed her for stardom and the rote liberal pablum that, for a while at least, nearly derailed her artistic output. 2019's Lover became a bit of a lost album; it dropped four months after its biggest hits and six months before COVID halted its world tour. It's also Swift's only uneven record due in part to several one-dimensional screeds set to music like the cartoonishly bad "You Need to Calm Down" ("Cause shade never made anybody less gay") and limp feminist agitprop "The Man" ("'Cause if I was a man/ Then, I'd be the man").
As I watched a suit-clad Swift sing the latter song in the Eras movie to a sold-out L.A. crowd during a screening I attended the same week she became the only musician to reach the rank of billionaire by her music alone, her victimhood antics seemed all the more absurd. Such is even more galling when "Our Song," which Swift wrote for a 9th-grade talent show and released on her eponymously titled debut album in 2006, remains one of the all-time great ballads about being a woman with agency—capturing a vulnerable relatability that may make even the most rampant misogynist hum along.
It would be easy to call Swift a hypocrite for embracing an ideology entirely at odds with the business savvy and economic environment that made her celebrity possible, especially given that her father, Scott Swift, remains integral to her career. Two months ago, he brokered the Eras movie deal with AMC CEO Adam Aron while in the box at a Chiefs game. However, such dissonance has also increasingly defined Nashville's relationship with areas like Hendersonville and Franklin since her ascent.
Swift began her career in the depolarized Bill Purcell and Karl Dean years, an era marked by economic growth at the hands of pragmatic Democrats tempered by a dedication to Nashville's roots. A year before Megan Barry marked an ultimately embarrassing lefty turning of the tide, Swift decamped to NYC personally and artistically with 1989, only flouting her Tennessee connections to pick fights with Marsha Blackburn, a senator who has done more to advocate for fair songwriter compensation than any politician in recent memory.
Her exodus indicates that Nashville's "It City" status could only take Swift so far. Its confused politics and insular cliques could no longer sustain an artist of her magnitude. Perhaps this–instead of her infamous rights dispute with Scooter Braun–is why she gives her three pure country records the perfunctory treatment on the tour and in the film. The views Swift openly advocates have made it more difficult for those trying to emulate her career trajectory as the city gets less safe, less affordable, and less interested in education while the party in charge sincerely touts her as the last hope for democracy. Such is a point The Eras Tour and its backup performers make abundantly clear as Swift secures what must be a record for the most blatant use of black people as props—only rivaled by Freddie O'Connell on the campaign trail.
But like O'Connell and the rest of the downtown core crowd, Swift can afford her views. The middle-class fans who knelt before Ticketmaster to empty thousands of dollars in savings for an Eras ticket? Not so much. With The Eras Tour, Swift has made her inarguable mark on music history. Yet, she may prove the last great export from a Nashville culture running on the fumes of her success as the less fortunate flee for the suburbs that she'd rather us not know remain the engine behind her mythos.