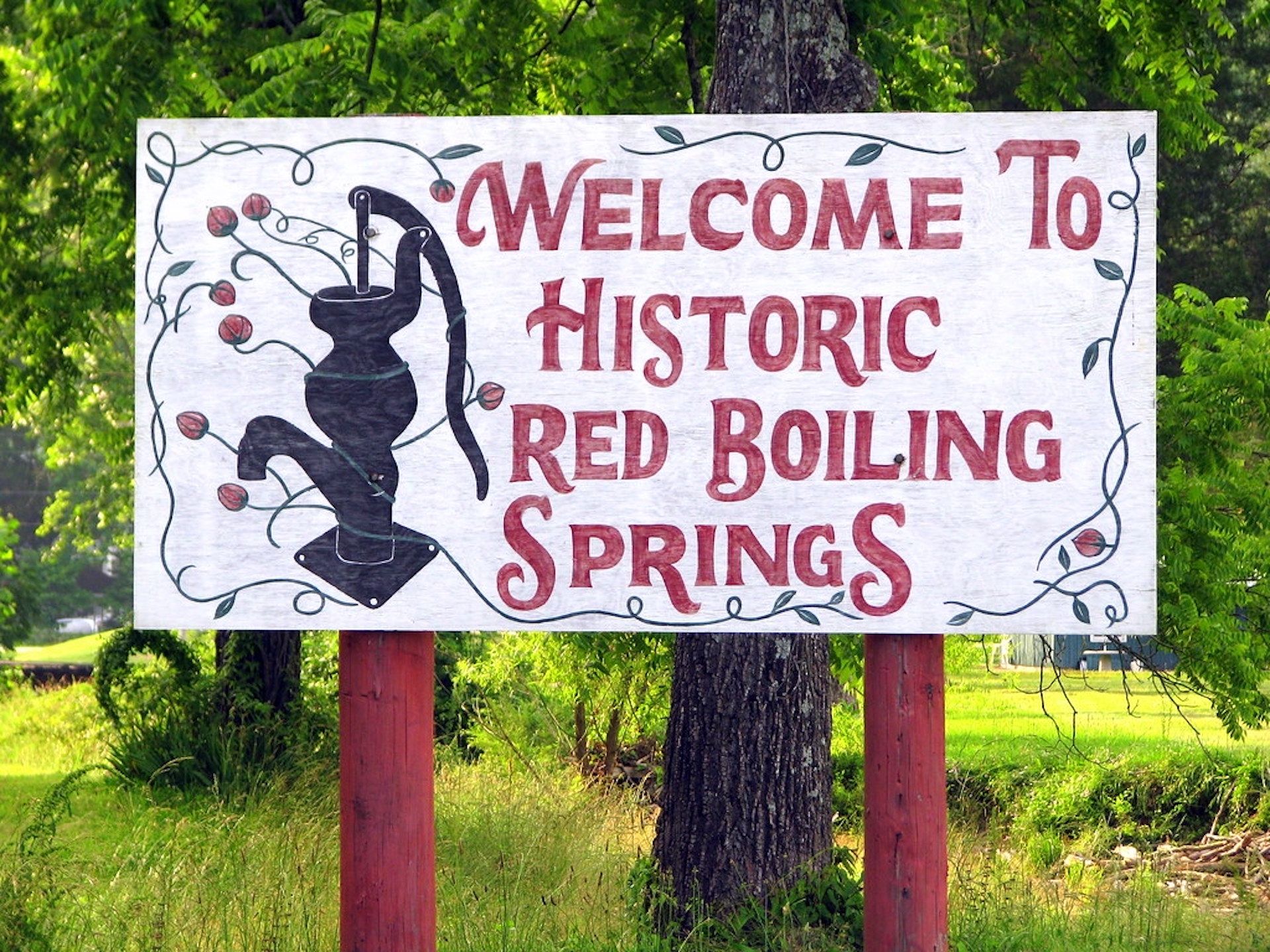 Red Boiling Springs and The Southern Imaginary
The former resort town's annual Folk Medicine Festival aims to preserve tradition in a region complicated by tourist kitsch.
The Red Boiling Springs Folk Medicine Festival runs all day on Saturday, June 3. Updates and a schedule of events can be found on the event's website and Facebook page.
✰ ✰ ✰
As this year's legislative session stumbled to its finale, a certain set of lawmakers and journalists decided on a peculiar refrain: Nashville is the economic engine of Tennessee and, thus, should be beyond reproach. Whether due to its sprawling healthcare industry or tourism, the city has earned a spot of national distinction, becoming both a destination and model. Yet, such jingoistic localism willfully overlooks a truth readily apparent to anyone who frequently travels through the region: take away a couple of landmarks and economic engines, and the 21st-century South is pretty much the same no matter where one goes.
Such mono-regionalism has been around since at least the postwar boom when programs such as The Andy Griffith Show, Green Acres, and The Beverly Hillbillies dominated airwaves before the "rural purge" of the early 1970s as executives canceled such series en masse after the country took a darker turn. However, in the wake of the Great Recession, a new localism has emerged, especially in the South, that has seen the downtowns of both rural and urban areas explode in a flurry of economic activity as businesses and disenchanted outlanders relocate to the region–or at least what they believe it to be.
The result is a formula with a palpable Southern flavor from 12 South and Franklin to Ball Ground, GA, Asheville, NC, and areas small, metro, and in-between. The same variations greet visitors and residents alike: the local coffee shop and wood-fired pizza place offering pies topped with burrata; the overpriced Southern boutique unable to escape the influence of Joanna Gaines with its copies of Reese Witherspoon's Whiskey in a Teacup, "Bless your heart" T-shirts, and affirmation-laden signs printed in cursive on treated 2x4 fragments; the bar with $15 newshine cocktails and tenuous ties to the late bootlegger Popcorn Sutton. In today's South, one doesn't need to "See Rock City" on a trip to Chattanooga to buy the tourist stop's famous red-and-black birdhouse; it's made in China and readily available at any gift shop in the region, a symbol of local Southern culture mass produced for the globalized world. The South of Mayberry and Buc-ees are equally fabricated–but the latter wasn't the brainchild of some West Coast TV exec; we did it to ourselves.'
And that's not necessarily bad. It's just a facet of our lives that Deborah E. Barker and Kathryn McKee refer to as the Southern Imaginary, "Not a false representation that must be stripped away to see the real South but a multifaceted, multivalent concept that informs our understanding of U.S. culture." While such analysis does explain how Gaines' latest Magnolia Table cookbook and the seasonal beaver-laden attire that graces the displays of the region's favorite pit stop have become potent markers of Southerness in their own right, it doesn't quite address the very real need for rural Boomers and members of the Silent Generation to preserve regional traditions in areas where towns devoted to industries like coal or manufacturing have had to pivot to tourism or international IT services to survive. But how to fill that need seems to be something the annual Folk Medicine Festival in Red Boiling Springs, TN, has figured out.
Nestled between Lebanon and Carthage about 90 minutes from Nashville, the city of Red Boiling Springs attained its status as the crown jewel of the Upper Cumberland in the late 19th century when the immense sulfur springs gurgling underneath its land led to its status as a nationally recognized tourist destination. Thanks to railroad expansion, its mineral water (in drinkable and soakable forms) became a phenomenon that attracted luminaries like Cordell Hull and Woodrow Wilson. Tennessee Governor John C. Brown died there from a brain hemorrhage while on vacation, a victim of the town's remoteness that only added to its lore. Like many off-the-beaten-path tourist draws that made their mark in the early 1900s, Red Boiling Springs fell victim first to the Great Depression and then to the Interstate Highway System. Even after Nestlé built a bottling plant near the city in the early 2000s, the population has hovered around 1,200—a mix of lifelong locals and newer residents enamored with its rural beauty and singular charm. "Word gets out," city councilman George McCrary said.
Much of the town's resurgence in the last few years is the result of the Folk Medicine Festival's increased prominence. The event began in the late 1980s and ran well into the next decade before fizzling out. However, Vision 2020, a local nonprofit made up of Red Boiling Springs citizens devoted to community development, opted to bring it back in 2012. Since then, it's become a fixture that routinely draws 2,000 visitors from out of town and keeps growing every year. "It's kind of a showcase of our town and what our town still offers to folks," festival chair Karen Davis said.
While the late-spring drive to Red Boiling Springs is reason enough to visit on the first Saturday in June when it's traditionally held, what separates it from the deluge of entries on the festival calendar is its dedication to reminding residents and tourists alike of the traditions that formed life in the rural areas surrounding Nashville. "Part of it is showcasing the old crafts," Davis said. "It's kind of an education in our history, but it's a fun event as well, and we support local artists and craftspeople."
Visitors to Red Boiling Springs on Saturday, June 3, can expect to find a range of regional artisans, including soap makers, blacksmiths, basketweavers, and grist mill operators who still handcraft their products using methods that predate the Industrial Revolution. "I'm a history buff, and the village allows you to step back in time and see how things were done," McCrary said. At the same time, visitors can also visit the range of contemporary local business owners and farmers in attendance to purchase plants, produce, leather goods, and books on holistic living.
For Davis, the festival's hallmark is its founders' belief in providing both natural products and training in folk remedies that distinguish the products available from the mass-produced items so common to booths at other events across the region. In addition to an herb walk through the land adjacent to downtown, the event will feature advice from Jeff Poppen, a local homesteader known as The Barefoot Farmer, who gives monthly agricultural talks in the city center. "We are offering alternatives to manufactured products and mass-produced health concerns," Davis said.
Though natural cures and self-sufficient farming have long been hallmarks of the event, the Festival has also recently branched out into folk art. Last year, Davis and the board launched a youth bluegrass competition for musicians ranging in age from 6-17 that will continue on Saturday. The festival also hosts a quilt show that has long attracted artisans from around the South. "We try to involve as many people in the region to display their quilts because that's an art that is going away in a lot of communities," Davis said. "It used to be very popular and something to do at home."
While Davis and McCary hope that this year's edition of the Folk Medicine Festival will, as Davis said, "Be a nice pleasant day for folks to be out," both also believe that the event highlights the traditions of the Upper Cumberland that continue to make Red Boiling Springs not just a fun place to visit, but the site for a return of the real to a Southern life that has long lived in the shadows of its shorthand. "We get a lot of positive feedback, and people leave with a good feeling about it," McCary said. "It keeps me going."
The Red Boiling Springs Folk Medicine Festival runs all day on Saturday, June 3. Updates and a schedule of events can be found on the event's website and Facebook page.