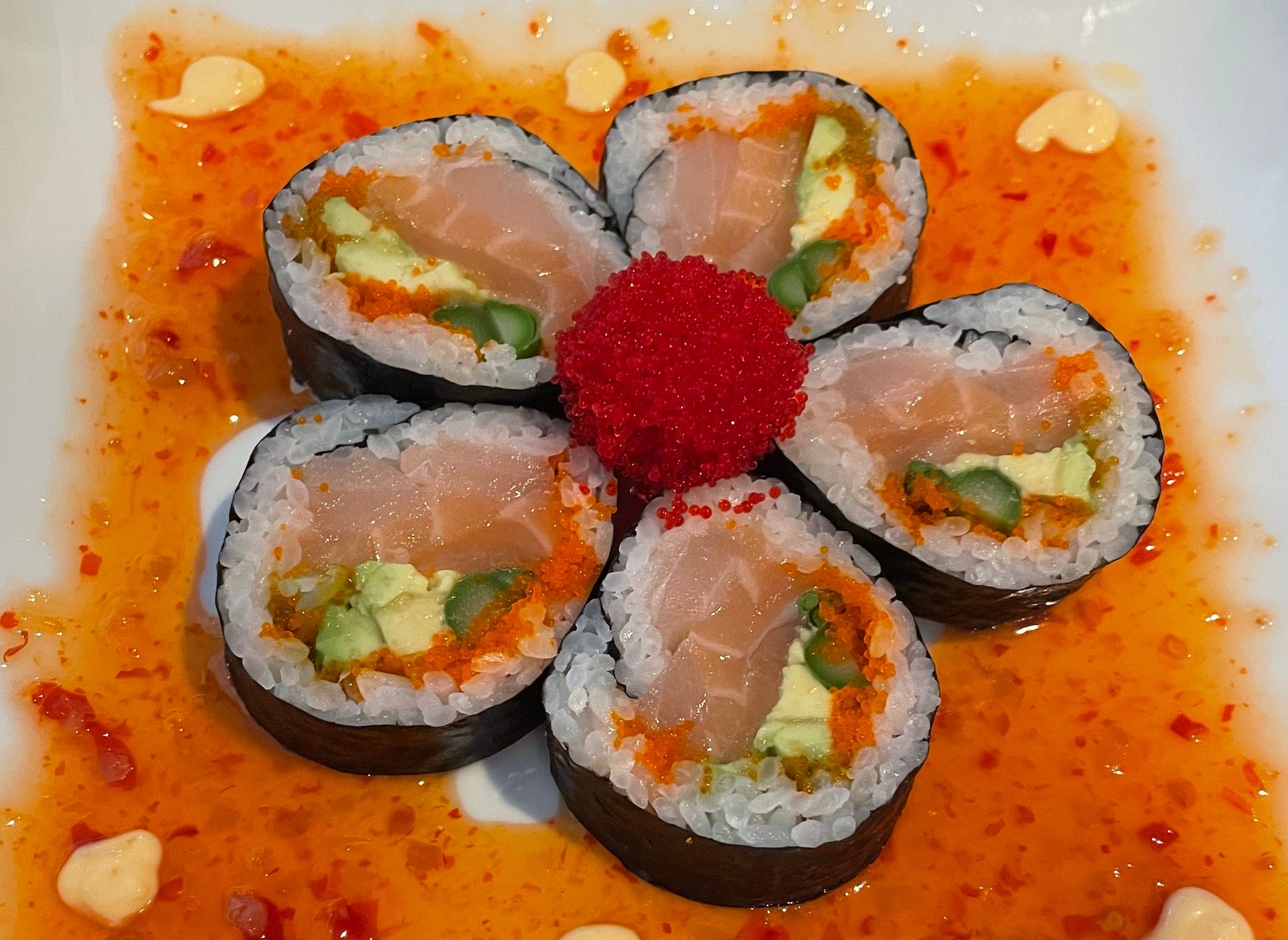 Sushi Dreams
Mike Wolf fills us in on his latest culinary adventure to Sonobana
Nashville is known for its many culinary delights. Whether it's hickory-smoked barbecue, meat-and-three madness, or, as we've explored in this space, varied and delicious Vietnamese food. What we're not known for is simple, fresh, everyday sushi. And don't talk to me about Kroger sushi. It has its place as a crush-in-your-car and get-on-with-your-day snack, but it is not serious sushi by any means.
Enter Sonobana, tucked away in a strip mall in West Nashville at 40 White Bridge Road (near the burger and shake haven Dalt's), complete with an adjacent market fit for exploring many of the hard-to-find candies and condiments from Japan, along with their house-made salad dressing and an assortment of sakes. A neighborhood staple since 1987, this quaint throwback of a dining room with a small sushi counter and softly tinkling piano music in the background is a balm for the soul.
Though they offer plentiful bento boxes, teriyaki, sukiyaki, curry rice bowls, and noodle options, Sonobana is beloved for its extensive sushi menu. The long list of inventive rolls complete with a plethora of intricately sliced sashimi options insists that you come to Sonobana hungry. We devoured and eminently enjoyed the Tennessee Roll: eel brushed with eel sauce, crab and cucumber topped with avocado and smelt roe.
Equally impressive was the Spider Roll, with soft shell crab, avocado, cucumber, and lettuce. Though I had my eye on some fatty tuna sashimi that was scrawled on the whiteboard above the sushi counter as a daily special, they were out by the time I ordered. I instead opted for luscious fatty salmon nigiri (fat is your friend after all), along with clam, eel, and yellowtail sashimi. It was all delicately plated, mouthwateringly fresh, and decidedly delicious. If you have trouble making decisions when presented with so many options, look for the sushi combos, which offer various pairings of different fish designed to go together.
Along with the common offerings of miso soup, bean sprouts, and seaweed salad, Sonobana offers playful appetizers like deep fried oysters, Hiya Yakko (cold tofu topped with bonito flakes), Beef Negima (thinly sliced beef wrapped around green onions) and yakitori. Essentially meat on a stick (yakitori is a way of life in the bars of Tokyo), Sonobana's chicken yakitori was a great way to start the meal, with grilled bites of chicken punctuated by small pieces of charred green onion placed between each bite of chicken. I could have sat there all day alternating between chicken yakitori and cold cans of beer, but I had too many fish to explore.
While the emphasis on freshly prepared seafood remains at the fore, the deep fryer at Sonobana seems to get a good workout as well. Dessert options are interspersed with the eye-bulging deep-fried cheesecake and deep-fried ice cream, a sundae on steroids of sorts with pound cake, chocolate syrup, whipped cream, oranges, and a cherry on top. The non-alcoholic beverage options are anchored by the lively house mocktail, the Ninja Turtle: orange and pineapple juices with a splash of grenadine. On offer from the full bar are plenty of Japanese beers including the tasty and gluten-free rice lager Echigo, along with a full menu of hot and cold sakes, Japanese shochu, plum wines, and red and white wine options.
On the heels of "Japan Week" in Nashville, coinciding with the cherry blossom festival featuring blooms of the many trees given to Nashville by Japan in 2008, it's worth noting that over 8,000 Japanese citizens live in Tennessee. According to the Tennessee Department of Economic and Community Development, Japan is currently Tennessee's top foreign direct investor bringing in $19 billion and creating 54,391 jobs since the 1980s.
According to Asia Matters for America, Tennessee, and Japan have eight sister city connections. Nashville, home to the head location of the Consul General of Japan, has a sister city relationship with Kamakura City in Kanagawa, Japan. What does this all mean for food in our fair city? I don't know. But maybe there will be more Sonobanas in our future. For now, I'm glad we've got this one.