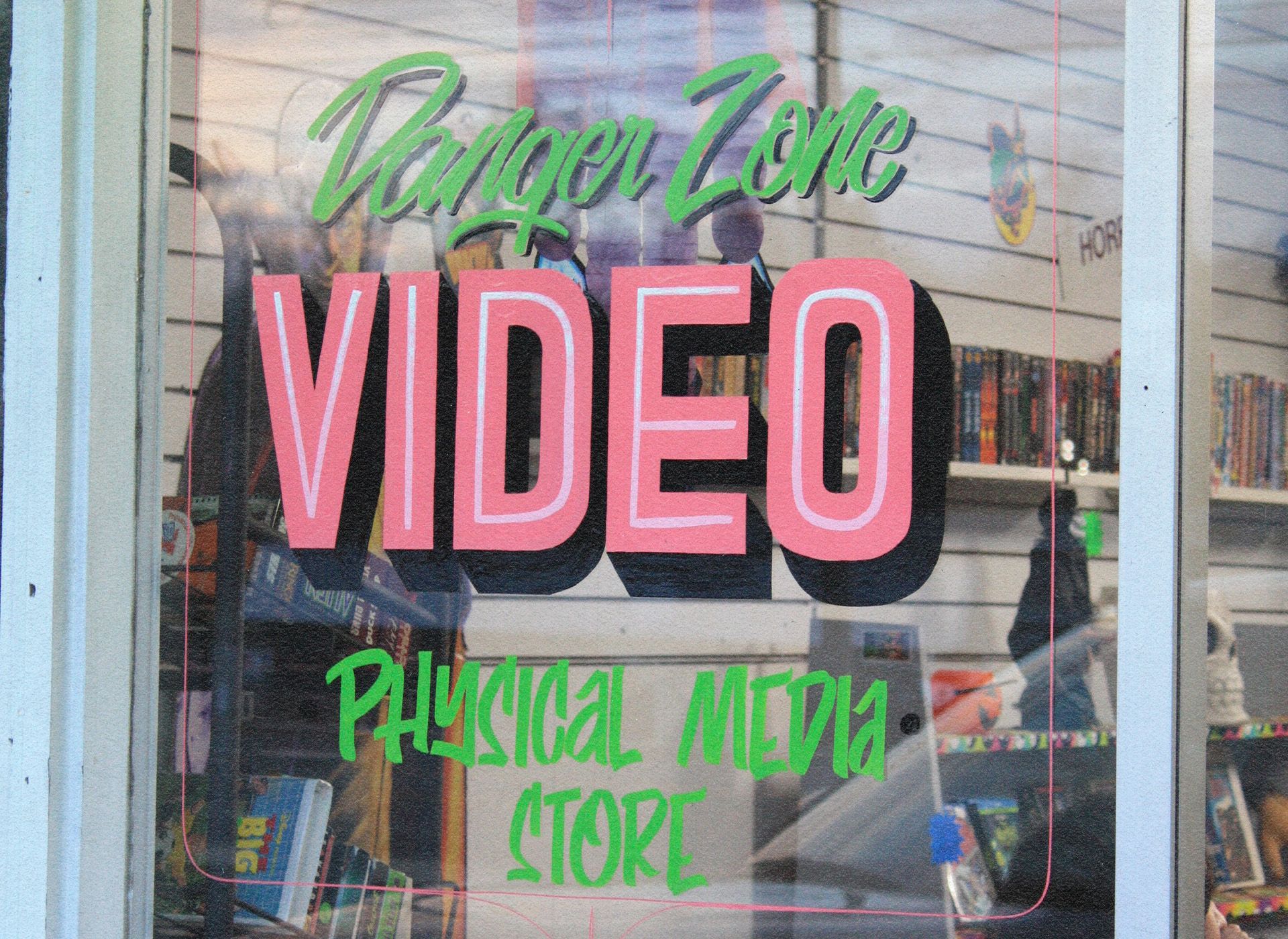 The VHS Renaissance
From indie shops and online digital artists to Quentin Tarantino and Roger Avary's new hit podcast, a passionate subculture has brought life back to a format thought long dead
While typical twentysomething film fans may fill their days musing about Quentin Tarantino on Twitter or writing 3000-word reviews on Letterboxd, Gala Avary has spent the past eight months as a producer for The Video Archives Podcast, a collaboration between Tarantino and Roger Avary, Pulp Fiction co-writer, father of Gala, and indie filmmaker in his own right. When Video Archives— where Tarantino and Roger Avary worked through their early twenties—succumbed to Netflix disruption, Tarantino bought the store and its collection whole hog, meticulously recreating it in his Los Angeles home tape by tape. Rather than let thousands of films gather dust, Tarantino and Avary decided to take a trip down memory lane via the emerging podcast form.
Every week, Gala joins video's elder statesmen to discuss three movies off the shelves. The result is an energetic masterclass in film knowledge that sheds insight into how two notoriously private indie icons approach movies and how a lifelong late-millennial film fan like Gala has learned from the 90s legends while developing her own distinct tastes and opinions.
"VHS has always had a loyal fanbase. One of the greatest things about doing The Video Archives Podcast has been interfacing with collectors who really know their stuff or listeners that have fantastic memories about a specific VHS tape or store," said Gala. "I'm right at the edge of the VHS generation — born in 1995. I'm old enough to have watched tapes growing up, but too young for the shops to have tapes for me to rent myself."
In the wake of the pandemic, Gala and others who came of age years after the Gen X heyday of VHS now have an expanded network of videocassette offerings from connoisseurs at flea markets and internet shops as well as new brick-and-mortar stores focused on selling tapes and other physical media--including two based in Tennessee that have amassed national profiles.
"I used to think it was pure nostalgia for our age group, but ever since we've been open, we've gotten 15, 16, 17, 18-year-old kids buying tapes," Jesse Butler, owner of Mt. Juliet-based Danger Zone Video said. "Sometimes it's a more affordable means of getting a movie that you want, and it's something those younger kids didn't get to experience. Kind of how I found records through my mom, but I didn't grow up with records. We are also getting back to a time in society where people want to own things. Streaming is very fragile."
Though Butler cites the genesis of Danger Zone as a side project he took up during Covid when the wrestling events he worked went on hiatus, the importance of physical media became clear for him the morning of 2020's Nashville Christmas bombing. "We were in the middle of streaming The Sopranos and the bomb goes off," Butler said. "We had AT&T and couldn't stream anything. But we both got Best Buy gift cards and put them together to buy the series on Blu-ray."
Located next to a barber shop in a stretch of unassuming strip malls on Lebanon Rd., Danger Zone would be easy to overlook if not for its green marquee. Despite its appearance, the seemingly undistinguished neighborhood is home to a host of entrepreneurs that make it a perfect place for a video store in 2023, including several antique malls, the 615 Playhouse, Psychic Readings By Mrs. Miller, and authentic Mexican place La Carreta. "There are just these various pockets between Mt. Juliet and Donelson with so much cool shit," Butler said. After friends helped Butler find the location through Facebook Marketplace, he opened the store in August 2022 and immediately attracted a number of regulars. "We have to make money to stay open, but that is the least of my concerns," Butler said, echoing the ethos of the local punk scene of which he has long been a part. "I've never been good at business and just wanted to build a good community above anything. We have people come in. I may see them once a week or I may see them once a month. In the last six months, I feel I've made more friends than I have in a decade."
Much of Danger Zone's appeal lies in the clear curation Butler brings to the store, evident in everything from the Halloween welcome mat and The X-Files poster to the handpicked VHS tapes that line the walls by category. Though the store's inventory is primarily VHS, Butler stocks a rotating collection of Blu-rays, DVDs, and 4k discs often tied to the season, including a rare 4k steelbook of the 1981 slasher classic My Bloody Valentine and a Collector's Edition Blu- ray of the early 2000s' Denise Richards/David Boreanaz vehicle, Valentine, that graced the front display three days before Valentine's Day.
Browsing the shelves has all the feel of a trip to Borders' or Barnes & Noble's movie sections in the early 2010s before they got shoved into deeper corners of the store to make room for bargain book titles and kitschy plastic junk. Except those box retailers were never as affectionate toward their inventory as Butler, who spends his days behind the counter striking up conversations and recommending movies to anyone who walks in. "Coming to a place like this and finding a movie on a shelf, I think we are going to revert back to that," Butler said. "Places like Danger Zone are a great gateway. People come in looking for DVDs and see how many tapes we have and say, 'I think I may get back into collecting tapes.' And they fall right down the rabbit hole with me."
As Butler hopes to expand the store and create more opportunities for his friends to jumpstart their own endeavors–whether that be the local bakers or the agua fresca makers he's hosted at Danger Zone in recent months–he can look at the enduring success of Knoxville's Grindhouse Video and know this VHS thing is on the cusp of a resurgence. Though Grindhouse first opened its Knoxville store in May of 2022, it has long been a go-to site for those seeking horror, offbeat indies, and other movies not found on the shelves of big box stores. "I don't know why, but I do know there's something about holding it in your hand," Grindhouse owner Mike Sandlin said. "Some of it may be due to nostalgia. Some of it may be people remembering the good old days of video stores. But, most of the movies I have in here are not streaming. It's the access."
Access to a wide variety of films has been Sandlin's goal since Grindhouse's humble beginnings on the flea market circuit in 2014 when he bought collections off Craigslist, cleaned them up, and made a name for himself through his rare finds. Nine months later, he found a 225 sq. ft. space in Tampa. " One window. No bathroom. It was just a 12x12 box," Sandlin said. "That just basically started everything that you see now."  
Grindhouse then made quick work of 1000 and 2000 square foot spaces as it devoted increased attention to its online sales. After the pandemic, Sandlin moved the store to Knoxville to be closer to his daughter. His success has only continued in the city thanks to the strength of his online sales and his quickly forming droves of regulars. Like Danger Zone, a love for genre and physical media is palpable throughout the shop, which has two full walls of VHS as well as thousands of new and used DVDs and Blu-rays typically unavailable in stores (not to mention shelves covered with collectibles, T-shirts, and vintage magazines). Upon entering the shop, one gets the impression Sandlin and his team want people to love movies enough to develop their own collections that no one but themselves can assert dominion over. "At my house I have 5,000 movies. Movies I love," said Sandlin. "I don't need to worry about streaming to watch them. I think it's almost like an independence from streaming. I don't know if that explains the store, but it's why I don't have to have a real job."
For Gala Avary, the irony of stores like Butler and Sandlin's proliferating is that such may never have happened if it weren't for the internet that led to the rise of streaming in the first place. "There's been increased interest for two reasons. The first is because of the passionate collectors who kept the hobby alive for all of these years and have found innovative ways to show off their collections," Avary said. "Before social media, you'd have to invite a friend over or go to a tape swap to show off what cool tapes you had. Now, you're able to post it on the internet for strangers to see. And it's delectable. Who doesn't want to see full shelves organized alphabetically by title or tape stacks from the latest swaps?"
As Butler and Sandlin can attest, flea markets and video swaps have been the entry point for many a VHS aficionado–but Avary thinks that younger generations have made such events a part of their lives more so than most Gen Xers, who are now doffing their disc collections to make room for the ease of streaming. "The second, and perhaps most important reason, is because my generation is dying to have physical media," Avary said. "It isn't just VHS that we want in our hands and on our shelves. It's Blu-rays, DVDs, records, cassettes, manga, video game cartridges, laserdiscs, comics, books, CDs, posters — you name it, we want it.  It's one of the same reasons you see film photography having a resurgence, especially amongst high schoolers running around with Instax cameras. We gave up physical media for the cloud. Streaming can be great — but when you realize that not everything is online, and that you have no say in when something gets taken away from you despite paying for a service, you see that it's not permanent. Now, we desperately want to grab hold and take ownership back. There is something powerful in owning art."
To some, Avary's views about her generation may seem overly optimistic or merely anecdotal, but numerous studies over the past decade support her claim. In his 2016 book The Revenge of Analog, David Sax traces the renaissance of formerly dead technologies that have undergone second lives beginning in the 2010s, including the exponential rise in vinyl sales led by the 18-24 demo and hipster chains like Urban Outfitters that cater to millennial and Gen Z tastes. In truth, the most influential figures in VHS's return come from this demographic, whether they're store owners like Butler or podcast cohosts like Gala Avary, whose fervent love of all types of movies and willingness to defend her opinion, even when it differs from Tarantino's or those of other legends like Gremlins director Joe Dante or Hostel mastermind Eli Roth that have guested on the series have made her an indispensable part of the culture's ascendancy.
Beyond Avary, others in these younger generations have increasingly become the most influential figures in the VHS world, including Kadi Video, a millennial artist whose box designs for new movies have made her both an Internet celebrity and target for film studios. Though the last movie released on VHS was David Cronenberg's 2005 midcareer masterpiece A History of Violence, artists like Kadi continue to collect the final generation of Hollywood's VHS offerings, putting their own spin on the box art that haunted many a child as they traversed the horror section of the local grocery video store on a Sunday after church. "I grew up watching a lot of these films on VHS, so there's that appeal to me," Kadi said. "It's just a different feeling watching it on VHS than it is in high quality. It's almost comforting, that analog vs. digital look."
Though a theatre major in college, Kadi came from a visual-arts-minded home and took numerous graphic design classes to hone her craft. Inspired by the bright colors of Italian Giallo films, she's made the style hers, creating both beautiful cover art for contemporary movies such as Freaky and Jennifer's Body and subversive takes on non-horror films like Twilight and The Devil Wears Prada. Kadi's admirers include Mike Flanagan, director of Doctor Sleep and Netflix's various Hill House series and filmmaker Scott Derrickson of Doctor Strange and The Black Phone fame. "I love indie horror aesthetics. It's possible they see that in the art that I created, but then there's also an element, as they've [filmmakers] told me that they've wanted to see their movies on VHS. There's a communal love for that format," Kadi said.
While some studios like Neon have been very supportive of Kadi, others would rather send her cease-and-desist letters, despite the fact that her work has much more in common with Andy Warhol than Chinese IP theft. She found this out the hard way when Paramount inundated her with legalese on the eve of Scream VI's release last week. She also had issues with her boxes devoted to the hyper violent Terrifier franchise, whose team balked at her fan art. Regardless, Kadi takes such legal threats in stride. "I think the only thing that might be a little sad to me is that I feel for all the directors who give their work to the studios and they now have complete control. Even if they are passionate about VHS, they may never get an opportunity to see their work on it," Kadi said. "But the fans that respond to me or message me, they are really upset. If only the studios could see how much of a love and demand there is for VHS."
Over the next few years, Kadi hopes to parlay her newfound notoriety into her full-time job while designing cases for VHS releases for indie filmmakers and–ultimately–the less risk-averse studios. "I think that we've gotten away too much from physical media," Kadi said. "What I've found with audiences is a love for VHS, Blu-ray, steelbooks, all physical media. Not being reliant on streaming and Hulu and all these different accounts just to watch movies."
Though millennials like Kadi, Avary, and Butler share an affinity for VHS culture, all also value the communal experience of the movie theater, a sentiment they feel they share with others in their generation as the multiplex slowly recovers from the damage COVID wrought. "A lot of the community members and audience members that will comment on boxes I make will say, 'I saw this in theaters today.' They aren't waiting for streaming. They are all going to see these in theaters," Kadi said. "There's an appreciation of these films. The parallel is the love of the art for the movie as opposed to, 'Ahh, I need something to watch and turn on Netflix to find the most popular thing on right now.'"
Sandlin has long collaborated with and promoted Knoxville's indie theater, Central Cinema. Butler is following suit, hoping to partner with Full Moon Cineplex in the future and perhaps the Belcourt. In the meantime, he hosts a monthly VHS screening at East Nashville arcade bar No Quarter Nash on the last Thursday of every month (a screening is tentatively planned for March 30th). Though most of the event's films fall within the horror genre, Butler sees the monthly screenings as a way to sustain the movement. "Horror is the driving force behind the resurgence, and I think it's solely because, nine times out of ten, people into horror movies are collectors," said Butler. "Horror people are the gateway to keeping this alive, and then slowly we get other people trickling in."
A fan of 70s and 80s exploitation movies, Gala Avary has seen many of the titles discussed on the podcast open to sellout crowds for special screenings at Tarantino's The New Beverly Cinema. "There's something special about being in a room with a bunch of strangers and watching something that brings you together.  You suddenly have this unique shared experience," Avary said. "One of the reasons why The New Beverly works (besides showing on 16mm and 35mm and giving you a true experience) is the no cell phone policy.  By turning off your distractions, you're able to travel to another land for two hours and watch the magic unfold. But theaters aren't just the big complexes and arthouse cinemas.  I'm blessed to be in a big city that has microcinemas that are showing VHS."
In the end, the VHS revival seems a welcome response to the isolation and ubiquity of corporate media as millions of lockdown victims mainlined Tiger King and whatever other programming an algorithm chose for them. But the rise of VHS indicates a burgeoning movement of self-sufficiency that treats media as art rather than just mindless content, a movement that seems poised to grow as our current wet blanket of retro-malaise settles in."I got excited when I went into a Best Buy a few months ago and saw a VHS head cleaner for sale," Kadi said. "I was like, 'Is this the start of something?' This is Best Buy."